All-New 10th Generation 2016 Honda Civic Debuts In USA - Best In-Class Everything!
Auto News The all-new 10th generation 2016 Honda Civic sedan has just been unveiled today in the US, and what a car it is! On top of the stunning fastback-like styling, Honda promises the all-new Civic to be the best in its class in nearly every objective measure – safety, interior roominess, driving refinement, fuel economy – it will simply dominate over many other competing models.
"We are bringing more new technology and innovative thinking to Civic than ever before to establish a new benchmark for fun-to-drive performance, fuel efficiency, safety performance and refinement in the compact class," said John Mendel, executive vice president of American Honda Motor Co, Inc.
What's New?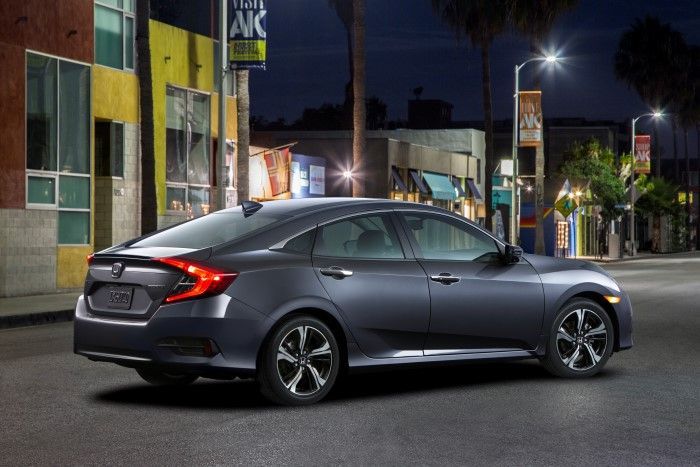 Built on an all-new platform, the all-new Civic's Audi A5 Sportback-like body is wider and lower than before, but as expected of a Honda, it will also be the roomiest in its class.
Honda has not provided any details on the dimensions, but says the all-new Civic sedan is nearly 50 mm wider, 25 mm lower than the outgoing model, while the wheelbase has been stretched by about 30 mm. The seating position has been lowered by about 25 mm for sportier driving feel.
Sage Marie, Product Communications Manager for Honda of America said, "Wider, lower, the driving position is evocative of some of the best European sports sedans."
Sage is an interesting personality and we take his word for it, because unlike most public relations manager in a car company, Sage a race car driver himself, and had recently raced an all-new Honda NSX at this year's Pikes Peak International Hill Climb.
"So typically it's difficult to get great handling and comfortable ride in the same car, and that's what we have done with this car. Quiet, comfortable and very fun to drive – that's what makes Civic a Civic," said Marie.
At the same time, Jarad Hall, Exterior Design Leader, stressed that none of this sportier design elements came from any compromise in utility and everyday usability.
"Everything here is form follows function, because that's the Honda way," said Hall, who is the first American to lead the redesign of a high volume Honda model.
The headlamps and tail lamps are now LEDs – a first for a C-segment model in the US.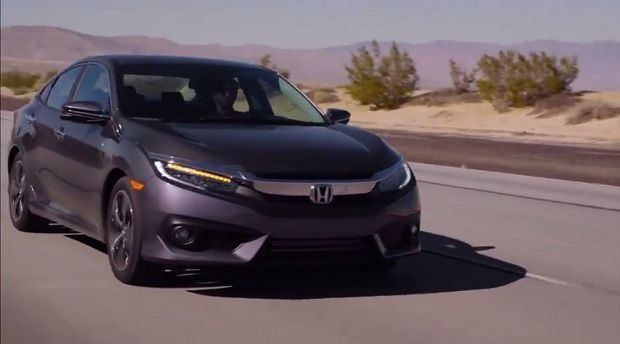 Engine and transmission
In the US, there will be two all-new engine options – a naturally aspirated 2.0-liter, 16-valve, DOHC i-VTEC and a 1.5-litre direct-injected turbocharged unit.
Contrary to earlier reports, Honda has confirmed that the 2.0-litre naturally aspirated engine is an all-new unit, and not a carryover from the outgoing Civic. The new 2.0-litre unit produces 15 more horsepower than outgoing model's 143 hp 1.8-litre SOHC i-VTEC unit (2.0-litre engine not available for the outgoing Civic in the US).
The naturally aspirated engine will be paired to either a 6-speed manual transmission or a CVT, while the turbocharged unit is only available with a CVT.
Honda adds that both engines will deliver class-leading fuel economy, in excess of 40 mpg (better than 5.9-litre/100 km) when tested under the US EPA (highway only) driving cycle (different from the NEDC standard used in Europe or JC08 used in Japan). Overall fuel economy, including urban driving cycle, should be less than the claimed 40 mpg.
Class-Leading Safety
Honda has yet to release the full specifications of the all-new Civic sedan, pending the model's commercial launch later this year, but the company is confident that it will set a new benchmark in safety.
"It will have highest crash rating for any compact car," said Marie.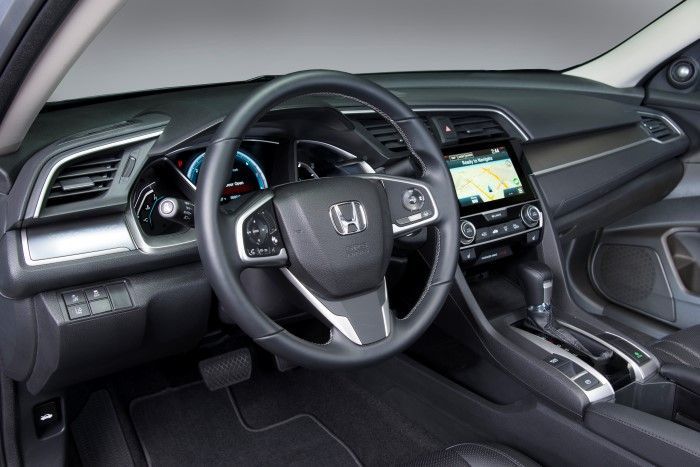 All-New Chassis And Suspension
The all-new Civic chassis features a redesigned strut front suspension and a new multi-link rear suspension mounted to an ultra-rigid rear subframe.
Torsional rigidity of the new body is said to be improved by 25 percent, aided in part by more intensive use of ultra-high-strength steel. Twelve percent of the unit body is made of ultra-high-strength steel, up from 1percent on the current model.
Honda says the all-new Civic is about 30 kg lighter than before, despite having a larger body.
Torque Vectoring
Aiding the agility of the all-new Civic sedan is an Agile Handling Assist brake-torque vectoring feature, variable gear ratio steering, beefier front and rear stabilizer bars and standard 4-wheel disc brakes.
Class-Leading Refinement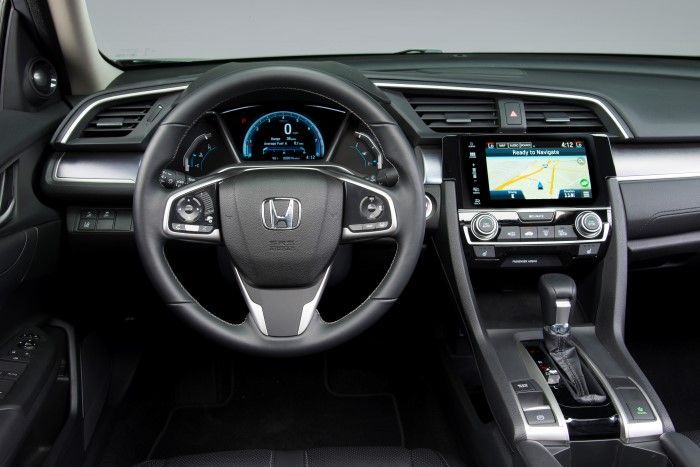 Hall also promised customers of the all-new Civic sedan that the car will have class-leading refinement.
"I think the quality and premium feel of the interior will knock you off your feet," said Hall.
Hydraulic compliance bushings, a feature that Honda says is usually only reserved for higher-end vehicles, have been adopted in the all-new Civic sedan to reduce road noise.
Other measures like flush-mounted acoustic glass windshield, a more tightly sealed engine compartment and triple-sealed doors are used to deliver what Honda claims to be class-leading cabin quietness.
Class-Leading Interor Space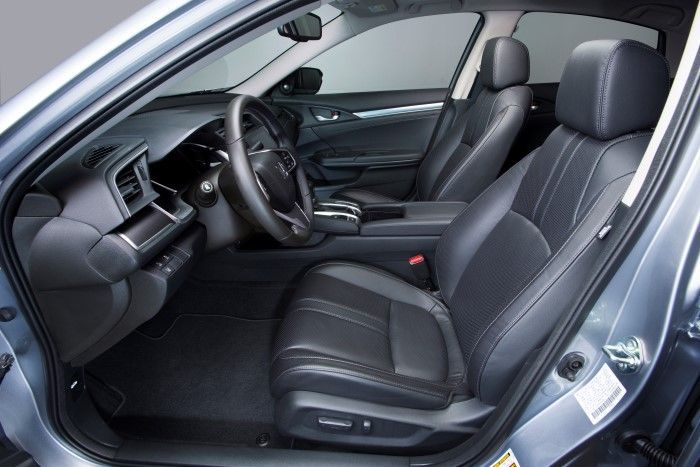 Occupants in the rear can now enjoy 50 mm more legroom than before, while overall cabin room is claimed to be class-leading.
Despite the swooping roofline, Honda says boot space has been increased and now features a lower liftover height, larger opening and wider and taller cargo area.
As mentioned earlier, the all-new Civic loses the outoing model's two-tier dashboard, and has dropped the conventional hand operated mechanical parking brake in favour of a more space-efficient electric parking brake.
Many Different Civics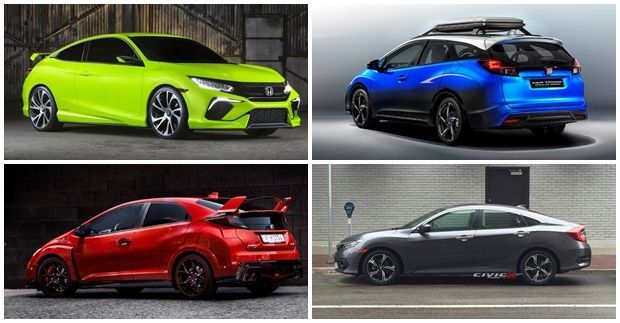 Globally, there will be six main variants for the all-new Civic – Western Europe is getting the Civic hatchback, Civic Type-R hatchback (2.0-litre, 310 PS VTEC Turbo), and Civic Tourer wagon, Asian and Eastern European markets will get the Civic Sedan seen here, while North American markets will get all Civic models including a Civic Coupe, except the Civic Tourer and Civic Type-R hatchback.
The Civic Type-R Sedan is yet to be confirmed for Asian markets.
When will it be launched in Malaysia?
Not so soon. This is only a preview and the all-new Civic will only go on sale in the US later this year.
Typically, it takes about 12 to 18 months after model's global debut before local assembly can commence.
The outgoing ninth generation model went on sale in the left-hand drive US in April 2011 but sales in right-hand drive markets did not begin until early 2012.
We don't expect the all-new Honda Civic to be launched here until 2017, maybe late-2016 if we are lucky. Having said that, one of the goals of Honda's recent reorganisation is to reduce the lead time between a model's global debut and local launch, so the lead time might be shorter than expected.
---
---
---
---
Comments