Audi quattro Tech Is Going To The Moon – Aims For Google Lunar XPRIZE
Auto News After conquering the World Rally Championship, Le Mans, DTM, enough showing off in the Land of quattro, Audi is now sending its all-terrain traction quattro and lightweight aluminium construction technology to the moon.
Come 2017, Audi together with a group of German scientists from the Part-Time Scientists group that is competing for the USD 30 million prize money in Google Lunar XPRIZE competition, will be sending an unmanned lunar rover to the landing site that the Apollo 17 made in 1972.
The Google Lunar XPRIZE is a competition to challenge and inspire engineers and entrepreneurs from around the world to develop low‑cost methods of robotic space exploration. To win the Google Lunar XPRIZE, a privately funded team must successfully place a robot on the moon's surface that explores at least 500 meters and transmits high‑definition video and images back to Earth.
Audi will lend its support to Part Time Scientists by sharing its know-how in quattro all-wheel drive and lightweight construction to electric mobility and piloted driving. Audi is also providing wide‑ranging assistance in testing, trials and quality assurance. In addition, the Audi Concept Design Studio in Munich is revising the rover, which will be named the "Audi lunar quattro," to ensure ideal lightweight construction conditions.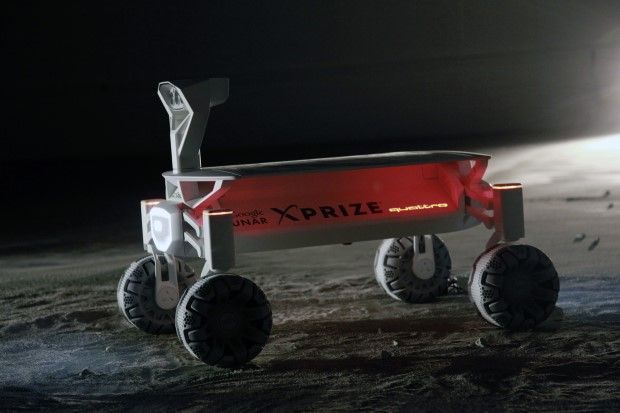 The lunar vehicle with the Audi lunar quattro should launch into space in 2017 on board a launching rocket and will travel more than 380,000 kilometers to the moon. The trip will take about five days. The target landing area is north of the moon's equator, near the 1972 landing site of the Apollo 17, NASA's last manned mission to the moon. Temperatures fluctuate here by up to 300 degrees Celsius.
The Audi lunar quattro will use an adjustable solar panel to capture sunlight and to charge the lithium‑ion battery, which powers four electric wheel hub motors. A head at the front of the vehicle carries two stereoscopic cameras as well as a scientific camera that examines materials. The theoretical maximum speed is 3.6 km/h– but more important on the rugged surface of the moon are the vehicle's off‑road capabilities and ability for safe orientation.
---
---
---
---
Comments