Audi TT Clubsport Turbo Concept Revealed: 600HP, E-Turbo, 310KM/H Top Speed
Auto News The all-new 2015 Audi TT may have just made its debut here in Malaysia but back in Ingolstadt, the company has revealed this, the Audi TT Clubsport Turbo concept. Scheduled to go on display during the Wörthersee Tour in the Austrian town of Reifnitz from May 13 to 16, the concept features a unique electric biturbo system which showcases Audi's key future technology, its 48-volt electrical system.
The powertrain on the TT Clubsport Turbo is comprised of a 2.5-litre TFSI five-cylinder engine producing 600hp and 650Nm of torque all sent to a six-speed manual transmission. Power is sent to all four wheels via the brand's Quattro permanent all-wheel drive system. As far as performance goes, 0-100 km/h is met in just 3.6 seconds with a top speed of 310 km/h.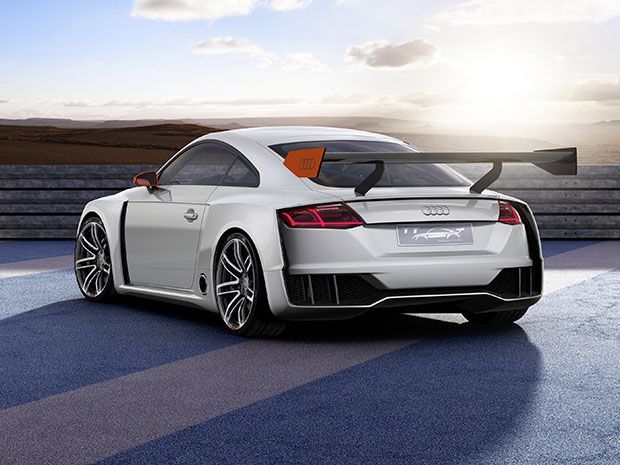 One of the key components that assists in providing the ludicrous amounts of power is the car's electrically driven compressor. Within the engine, there are two turbochargers, a conventional one which is specifically for high pressure and high engine power and an e-turbo which boosts charge pressure when too little drive energy is left in the exhaust gas for the conventional turbocharger.
The e-turbo serves to provide response and power from low engine speeds at all times as it is capable of revving up to maximum rpm rapidly, delivering up to 200Nm of torque. Audi say in an acceleration duel, the TT Clubsport Turbo pulls away from a counterpart with an identically powered engine but no electric biturbo.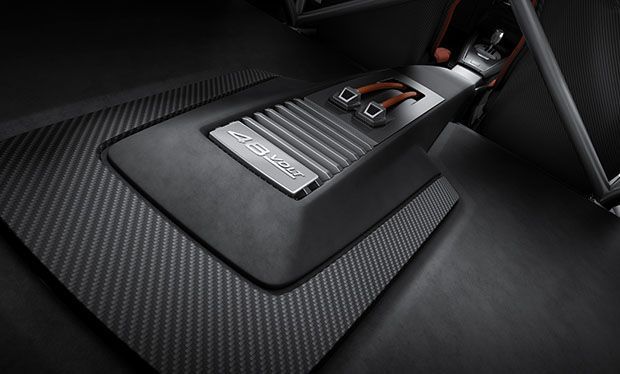 A dedicated 48-volt electrical sub-system provides power to the turbocharger but more importantly, opens the door to a wider range of systems that can be implemented into future Audi models.
Styling-wise, the TT Clubsport Turbo concept looks like race car with open front and rear fenders, large air inlets, revamped bumpers, front splitter, rear diffuser, and a manually adjustable rear wing consisting of carbon fibre reinforced polymer (CFRP). The wheels are six twin-spoke 20-inch alloys around carbon fibre ceramic brake discs.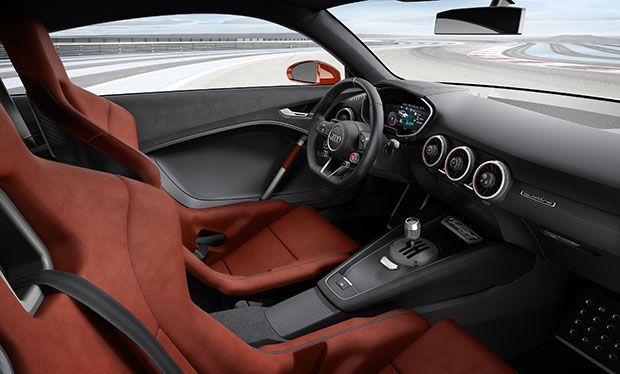 Inside, a roll cage made of titanium tubes is installed as are lightweight racing bucket seats. Audi's Virtual Cockpit is also seen here while a multifunction steering wheel features on-wheel controls. Elsewhere, the cabin features CFRP and black Alcantara trim and upholstery. An open shift gate highlights the need to row your own cars with the aluminium gear shift lever.
Development chief behind the TT Clubsport Turbo concept, Prof. Dr. Ulrich Hackenberg says, "In our TDI engines, we are close to production readiness with this technology. We are now presenting it in a TFSI – here too, we are the first automaker in the world to do this. For our fans at Wörthersee, we have packaged the electric biturbo in a very sporty show car."
Technology close to production readiness? We can't hardly wait.
---
---
---
---
Comments