Review: Audi TT S Coupe - Sprints in the dry, dances in the rain
Reviews Likewise BMW M, Audi also produces extreme performance versions dubbed 'RS' for a few of their models. Just below them, however, Audi also makes a high performance 'S' version for every single one of its models just like Mercedes-Benz. And the arrival of the TT S marks a significant commitment by Audi as this is the very first time a performance variant is officially brought into Malaysia after the R8 supercar.
While old Audi S models used to have the same engine as their RS counterparts, differentiated only by the power output they produced. But Audi's new philosophy towards the S models meant that they should have a mass appeal, aided by vast technological improvements in turbocharged engines; S models are now largely factory-tuned high performance models serving as the highest spec variant of each model.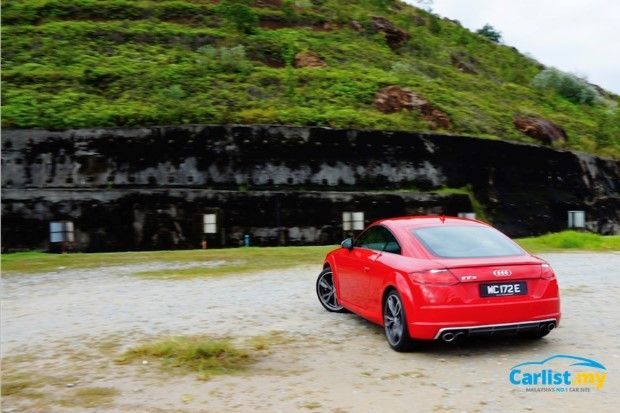 The TT S thus joins the TT making a two-variant lineup for Audi's 2+2 sports car with prices from RM285k to RM390k, undercutting every single rival. And let me pull out a short chart to show you how significant this pricing strategy is:

| | | | | |
| --- | --- | --- | --- | --- |
| Audi | TT | 230hp | 370Nm | RM285k |
| Audi | TT S | 286hp | 380Nm | RM390k |
| BMW | Z4 sDrive20i | 184hp | 270Nm | RM360k |
| BMW | Z4 sDrive28i | 245hp | 350Nm | RM488k |
| Mercedes-Benz | SLK 200 | 184hp | 270Nm | RM461k |

What this means is that the basic Audi TT is almost RM200k away from Audi's closest competition, even if the TT S were to be pit against the Z4 sDrive28i with which the BMW's performance is closer to the basic TT, the TT S still is a RM100k cheaper to buy. Simply put, whichever variant of the TT you choose, you get more horses for less money than the competition.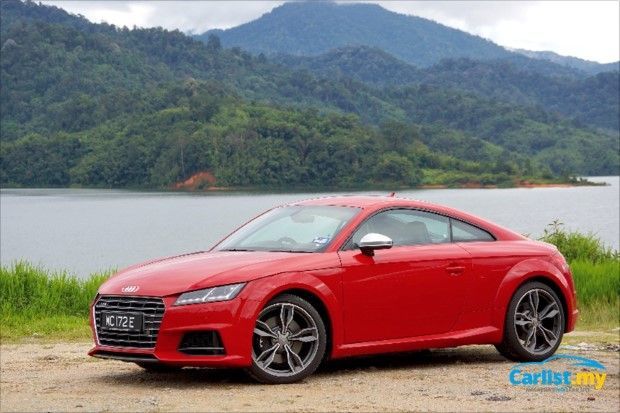 Specifications:
Price: RM389,900
Engine: 2.0-litre, transverse inline-4, turbocharged, petrol direct injection
Power: 286hp @ 5,300rpm
Torque: 380Nm @1,800rpm
Transmission: 6-speed twin clutch (wet) S-Tronic, permanent four wheel drive
Safety: 6 airbags, ISOFIX, ABS, EBD, VSC, Torque vectoring (brake)
Origin: Fully imported from Györ, Hungary
Overview: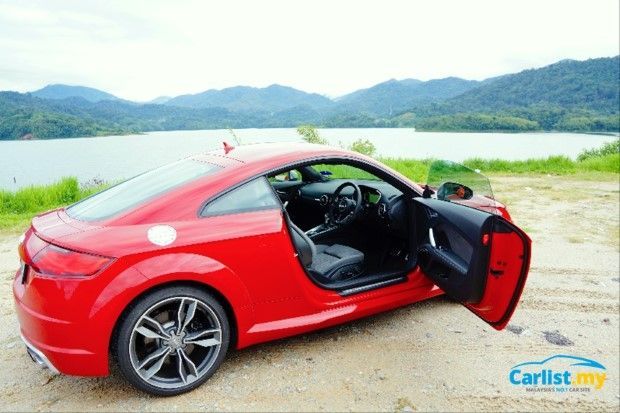 As discussed earlier on, Audi no longer offer detuned RS engines to S models, for if not, we'll getting the brilliant 2.5-litre five-cylinder engine from the TT RS. What we get instead for the Audi TT S, is still a very high performance 2.0-litre direct injection turbocharged, variable valve timing engine, (think 6hp more than a Nissan Skyline GTR34) at 286hp and 380Nm. And with Audi's famed quattro permanent all wheel drive, the TT S puts down astonishing performance in only needing 4.7 seconds to go from 0-100km/h. Again putting things into perspective, this sort of performance is 911 territory, oh 911 GT3 996 territory to be precise. And the best part of having a higher tuned small engine rather than a detuned big engine? You're only paying RM380 road tax while at it.
So what is the Audi TT? Why did so many people buy one? My take is that it is essentially a much more affordable Porsche 911 in terms of market proposition, even though the resident office nerds Hans and Kon see it as the exact opposite of a Carrera. Think about it though – a sports car with excellent everyday usability, practical enough for short trips, a 2+2 layout where kids from 2 - 10 year olds get to fit behind. And with front wheel drive or four wheel drive, the TT is a sports car with almost no learning curve at all to drive fast. While proportionately it may look small, the TT is actually wider and taller than the current-gen 911, and with a longer wheelbase to boot.
If we have an imaginary ladder for a car enthusiast to start climbing up the luxury sports car foodchain with the Bugatti Veyron at the top, the TT would be a good start, yeah that's how I'd put it.
Exterior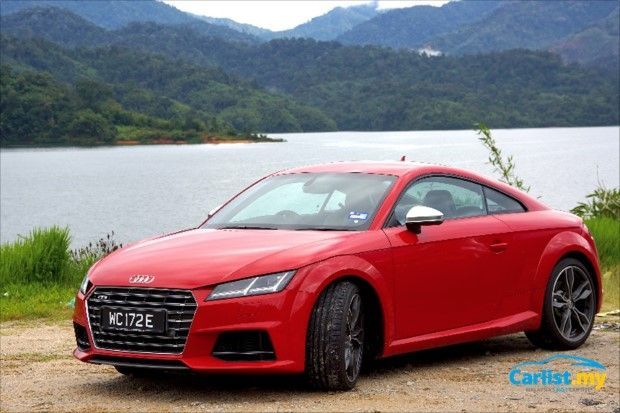 The TT S differentiates itself from the standard TT the same way Audi does all its S models. Gloss aluminium side mirror housing, (yes, it's solid aluminium, not chrome plated) and quad exhausts with two on each side, and a plethora of S model badging as well as a different front grille and bumper. These minute differences might not be noticeable to others, but for an Audi enthusiast, the sight of these aluminium side mirror housings from afar denotes something special. (More so if it's matte finished housings as that calls for RS)

Apart from these little telltales, there are no differences to the standard TT, Which is fair as the standard TT is no slouch either with 230hp on tap and a century sprint time of only 5.9 seconds. In terms of body design, Audi seems not willing to remove itself from the basic shape, but this 3rd generation Audi TT follows the design direction under Wolfgang Egger of having strong edgy cut lines running all over the car.

One important detail is that this is the first Audi to ape the R8's placement of the four rings on the hood instead of within the grille, and it is also the first Audi to use the bonnet shut line to blend into the car's side character line - another elegant Audi solution towards reducing the number of panel lines ruining a car's design. And this has been adopted into the design of the new A4 B9 scheduled to arrive very soon, and I believe will be adopted across the board.
Interior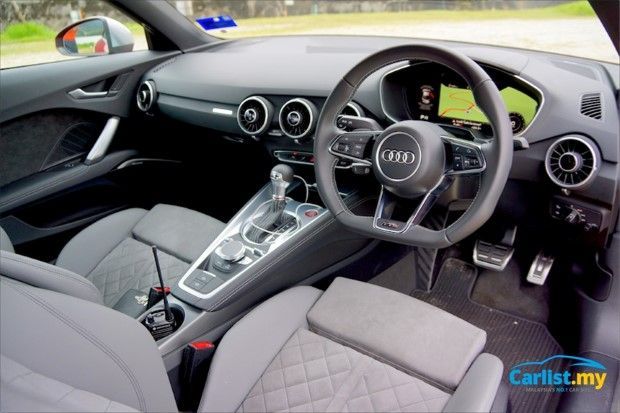 Now this is where Audi will blow everyone off their proverbial soft-touch poking knuckle knocking wandering hands. This is the most beautiful interior Audi has ever built; it even shames that of the R8 and even those of Lamborghinis. Now don't attempt to even tell me you don't think so, because if you do - you're wrong. In a time and age where all carmakers have to somehow fit a screen in the center console, Audi went F this sh*t and clean everything up, condensing all information into the Virtual Cockpit. What's left in the center console are three beautiful air vents where the dials are integrated with a circular display panel. The ingenuity of this itself deserves an industrial design award of the decade. It's elegant, purposeful, and achieves its objective with pure ingenuity.
The same can't be said about the new MMI's shortcut keys. What was once straight simple buttons was minimised to become toggles for pushing up or pulling down. While the minimalist design is certainly attractive, the layout proved unintuitive its design and operation. Next is the gear stalk, which Audi should take a leaf out of BMW's book to have a sexier looking, more avantgarde design. But of course, this is a minor rant.

How does it drive?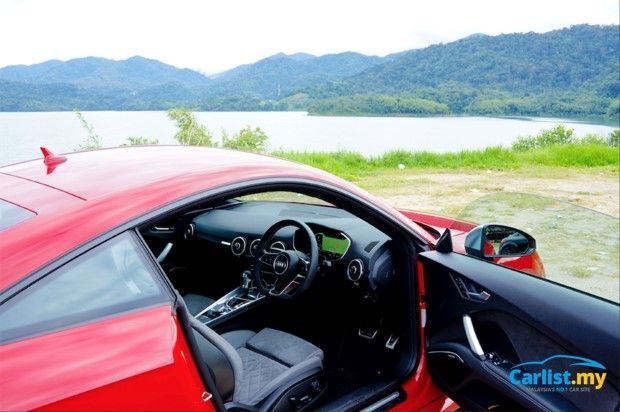 I have a confession to make, being the owner of an Audi S4 with more than 400hp, I can't tell if the TT S is fast, and on the day I test this new TT S, I brought along with me, a previous generation Audi TT S that pumps out 300hp with a chip while everything else is stock standard.
First of all, the new TT S's electric powered steering doesn't communicate as well as the previous generation's hydraulic setup. Secondly, the synthesized exhaust note of the new TT S is too consistent, it's as if those laughter you hear when you watch American comedies, the exact same ones on and on again regardless of the dialogues. Whether I'm going uphill full throttle in 3rd gear, or I'm going downhill full throttle in 4th gear, the noise the car makes sound almost the same.

That's it, no more complains.

This car drives. Ever since the A3, Audi seems to have figured out their achilles heel of having stiff rides once and for all. The new TT's damping is so well sorted that road undulations are met with a reactive composure each and every time, and if you turn the Audi Drive Select into Individual mode, place everything in Dynamic mode but leave the suspension to Comfort, you'll have a car that is very much alert in every aspect with a sensitive throttle, an urgent transmission response, but also a suspension that allows the car to translate more of the road cambers and the car's mass reacting to physics, which you can then use to judge your inputs.
I may have boasted about my car's horsepower earlier on, but I can drive much much faster in this TT S than I ever could in my heavy S4 Avant. The way the car yaws in repeated left-right bends is typical Audi fashion. While most seasoned drivers prefer BMW's 'light' front that doesn't counter your inputs in any but the most extreme of steering actions, Audi's on the other hand tends to load up immediately as you turn, even if it's just a slow turn in. Non-Audi owners might claim this is a prelude to the glorious understeering mess to come, but it actually isn't, it's just the way Audis are designed to let the driver feel how hard he/she is 'pushing' even when she isn't. The sheer grip it has also allows you to really exploit the car.
This 'thing' that I just mentioned there, is the handling trait where Audi always claims "our customers like it that way" and also the reason why you can see a lot of novice drivers being able to drive a lot faster in Audis than they do in BMWs. Audis tend to prefer to 'hold on tight' rather than 'go with the flow'; mastering this, and making use of its sheer grip available is the reason why quattro is banned in all races Audis participate in - they're fast, even if it's not as fun as others.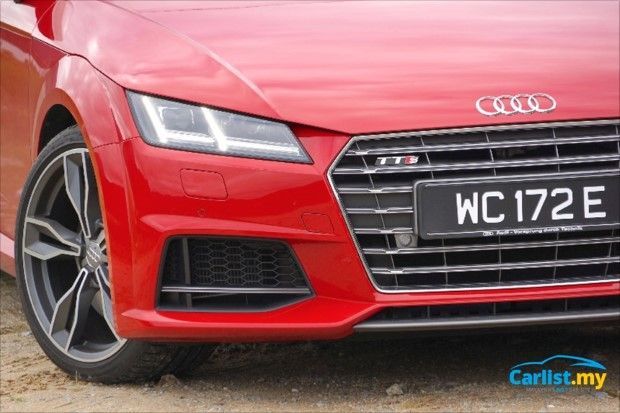 Another key factor to the TT S's performance, is of course the excellent 6 speed S-Tronic transmission and its seamless coupling with the 2.0 TFSI that's massaged to 286hp, power delivery is instant, and the transmission has virtually no hesitation. (Owners of heavily-boosted turbocharged vehicles will know how frustrating it is for that half a second lag between stomping the pedals before anything happens) Floor the throttle in the TT S and before you know it, it's pulling illegal speeds. It's fun to place the speed warning at 110km/h and see how often and how fast it beeps.
With just RM380 of road tax a year, you're in a car where you can set the speed warning at 250km/h and actually hitting it most of the time - if you want to. (I've traveled 262km/h in an Audi that's supposed to be limited to 250km/h, and that car's rated 270hp - go figure). All in all, performance wise, you'd be hard pressed to want anything more. Yes, the Mercedes AMG 45 trio is rated 360hp, but when the ride quality is so bad, you'll be struggling to put down two thirds of that kind of output. Having a beautifully weighted suspension is what makes a car perform, which is also why so many out there adore the Golf R, and of course, by default, the master in suspension - Ford, any Ford.

How comfortable is it?

It's very quiet, sound insulation and ride quality is superb, the body is extremely rigid, coupled with an interior that's so well made, you really can't find many cabins you'll be happier to sit in. Provided you're stuffed in the back seats.
How economical is it?
6.9 litres/100km is the official figure, but a few days of hooning, the highest it ever got up to is just about 11 litres/100km, which is mightily impressive. I reckon if you buy the TT S, you should be doing about 8 litres/100km in the first month, then 15 litres/100km in the second month, 12 in the third, and then average out about 9 moving on as you no longer suffer the 'New Performance Car Syndrome' of hooning around even if it's just a short drive.
When it comes to resale value, Audi S models traditionally enjoy very slow depreciation rates, and TTs also have slow depreciation rates, hence this should be very economical in the long run. But we've heard plans to introduce risk factor derived insurance coming soon, and as a sports car, the TT will be hit by it.
Conclusion
The TT is the cheapest proper luxury sports car you can buy at RM285k, whereas the TT S, given there's a 56hp boost in power, the availability of the magnetorheological suspension, nicer seats and upholstery, larger rims and brakes, a sports exhaust and suspension system as well as a full set of exterior upgrades, is more than the sum of its parts in terms of value proposition. Add to the fact that it's a 2+2 sports car, you can buy one even if you already have kids. Did I also mention it comes with a humongous boot?
The last thing that comes to mind, is that even if there are quite a number of beautiful used Audi R8 V8s around for about the same price, remember the TT S's road tax is just RM380. There's really nothing much quite like the TT out there except the Porsche 911 Carerra in terms of daily usability, fun and practicality all fused into one. Add to the fact that we live in a region with torrential rain, the TT S' quattro drivetrain makes for one compelling sports car that sprints in the dry and dances in the rain.
Looking for an Audi TT? Find one now at Carlist.my
---
---
---
---
Comments