 Hari Raya will soon be upon us which means there is a lot of preparations that needs to be done. From decorating the home to buying new outfits, you may even want to consider getting yourself or the family a new car for the balik kHari Raya will soon be upon us which means there is a lot of preparations that needs to be done. From decorating the home to buying new outfits, you may even want to consider getting yourself or the family a new car for the balik kampung journey. Then there's the food, lots of it.ampung journey. Then there's the food, lots of it.
This festive season is also the perfect time to purchase a new car with various car makers offering their own Raya deals which include cash rebates, free maintenance, and warranties, or a combination of one or the other.
Rather than combing through the various sites to look for these deals, we've decided to compile all current Raya deals being offered in this space so you can browse through them easily and make that value buy just in time to for the Raya celebrations.
We'll continue to add new Raya deals as and when they pop up so stay tuned to this space.
Mitsubishi
Mitsubishi Motors Malaysia's Special Raya Promo is offering cash rebates of up to RM6,000 on nearly all of its models which include the Mirage, Attrage, Lancer 2.0 GTE, Pajero Sport, and Triton Lite Turbo. As for the Mitsubishi ASX, it receives a five-year free maintenance and warranty while the recently-launched all-new Triton gets two-years free maintenance.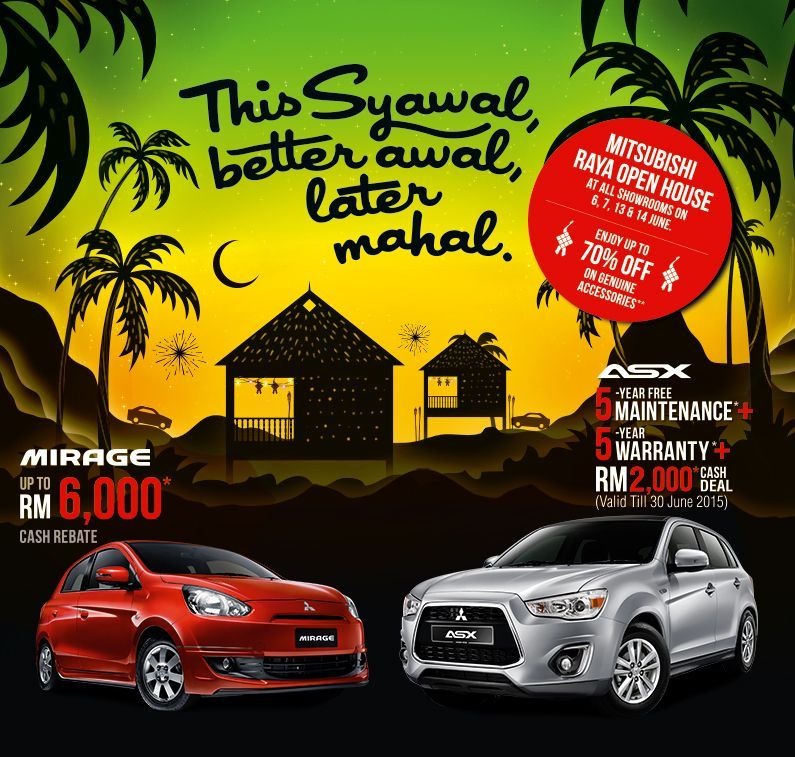 The promotion is valid until 31st July 2015 and while stocks last. For terms and conditions, check out Mitsubishi Motors Malaysia official webpage.
Volkswagen
You could be saving up to RM48,000 on selected Volkswagen vehicles this Raya. From now till 31st July 2015, the Jetta, Tiguan, Passat, Golf, Polo, and Polo Sedan are available with no downpayment and no interest for up to seven years (subject to terms and conditions).
For instance, you can own a brand new Volkswagen Polo Hatchback from only RM999 a month following a repayment period of seven years with expected savings of up to RM22,000. So check out Volkswagen Malaysia's Raya promo page for more details on other vehicles being offered.
Not only that, the Volkswagen Sales Carnival will take place at The Oval, Setia City Mall from 12th to 14th June 2015, 10am to 10pm. Learn more about your favourite Volkswagen models while having a fun time with gifts and many more.
Audi
Audi Malaysia's Open Haus™ Hari Raya Aidilfitri Sales Event provides customers the chance to drive home a brand new Audi this festive season with four-year free service and four-year warranty across the Audi range of vehicles (subject to terms and conditions).
The offer ends on 31st July 2015 so hurry and take advantage of this offer now.
Peugeot

For those interested to purchase a Peugeot, they are offering customers 0% interest rate, three years free roadtax, five years free service (inclusive of parts and labour), and 12 months free instalments. Additionally, you can own a brand new Peugeot from only RM85,888. This offer is valid from 1st June to 31st July 2015, subject to subject to terms and conditions which you can find out more about by visiting Peugeot Malaysia's webpage.
Ford
Sime Darby Auto Connexion (SDAC), the local distributor of Ford vehicles in Malaysia is offering up to RM12,000 on selected Ford vehicles.
Not only that, current customers can also send their vehicles in for a thorough inspection by Ford-certified personnel. Discounts on parts and labour are also up for offer during the promotion which runs until 31 July, 2015.
Renault
Over at Renault, customers are welcomed to attend various Hari Raya open houses at selected Renault showrooms. There, they can take the opportunity to own a Renault from as low as RM33 a day with five years manufacturer warranty and maintenance. This is subject to terms and conditions of course. For more info and location and dates of the Renault open house, head on over to their webpage.
Lexus
With Lexus entering its eighth year in Malaysia, they are now adding more value to each purchase of a Lexus. For instance, the ES now comes with a complimentary 5-year/100,000km (whichever first) maintenance program which includes cost and labour.
Other deals include covering the cost of vehicle insurance, road tax, and inclusion of window tint. For more information, head on over to any Lexus showroom to understand the take advantage of these deals which varies from model to model.
Audi

With Audi, the German automaker has got some attractive offers for this year's Muslim festive season. Until 31 July 2015, with the Audi Open Haus promotion, all Audi models across its range (except the Audi TT 2.0 TFSI and Audi Q7) will come with 4-year free service package and 4-year warranty.
The manufacturer's warranty covers the vehicle for four years or up to 120,000km (whichever comes first). You can head over to their website to find out more about their Raya promotion or to arrange a test drive.
Nissan
Edaran Tan Chong Motor (ETCM), the sole distributor of Nissan vehicles in Malaysia, is currently having its Riang Raya campaign which will run throughout the months of June and July 2015.
As part of the campaign, six lucky customers will have a chance to win the opportunity to host their own Celebration Party. Also, ETCM is extending its "RM1.00 Promotion Campaign" that allows customers to purchase add-ons for their newly purchased Nissans such as a NISMO aerokit for the Nissan Almera.
Toyota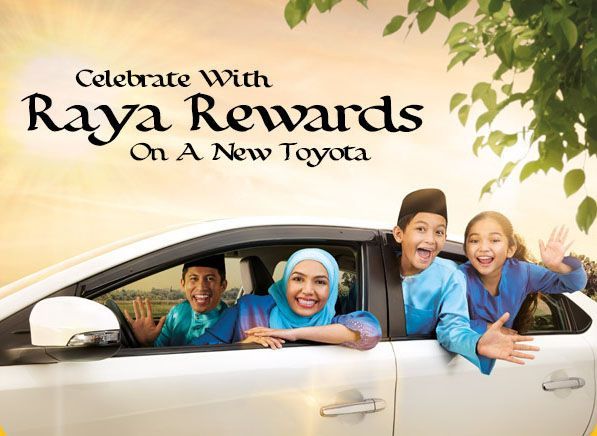 Toyota Malaysia is providing cash rebates of up to RM6,000 on selected models. Not only that, customers will receive a free value-added accessory package when they purchase a Toyota Vios or Hilux.
Free maintenance packages are also offered on models like the Camry Hybrid and Alphard where buyers of the latter can opt for a low upfront payment should they wish. Find out more at Toyota Malaysia's website.
Chevrolet
This Raya, Chevrolet is offering many incentives when you purchase a brand new car. These include a 0% downpayment, free insurance and road tax, free shopping and petrol vouchers (subject to terms and conditions). Attractive cash rebates are also on offer on selected Chevrolet models as well.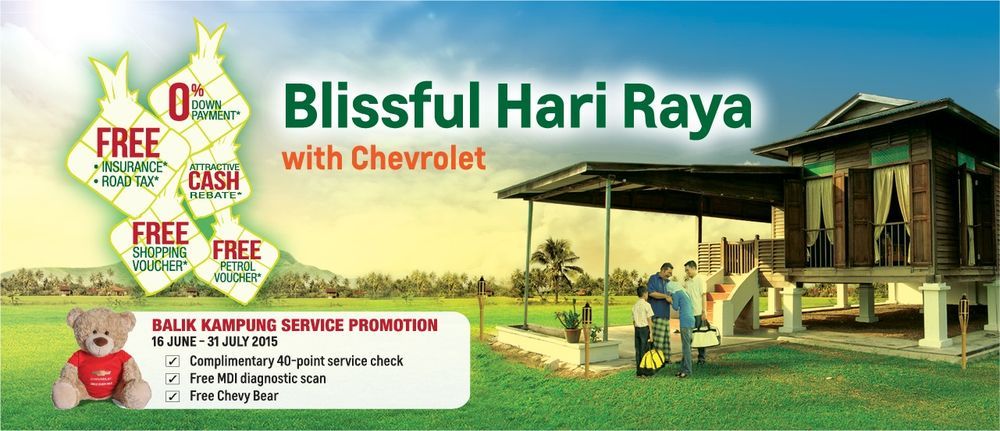 The campaign is valid from 18th June 2015 to 31st July 2015 and includes a special Balik Kampung service promotion that provides a complimentary 40-point service check, free MDi diagnostic scan, and a free Chevy toy bear to keep the young ones entertained during the long drive back to the hometown. For more details, check out Chevrolet Malaysia's website.
Michelin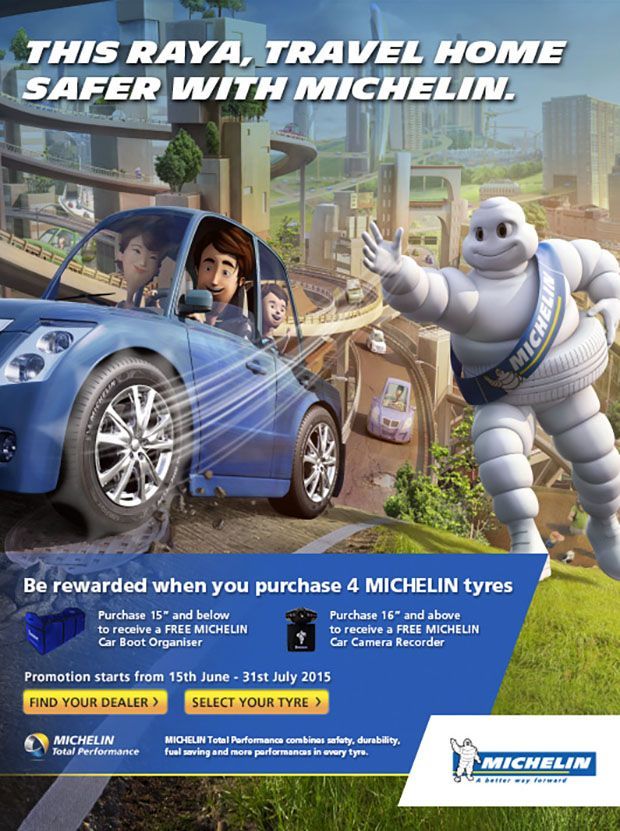 Before you set off on your 'balik kampung' journey, you should check your tyres to ensure they aren't worn out to prevent any unwanted stops along the way. If you are looking to swap your tyres, Michelin is offering enticing gifts when you purchase four Michelin tyres. For those who purchase a set of four 15-inch tyres, they'll be rewarded with a Michelin-brand car boot organiser while buyers of 16-inch tyres will receive a car camera recorder.
---
---
---
---
Comments