BMW 750d xDrive – Munich's Most Powerful Six-Cylinder Diesel Ever
Auto News Although most of the money in the luxury segments are now made from four-cylinder engines, BMW has not forgotten its rich heritage of inline-sixes, and the latest round updates to its European model range suggest that this cherished engine configuration remains an important component in Munich's foreseeable plans.
Headlining BMW's 2016 summer upgrades for its model range the continent is world premiere of the most powerful diesel engine ever built by the company – a quad-turbocharged 3.0-litre straight-six punching out 400hp and 760Nm, the latter figure forcibly restricted to protect the internals of its 8-speed automatic transmission.
Slated to power the 750d xDrive from July 2016 onwards, the new engine replaces an existing tri-turbo unit that made 381hp and 740Nm powering a line of BMW M Performance Automobiles not presently offered in the Malaysian market.
Derived from BMW's latest modular B-series engine family, the 3.0-litre unit utilizes multi-stage turbocharging to ensure maximum effectiveness of boost available across the rev range. Its four chargers consist of two low- and two high-pressure units operating on precisely-coordinated interplay. At low to medium load, both the low-pressure and one of the high-pressure blowers stand duty. Under hard acceleration, however, the low-pressure turbos are bypassed allowing the second high-pressure turbo to kick in from about 2,500rpm onwards.
The result of all these innovations is that the 750d xDrive has 450Nm of torque available from just 1,000rpm with peak torque of 760Nm available from 2,000 to 3,000rpm. Maximum power of 400hp comes at 4,400rpm. Additionally, the new engine is claimed to be 11 percent more efficient than the outgoing tri-turbo unit.
Based on standard EU test cycles, the 750d xDrive consumes between 5.7 and 5.9 litres per 100km depending on tyre size as well as wheelbase length. Top speed is restricted to 250km/h, whilst 0 to 100km/h is achieved in 4.6 seconds (4.7 seconds for the 750Ld long-wheelbase model).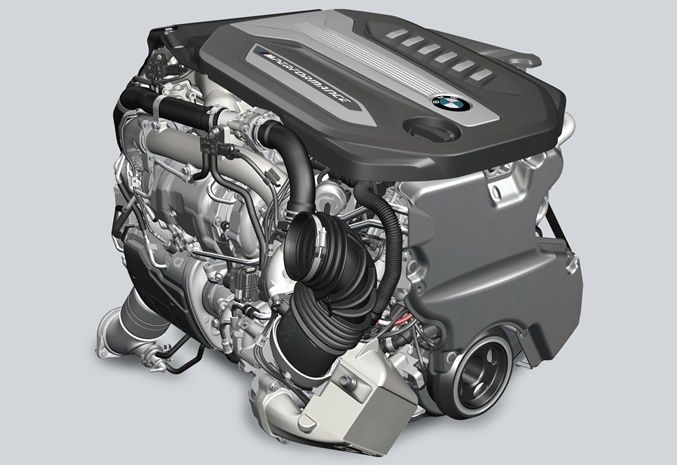 ---
---
---
---
Comments