BMW M Track Experience 2015 – A Date With The Most Powerful Letter In The World
Auto News As they've done for some years in a row now, BMW had over the last weekend invited us to attend their highly-anticipated M Track Experience Asia 2015.
The fortunate opportunity meant of course that we'd be able to test drive the full range of the M Division's latest and greatest, for a taste of what it would be like to drive these seemingly ordinary sedans and SUVs that have unashamedly been turned into ferocious track monsters, on a track where they occasionally belong.
Needless to say, BMW's experience with said business isn't short of experience or credibility: the BMW M GmbH brand has been around since the 1970s, and have been churning out countless performance heroes based on ordinary vehicles from the BMW brand.
After establishing itself in 1972 with just 35 employees on the payroll, initial projects of BMW M included the mighty 3.0 CSL, and then later, the iconic BMW M1 (the first car to wear the 'M' badge). As the list of employees began to grow, BMW's M Division moved on expanding their portfolio by churning out more high performance versions of their everyday sedans – never forgetting their everyday usability, but bringing pure track-like dynamics and power to the streets.
In year 2000, the M Division saw it fit to attempt turning an SUV, the BMW X5 (E53), into one of these high-performance machines and began experimenting. Naturally, the world thought they were mad to commission the engine from an E39 BMW M5 to drive the rear wheels of the then X5 M prototype.
They soon learnt that its xDrive technology was a must to keep the car performing as well on the track as it did on the road, and by 2009, came the full production-spec X5 M and X6 M – two of the most bonkers sports utility vehicles the world had ever known, or as BMW would prefer to call them, Sports Activity Vehicle (SAV), and Sports Activity Coupe (SAC), respectively.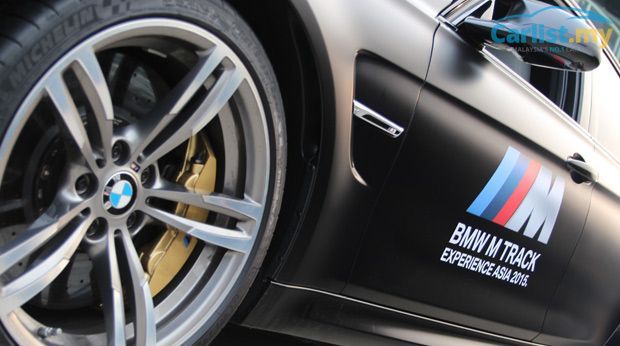 Meet The Cars
Amongst the cars we've been allowed the privilege to drive at the M Track Experience at Sepang recently were two of the latest iterations of the BMW X5 M and X6 M – and good gosh, these things have come a long way.
The good ol' F10 BMW M5 with its ferocious 4.4-litre M TwinPower V8 was back for a second Track Experience, with not much new to report on since we last drove the super mid-size sedan last year.
Also new to us at the Sepang International Circuit was the dynamic duo of the BMW M3 Sedan and M4 Coupe – we've driven the all-new M3 in Germany not too long ago, but never on a track where we could unleash its true potential.
The stars of the day, however, were the all-new BMW X6 M and X5 M. We've seen the X6 M launched here by BMW Malaysia with a staggering estimated price of RM1.2 million, topping the BMW i8 supercar even. The BMW X5 M has for whatever reason been left out of the official picture for now, but should BMW Malaysia decide to launch it here, we don't expect the price to fall too far behind its more stylish Coupe cousin.
Introductions done with, time to get to the driving.
The event organisers kept it simple and sweet for us, on an eventful weekend packed with lots of other activities for fortunate customers and prospective buyers as well. We'd each be given an out lap, a hot lap and then an in lap with each car, and while it may not appear as much, the full lap of the Sepang Circuit used was enough to give us a brief take on the cars.
So let's get started.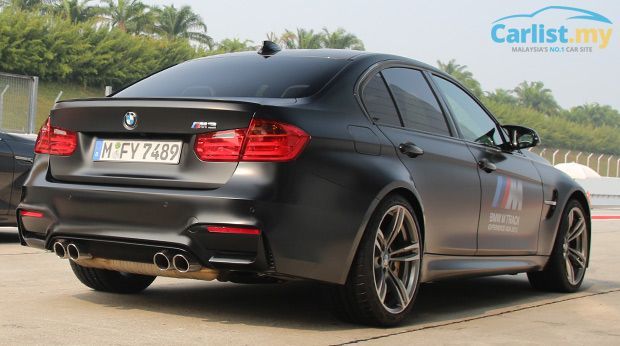 Driving Impressions: 2015 BMW M3 Sedan
It was probably a mistake (in terms of moving up towards to most track-minded and exciting M car on the day) to start things off with the BMW M3/ M4. All global reports of this have been nothing short of positive for the new duo, and equally, lap times around this track and that generally being far quicker than its predecessor.
Speaking of which, I do personally recall driving the E92 BMW M3 around the Sepang Circuit, and what a memorable experience it was back in 2014. The car more than lives up to the hype, with phenomenal handling, composure, and dynamics, topped with a proper V8 howl – where this writer is concerned, there isn't a better everyday sedan to discover the limits of your driving talents around a track, and then be off straight to pick up the kids from school after.
But where the E92 M3 could rev the nuts off its 420hp naturally-aspirated 4.0-litre V8, the new F80 M3 and M4 has since adopted 3.0-litre straight-six BMW TwinPower engines – something that caused quite a stir when they were first announced. Would it make the same noise? Would its throttle response be as sharp? Could it retain the magic of the old M3?
The truth? We unfortunately say, with heavy hearts, a resounding no. Driving its predecessor made you feel special. The E92 had an unspoken way of becoming an extension of your very self, as clichéd as that sounds. Man and machine being 'one' is a far overused term in my opinion, but the M3 is as good a 'glove' as it gets. But that alone, unfortunately, doesn't mean that it's faster or better by many of today's expectations.
The all-new F80 M3 is undisputedly quicker and superior in every mechanical and physical aspect: lap times, acceleration, mechanical and aerodynamic grip – it is just better. But it seems to lack the same emotional attachment the E92 is highly underrated for.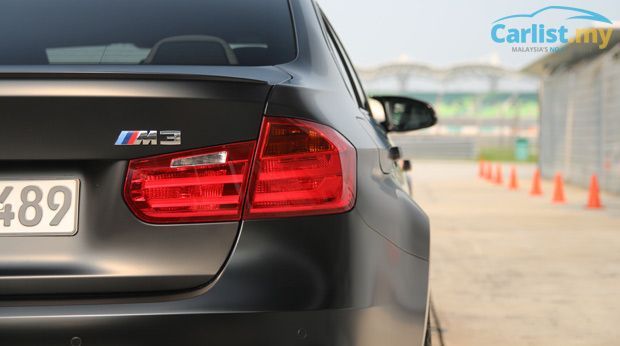 The all-new 3.0-litre straight-six engine and its 431hp and 550Nm of torque delivers power ferociously in a straight line, but because the event organisers had us keep the traction control activated in the name of safety, we couldn't quite get optimal corner exits or assess the instantaneous torque delivery, or how soon before the rear wheels lost traction.
Needless to say, the M DCT seven-speed dual-clutch transmission shifts wickedly quick, and offers three levels of shifting aggression for normal to "ultra-fast" gear changes. The new launch control function lets you burst off the line from 0 to 100km/h in just 4.1 seconds, and we have no disputes about this.
Along with the significant upgrades brought on by BMW M for its new M3 and M4, a key improvement is the new use of carbon fibre-reinforced plastic (CFRP) and aluminium materials throughout the car's body and chassis construction. This cuts up to 80kg of the car's weight when compared against its predecessor.
The result of BMW's thorough development is obvious: there's so much more ferocity to every inch of this car's abilities. We would have loved to have disabled the traction control to see just how quickly the rear axle would let us get out of a corner before sending us sideways, but the ESP kept cutting us off.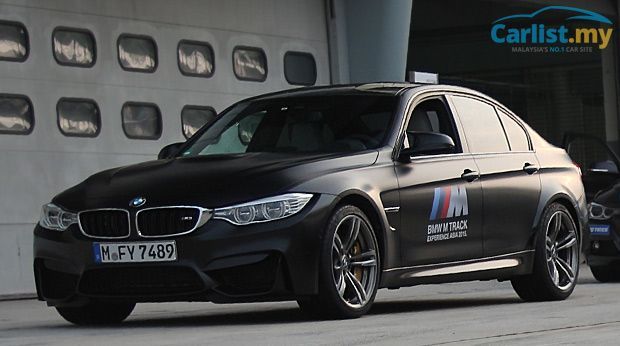 What was very obvious to us throughout was how much composure was at our disposal – apart from blatantly coming into a corner far too hot, the M3's nose was ever eager to dart into corners at incredible speeds with equally incredible steering feel and feedback, and then manage to hold impressive speeds around long bends without the rear ever feeling like stepping out of place.
The case is near identical to the M4 Coupe (which wasn't available to us on the day), and speaking to BMW's experienced driver trainer, Ivan, we were told that on the extreme limit, the M4 appeared to offer far more high-speed stability and changed directions far more seamlessly. We understand that the torsional rigidity on the M4 is notably higher than that of the M3. Although, you'd have to be on the absolute limit to discover this – a place I believe my talents can't quite reach just yet.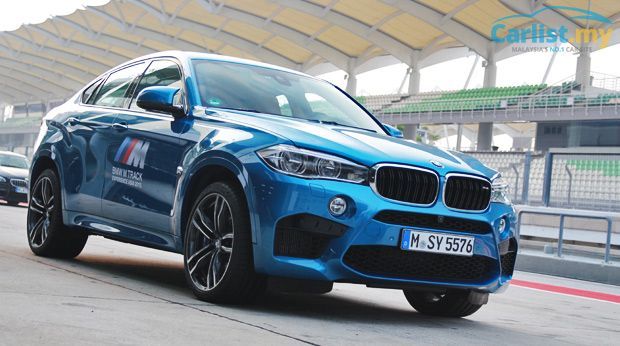 Driving Impressions: 2015 BMW X6 M, X5 M
The next car we were given a go in after the M3 was actually the BMW M5, but seeing as how not much has changed since we last drove it around the Sepang Circuit and that it's still the same gnarly beast with its exhaust note ported in from the audio system, let's move along to what was next on the agenda: the BMW X6 M and X5 M.
In light of keeping this brief, we'll focus on the one that's already available for sale already in Malaysia, the X6 M. Do keep in mind however that apart from the body styling between the traditional SUV-like X5 M and the coupe styling of the X6 M, there really isn't much that sets these two giants apart for performance and driving dynamics.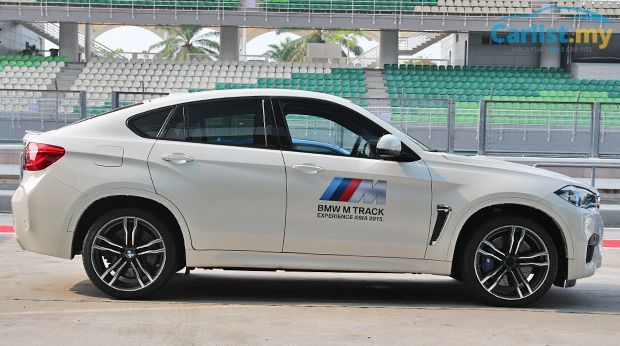 And oh boy, how does it still boggle our minds that BMW's M Division have an SUV (or SAV, SAC as they'd call it) that is geared for the track this much. To start with, how does 575hp and 750Nm of torque sound? Just about right? We thought so too.
The immense torque of the 4.4-litre V8 M TwinPower Turbo engine is said to have forced BMW's hand in using a conventional eight-speed M Steptronic torque converter automatic transmission, which BMW says shifts just as fast (and we tend to agree), and also features a launch control function for when you fancy giving its 4.2-second century sprint claim a try.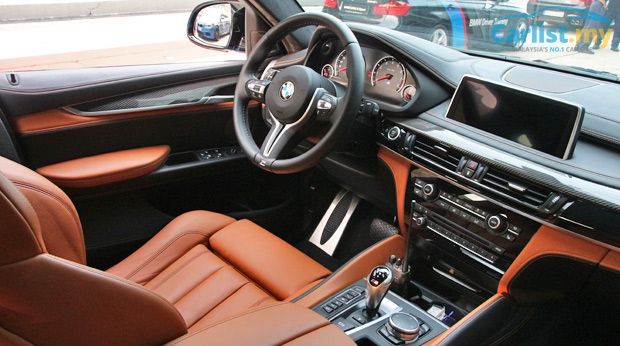 After just three corners, one thing was apparent to myself and my co-driver: the X6 M was easier and more eager to negotiate getting in, out and around a fast corner with than a BMW M5. Yes, we couldn't believe what we were saying at the time, either.
The X6 M's chassis is unfazed by high-speed cornering, and there wasn't any need to explicitly tame the SAC's weight by sympathetically compensating for the car's stature with early braking or desperate attempts to haggle the nose into a corner. On corner exits, we floored it with the ESP system hacking away at our power delivery, but when the full power was released by the system, it was almost impossible to run into instances of understeer.
The lacking understeer for an all-wheel drive vehicle of this size was a bit of magic, but there is a simple and logical explanation: BMW's latest xDrive all-wheel drive.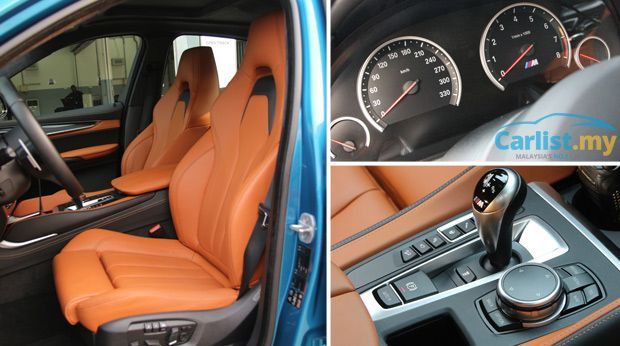 Apart from just being able to split the engine's torque distribution by up to 100% to the front wheels or the rear, the new xDrive all-wheel drive and its new Dynamic Performance Control has a new trick up its sleeves: the ability to split rear-axle torque between left and right wheels.
Where more common torque vectoring systems either jab the brakes at the inside wheel or relieve torque to encourage better turn in, BMW's Dynamic Performance Control system can effectively employ 100% of the car's torque to, say, the rear left wheel alone, to ensure sharper turn in to the right – this effective forces the car to dive into your chosen direction, based on your steering inputs.
Of course, this isn't in effect all the time (but can be), and decisions for where and when this features acts depends on your demands at the time, be it on the limits of grip, or daily driving in less grippy conditions, like on a wet road.
Plainly put, it would take a lot of 'unintelligence' for you to cause an X6 M, or X5 M, to understeer.
All of these things have made driving the second-gen BMW X6 M an unbelievable experience: we were lost for words after getting out the car, and then again when we got out of the X5 M after driving that for a few laps.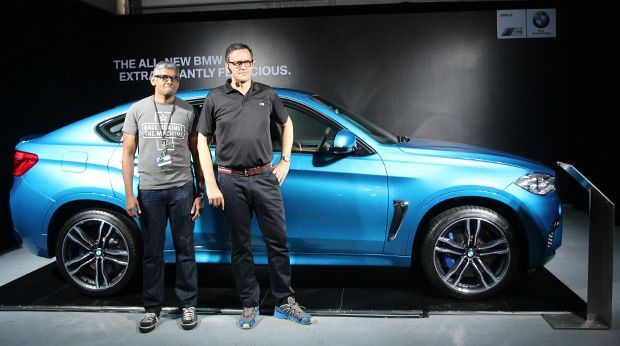 Again, BMW's driver trainer, Ivan, tells us that it's the coupe-esque X6 M that's the better performer on the limit, also because of its increased structural rigidity. And although we couldn't quite tell the difference between the two at the limits of our talents, we can't imagine anyone else finding these limits on public roads either: the moral being that, X5 M, X6 M, your call on body styling is all that differs one from the other.
So, which one of these track 'M'onsters will you be having?
---
---
---
---
Comments