BMW M135i – Final Call To Own A Future Classic?
Reviews My colleague, Daniel Wong, follows a simple guideline when shopping for cars – that if there is no replacement for it, it's almost certain that the car is going to be a keeper. Looking at the demand for the Porsche 993 (last air-cooled 911), FD2 Honda Civic Type-R (last naturally aspirated Civic Type-R sedan), E92 BMW M3 (last naturally aspirated M3), it's hard to argue against that.
BMW has already confirmed that the next generation 1-series will drop the current rear-wheel drive layout in favour of a more fuel- and space-efficient front-wheel drive layout - already previewed in the 2-series Active Tourer and Gran Tourer.
Changing the engine orientation from north-south to east-west to drive the front wheels will reduce energy loss in the driveline, lowers carbon emissions and thus, keeps the eco-watchers at Brussels happy.
Sure, the older folks who were brought up to believe in BMW's mantra of the superiority of the rear-wheel drive layout will kick up a fuss about BMW losing its identity.
But the younger folks who grew up watching front-wheel drive Honda Civic Type-Rs, Volkswagen Golf GTIs, and Renault Megane RSes humiliating other more powerful rear-wheel driven cars don't hold tightly onto this '80s-era BMW marketing talk.
Seeing how good of a job BMW has done with the MINI's handling, we have no doubt about the brand's ability to continue producing benchmark-setting cars, even if it's a front-wheel drive.
At the same time, we also recognise that while there is little difference between the lap time of a front-wheel drive car and a rear-wheel drive car these days, the latter offers a more engaging drive. I am not just talking about hooning around sideways (can't deny that it's hugely entertaining), but also about appreciating the better balance when the steering front wheels are relieved from having to pull the rest of the car.
Which brings us to the 1-series LCI that we see here. LCI, or Life Cyle Impulse is BMW's terminology, for a mid-life update.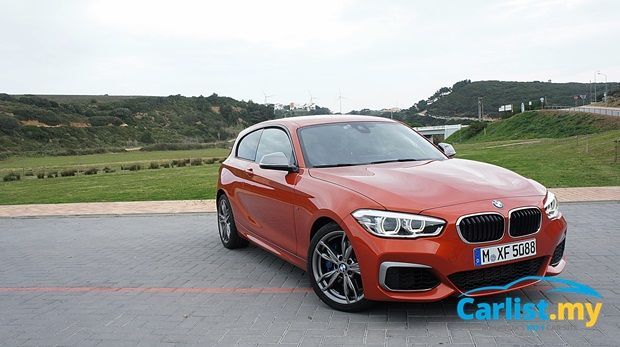 The changes in 1-series LCI are very significant by BMW's standards, which typically keeps the stylistic changes to a minimum. The new model now features a far more pleasing front-end design, and is a big leap away from the frumpy 'angry bird' looking design of the previous model.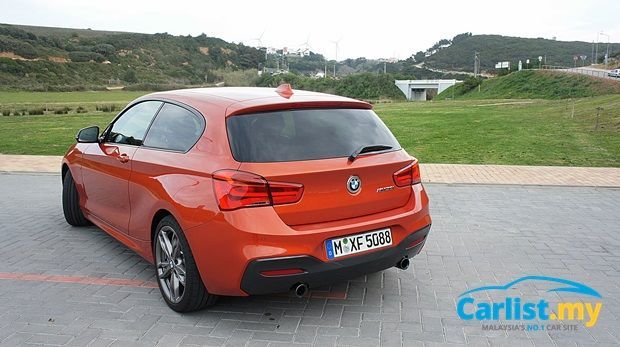 The taillights have now been made more current by adopting L-shaped LED tubes light pattern. Inside, the cabin remains largely unchanged.
There's a new 1.5-litre three-cylinder turbocharged engine (shared with the MINI Cooper and Cooper 5-Door) for the 116i, but that's not going to come here, at least not now.
The local 1-series line-up consists of only a single variant - a five-door 120i in M Sport trim, powered by a turbocharged four-cylinder 1.6-litre engine from the BMW 316i and the rest of the MINI range (as well as some Peugeot and Citroen models).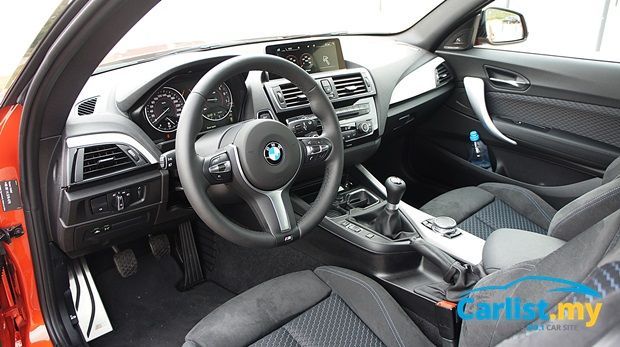 But the model that you see here is the crackling M135i, which won't be put on display at any BMW showroom in Malaysia, but if you want one, a special order can be arranged – price on application (circa RM350k depending on the exchange rate).
BMW's Six Appeal
Not too long ago, a straight-six engine, along with rear-wheel drive, were hallmarks of a BMW. Blessed with an inherently balanced harmonics with an even number of cylinders cancelling out vibrations on either ends, its smoothness is bettered only by a V12.
But pressure from the European bureaucrats at Brussels means that the days of large capacity, straight-six engines are numbered, in favour of lower CO2 emitting four-cylinder engines.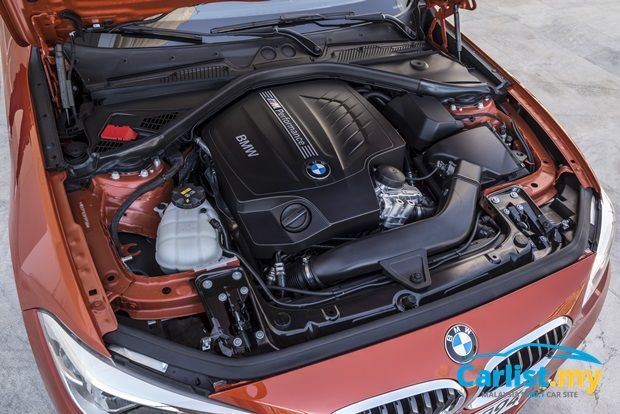 Indeed, the six-cylinder engine is a dying breed and one wonders what the future holds for this N55 3.0-litre turbocharged unit nestled under the hood of this Valencia Orange M135i. If I have not made it clear enough, here's another reminder that the next 1-series will be a front-wheel drive, and that means a transverse engine layout, which also means that there is no space for a straight-six.
This M135i is indeed the last of its kind. Despite employing a single twin-scroll turbocharger for its breathing, the engine sings and responds to you like it's a musical instrument. This is not an engine. This is an organic beast from Bavaria that feeds on petrol and leaves skid marks to mark its territory.
Personally, I am not a big fan of turbocharged engines. Despite what the marketing materials say, there is always some lag in their throttle response. It may not be apparent on highways but flog it along a gymkhana course, or hustle it along a mountainous stretch and the difference becomes clear.
With a naturally aspirated engine, a skilled driver can finely adjust the car's pitch and yaw by modulating the throttle and the car will respond linearly with your right foot. On a turbocharged car, it is almost impossible to do this.
Hence the reason why all the best engine manufacturers in the world – BMW, Ferrari, Honda, Lamborghini all stuck with naturally aspirated engines for the longest time before being forced by European Union legislations to adopt downsized engines. Lamborghini's normally aspirated V10s and V12s are the last of its kind.
But BMW is an amazing company that has an uncanny ability to bend the laws of physics – remember how in 1999, the X5 shut the world up about SUVs not being able to handle well? Despite being pushed to adopt turbocharging, this updated N55 engine loves to rev. Keep the floor hinged throttle pedal planted down and it redlines at a very naturally-aspirated-like 7,000 rpm.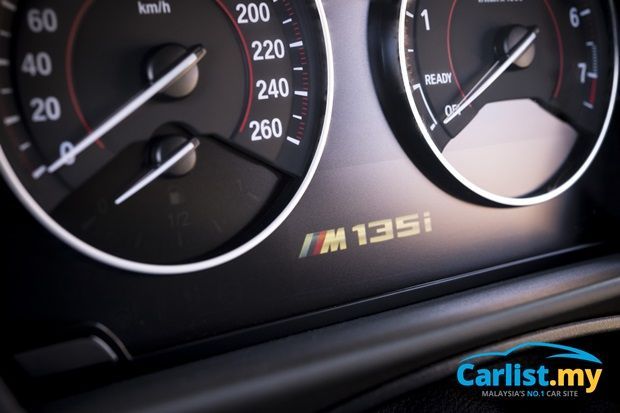 Paired with a slick shifting six-speed manual transmission and a so easy to modulate clutch pedal - you should really be ashamed of yourself if you stall this one – the M135i is a pure joy to hustle along these picturesque roads of Lisbon.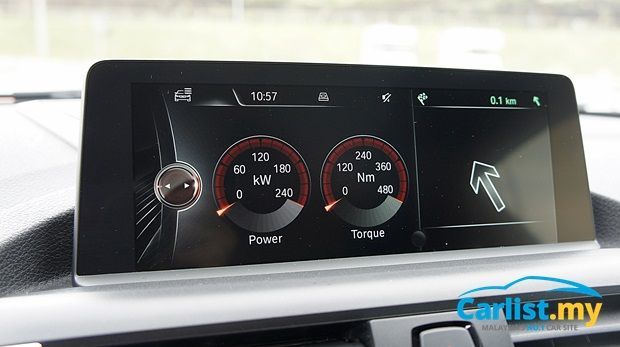 The engine produces so much torque – 450 Nm from just 1,300 rpm - that it is perfectly fine to leave the gear in sixth and drive it almost like an automatic in all but slowest traffic. If you feel like having some fun, the engine will oblige with you rowing the ratios more actively.
The transmission doesn't like to be slammed into gears but adopt the correct techniques of working the gear knob with your wrist and palm – which is how you should drive anyway (as opposed to grabbing the top of the knob) - slide it into position with a measured push, the 'box will oblige.
BMW says a majority of its customers will go for the 8-speed automatic option, but we say the three-pedal models are the ones that will be a collector's item in the future.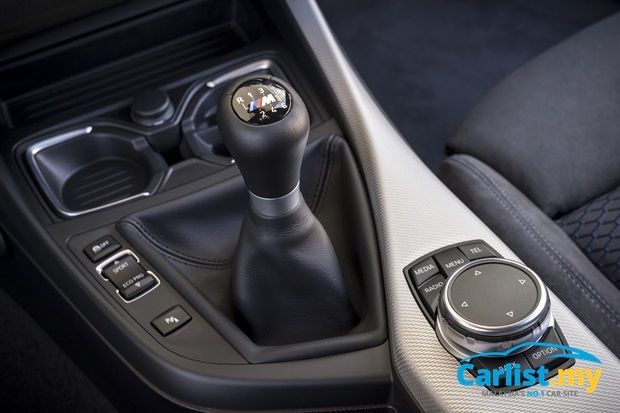 Take a quick drive in one and you will immediately ignore any thoughts about considering the RM251,888, 280 PS Volkswagen Golf R or the RM343,888 360 PS Mercedes-Benz A45 AMG – the 330 PS M135i's closest rivals.
Despite sharing the same 2,690 mm wheelbase as the M235i sedan that I drove in 2014, the M135i hatchback felt curiously more stable, although I have to qualify that the M235i drive was done on a damp autobahn. Both the M135i and M235i are fitted with Michelin Pilot Super Sport tyres as standard (225/40 R18 in front, 245/35 R18 behind).
Hustling along the tight coastal roads of Lisbon, the M135i felt alive, keen to dance but never twitchy, relative to what it is of course.
Drivers have to be mindful that this is still a short wheelbase car, which is good because you are seated close to the car's polar moment of inertia, but it also means that either ends of the car will rotate around faster, than say, a longer wheelbase 3-series.
The thick-rimmed steering wheel is another BMW signature item and although uses electric power assistance, still feels naturally weighted and does well to communicate with the driver of what's happening ahead.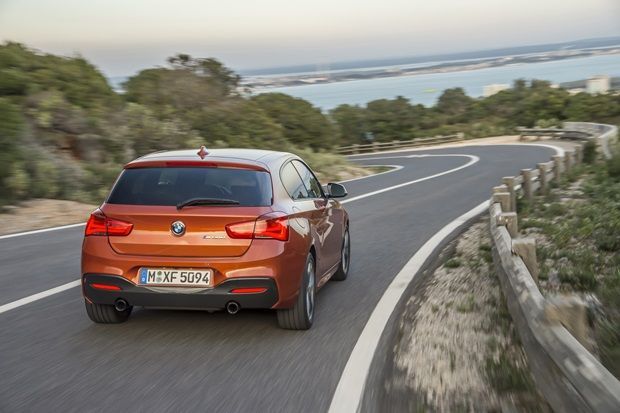 My test car didn't come with a limited slip differential (an optional item), but powering out of corners on dry tarmac, those fat 245mm wide rear tyres never felt in need of more traction.
Despite the 'M' moniker, it is no less comfortable than the regular 1-series.
Back on the highway, the M135i is very adept in settling down to a relaxed cruising pace. The suspension was stiff enough to not be overwhelmed when subjected to a series of switchback corners and hairpin turns but is still supple enough to deliver a relaxed drive.
Leave it in sixth, the M135i will cruise in comfort, with the N55 engine spinning just slightly above idle while the cabin remains typically BMW-quiet. The Alcantara semi-bucket seats provide excellent back and lower thigh support, and is a great companion for long distance drives.
All the usual bells-and-whistles for high-end BMWs - i-Drive infotainment control, adaptive cruise control, that excellent heads-up display that changes colour depending on ambient lighting, lane keeping assist, collision prevention assist - are all there.
With Volkswagen Group Malaysia offering the 280 PS Golf R and Mercedes-Benz Malaysia responding with the 360 PS A45 AMG, it is a pity to see that BMW Group Malaysia has put the M135i aside as a special-order only car.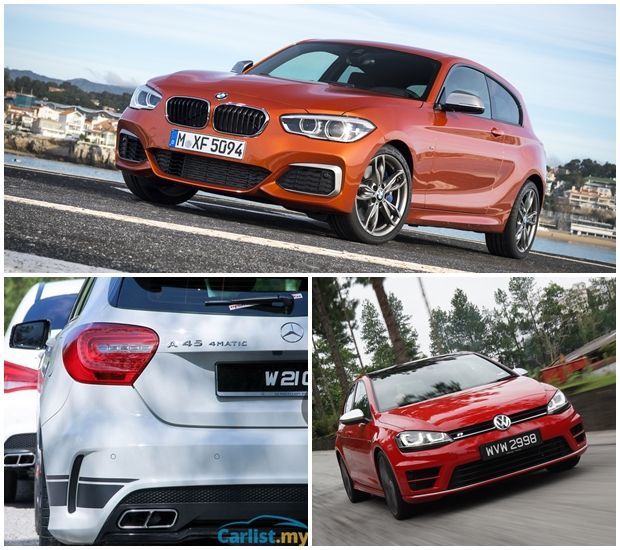 There will always be another Golf R, or another A45, but there will never be another M135i that's quite like this – three pedals, straight-six engine, rear-wheel drive. It's a purist's car.
Specifications for BMW M135i
Engine: Six cylinders, longitudinal, 2,979 cc, single twin-scroll turbo
Power: 330 PS at 5,800 to 6,000 rpm
Torque: 450 Nm at 1,300 to 4,500 rpm
0-100 km/h: 5.1 seconds
Fuel consumption: 7.5-litres/100 km, claimed
Price: Price on application (special order only)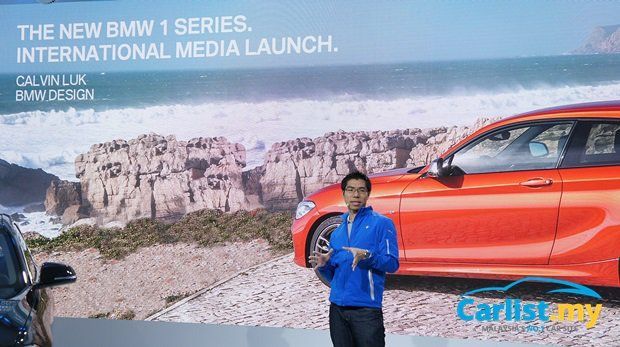 Read also: Interview With Calvin Luk - Exterior Designer For BMW 1-Series LCI and All-New X1
---
---
---
Comments