BMW M2 Coupe Announced – 370 hp With 6-Speed Manual
Auto News It's a car that BMW M GmbH should have produced long ago. Yes the current generation M3 and M4 are hugely capable cars, but there are some enthusiasts who find them to be a bit too over the top, and have lost the plot of the original E30 M3, a car which prioritises balance over horsepower.
The BMW M2 Coupe seen here picks up from where the previous 1-Series M Coupe left off, and BMW's new model naming structure meant that its name has to be changed as well.
Watch the video below, notice how it plays homage to the iconic E30 M3 and the 1-Series M Coupe.
Engine – Shared With X4 M40i
Sitting above the M235i, the M2 Coupe is powered by an updated version of the M235i's N55 engine block, and now shares some components with the M3 and M4. Pistons, top rings optimise for use of grey-cast iron liners, crankshaft main bearing seals, and high performance spark plugs, are all shared with the M3/M4.
The same revised engine also powers the recently launched X4 M40i, albeit with a slightly lower power output (10 hp less than the M2).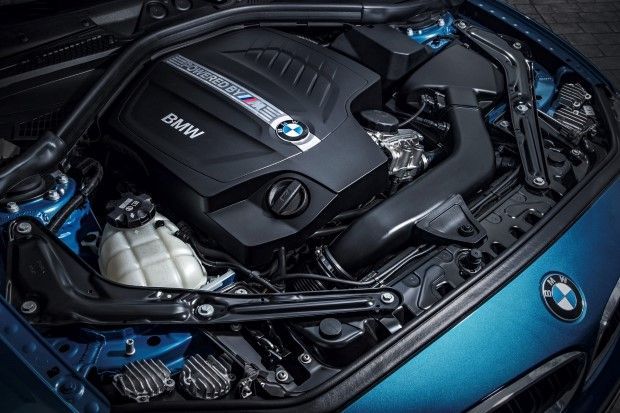 The M2's 3.0-litre six-cylinder M TwinPower Turbo engine with a single TwinScroll Turbocharger and Double Vanos produces 370 hp at 6,500 rpm and has a flat torque curve of 465 Nm from 1,460 to 5,560 rpm. An overboost function can momentarily increase this to 500 Nm.
In comparison, the similar engine capacity M235i makes 326 hp and 450 Nm.
Transmission – 6-speed Manual and 7-Speed DCT
Among the highlights of the M2 Coupe is a new 6-speed manual transmission, a rare feature in an M car these days. There aren't many manual gearboxes can handle the high torque figures and keep up with the performance targets required by many current BMW M cars.
The M2 Coupe's stick shifter has an 'engagement speed control function,' which blips the throttle on downshifts and lowers the engine's revs on upshifts. Nice! It also uses a dry-sump lubrication system and has a carbon-fibre friction lining that BMW says will enhance shift comfort.
There's also a seven-speed M Double Clutch Transmissions (M DCT with Drivelogic). Unlike earlier generation M DCT transmissions, this unit features a 'creep' function that allows it to creep forward in slow traffic like a regular automatic.
The Stability Clutch Control (SCC) function can disengage the clutches when necessary to prevent oversteer.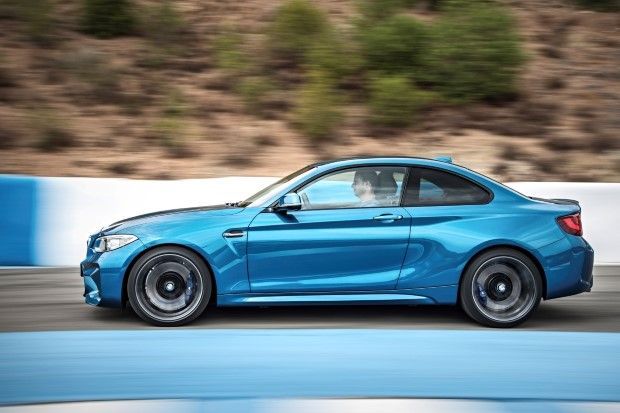 Typical of cars of such performance class these days, the DCT will out-accelerate the manual transmission model in the sprint from 0-100 km/h – taking 4.3 seconds, with the manual transmission model taking 0.2 seconds longer.
Top speed is limited to 250 km/h but can be raised to 270 km/h with the optional M Driver's Package.
All M2 Coupes come standard with BMW's Active M Differential – an electronically controlled multi-plate limited-slip differential that can vary its locking effect from 0 to 100 percent.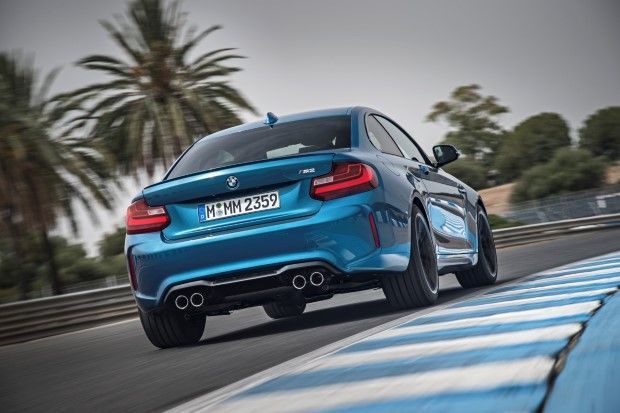 Smokey Burnout Function
If are in the mood, the M DCT has a 'Smokey Burnout' function that allows you to spin the rear wheels at low speeds.
Chassis Control
Both the aluminium front and rear axles are similar to the ones used by the M3/M4. Further weight savings are provided by the aluminium suspension struts and tubular anti-roll bar. All the control arms and wheel carriers of the five-link rear axle are also made from aluminium.
The brake callipers are painted in the iconic BMW M blue. The front anchors are four pistons fixed callipers while the rear are two pistons fixed callipers.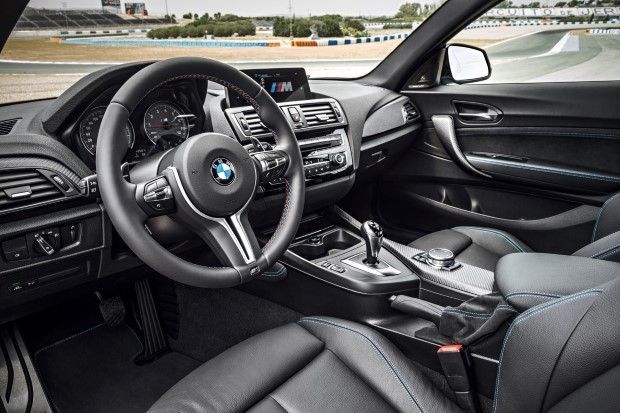 ---
---
---
---
Comments