BMW X5 xDrive40e: Plug-In Hybrid Meets Sports Activity Vehicle, 3.3 Litres Per 100 KM
Auto News At the 65th Frankfurt Motor Show in 2013, BMW unveiled a plug-in hybrid concept of its X5, powered by the company's eDrive system. Fast forward to 2015, they have turned that concept into a production model called the BMW X5 xDrive40e.
What is it?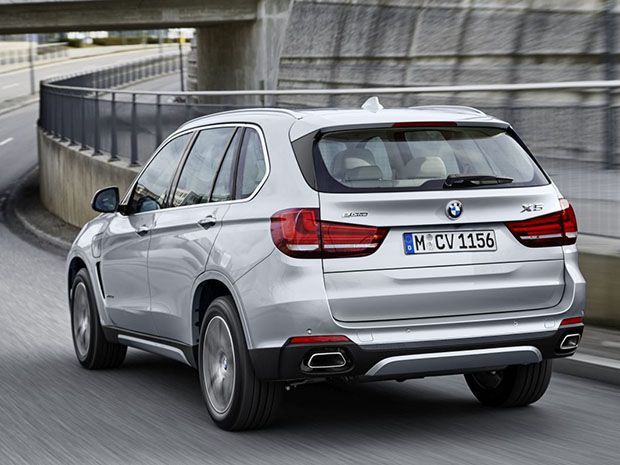 Essentially, it is your run of the mill BMW X5 but now with a plug-in hybrid powertrain that is referred to as BMW EfficientDynamics eDrive technology. Sure, the BMW i8 is actually the first plug-in hybrid production car in the BMW fleet but this represents the first within the company's core brand.
Powertrain
As we've mentioned, BMW's EfficientDynamics eDrive technology is in play here and comprises of a 2.0-litre four-cylinder TwinPower Turbo petrol engine that provides 245 hp and 350 Nm torque. Electrification can be found in the eight-speed Steptronic transmission, where a synchronous electric motor (113 hp, 250 Nm) can be found.
BMW's xDrive permanent all-wheel drive system sends power to all four wheel, even in all-electric mode.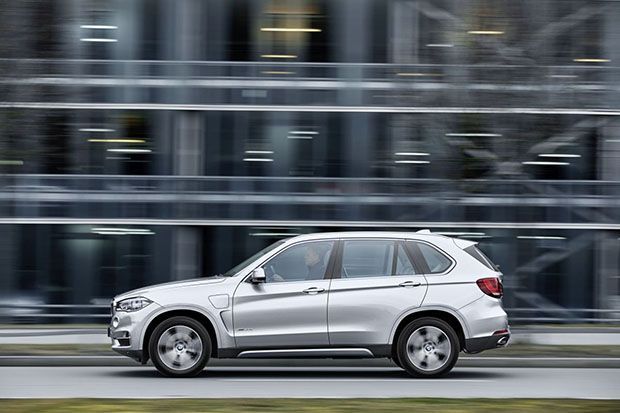 When combined, the maximum system output stands at 313 hp and 450 Nm of torque and will accelerate the the over 2 tonne vehicle to 100 km/h from a standstill in just 6.8 seconds to an electronically limited top speed of 210 km/h.
The eDrive system has several modes to choose from: AUTO, SAVE Battery, and MAX. AUTO is the basic setting, allowing both the petrol engine and electric motor to work together as and when required. SAVE Battery, maintains the battery state of charge or builds it up. In MAX eDrive mode, the X5 runs on pure electricity alone, drawing power from its 9.0 kWh lithium-ion battery pack, providing a range of 31 km. It'll do 120 km/h top speed if that's of interest to you.
The system provides a combined fuel consumption of 3.4 – 3.3 litres for every 100 kilometres as claimed by BMW.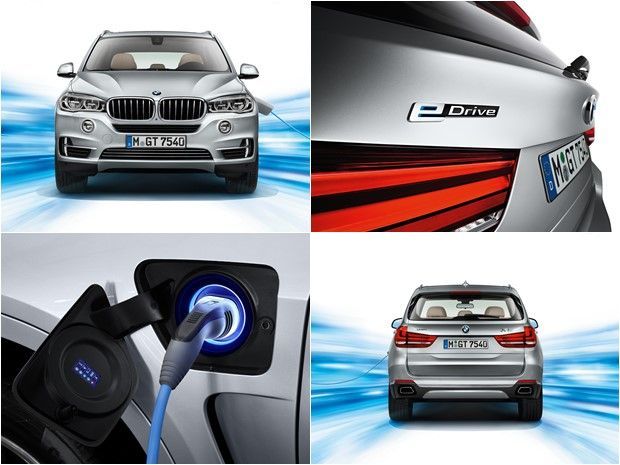 Exterior
From the outside, the BMW X5 xDrive40e doesn't differ significantly from a regular X5. The main giveaway is the plug-in charging port on the left side of the vehicle, which can be connected to BMW's i Wallbox charging station. The "eDrive" logo found on the vehicle's flanks is also another identifier.
Other exterior highlights are adaptive LED headlights, a selection of 19- and 20-inch alloy wheels should the standard 18-inch ones not suffice. The vehicle can also be ordered with the M Sport package and can be modified with bespoke features by BMW Individual.
Interior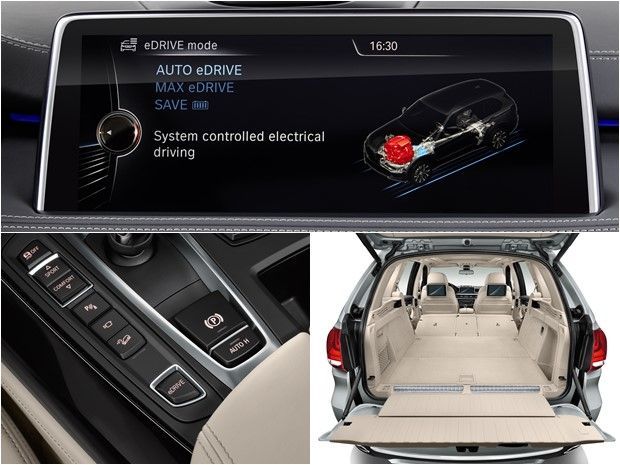 Inside, it is distinctively BMW with the inclusion of the ConnectedDrive system that provides navigation and access to other features of the vehicle including a range of options like Driving Assistant Plus featuring Active Cruise Control with Stop & Go function, Collision Warning with braking function and Traffic Jam Assistant, BMW Head-Up Display, and the BMW Night Vision system.
Safety
The usual plethora of safety systems can be found here including Dynamic Stability Control (DSC), anti-lock brakes (ABS) and Dynamic Traction Control (DTC), Cornering Brake Control (CBC), Dynamic Brake Control (DBC), Dry Braking function, Fading Compensation, Start-Off Assistant; DSC linked to xDrive all-wheeldrive, Automatic Differential Brake (ADB-X), Hill Descent Control (HDC), and Dynamic Damper Control.
---
---
---
---
Comments