2016 BMW X5 xDrive40e Plug-in Hybrid Launched In Malaysia – From RM388,800
Auto News Having seen how well Volvo tactically turned the spotlight on itself with its all-new, locally-assembled plug-in hybrid XC90 T8 (from RM403,888), BMW Group Malaysia has responded with this locally-assembled plug-in hybrid X5, the X5 xDrive40e.
With this, the X5's range now covers 3 different powertrain types – petrol (xDrive30i), diesel (xDrive30d), petrol plug-in hybrid (xDrive40e), making it the only premium SUV in the country with such a diverse range of powertrain options.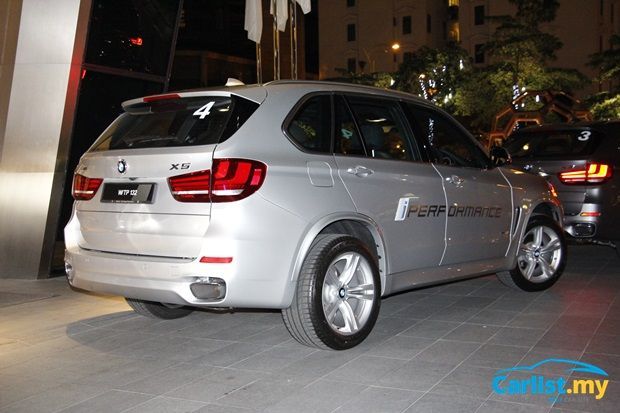 Specifications for BMW X5 xDrive40e
Engine: 2.0-litre petrol, 4-cylinder with Valvetronic, single twin scroll turbocharger, direct injection
Transmission: 8-speed torque converter automatic, all-wheel drive, with synchronous electric motor (113 hp, 250 Nm)
Traction battery: 9.2 kWh, lithium-ion (plug-in hybrid)
Electric-only range: 31 km, maximum speed of 120 km/h
Charging time: 3 hours 50 mins (domestic power socket)
Power (engine): 245 hp at 5,000 to 6,500 rpm
Torque (engine): 350 Nm at 1,250 – 4,800 rpm
Total system's power: 313 hp
Total system's torque: 450 Nm
Safety: Six airbags, crash activated head restraints (front seats), ABS, electronic stability control and traction control, hill start/descent assist, lane departure warning, collision warning, 360 degree parking camera
Claimed fuel consumption: 3.3-litre/100 km
Claimed C02 emissions: 77 g/km
Origin: Locally assembled in Kulim, Kedah
Overview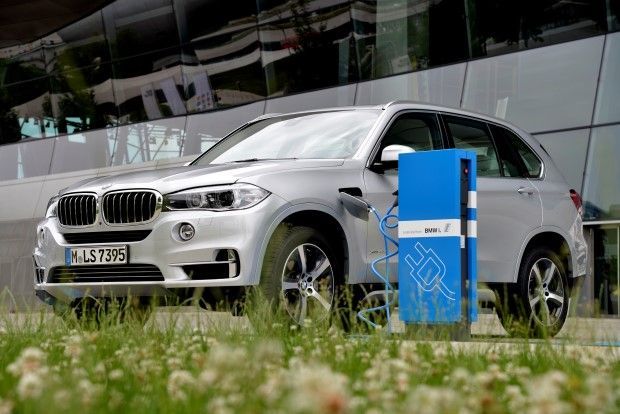 The xDrive40e designation on this particular X5 tells us that it not only has all-wheel drive, but is also a plug-in hybrid.
This powertrain concept might not be very familiar to many in this part of the world, but to explain it simply, a plug-in hybrid is essentially a hybrid vehicle that can also be charged from a domestic power socket to extend the vehicle's electric power-only driving range. With or without charging, a plug-in hybrid still requires petrol just like any other petrol-electric hybrid vehicle. More on that in the Engine and Transmission section below.
With a starting price of RM388,800, the X5 xDrive40e presents itself as an unusually good purchase. Keep in mind that the regular X5 xDrive35i used to retail for RM573,800, while the X5 xDrive30d was priced at RM533,800.
That also makes Malaysia the only country in the world where a plug-in hybrid BMW is cheaper than conventionally powered variants. Curiously, despite the huge disparity in pricing, BMW says it will continue selling the xDrive35i and xDrive30d alongside the xDrive40e, for now at least.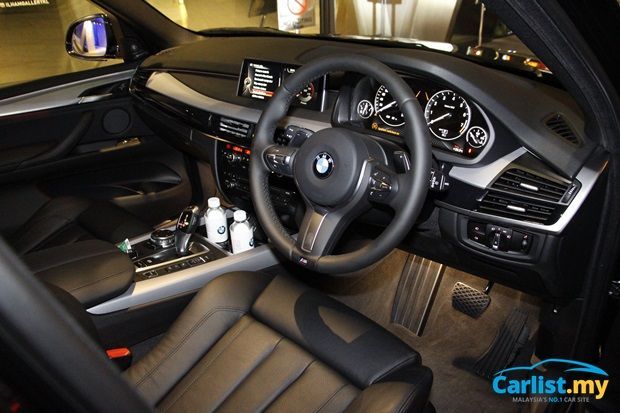 The unusually low price was possible thanks to government incentive for locally-assembled hybrid vehicles. Without it, BMW says the X5 xDrive40e would've been priced at RM582,800.
Like all the other X5 variants, the X5 xDrive40e is locally assembled at BMW Group Malaysia's assembly facilities in Kulim, Kedah. It's the 11th BMW model currently assembled at Kulim.
Its closest plug-in hybrid competitor is the RM403,888 Volvo XC90 T8, now locally-assembled in Shah Alam (first batch of cars delivered here in 2015 were made in Sweden). It produces a combined output of 407 hp and 640 Nm.
The Volvo also offers extra seating capacity, thanks to its third row seats – a feature that's available in the locally-assembled X5 xDrive30d and xDrive35i but omitted in the X5 xDrive40e to accommodate the 9.2 kWh lithium-ion traction battery under the boot floor.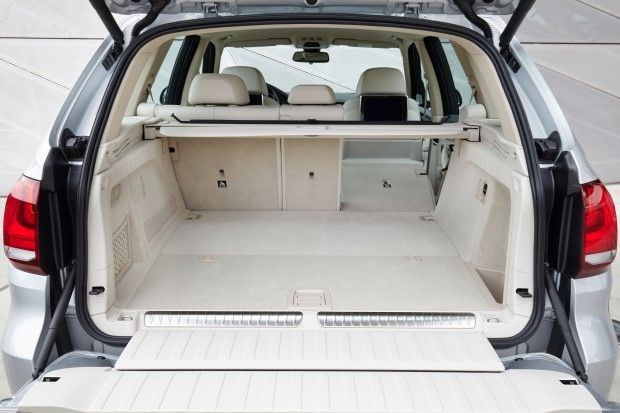 Plug-in hybrids aside, here's how the X5's range is priced against other similar class SUVs.
Mercedes-Benz GLE 250d 4MATIC – from RM486,888 (2.1 litre turbo diesel, 204 hp)
Mercedes-Benz GLE 400 4MATIC – from RM568,888 (3.0-litre turbo petrol, 333hp)
Audi Q7 3.0 TFSI quattro – from RM587,918 (3.0-litre petrol supercharged, 333 hp)
Engine and Transmission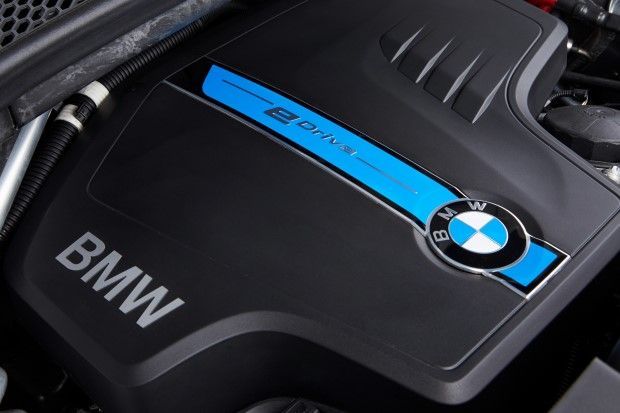 The 2.0-litre TwinPower Turbo 4-cylinder unit alone produces 245 hp and 350 Nm, but with this X5 being a plug-in hybrid, a 113 hp (83 kW)/250 Nm synchronous electric motor nestled within the 8-speed Steptronic automatic transmission bumps up the total system output to 313 hp and 450 Nm.
The total system output is always less than the sum of values produced by the electric motor and petrol engine as they peak at different rpms.
0-100 km/h is done in 6.8 seconds, not bad for an SUV that weighs over 2.3 tons.
More than just a regular hybrid, plug-in hybrids like the X5 xDrive40e can be driven much further than hybrids using electric power alone. In the case of the X5 xDrive40e, the maximum electric-only driving distance is 31 km, with a top-speed of 120 km/h.
In comparison, a regular full-hybrid sedan can only do about 2 km, usually at speeds no more than 60 km/h.
Of course, actual performance in the real world is dependent on many other factors including use of air-conditioning, cargo load, road surface and gradients.
Why this obsession with electric-only driving distance? In Malaysia, it's just a novelty but in many other countries with carbon tax, there are significant financial and convenience benefits to be gained from driving a vehicle that emits less than 99 g/km of carbon dioxide (CO2) – lower taxes, access to priority lanes and parking, waiver of congestion charges to enter the city centre etc etc.
In addition to BMW's standard Driving Experience Control (Comfort, Sport, Eco Pro modes), the X5 xDrive40e has three 'eDrive' driving modes to choose from.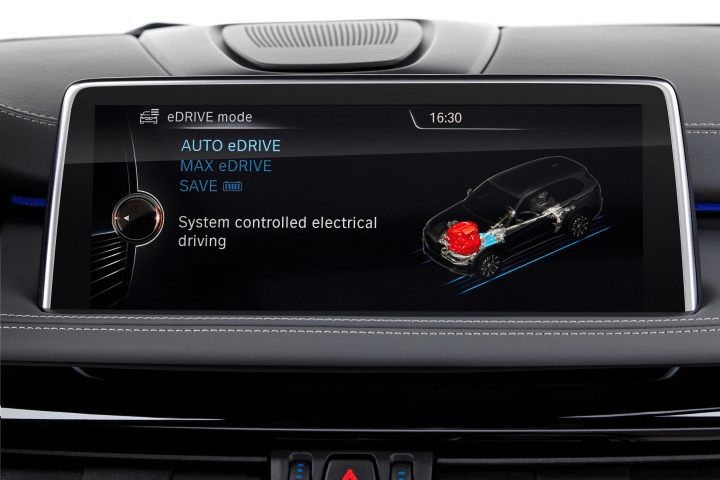 Leave it in the default AUTO eDrive mode, the computer intelligently spreads the driving load between the engine and electric motor for optimum efficiency.
In MAX eDrive mode, the car will be driven as much as possible under electric power.
In SAVE eDrive mode, use of electric power will be minimised, allowing the driver to save the battery's energy for use at the later part of his or her journey.
Yes, you can still drive the X5 xDrive40e without charging it, relying purely on the petrol engine and regenerative braking to partially recharge the traction battery, but you will not be able to tap the maximum performance accorded by the petrol plus electric power combo.
Charging Options
The 9.2 kWh lithium-ion traction battery can be charged from a regular domestic power socket in just 3 hours and 50 minutes.
Under the umbrella of BMW 360° ELECTRIC, customers are offered the ChargeNow service, comprising of a ChargeNow card that grants straightforward access to partner charging stations, ChargEV, offered through BMW Group Malaysia's partnership with Malaysian Green Technology Corporation (GreenTech Malaysia). The ChargEV stations are already operational in 19 strategic locations throughout Kuala Lumpur, Selangor, Kedah, Melaka, and Johor.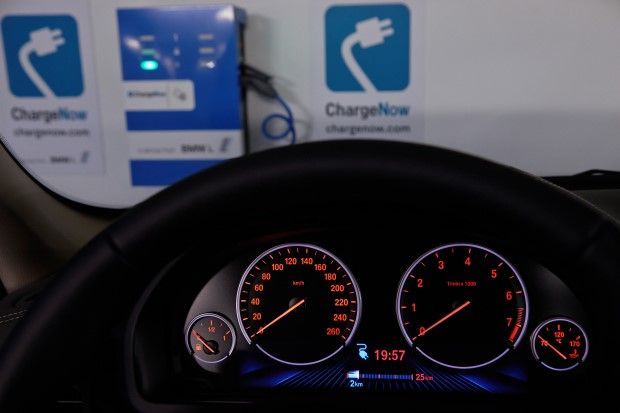 As mentioned earlier, a plug-in hybrid petrol-electric vehicle (PHEV) is not a battery electric vehicle (BEV), and it can be driven with or without charging, so long as there is petrol in the fuel tank. So fret not if there are no charging stations nearby. The only downside is that you will not be able to tap the full potential of the petrol+electric combo, as the petrol engine and regenerative braking can only charge the battery up to about 30 percent at best.
Key Differences From Regular X5 Variants
From the outside, it's quite hard to tell the X5 xDrive40e apart from the regular xDrive30i or xDrive30d variants.
There are only three noticeable exterior visual cues differentiating the xDrive40e – the badges on the tailgate and front doors, a flap on the front left fender covering the charging port, and a pair of trapezoidal tail pipes, one of each side (regular X5 has round tail pipe tips).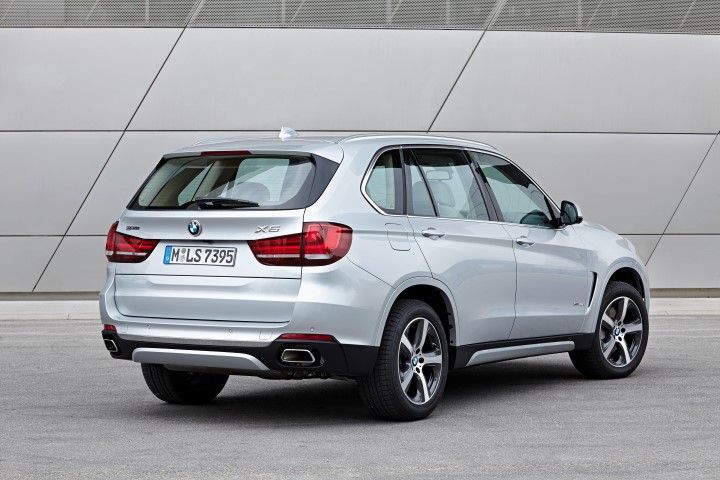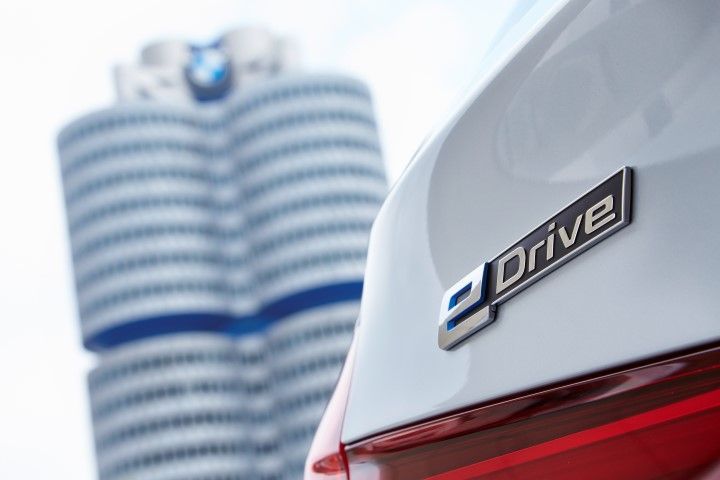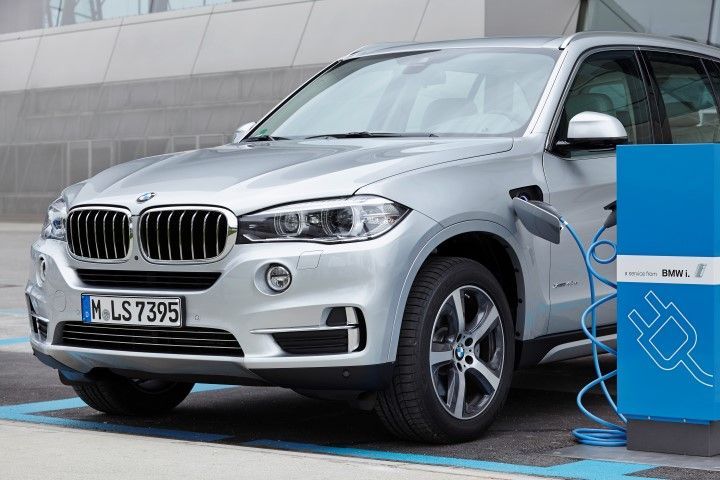 The Malaysian-market X5 xDrive40e comes with equipped with M Sport Aerodynamic Package, Adaptive LED headlights, LED fog lights, adaptive air suspension, electric tailgate and 19-inch M Double-spoke light alloy wheels.
Inside, the easiest way to tell an X5 xDrive40e apart is its hybrid-specific functions in the instrument panel and infotainment display screen, and the 'eDrive' switch on the centre console.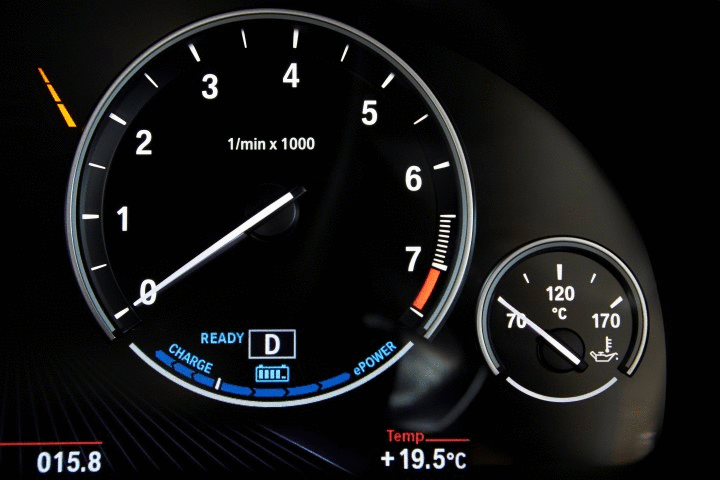 The xDrive40e also comes with Intelligent Emergency Call, BMW TeleServices, Concierge Services and eDrive Services – the only premium brand in the country to offer such services.
Here is a review of the European market X5 xDrive40e: 2015 BMW X5 xDrive40e Review in Munich
---
---
---
---
Comments