Review: BMW X5 xDrive40e Plug-in Hybrid – Joy Is Reclaiming Your Tax Money
Reviews So, if you are someone who is drawing RM30,000 per month, you would know that you are already paying close to RM80,000 in taxes each year. Factor in generous performance bonuses, you are looking at an annual contribution that equals to a full-specs Honda City each year to our beloved Malaysian Official 1's investments.
While there is little doubt that your contributions will be carefully accounted for and will contribute to the betterment of our nation, our National Automotive Policy has special clauses that allow for tax deductions on certain locally-assembled vehicles that meets the so-called Energy Efficient Vehicles (EEV) requirements.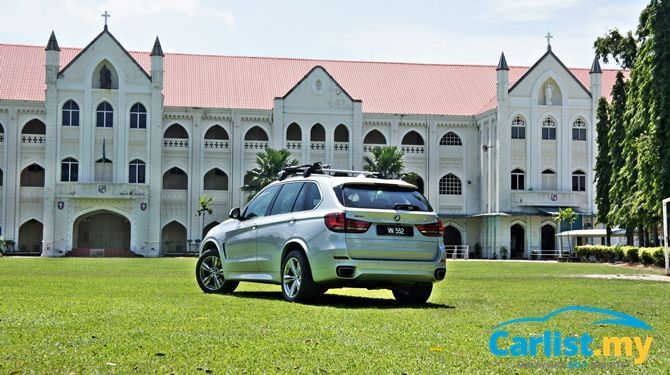 One of the biggest beneficiary of EEV incentives is this heavily tax deducted RM388,800 BMW X5 xDrive40e that you see here. Yes, the name is quite a mouthful and to keep things simple, we will simply call it the X5 40e, with the 'e' suffix designating this as a plug-in hybrid model.
Overview
The X5 is not exactly a new model. It was launched in Malaysia in 2014, priced at RM598,800 for the 5+2 seater xDrive35i 3.0-litre turbocharged petrol model.
This particular 40e variant was only added last year and is not only more powerful, has better features, but is also over RM210,000 cheaper than the X5 35i model! Only in Malaysia can such thing happen. Elsewhere, the X5 40e is the most expensive non-M X5. Who says car prices are not getting cheaper?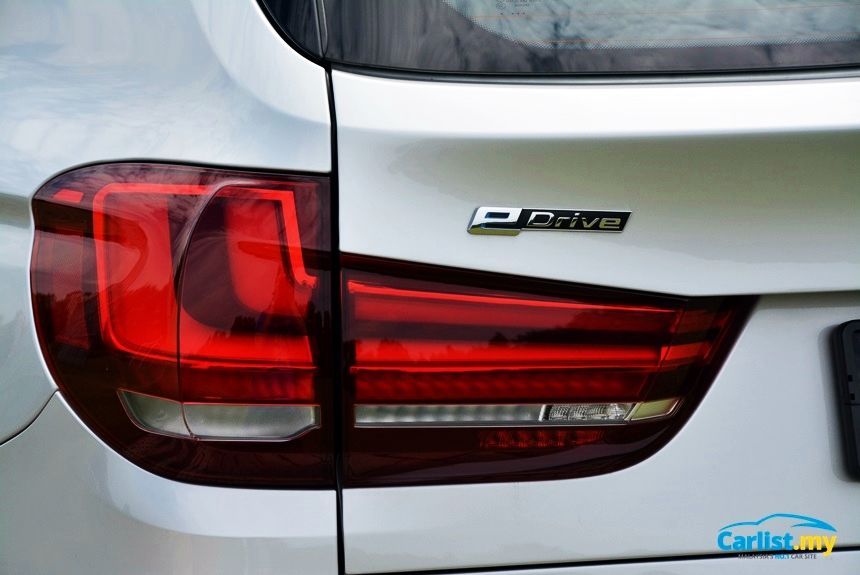 What better way to reclaim (well sort off…) your RM210,000 in taxes paid than by buying an X5 that would otherwise have costed you at lot more money.
The regular X5 xDrive35i is still on-sale, at a slightly reduced RM573,800 price but it's difficult to see why would anyone want to pay more for that. Apart from the plug-in hybrid powertrain, the main difference between the X5 40e and its 35i sibling is that the latter retains its third row seats.
To accommodate the high voltage battery under the boot floor, the X5 40e seating capacity is reduced to just five.
The X5's closest competitor, due to its pricing more than any other factor, is the overachieving RM403,888 Volvo XC90 T8. Like the X5 40e, the XC90 T8 is also a plug-in hybrid. The difference however is that the Volvo is a proper, full-size seven-seater that fits seven adults.
Specifications for 2017 BMW X5 xDrive40e
Engine: 2.0-litre Twin Power Turbo (single twin scroll turbine) with Double Vanos, 4-cylinder, longitudinal
Motor: Synchronous, integrated within transmission
Hi-Voltage battery: Lithium-ion, 9.2 kWh (gross), 6.8 kWh (net)
Transmission: 8-speed automatic, all-wheel drive
Power (engine only): 245 hp between 5,000 – 6,500 rpm
Torque (engine only): 350 Nm between 1,250 – 4,800 rpm
Power (motor only): 83 kW/113 hp at 3,170 rpm
Torque (motor only): 250 Nm at 0 rpm
Combined power: 313 hp
Combined torque: 450 Nm
Claimed fuel consumption: 3.3-litre/100 km (EU combined cycle)
Claimed electric driving range: Up to 31 km
Safety: 6-airbags, Anti-lock brakes (ABS) with Brake Assist (BA), electronic traction control, electronic stability control, 360 degree camera, lane departure warning, autonomous emergency braking
Origin: Locally-assembled in Kulim, Kedah
Price: RM388,800 excluding insurance
Exterior
Compared to the earlier 35i and 30d variants, this new 40e variant cuts a shaper and leaner look thanks to the added aesthetics upgrades.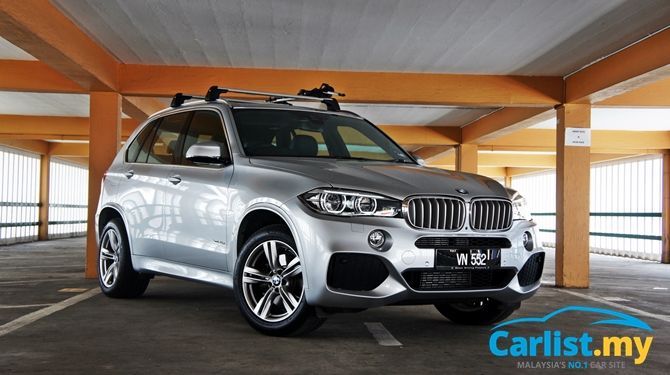 The combination of BMW Individual Exterior Line Aluminum line and M Sport aerodynamic package has dramatically liven up the X5's otherwise familiar but staid looks. Together with the 19-inch M double spoke wheels, the X5 40e is every bit a business athlete.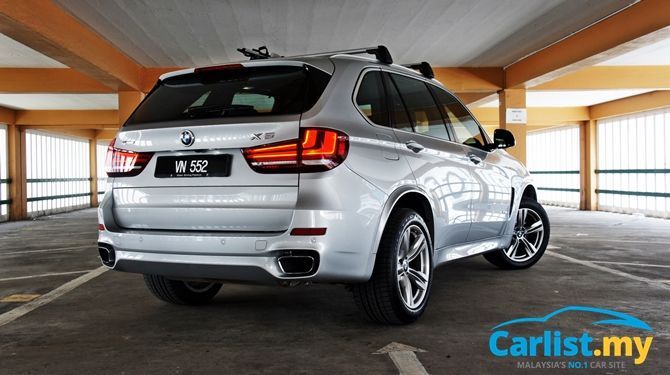 Our test car came fitted with an optional Thule roof rack but the added utility also resulted a compromise in cabin quietness, as whistling noise was heard permeating through the cabin from the panoramic glass roof.
Interior
Inside, the X5's interior is like all BMWs, still the benchmark in ergonomics and user-friendly infotainment interface. Learning curve for the iDrive and other controls is short. On the downside, like all BMWs, the interior trimmings are still one grade below an equivalent Mercedes-Benz GLE-Class, or even the RM403,888 Volvo XC90 T8 - still its closest competitor by price. No amount of M Sport trimmings can match the swag of the XC90's Orrefors illuminated crystal gear knob, high-grade Walnut wood veneers and Nappa leather.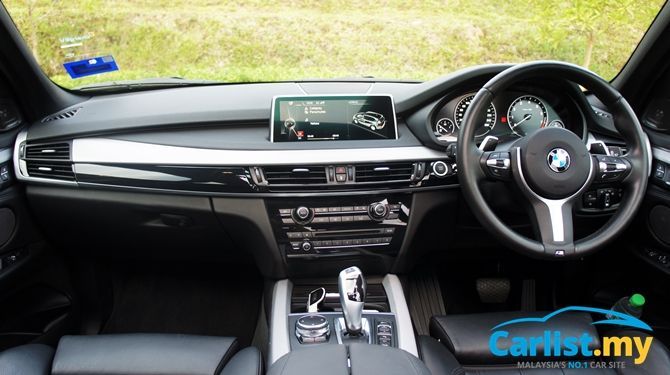 The X5's driver's seat also adjusts for just six-way rather than the Volvo's eight.
Other highlights include a high resolution, full-colour Head-Up Display and 16-speaker Harman Kardon infotainment system with 10.25-inch display screen, and a pretty funky customizable colours LED ambient lights.
Driving Experience
Compared to a similarly priced 5 Series, or even a relatively high riding 3 Series GT or X6, the X5 is a tad off the mark when it comes to delivering BMW's signature ultimate driving experience.
The steering is surprisingly uncommunicative by BMW standards while the ride is quite jittery, more on that later.
So the X5 40e isn't as enjoyable to drive as we had initially expected, but that's also partly because I am jumping into the X5 from a 5 Series. Between the X5 and the XC90 T8, the diffrence in on-road behaviour isn't that big but neither can match the highway composure of the Audi Q7, which unfortunately because of its imported from Slovakia status, is priced too far off from its EEV-incentivised peers.
Off the straight highways and onto tight twisty stretches, the X5 40e remains unfazed by rapid sucsession of switchbacks and off camber corners but considering that it has all-wheel drive and wears 285 mm wide tyres behind and 255 mm in front, we are not expecting anything less.
It hustles along well and is surprisingly agile for an SUV. Despite the visual hulk, the X5 doesn't feel ponderous but you will still be aware of its oversized dimensions when pushing along twisty stretches.
If an engaging drive is what you are looking for, we suggest to look towards the 5 Series instead, or an X6.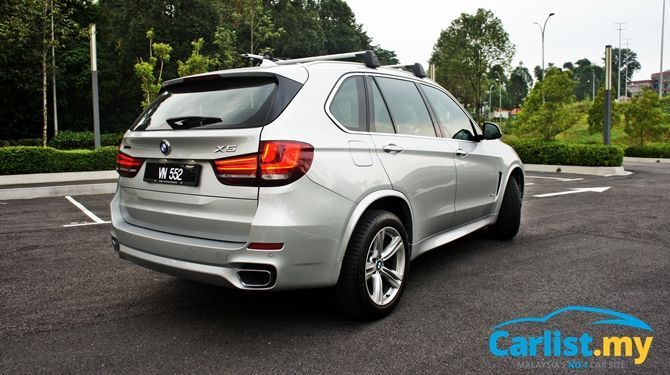 Prospective buyers with deep knowledge of BMW engines will also need to justify to themselves to pay more for an older generation N20 series engine in the X5 40e when the cheaper 330e is already using the newer B48 series engine.
Although X5 40e, 740Le and 330e all have a 2.0-litre turbocharged petrol-electric hybrid engine under the hood, the X5's lump is older. However this detail is purely academic because as far as straight line performance is concerned, the X5 40e has that covered. Sprint from 0-100 km/h is done in 6.8 seconds, thanks to a petrol and electric power combo that delivers a combined output of 313 hp and 450 Nm.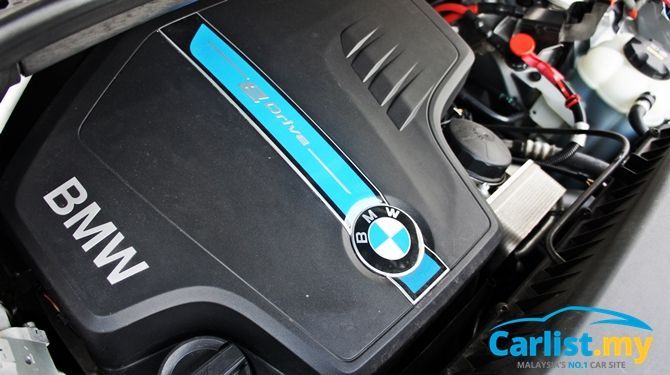 Those technically inclined might be keen to know that the most obvious difference between the X5 40e and XC90 T8's drivetrain is in their respective electric drive motor(s) setup.
The X5 40e uses only one electric drive motor, housed between the crankshaft and the 8-speed transmission. Regenerative braking can only be done from the front axle.
The Volvo XC90 on the other hand, has motors on both axles, allowing it to achieve a higher level of regenerative braking from both axles. However, the XC90 doesn't have a propeller shaft running the length of the car, unlike the BMW. The Volvo's rear-axle is driven exclusively by electric power alone. In Volvo's opinion, this is hardly an issue because when the vehicle driven on tarmac surface, it is running in front-wheel drive mode 99 percent of the time.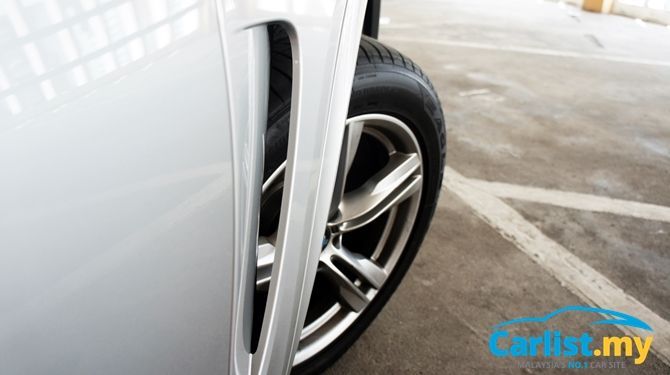 As for safety and convenience, the X5 40e comes with Lane Departure Warning and City Collision Warning but curiously leaves out blind spot warning, a far more important feature in a car of this size. Rear cross-traffic alert, already available in lower range cars, is also missing.
Fuel economy
Claimed fuel consumption is 3.3-litre/100 km but you can laugh at that. From our real-world 600-plus km experience, 50 percent of it in city driving with sporadic plugged-in charging (where available), we recorded a much more realistic 9.5-litre/100 km.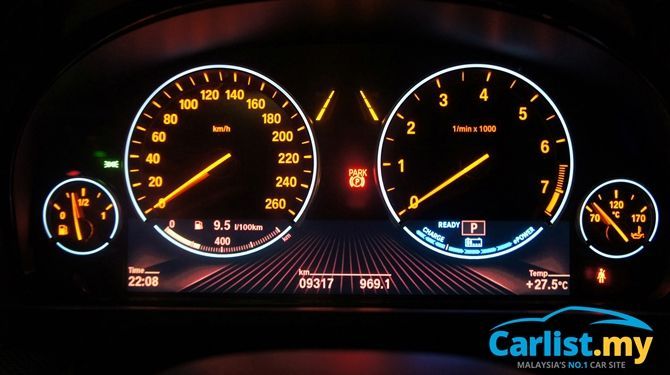 The optimally efficient way to drive the car is to manually select the eDrive Modes depending on driving conditions. Instead of leaving it in the default Auto eDrive, which will insist on running the car in electric-only mode until the battery charge drops to 5 percent, select Save eDrive whenever traffic is flowing smoothly – conditions where petrol engines are already efficient enough. Doing so allows you to save the battery charge for those low speed, stop-go traffic situations later in your journey, conditions where the electric motor is more efficient.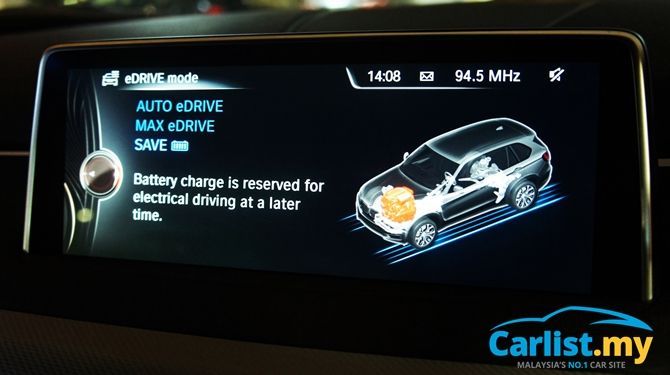 Simplifying your plugged-in charging is the BMW Connected App, which allows you the check the charging status of your car from your smartphone. It however, can't locate the nearest charging point, as doing that requires another level of integration between the app's service provider in Munich with local charging service providers. To locate available charging points, it is best that you use another app called New Motion, as recommended by the Greentech Malaysia, the main service provider for public charging facilities in Malaysia.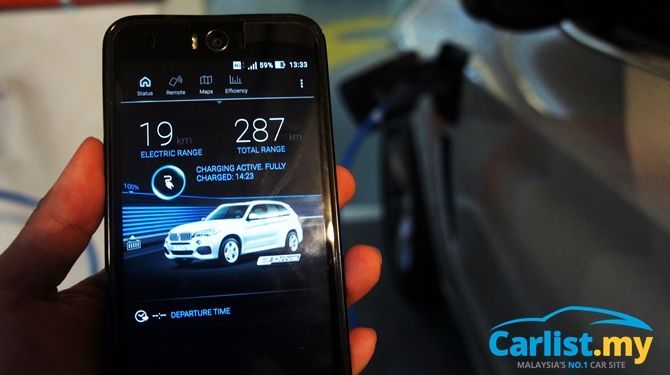 A full charge using a dedicated fast charger or BMW's own i Wall Box (about RM8.9k, sold separately) takes about 3 to 4 hours, but you can also charge it via a regular domestic power socket (do not use an extension cord and do verify the condition/safety of the wiring), taking about 7 to 8 hours.
Comfort
The X5's high sitting position gives you a very commanding view of the road ahead but it also means that whatever little oscillations caused by undulating roads will be amplified before reaching the driver's seat.
Yaw and pitches that are barely noticeable on a 5 Series can become bothersome in the taller X5.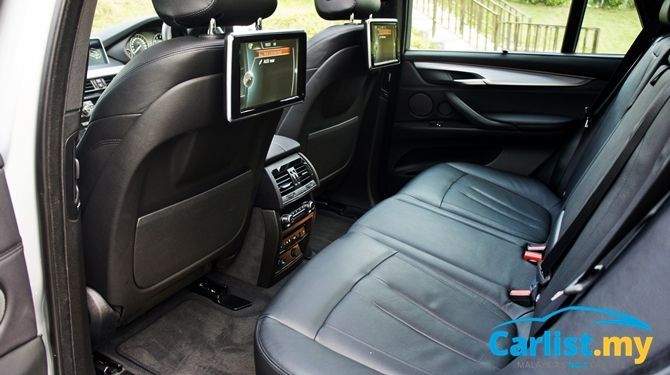 The dampers are electronically adjustable Dynamic Damper Control units, while the rear axle is cushioned by automatic levelling air suspension but there's only so much that a fancy suspension can do to avoid the laws of physics.
This is not to say that the ride is rubbish. What we are saying is if you are jumping into this from a 5 Series, or even a 7 Series, you will need to manage your expectations.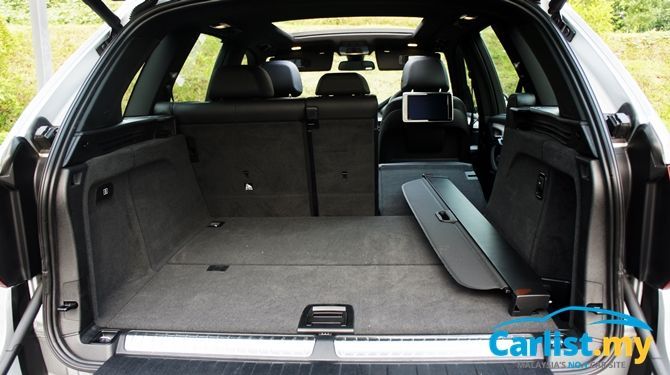 The boot packs 500 litres of cargo but fold the rear seats down and it will expand to fit 1,720 litres.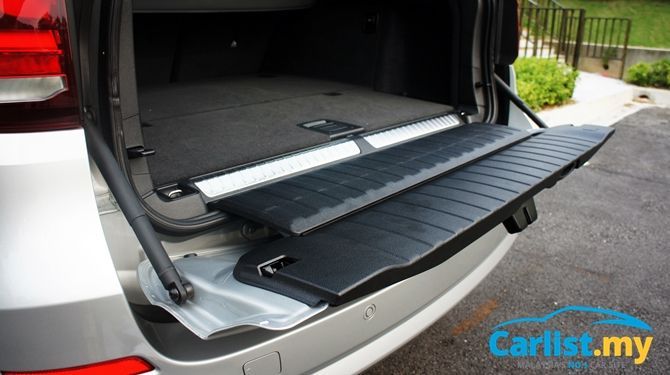 The split tailgate is a practical feature as it reduces the length of the tailgate, thus allowing for easier opening in tight parking spots.
Conclusion
While it's not our favourite BMW, or even our favourite BMW SUV (OK BMW….SAV, and our favourite is still the X6), there is no denying that the X5 40e is an incredibly enticing value proposition. Where else in the world can you buy an X5 40e at a lower price than an X5 35i, or even a 530i?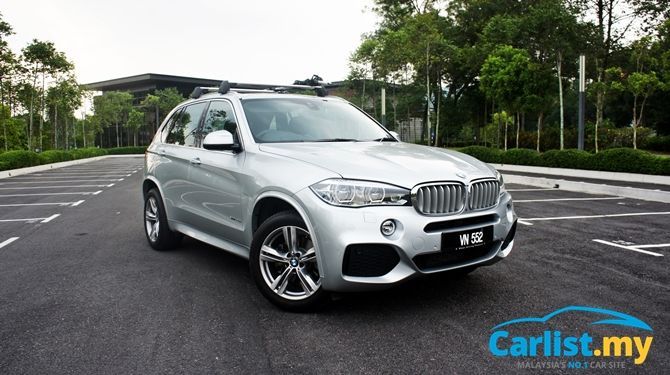 In this segment, the decision is very simple. If you are looking for an SUV and you don't want to consider a sedan like a 5 Series, and have a genuine need for a 7-seater, then pay a little bit more to buy the XC90 T8. Else, buy this X5 40e.
Alternatives like the Mercedes-Benz GLE-Class (RM568,888 for GLE 400) and Audi Q7 (RM524,900) are imported and thus are priced too high to be considered in the same breath as the X5 40e. These are cars that one buys out of brand preferences rather than careful deliberation.
---
---
---
---
Comments