Book Now, Pay Later, Get Protected by Carlist.my
Insights Are you feeling slightly apprehensive about going outdoors to put down money on that car you've been eyeing? Enjoy greater convenience and security with our latest Book Now Pay Later program enhanced with our 100% Return Guarantee Buyer Protection Program.
---
Quite a few articles have emerged online recently saying that there are often hidden charges when it comes to purchasing a used vehicle, which often can catch a buyer off-guard.
While that may be the case on other platforms, here at Carlist.my, we strive as much as possible to be transparent to ensure that the buyer is protected at all times through initiatives such as Book Now Pay Later and Buyer Protection Programs.
Book Now Pay Later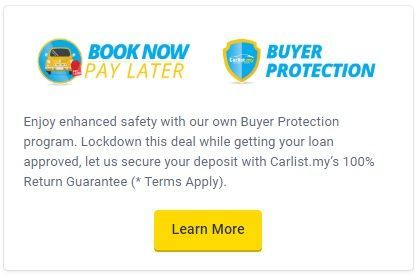 In an effort to make the process of purchasing a used car secure and quick, Carlist.my's Book Now Pay Later Program was introduced to closely facilitate the sale of used vehicles by the Dealer and the buyer.
With the Book Now Pay Later option, you will be placing a booking fee with our verified Trusted Dealer to lock your desired car while your loan application gets processed.
This program actually allows the buyer to:
Engage directly with the Seller to reach a mutual agreement on the vehicle selling price.
Get the car purchase up to speed without having any physical dealings between the buyer and seller.
Lock down a deal by paying an initial deposit to the dealer while getting the loan approved.
Get the booking fee above refunded in case the loan gets rejected, or any other terms applicable under the sellers' discretion.
In case you're wondering how to go about the program, just look out for listings with the "Book Now Pay Later" badge when you're browsing for your next car.
Once you find a car listing with the aforementioned badge, discuss with the dealer via phone or WhatsApp to agree on a price, and confirm the purchase.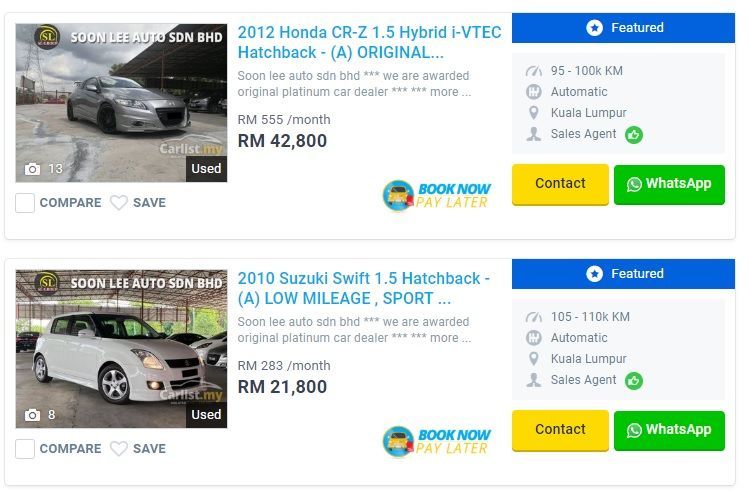 After confirming the purchase, inform the dealer that you will be subscribing to Carlist.my's Buyer Protection Program. In order to subscribe to the program, all you have to do is fill up this form.
Once the form is submitted, an agent from Carlist.my will contact you to follow up on the verification process, and once that is done, you will have to make a payment to Carlist.my (car booking fee and buyer protection program subscription fee) to secure your payment while waiting for the loan to get approved.
Carlist.my will then verify all the information about the vehicle being purchased, and conduct a 100-point inspection if the buyer opts for the inspection service.
Check out all the cars that are eligible under the Program here.
Buyer Protection Program

As mentioned above, you may also opt for Buyer Protection with a nominal subscription fee.
The Buyer Protection Program with Carlist.my's 100% Return Guarantee (Terms & Conditions Apply*) aims to help secure the Buyer's booking fee and enjoy enhanced safety during the transaction process and payment disbursement upon purchase completion.
Buyer Protection Program will not apply when you encounter specific problems such as the ones mentioned below:
Change of decision for any buying/selling process from any one parties
Loss or damage caused to the vehicle during the process of car buying/ selling, and/or transfer of ownership
All buyers are reminded to:
Ensure that you and the dealer are confirmed with the car deal and going to proceed with the bank loan application before subscribing to Carlist.my Buyer Protection Program
Make independent verifications as to whether any summons was issued by the authorities in respect of the vehicle.
Make an independent verification with the authorities as to the accuracy of the details, identification marks, make, type, model, version, year of manufacture and other particulars of the Vehicles
So, how much do you have to pay?
Booking fee (fully refundable)
Vehicle priced less than RM10,000 – RM500
Vehicle priced between RM10,000 and RM150,000 – RM1,000
Vehicle priced above RM150,000 – RM2,000
*Terms and conditions apply
Buyer Protection Program
Buyer Protection Only – RM99
Buyer Protection with 100-point inspection – RM187
Read more about the Book Now Pay Later Program and the Buyer Protection Program here.
---
---
---
---
Comments