Break The Night With OSRAM's Night Breaker® Unlimited Or Cool Blue® Hyper+
Auto News Germany's world-leading headlamp manufacturer, OSRAM, have two new automobile headlamp products designed just for you. Be it the more contemporary OSRAM NIGHT BREAKER® UNLIMITED, or the stylish and youthful Cool Blue® Hyper+, there's more variety and more quality for everyone.
OSRAM Cool Blue® Hyper+
Designed for the more adventurous you that demands to stand out in a crowd, the OSRAM Cool Blue® Hyper+ features a wider and longer beam pattern than its competitors. It is offered in a hyper-white colour temperature up to 5,000k, which takes a bluish tone. The beam itself is brighter than any standard headlamp, and is a great accessary that helps create that individual look for your car – an easy choice for the car enthusiast in search of his or her own unique identity.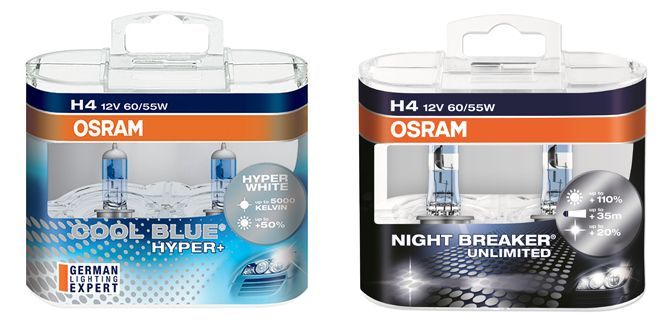 OSRAM NIGHT BREAKER® UNLIMITED
If the outstanding appeal of the Cool Blue® Hyper+ headlamps are too much for you, the OSRAM NIGHT BREAKER® UNLIMITED offers a much more conservative approach, whilst maintaining all the high qualities. The headlamps project a light beam that is up to 20% whiter than any standard lamps, whilst maintaining a pleasant appeal to drivers. The NIGHT BREAKER® UNLIMITED also offers up to 40mm longer light beam compared to other lamps, ensuring better illumination of the road, and therefore reducing potential driver fatigue.
NIGHT BREAKER® UNLIMITED gets up to 110% more light on the road compared to other standard lamps, helping drivers be constantly aware of road conditions, and easily detecting any road hazards in order to react to any imminent danger more quickly.
OSRAM BREAK THE NIGHT ASIA
For more details on either the OSRAM Cool Blue® HYPER+ or the OSRAM NIGHT BREAKER® UNLIMITED, head on over to: http://www.breakthenight.asia/
---
---
Related News Buying Guides
Changing your car's light bulbs is so easy that you can do it yourself at home!Headlights are one of the most essential pieces of safety equipment in ...
---
Comments