Breaking All The Rules: This Is What The Ferrari F1 Team Could Do
Auto News Ferrari's internal design studio, Centro Stile Ferrari, has come up with this striking creation: the Ferrari Formula One Concept, as it's been simply dubbed. It has even set up a website to showcase and gather public feedback on its vision for the future of Formula One, if only visually.
Would it be possible to come up with an F1 car which not only is technologically advanced, but also captivating to the eye and aggressive-looking? And could this be made without having to overturn the current technical rules? At Ferrari, we believe so. Let us introduce you to the 'concept design' that was conceived by our design studio (Centro Stile Ferrari) together with the Scuderia's aero department.

Minimal changes give the car a look that is way different from what have been familiar with so far. Our challenge was to create something that was – to put it short – better looking. We value your comments on that.
That's Ferrari's official statement on the creation of their Formula One Concept. There's very little else to read into how it phrased the ending portion, and better looking is something that couldn't be used to describe the Formula One cars of the past couple of years.
As the 2015 Formula One season ramps up for the first round in Melbourne, Australia, the regulations that necessitate drastic technical and visual changes to the sport in recent years are still mostly in effect, and this may be Ferrari's indirect response.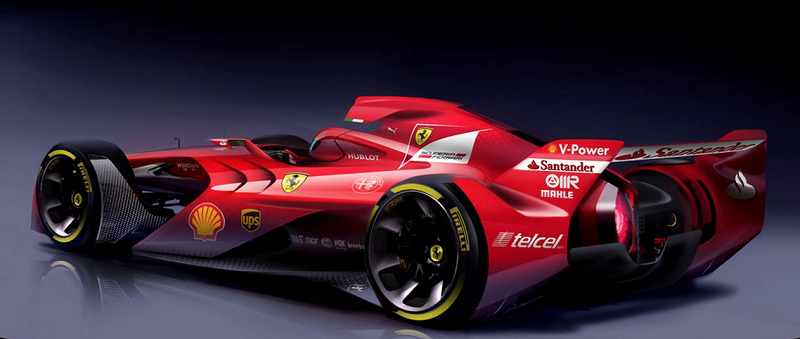 We must say it's very beautiful. A glimpse of what Ferrari would want to put onto the grid should it not be hampered by regulatory obligations. With the voting for changes in regulation concerning the 2016 season and beyond not being very far off, it could be the Scuderia's attempt at generating interest and support from the fans who were dissatisfied with last year's aforementioned changes.
There are some very interesting alterations that Ferrari has chosen to apply here: the side panels stretched to run the width of the expanded wheelbase, a much lower and wider rear wing, and a much more pronounced exhaust port. We won't speculate if that could be an afterburner, although that would be an brilliant addition – no they're just safety lights. Shame.
We're glad to see Ferrari stretching its legs like this to remind us of its formidable design chops outside its production models and how much better looking the pinnacle of open-wheel motorsport could be. With that said, the reality is that there's very little chance this vision from Ferrari will make it to the grid on a circuit near you, especially in the next couple of seasons, but it sure is fun to imagine.
---
---
---
---
Comments