Bridgestone Launches New Turanza T005A Touring Tyres In Malaysia, From RM437
Auto News Bridgestone Tyre Sales Malaysia has officially introduced its latest tyre in the Turanza range, the Turanza T005A. The T005A replaces the GR100 (introduced in 2014) and boasts better comfort, enhanced wet grip characteristics, and safer handling through improved grip levels.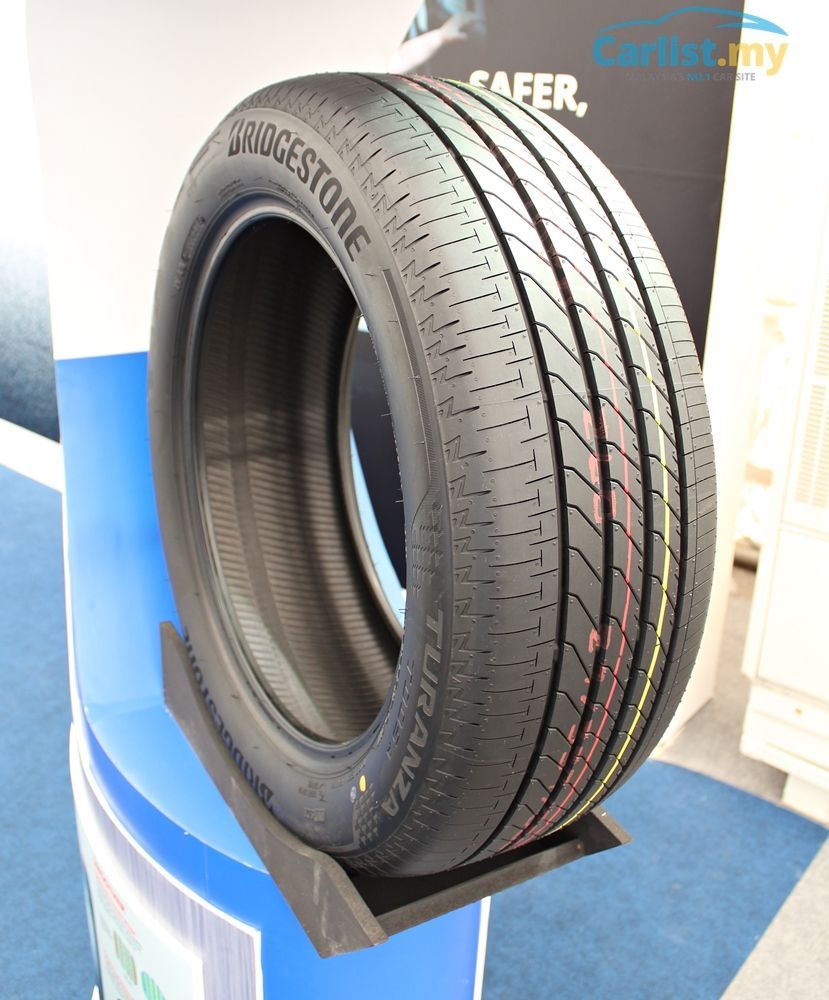 The new flagship touring tyre, that target users of premium sedans, is designed to reduce noise and vibration levels. The Turanza T005A features variable pitch in the asymmetric tread pattern that reduces pattern noise, and high-angle sipes that are fine-tuned to soften tyre impact on the road. A special sheet is also placed in the sidewall to reduce damping, thus improving the comfort level.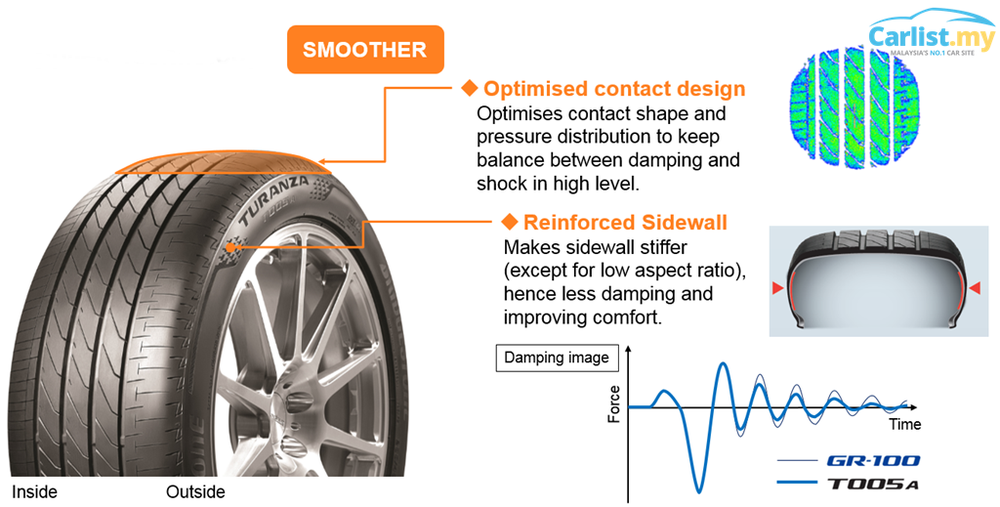 A new design in the crown (the contact patch of the tyre) has been optimized to ensure consistent contact pressure. Higher and a more consistent contact pressure in the new Turanza T005A versus the outgoing GR100 allows the new tyre to reduce impact noise and shock, translating to a more comfortable ride over rough roads.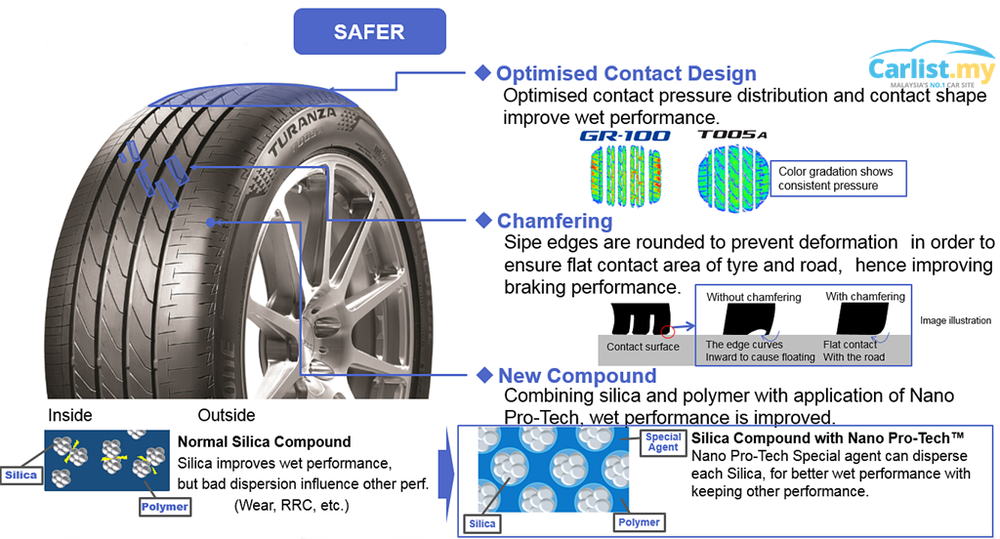 Bridgestone has also improved the Turanza T005A at a molecular level, with the company introducing an exclusive Nano Pro-Tech compound in this tyre. The new compound is engineered to strengthen the bond between silica and polymer to increase the contact area, resulting in reduced heat generation and energy loss, leading to better wet performance and safety.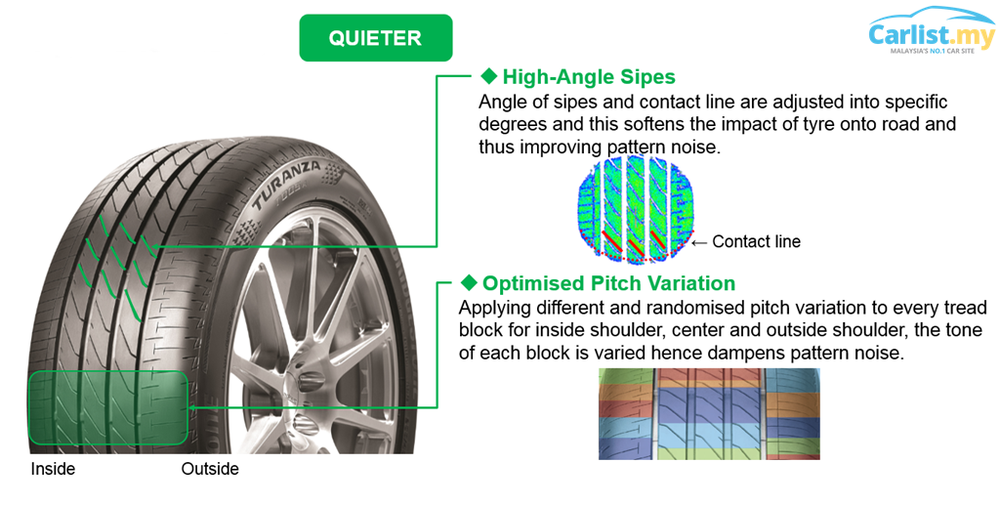 Lastly, chamfering (rounded sipe edges) on the tyre pattern prevents deformation and ensures even contact with the road for improved grip levels for braking and cornering.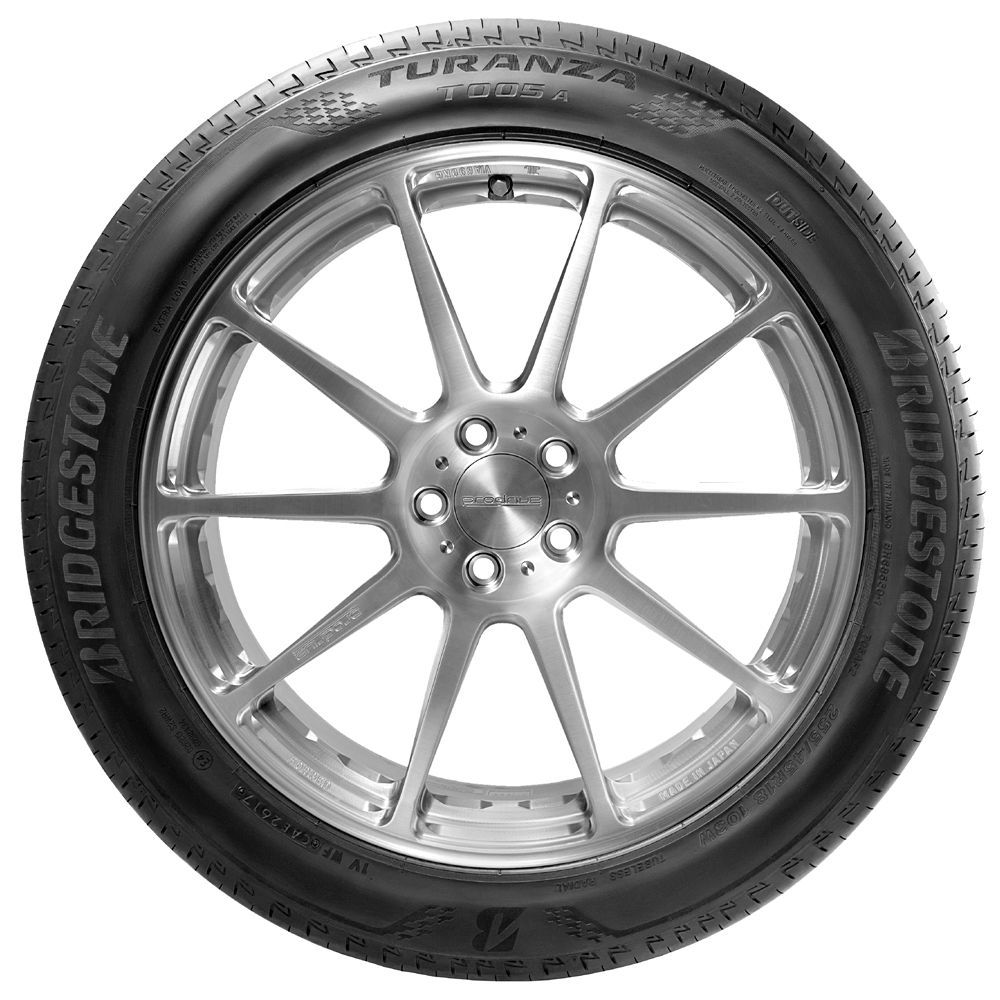 The Turanza T005A is available in 21 different sizes ranging from 16-inch to 20-inch, priced between RM437 and RM1,137. Apart from the size 235/60R16, the Turanza T005A covers an aspect ratio range from 55-series to 35-series.
The new tyres are manufactured at Bridgestone's facilities in Thailand, Indonesia, and Japan.
The Carlist.my team was invited to experience the new tyres at Bridgestone's Thailand Proving Ground. You can read all of the experience here!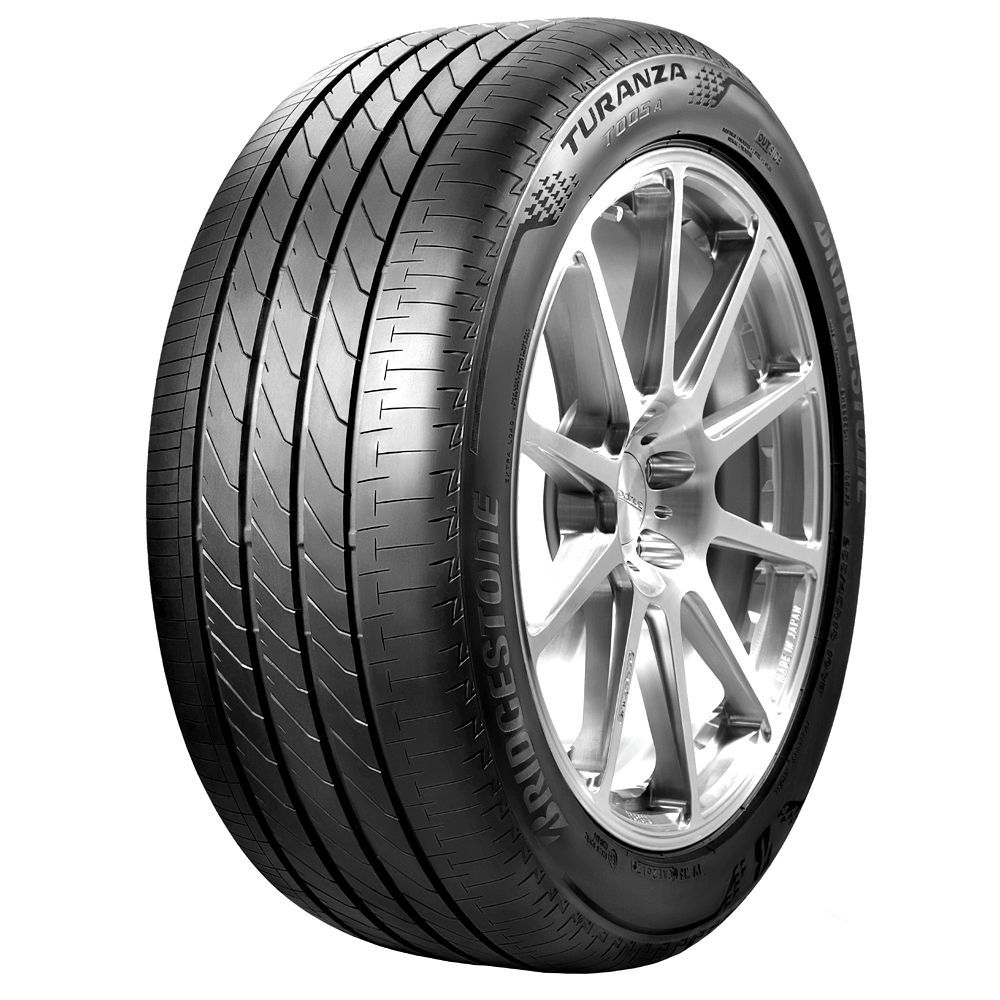 If you have a Toyota Camry, Toyota Alphard-Vellfire, Honda Accord, Honda Civic 2016 (FC code), Lexus ES, Mercedes C-class W204, and Volkswagen Passat just to name a few, the Turanza T005A is a great replacement tyre, outperforming its predecessor in all aspects.
16 inches
215/55 R16 93V
225/55 R16 95V
235/60 R16 100W
17 inches
215/50 R17 91W
215/55 R17 94W
225/50 R17 94W
225/55 R17 97W
235/55 R17 99W
245/45 R17 95W
18 inches
225/40 R18 88W
245/40 R18 93W
225/45 R18 91W
235/45 R18 98W XL
245/45 R18 100W XL
255/45 R18 103W XL
235/50 R18 101W XL
245/50 R18 100W
19 inches
245/45 R19 98W
275/40 R19 101W
20 inches
245/40 R20 99W
275/35 R20 102W
---
---
---
---
Comments