Buyer's Guide: Mazda CX-5 - A Winning Formula
Insights We had our doubts when Mazda announced that the first model that would spearhead their new epoch of SKYACTIV technologies would be an SUV. Mazda, the brand that gave us the world's best-selling roadster, the only car company to history win Le Mans with a rotary-powered car, and had a recent string of exciting concept cars in store, would lead their new age of post-Ford ownership as an independent carmaker with an all-new SUV, the CX-5.
But how wrong we were, as of April last year Mazda rolled out their millionth CX-5, less than three and a half years after its world debut in late 2011. By comparison, it took Volkswagen a decade to hit the million-mark for their Beetle. Whereas Toyota's millionth Corolla materialised after 17 years of production of the Corolla name. And the CX-5 managed to achieve this figure within a single generation.
Then again, we can't compare the scenario of post-war austerity, alongside the globalised prosperity of the world we live in today. Even so the CX-5's success is quite unprecedented, but just how good is the CX-5? Or is it all hype?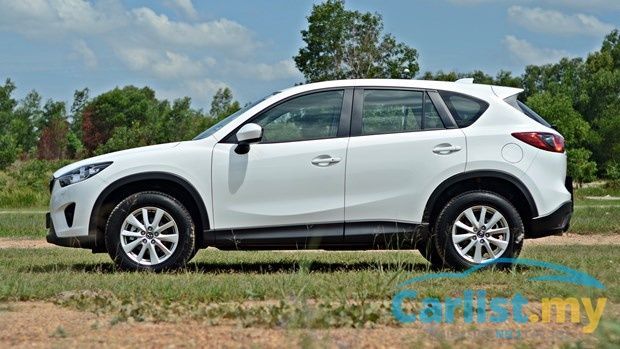 Mazda CX-5 2.0L 2WD/4WD Specifications
Price: From RM129,552 (2WD GL) to RM154,614 (4WD High Spec) OTR with Insurance
Engine: 1,997cc 4-cylinder SKYACTIV-G
Power: 155hp @ 6,000rpm (2WD)/154hp @ 6,000rpm (4WD)
Torque: 200Nm @ 4,000rpm (2WD)/198Nm @ 4,000rpm (4WD)
Transmission: Six-speed automatic, front-wheel drive (2WD)/all-wheel drive (4WD)
Safety: 6 airbags, Traction Control, Stability Control, ABS with EBD and BA, tyre pressure monitor, reverse camera
Origin: Locally-Assembled from Kulim, Kedah
Mazda CX-5 2.5L 2WD/4WD Specifications
Price: From RM172,562 (2WD) to RM183,090 (4WD) OTR with Insurance
Engine: 2,488cc 4-cylinder SKYACTIV-G
Power: 185hp @ 5,700rpm (2WD/4WD)
Torque: 250Nm @ 3,250rpm (2WD)/250Nm @ 4,000rpm (4WD)
Transmission: Six-speed automatic, front-wheel drive (2WD)/all-wheel drive (4WD)
Safety: 6 airbags, Traction Control, Stability Control, ABS with EBD and BA, tyre pressure monitor, reverse camera
Origin: Fully-Imported from Hiroshima, Japan
Exterior – The First of KODO
When Mazda first announced that they would be applying their new KODO design language on an SUV, I had my fair share of scepticism. Oversized with less than ideal proportions for designers to work their magic on, SUVs generally aren't catwalk material. And it is far from the sort of shape you want to introduce a new look to the world with.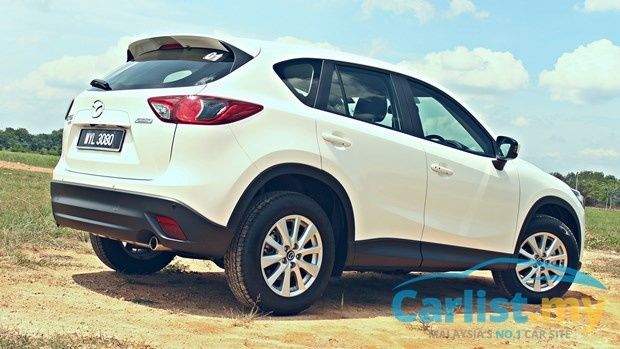 But carry Mazda's new clothes off the CX-5 did, and even though KODO first appeared on a sleek coupé, its sharp definitive curves and pronounced haunches did transpire over to the CX-5 and lent it a rather attractive shape. Though many other car makers have tried to beautify the SUV genre, Mazda has done a commendable job with the CX-5 styling, as it manages to blend aggression, elegance, and presence expertly together.
In the middle of last year, Bermaz Motor quietly slipped in the CX-5 facelift, which is only available as the fully-imported 2.5L variants. The facelift sees the addition of new bi-Xenon headlights that come fitted with Mazda's new segmented LED daytime running light fixtures, a shapely taillight design, and a bold new grille that gives it more presence. The CX-5 facelift certainly looks a lot more sophisticated and bolder in its appearance, but this being the fully-imported model, its looks does come at a premium over the pre-facelift locally-assembled 2L variants.
Interior – Straightforward and Intuitive
On the inside there isn't much flair and penchant for outright style as seen with its exterior styling. In here there is an impression that Mazda's designers had stuck to a safe layout, with no fancy instrument cowls or protruding centre consoles to be found here. Instead there is a flat centre console where all the controls are where you expect them to be. It might not be stylish or beautiful, but it is intuitive to use, and feels well put together with a generous helping of soft touch materials around.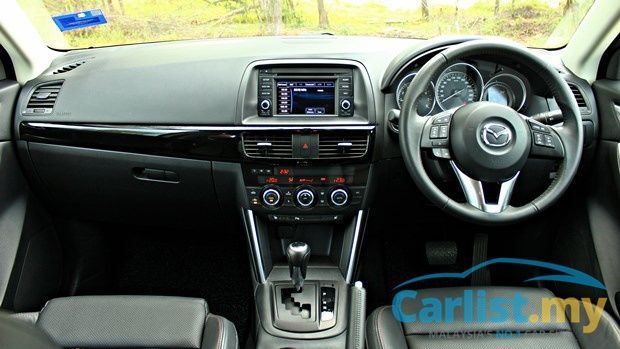 When it comes to practicality though, there are just enough storage bins holed out around the centre console to keep your essentials, keys, wallet, and SmartTAG devices. The door panels too are moulded with some space for small bottles, so you won't be too far out of reach from a drink on the go.
That being said, on the facelift CX-5 2.5L variants, half of the centre console's storage bins were sacrificed for the sake of fitting in the control knob panel for its new MZD Connect infotainment system. But on the flip-side, the fitment of the MZD Connect's control knob means that the mechanical parking brake has been replaced with a smaller and more convenient electric switch. For audiophiles, the MZD Connect's 9-speaker Bose sound system (2L variants come with a 6-speaker OEM sound system) would certainly be music to your ears.
Though the pre-facelift CX-5 doesn't receive Mazda's intuitive new MZD Connect infotainment system, the older infotainment system is already pretty good, with its TomTom supplied navigation system, Bluetooth Connectivity, and hooked up to a reverse camera, you wouldn't be left in need of anything more.
How Does it Drive?
One of the chief tenants of the SKYACTIV suite of fuel-efficient technologies was the adoption of lightweight construction, as well as the preservation of driving pleasure. True to their word the CX-5 does feel good to drive on the road, better than its other Japanese peers in fact. Despite its size, the CX-5's tackles corners with a car-like poise and little body roll. The car tracks beautifully according to your steering inputs and the chassis keeps the SUV planted to the road.
Its electric power steering system on the other hand is precise and its weighting strikes a perfect balance to be easy to operate at low, traffic crawling speeds, while having just the right amount of weight to make you feel in control and connected on any given road.
Don't let the fuel-efficient speak give you the impression that the CX-5 is some boring soft roader that trades fun for fuel-saving. Be it in 2.0L or 2.5L guise, the 4-cylinder direct-injection SKYACTIV engine is responsive, with a throttle that has no slack, and takes up immediately after every flex in your foot.
In its base 2.0L form, the engine is eager to rev and adequate power reserve to propel it along. The 2.5-litre powerplant in the meantime has plenty of torque to cruise effortlessly, though doesn't feel as eager as its lesser brethren.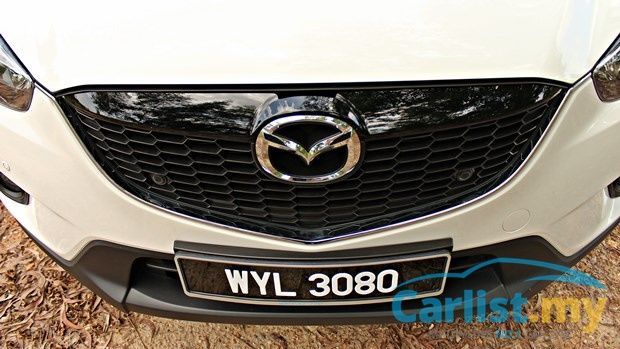 Either engine option will come paired with Mazda's SKYACTIV six-speed transmission, which Mazda says it had been designed to give the best of all worlds. True enough, its immediacy feels close to that of a dual-clutch, while its smoothness at lower engine speeds lends it the refinement that is close to that of a CVT without its dreaded performance-sapping "rubber band effect".
Where the 2L engine feels the more energetic and rev-happy of the two engines, the bigger 2.5L engine has a more generous torque curve, and we felt that it generally lazier nature is more suited for an SUV.
To be 2WD or 4WD?
There is no shortage of choices when it comes to the CX-5's drivetrain though. The CX-5 is the only SUV in the market where you can have it with a 2WD or 4WD for both its drivetrain options. Though the 4WD would give you better road holding on especially wet days, we felt that the 2WD, with its standard fitment of stability and traction control systems is sufficient for the job of keeping you and your occupants safe through rain or shine.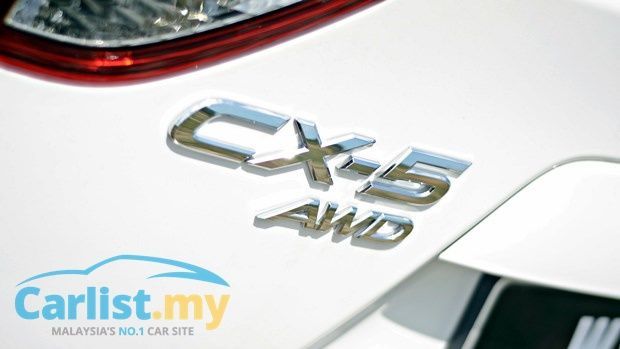 As though to dissuade you from picking the more fuel consumption heavy 4WD variant, the engine in the 2.0L 4WD makes 1hp and 2Nm less than the 2.0L 2WD variant, whereas the engine in the 2.5L 4WD achieves its peak torque 750rpm later (at 4,000rpm), than its similarly powered 2.5L 2WD counterpart.
Unfortunately this handicap in power and power delivery of the 4WD variants are further aggravated by the inclusion of all-wheel drive components, which add weight and dampens the engine's power delivery. So unless you really do believe in the merits of a 4WD, even on an urban-crawling soft-roader whose wheels will usually touch no muck and mud, the 2WD will still stand as our pick with either engine choices.
How Comfortable Is It?
While the CX-5's handling is praiseworthy, the same can't really be said about its ride quality. With a firm suspension made to supress body roll, the resulting ride is rather stiff, as it prefers to hug the road rather than float over it. That being said, we didn't find the ride to be tiresome even on long journeys, as the dampers kept the ride steady and planted, without being harsh over rough sections of road. When it comes to NVH levels, with the exception of some audible levels of road roar, external noise is pretty well suppressed inside.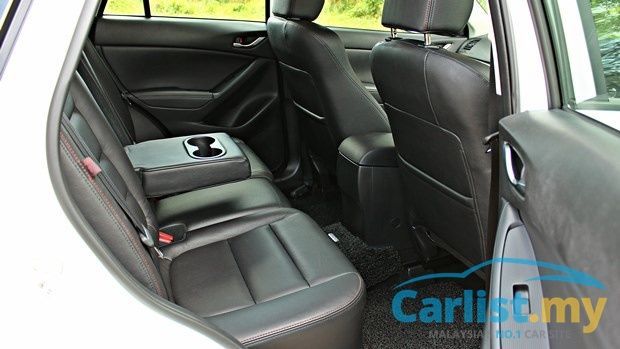 Around the back, we found legroom to be adequate for tall individuals, while headroom is good enough for an SUV of its size. When it comes to driver luxuries however, all CX-5 variants, except for the entry-level 2.0L GL, come equipped with leather seats, electric driver's seat, satellite navigation, and keyless entry.
When it comes to practicality, the CX-5 doesn't quite boast the cavernous space of the CR-V, but it isn't stingy on luggage space either. Discounting Honda's entry, for an SUV of its size, the CX-5 is one of the most spacious in terms of cargo room. It is also easy to fold down the rear seats thanks to the two release levers located on the sides of the luggage compartment that tumbles down both back rests.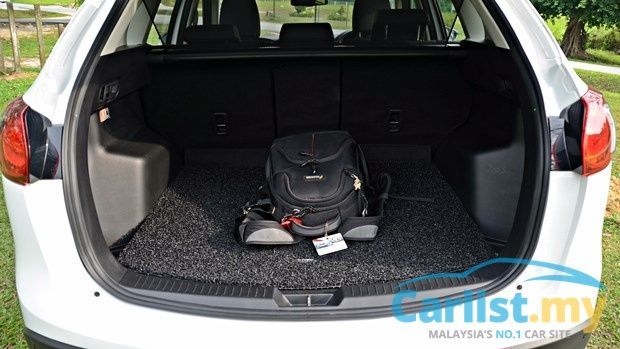 How Economical Is It?
As responsive and energetic as the SKYACTIV powertrain turns out to be, and despite its big upright SUV shape, the CX-5 does live up to its fuel-efficient billing. On the 2.5L 2WD variant we managed to clock in 9.5L/100km on the odometer in mixed driving conditions, which is pretty admirable for an SUV of its engine size. That being said, its appetite for fuel is managed with the addition of the i-Stop idling auto start/stop function on the 2.5L variants.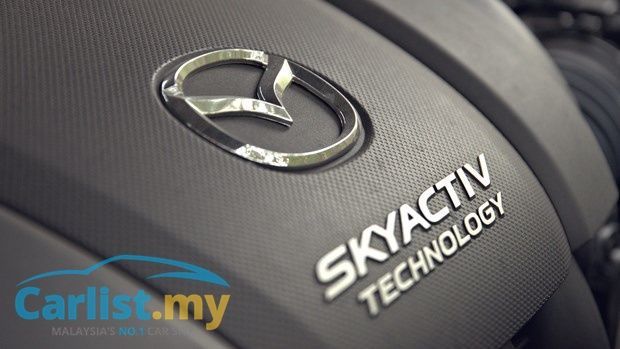 The 2L variants on the other hand could clock in real-world fuel consumption figures of between 8 and 9L/100km on the average run around the city with highway driving added to the mix. Still, figures that could easily match a family sedan, dipping below the average fuel consumption figures that could be achieved by an SUV of its size.
Though Bermaz Motor has politely decline to release the costing of the CX-5's maintenance over a 5-Years/100,000km period, based on feedback from Mazda customers, the CX-5's maintenance costs doesn't fall too far from the expected maintenance cost of a Japanese make of its class.
For those looking to buy the CX-5 new, good news as both variants of the CX-5 comes covered by Bermaz Motor's 3-Years/60,000km free maintenance and warranty package, which covers standard routine maintenance costs except for wear and tear parts such as tyres, brakes, and wipers.
Safety Features
All variants of the CX-5, be it 2L or 2.5L, GL or High Spec, comes fully equipped with the whole ensemble of safety features such as six airbags, traction control and dynamic stability control, ABS with electronic brake force distribution and brake assist, and reverse cameras.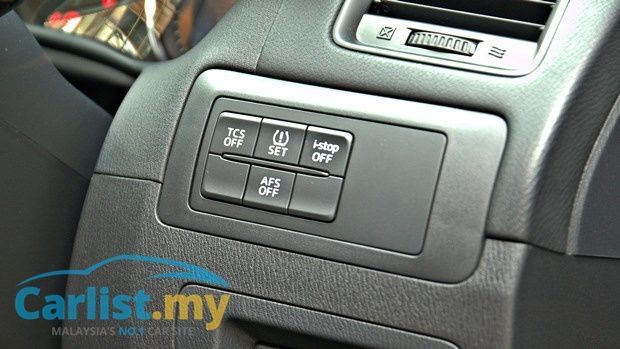 Conclusion
It is easy to see how the CX-5 has managed to achieve its impressive million figure in such a short time. It isn't just the increasing popularity of SUVs around the world, or its timely use of SKYACTIV fuel efficient technologies at a time when fuel prices were still standing high in the market. The CX-5 hits all the right spots, good looks, excellent handling, well-equipped, frugal in fuel, great interior build quality, and practical enough for most needs.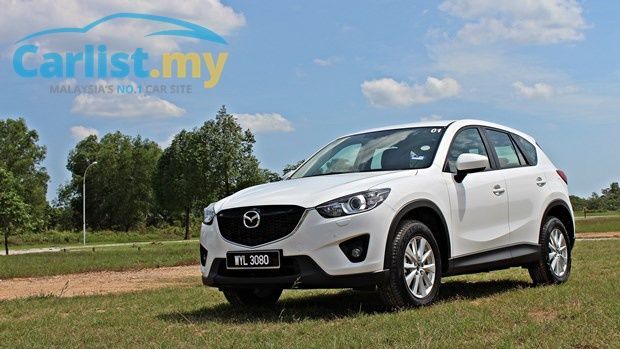 Though it might not be the cheapest option in the market, the CX-5 has everything that you would need, short of a low-range gearbox and real off-road climbing mechanicals, in an SUV. And if you still prefer to enjoy a car-like driving experience with the elevated ride height and space of an SUV, you can't do better than the CX-5.
If you see yourself using the CX-5 to pick-up family members or plenty of cargo on a regular basis, the torquier 2.5-litre option is definitely the pick of the group. Though it is now only available as the fully-imported facelift spec, it might prove to be a bit of a stretch on one's budgeting. Otherwise if you are only going to use it for your personal daily drive around town, the 2-litre is good enough for all your needs.
---
---
---
---
Comments