Cycle & Carriage Bintang Has Largest Network Of Certified Repair Facilities, 100% Score from Daimler
Auto News Cycle & Carriage Bintang, a name synonymous with Mercedes-Benz vehicles in Malaysia, now has the largest network of Daimler AG certified body and paint (B&P) repair facilities.
These official Mercedes-Benz Body and Paint Centres are strategically located in Bukit Tengah in Penang, Batu Caves in the Klang Valley and Johor Bahru in Johor, providing customers across the west coast of the Peninsular with peace of mind and confidence when restoring their Mercedes-Benz vehicles, which includes a two-year repair warranty.
Cycle & Carriage Bintang Batu Caves was first awarded the certification by Daimler AG in 2012. Recently, the Batu Caves Service Centre, which is also the largest covering over 45,000 sq ft with 22 B&P work bays, achieved a perfect score of 100% after a re-audit last November, recognized by Daimler AG as one of the highest-ranking centres for collision repairs in the world.
The service centres in Bukit Tengah and Johor Bahru were awarded 'Centre of Competence' certification by Daimler AG after extensive facility and equipment upgrading process, together with specialized technical training and service process enhancement for the employees.
"In everything we do, we have our customers in mind at all times. The 'Centre of Competence' certification is an assurance that all Cycle & Carriage body and paint repairs are carried out according to the stringent global specifications set by Mercedes-Benz. Having three of our body and paint facilities awarded the certification is an impressive achievement. It reflects the quality of our after-sales teams who deliver our signature first class service to customers every step of the way," said Cycle & Carriage Bintang CEO, Wilfrid Foo.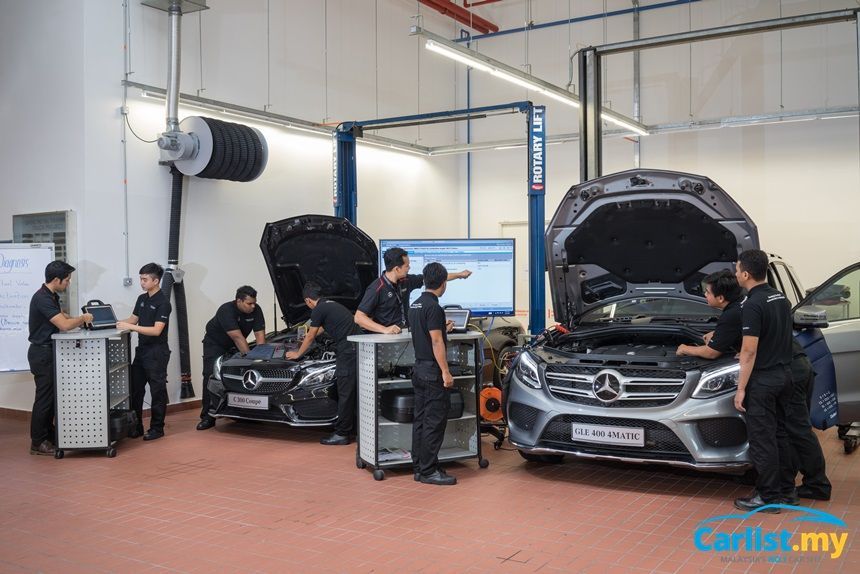 Technicians undergoing training at Mercedes-Benz Malaysia Training Academy
The certification process involves a stringent evaluation on a workshop's equipment both body repair and paint areas, auxiliary material, repair process and administration practices. Every highly skilled employee undergoes rigorous and comprehensive training programmes at the Mercedes-Benz Malaysia Training Academy.
The Bukit Tengah service centre spans over 14,000 sq ft with five B&P work bays, while the larger 32,000 sq ft facility in Johor Bahru has 14 B&P work bays.
CEO Wilfrid Foo adds, "Cycle & Carriage Bintang employees are technical experts trained by Daimler AG to ensure every Mercedes-Benz vehicle we receive is restored to its original specifications. We have invested in our facilities and people to ensure we are all well-equipped and skilled, according to global standards, to provide our customers peace of mind. We go the extra mile to further enforce this confidence by offering Cycle & Carriage Bintang customers a two-year repair warranty."
Cycle & Carriage Bintang operates Malaysia's largest network of Mercedes-Benz dealership, with 12 Autohouses nationwide, including 10 After-Sales Autohauses. The company also recently received the highest Customer Satisfaction Index (CSI) rating for after-sales from Mercedes-Benz Malaysia.
---
---
---
---
Comments