Detroit 2016: Audi h-tron quattro Concept - Sits Between Q5 and Q7
Auto News Following the Audi A7 Sportback h-tron quattro demonstrator unveiled at the 2014 Los Angeles Auto Show, Audi has released a follow-up to its h-tron project with this hydrogen fuel-cell electric Audi h-tron quattro Concept at the 2016 Detroit Auto Show.
Unlike a front-wheel drive Toyota Mirai sedan, Audi's h-tron quattro is an all-wheel drive SUV that uses a pair of electric motors driving the front and rear axle – 90 kW in front and 140 kW behind.
Claimed driving range is up to 600 km, and it takes about four minutes to refuel its three 700 bar pressure hydrogen tanks, as opposed to the Mirai's two, but Audi did not release the tanks total storage capacity yet.
Claimed 0-100 km/h acceleration time is under seven seconds.
Nestled under the floor is a lithium-ion traction battery that is able to provide a temporary 100 kW boost to the 110 kW hydrogen fuel-cell electric drivetrain. There's a 320W photovoltic solar panels on the concept car's - which Audi adds is the world's largest to be fitted on a car - roof supplements the energy needs of the air-conditioning system.
Measuring 4.88 meters long, 1.93 meters wide and with a 2.91 meter wheelbase, Audi says the concept car is positioned between the Q5 and Q7 – hinting a new addition to the growing Q-family perhaps? Look hard enough, we might just get a hint of how the next generation of compact- and mid-size SUVs from Audi might look like.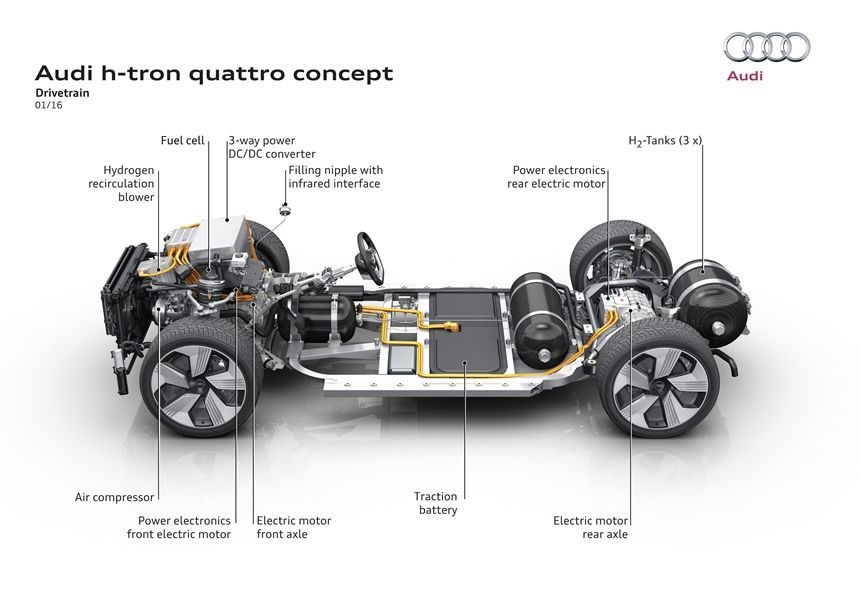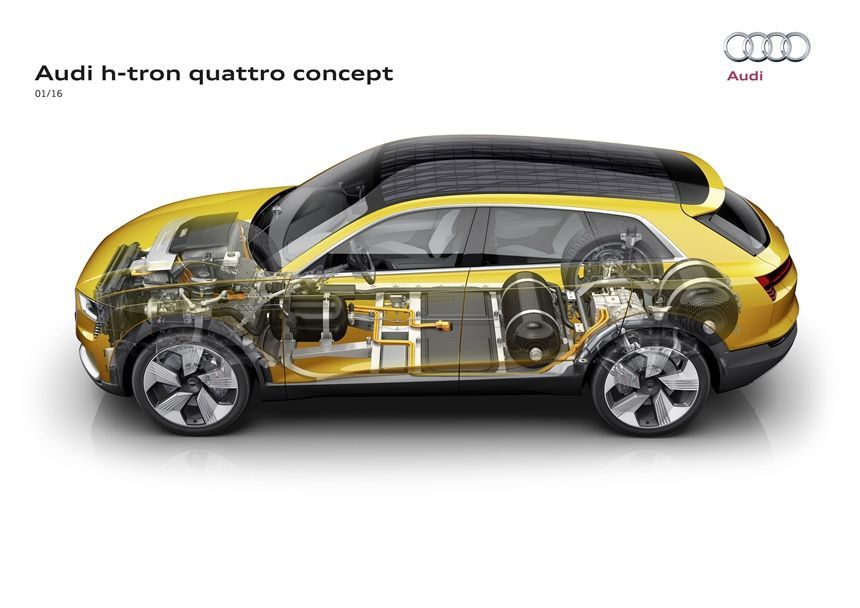 Not much else is revealed about the h-tron quattro Concept but Audi did say that the concept car provides a foretaste of the technologies for piloted driving and parking that will go into production in 2017 with the next generation of the Audi A8 full-size sedan. Piloted driving at Audi revolves around the central driver assistance controller (zFAS). It computes a model of the car's surroundings in real time and makes this information available to the assistance systems and the piloted driving and parking systems. The latter can assume driving tasks during parking or in stop-and-go traffic on freeways at speeds of up to 60 km/h.
European car makers have been slower to introduce FCVs as opposed to their Japanese counterparts not just due to the lack of financial support from European governments, but also because of the wider geography of Europe, which makes it more complicated to roll out hydrogen refuelling infrastructure, as opposed to Japan.
---
---
---
Comments