First Drive: 2023 Honda Civic RS e:HEV - Making My Job Difficult (In A Good Way)
Reviews Having driven the Honda Civic quite a number of times over these last 2 generations of the model shifting toward a predominantly turbocharged era, I did meet the e:HEV version with a degree of skepticism.
---
When I first heard about the car's imminent launch, I reckon that fitting an RS badge to it might've been a mistake as my previous exposure to the i-MMD hybrid powertrain was in the City and HR-V with my impressions summarised as very positive from a fuel economy standpoint but ultimately a little lacking in all other respects.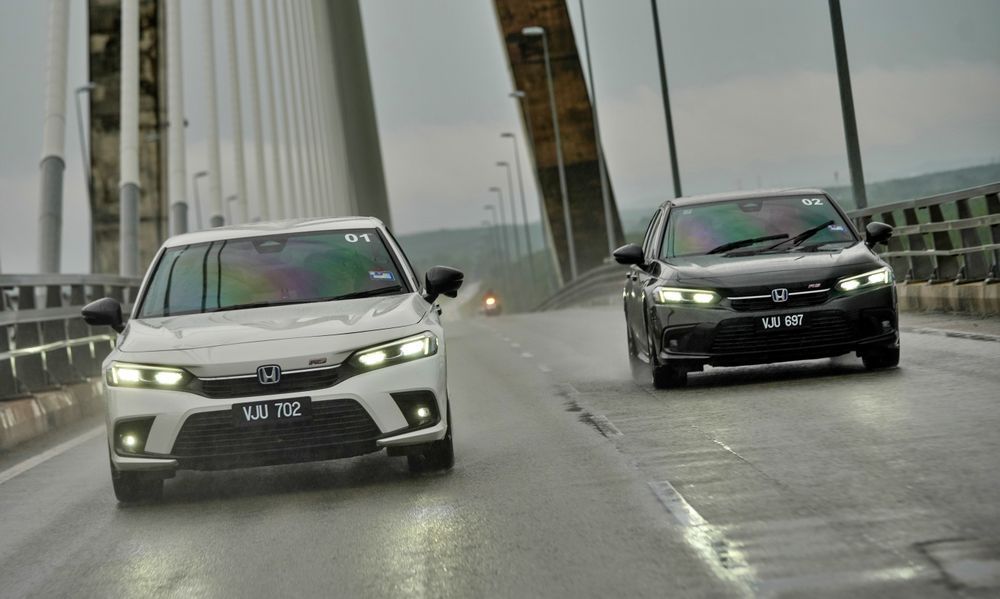 New to the range and costing about RM16,000 more than the other RS (with the 1.5L turbo), the story of RS e:HEV - RM167,500 - begins and ends with that complicated new powertrain.
Its strengths, weaknesses, and perhaps even some idiosyncrasies would hopefully be exposed in an overnight road trip from Kuala Lumpur to Desaru and back, a journey covering about 860km.
Later we'd find out the further south we drove, clear skies and a bright sun would completely diminish, replaced by storms and heavy rainfall that would not relent until we found ourselves back within the confines of the Klang Valley.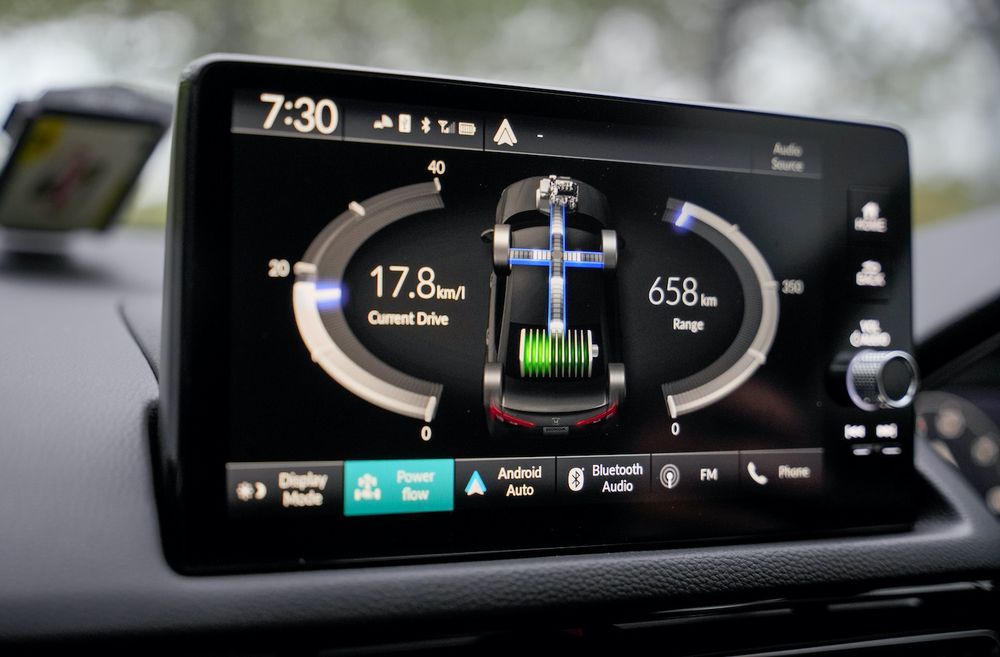 Not The i-MMD You Knew
Civic RS e:HEV's bonnet opens to a fairly standard looking engine bay with the petrol 2.0-litre engine clearly placed in the middle. Only a few stray orange wiring harnesses serve to communicate there's hybrid/electric guts in there too.
That petrol engine is larger in displacement, yes, but is still one engineered to sip fuel evidenced by its Atkinson combustion cycle. Its power output is a middling 141PS and torque peaks at around 182Nm, but being smooth and quiet is the ace up its sleeve.
That ability to hunker down at its most efficient RPM range and act as a motor-generator is the centrepiece of the i-MMD hybrid system, allowing Honda to fit in a beefier traction motor that's responsible for the 184PS and 315Nm figures advertised.
Honda states the 0-100km/h dash takes 7.9 seconds and a top speed of 180km/h as the only indicators of the RS e:HEV's pace which, much like the power and torque numbers, cemented the idea of an incremental performance bump over the VTEC Turbo.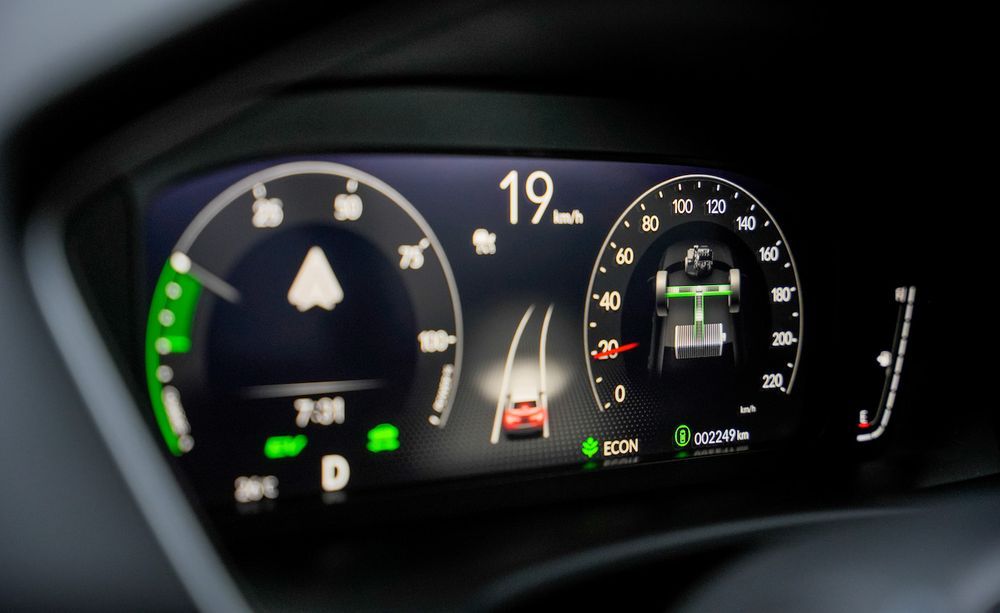 Stepping In, Starting Up
Since the wheels are always driven by the electric traction motor with only occasional assist from the engine via an e-CVT coupling (for the sake of highway efficiency, not extra grunt), the car should drive just like an EV.
However, it behaves almost exactly like a normal Civic. Accelerator pedal and brake modulation are uncannily linear and natural, aided by the distant hum and vibration imparted by the combustion engine that veils the drive in this illusion of familiarity.
That said, the illusion was never strained too much to break, meaning at no point did the Civic RS e:HEV feel numb or inert or unpredictable as one might sense in an EV. On a sensory level, it feels like driving the 1.5 turbo engine, but one tha has zero lag or any trace of transmission indecision - just point and squirt performance that's doesn't overwhelm and is easily tamed.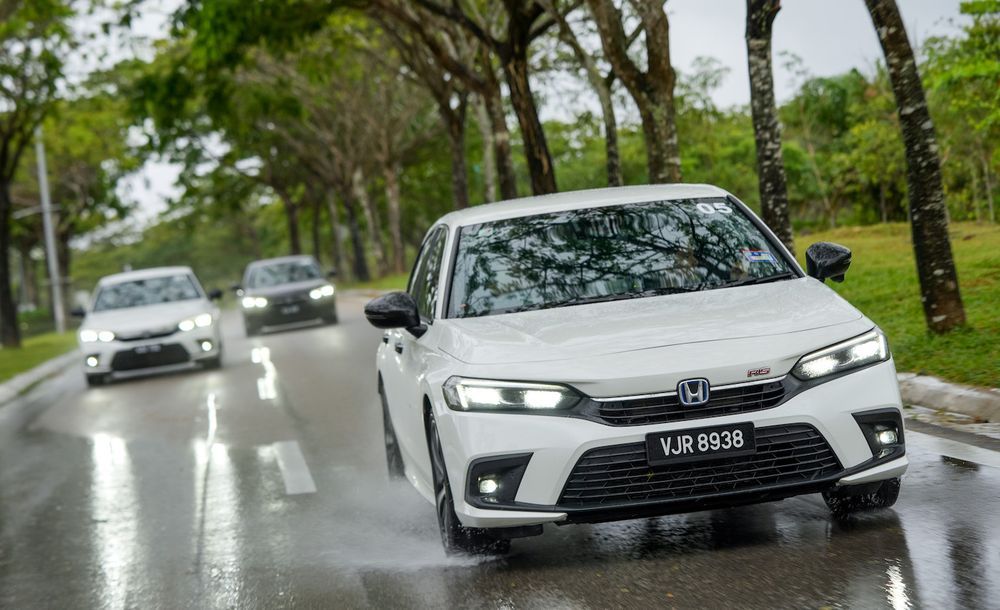 Numbers Tell Bad Stories
184PS and 315Nm doesn't sound too impressive - especially compared to the 182PS offered in every other Civic variant. But where the 1.5L VTEC Turbo is decently quick when hustled, the i-MMD e:HEV is…..just quick, often deceptively so.
Even if you're in no hurry, the ease at which it can summon speed is a little startling, made even more underhanded by how unassuming its delivery is. There's no drama, hardly much vibration or noise, but you're suddenly over the speed limit. No transmission means no 'kickdown', either.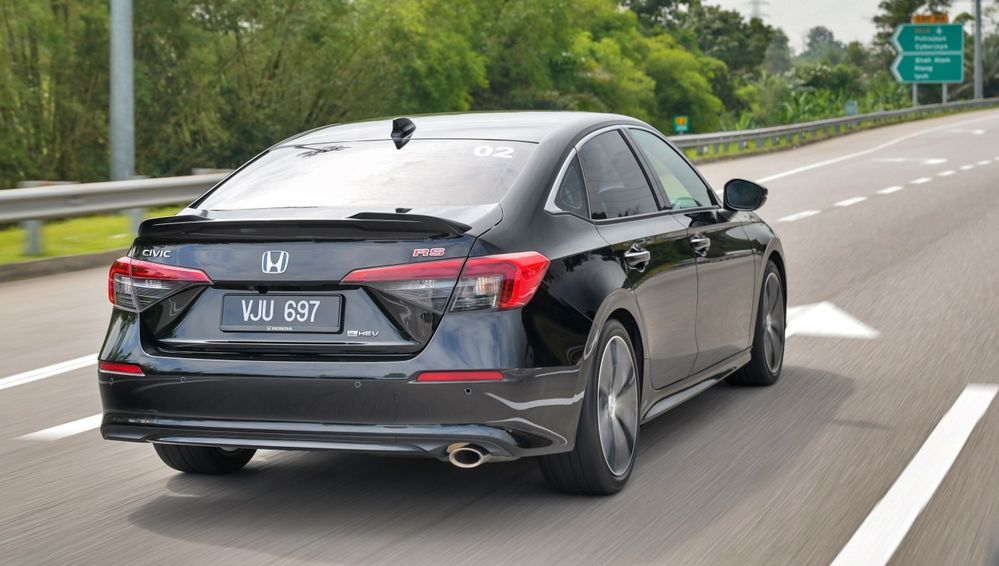 Swapping out the conventional engine for the i-MMD results in a weight penalty of 83kg to 1,445kg (kerb), but that's hardly noticeable. If anything, its 10mm lowered centre of gravity makes the car feel even more planted on the road.
Steering feel continues to be something Honda could still stand to improve but input accuracy remains excellent and the overall ease of direction changes gives this flagship Civic the same on-road manner as the now-lesser RS. It's not necessarily 'sporty', but the chassis is very sure-footed and responsive.
Most mind-boggling of all is the fuel economy. For its mighty reserves of real world performance, the Civic RS e:HEV burns a minuscule amount of petrol, easily making to our destination in Johor's southeastern coast with half a tank to spare. Nuts. During our way down, during a hypermiling challenge, our car recorded an FC figure of 31.1km/litre. Again, nuts.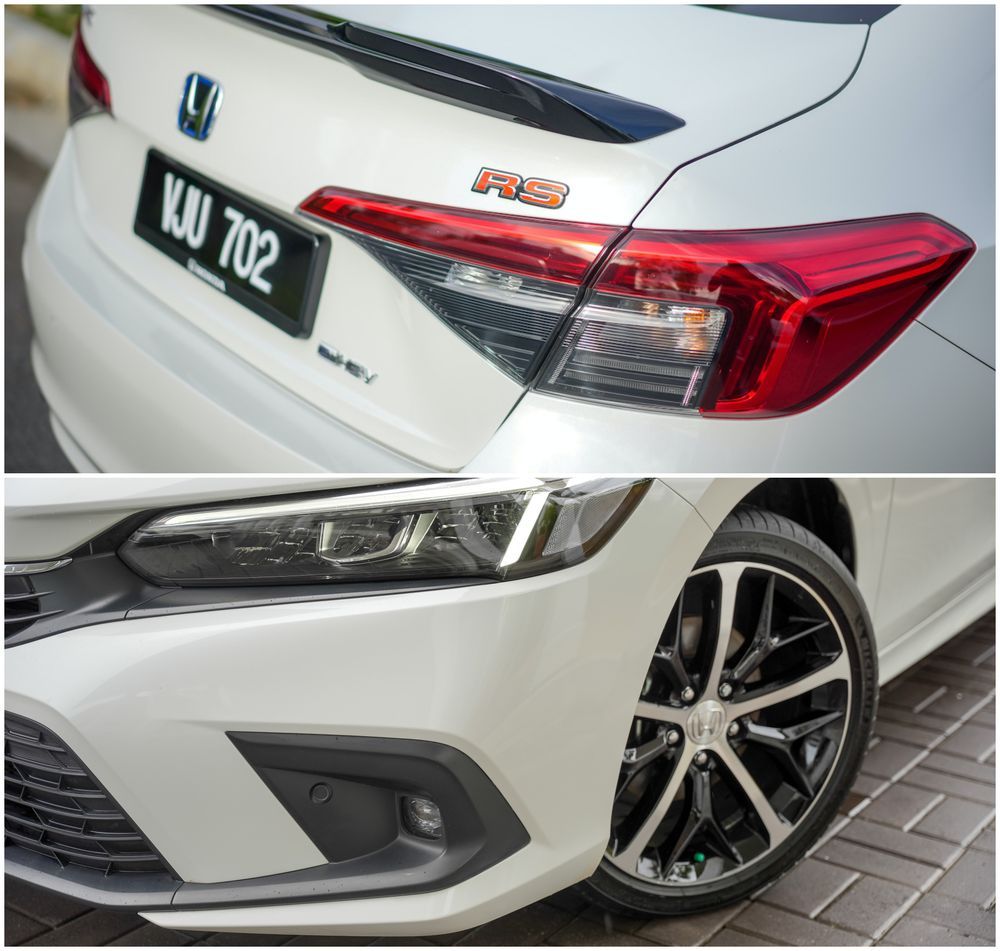 Speaking of similarities, you've no doubt realised there's little else to set apart the Civic RS and RS e:HEV, and you're right. The cosmetic differences include the new 18-inch two-tone wheels and the couple of blue-tinted Honda badges, but little else.
Inside, the upgrades are equally discreet with there being a fully digital instrument cluster, a Qi wireless smartphone charger beneath the centre stack, and dual-zone climate control - all welcome additions nonetheless.
Making My Job Difficult
I had left my thoughts on the Civic FE (1.5L RS) with the conclusion that it's so nearly the consummate four-door sedan, but with the RS e:HEV offering a powertrain that so compellingly ticks the boxes for performance and efficiency, the bar is raised yet again.
A lot of my work in the automotive journalism sphere is finding fault with a car, but here it's become a little more challenging because the Civic is already such a strong performer - a stylish, well-built, surprisingly spacious, well-equipped 4-door. This new range-topper furthers that advantage.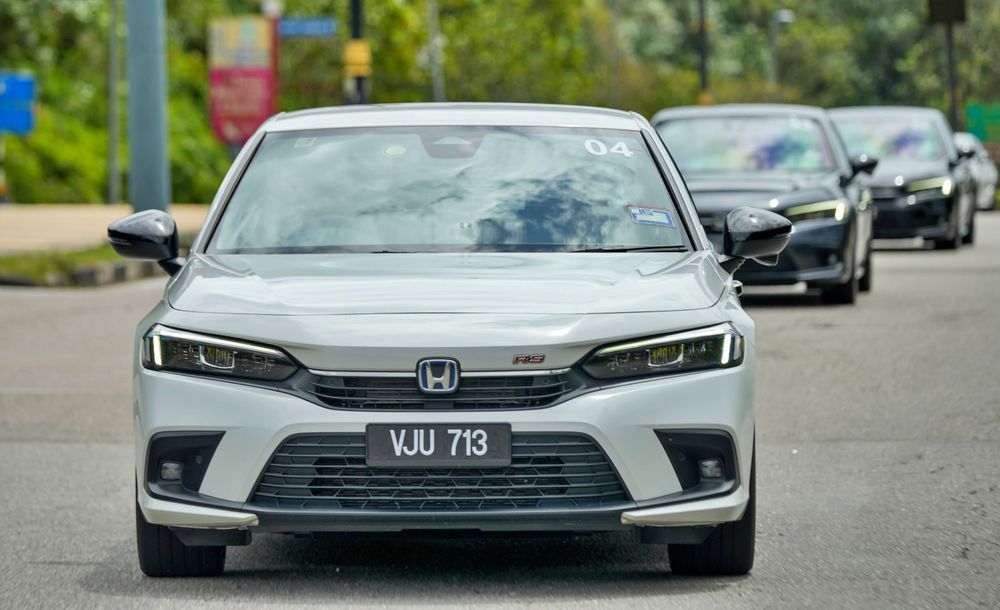 It's not cheap, which is fair enough given the sore lack of worthy competitors in our market, but at least the RS e:HEV variant is obviously now that much more superior. At RM167,500, you'll begin to wonder if the Accord even makes sense.
I'll need more than a two-day drive interstate journey to truly form an opinion about the car but the early signs tell me that I won't need too much extra convincing. This thing is hard to beat. So good it's boring me a little.....
---
---
---
---
Comments