Frankfurt 2015: Mercedes-Benz Concept IAA – A Real-Life Transformer For The Road
Auto News We're reporting to you live from the 2015 Frankfurt Motor Show, where Mercedes-Benz has unleashed an all-new concept model, or real-life Transformer as we'd like to think of it, called the Mercedes-Benz Concept IAA (Intelligent Aerodynamic Automobile or Internationale Automobil-Ausstellung).
Said to be the forming of "two cars in one," the Concept IAA is said to be an "aerodynamics world champion" and a four-door coupe with "irresistible design."
Boasting an extremely slippery body through the wind with a drag-coefficient value of Cd 0.19 (Cd 0.25 in its regular form), the Concept IAA is actually able to 'transform' itself between a stylish four-door coupe (Design mode), to an "aerodynamic champion" (Aerodynamic mode) as Mercedes-Benz chooses to call it.
The lower drag coefficient body is a clear step ahead of the current production vehicle benchmark, also a Mercedes-Benz, a variant of the CLA-Class that has a Cd value of 0.22.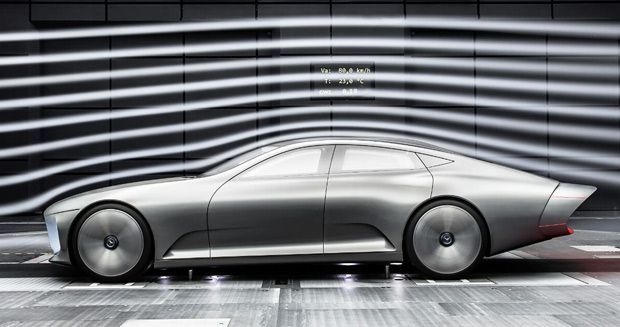 It's a Transformer, really.
Now, car's the flex certain panels at speed aren't new: you've seen how the Ferrari 458's front bumper bits can reshape themselves for better aeros at speed, and rear wings to act giant air brakes aren't new either. But this Mercedes-Benz Concept IAA is quite the different monster.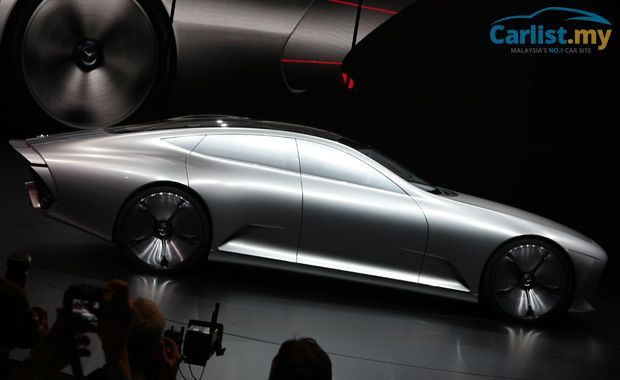 You can 'transform' the car by either manually pressing a button, or automatically upon reaching driving speeds of 80km/h. What happens then? Well, it's quite impressive, really.
From the regular 'Design' mode that you start with, the transformation to 'Aerodynamic' mode sees eight segments extend at the rear of the car, increasing its overall length by another 390mm. Front flaps in the front bumper extend by 25mm forwards, and 20mm rearwards, improving air flow around the front end and front wheel arches.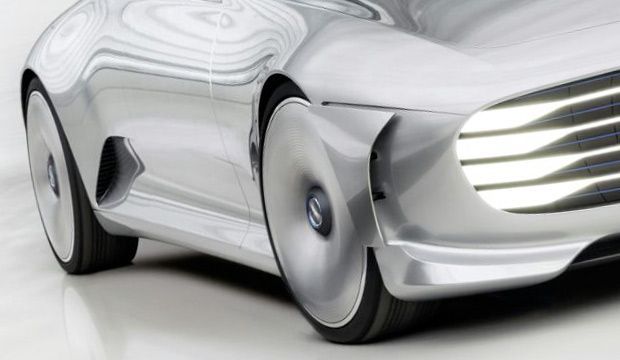 The 'Active Rims' change their cupping from 55mm to zero, and the lourve in the front bumpers moves 60mm towards the rear to improve the air flow under the vehicle. Like we told you, this is as close as it gets to being a real-life Autobot or Decepticon, for now.
Prof. Dr Thomas Weber, Member of the Daimler Board of Management responsible for Group Research and Head of Mercedes-Benz Cars Development, said, "Fascinating and technically sophisticated cars form the core of Mercedes-Benz. The 'Concept IAA' applies intelligent innovations to resolve the conflicting aims of functionality and aesthetics and shows that we still have plenty of ideas on how to achieve further improvements in efficiency."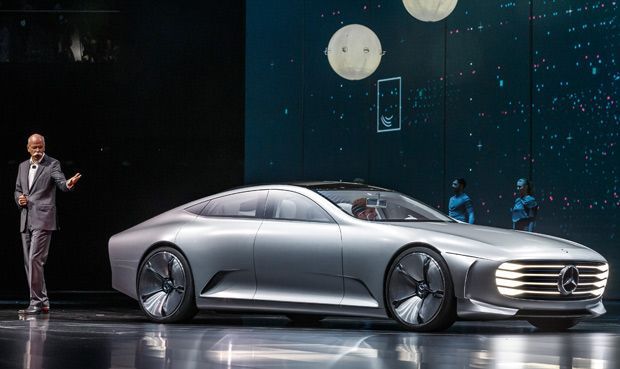 Exterior and Interior Design:
Clearly, this is no normal Mercedes-Benz we've seen before. Although, its makers do tell us that the new concept is a continuation, or next step, to the design lines of the S-Class and S-Class Coupe.
Overall, the Concept IAA you see here measures in at slightly smaller dimensions to a short-wheelbase W 222 S-Class (keep in mind that Malaysia gets the long wheelbase version).
The concept here is 5,040mm long in its regular Design mode, but as mentioned, the additional panels extended when the car is transformed to its Aerodynamic mode, allow the car to extend its length to 5,430mm.
It is also 1,995mm wide, and 1,305mm tall – a little bit wider than an S-Class Coupe, but also much lower that one, too. The wheelbase of the Concept IAA measures in the 2,975mm, with the front track set at 1,710mm, whilst the rear track is 1,770mm.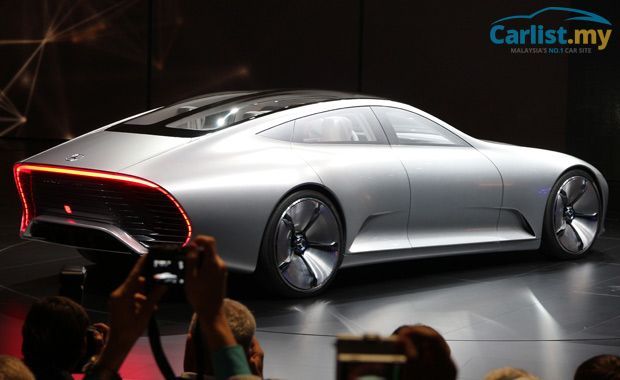 The long bonnet is a clear indication of where you'll find the engine of this car as well, while the overall exterior look is said to preview things to come for Mercedes-Benz future vehicles, whilst maintaining some of its signature settings like the horizontal lourves with a central star on the front grille.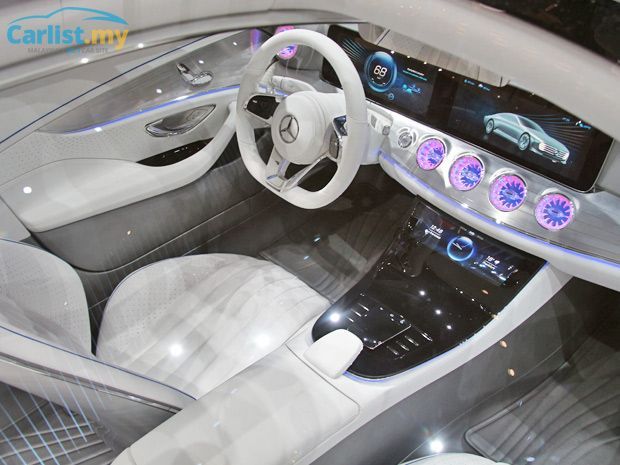 Inside the car then, and we're also told that the Concept IAA is yet another look of things and tech to come from Mercedes-Benz future models. A continuation of the current S-Class and S-Class Coupe designs as well, you'll find lots of high-quality materials here, paired with nothing short of the latest tech from the Benz brand.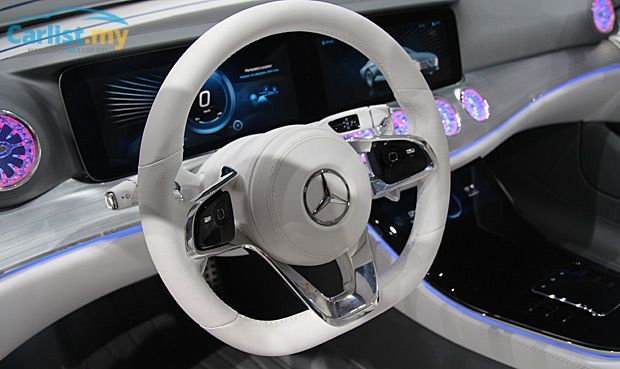 One key development is previewed by the Concept IAA's touch-based operating philosophy where car controls matter. Just like the fully autonomous F 015 Concept, touch and gesture control will be coming to Mercedes-Benz cars in a big way in the future, and here's a further look of what you can expect.
There's also a new Optical Finger Navigation (OFN) technology, which has been incorporated to the new two-spoke design steering wheel. The OFN control buttons is a new way for drivers to control the displays and functions on the instrument panel ahead, all the while allowing drivers to maintain eyes on the road, and hands on the wheel.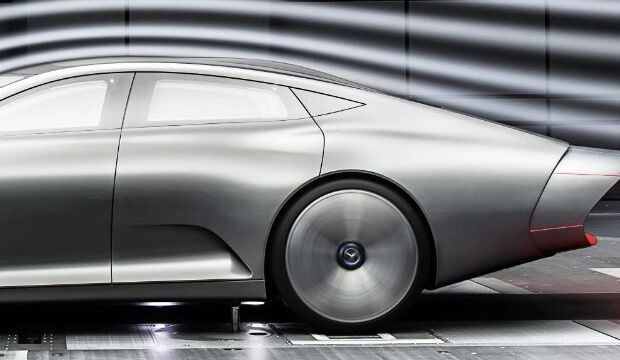 Mercedes-Benz also explains that the some of the tech developments showcased by the Concept IAA isn't visible at first glance:
"The study features Car-to-X technology, for example, which enables the study to communicate with other vehicles or other sources of information. This represents a major advance in helping to avoid accidents, as obstacles or events which are not visible to the vehicle itself can be detected - the "Concept IAA" is able to look around the corner, as it were."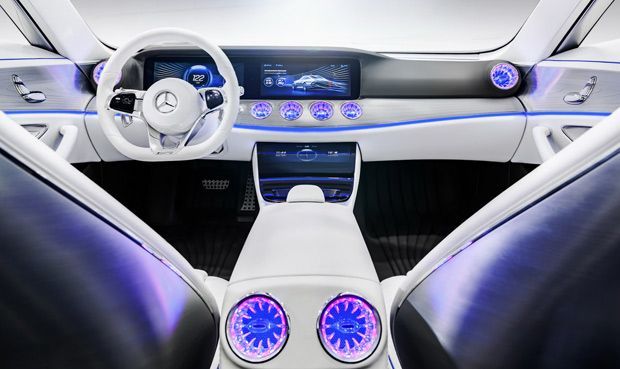 Performance:
As expected, Mercedes-Benz has put forward its latest petrol-electric plug-in hybrid (PHEV) powertrain for its Concept IAA, seen here delivering a total system output of 279hp. A top speed of 250km/h has been mentioned, but we haven't been spared any further details on its performance aspects.
What we do know is that in its regular Design mode, the Concept IAA yields 31km/g of CO2, whilst offering 62km of full electric driving range. In its Aerodynamic mode, these figures are improved to 28g/km of CO2, and a full electric driving range of 66km.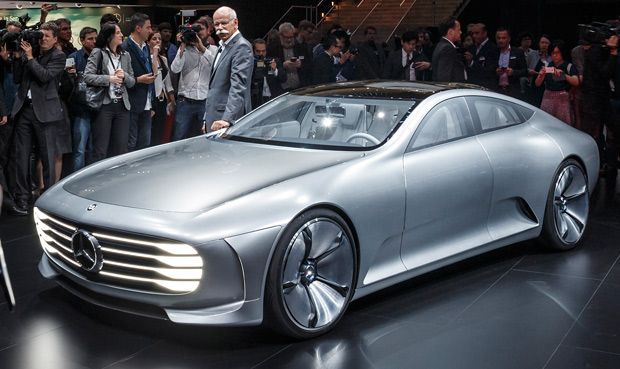 What will it become?
If or not the Concept IAA previews a specific model for the future, we can't say so surely just yet. Yes, it would be easy to call this a glimpse of the next CLS-Class, or even an all-new S-Class-based model.
Either way, it's no time to be making any assumptions just yet. It does looks very much like something for the distant future, like the F 015 Luxury In Motion Concept.
Clearly, however, Mercedes-Benz has said that this "visionary concept" does offer a "foretaste of the business saloon of the near future."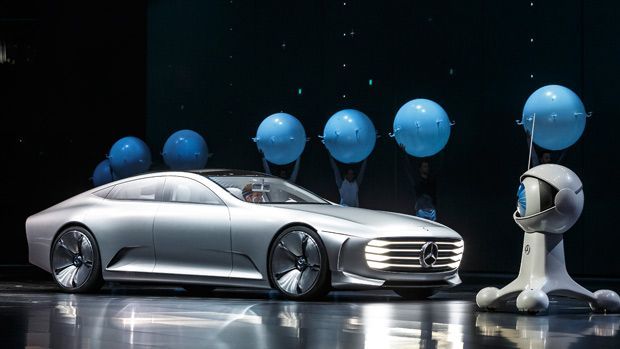 ---
---
---
---
Comments