Here's A Full-Size Origami-Inspired Lexus IS, Because Craftsmanship Matters
Auto News To those who may think craftsmanship in the automotive industry is an ever-receding pocket of art within an increasingly digital age, Lexus would like to show you something:
A life-size replica of their new IS saloon, crafted from 1700 fully recyclable laser-cut cardboard sheets with a fully fitted interior, functioning doors, headlights and rolling wheels. It even has propulsion thanks to an electric motor mounted to its steel/aluminium frame.
Never has something like this taken form. Where a typical car would use sheet metal, glass, and plastics in its construction, those materials have been set aside for something a little more remarkable, definitely more recyclable, and certainly more difficult to assemble (especially in the shape of a car).
This cardboard creation, dubbed the Lexus Origami Car, has emerged as a celebration of the skilled men and women – known as takumi – that work on the Lexus production lines, their dexterity honed by mastery of folding paper into an origami cat using only their non-dominant hand within 90 seconds.
Coming out of the studios of London-based LaserCut Works Scales and Models, director and co-founder Ruben Marcos explained how being tasked with creating the Lexus Origami Car was "a very demanding job, with five people involved in the digital design, modelling, laser cutting and assembly. Just like Lexus, we were committed to producing the best possible quality."
The team were presented with various hurdles from the beginning: "The seats took a few attempts to get just right and the wheels required a lot of refining. Once we could see the physical pieces taking shape, we could identify where we needed to make improvements – as with anything, there were some elements of trial and error, but as we had all the resources we needed in-house, this made the changes easier to produce."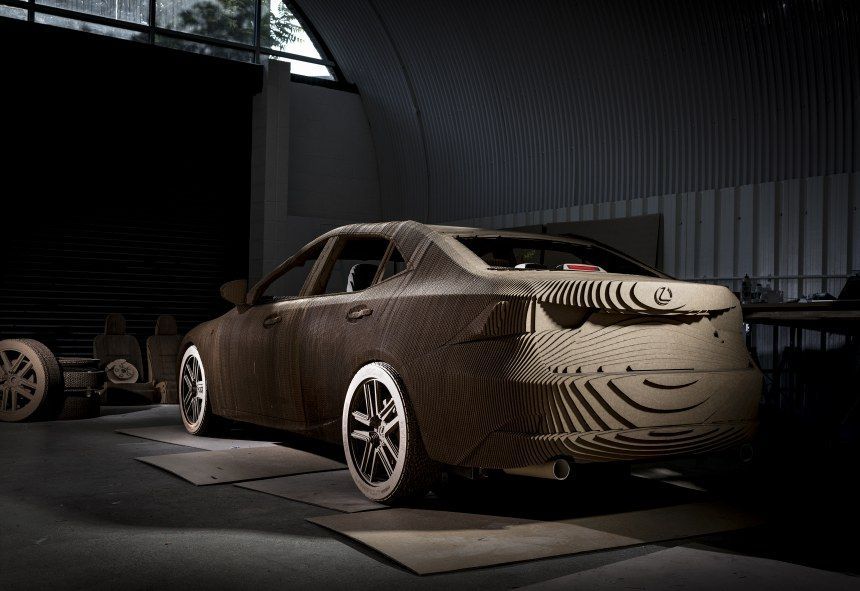 To get the creative process off on the right foot, Lexus furnished the team with a digital 3D model of the IS. From there, the designs were divided into a series of principal sectors such as the main body, dashboard, seats, and wheels.
These separate parts were then digitally rendered in 10mm "slices" to provide the two dimensional profiles needed to laser cut the 1,700 sheets 10mm cardboard. Once the pieces were precision-cut into form, they had to to be attached in sequence by hand.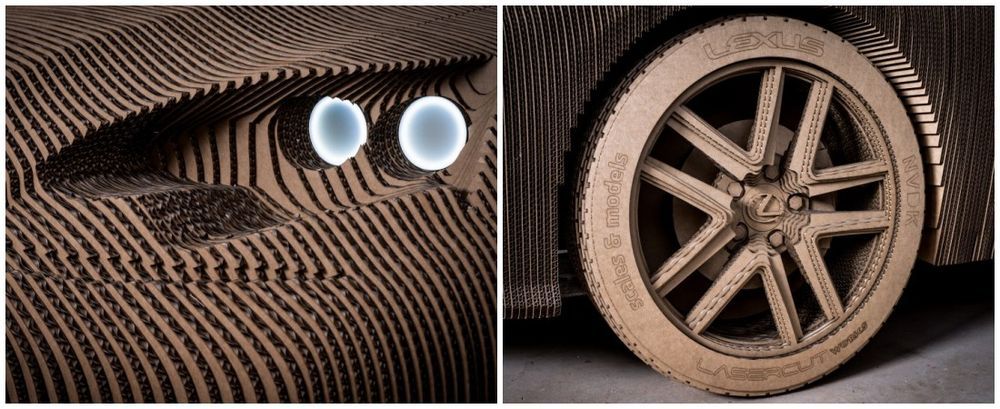 A water-based wood glue was used for adhesion and was left to set for 10 minutes after application of each layer. The Origami Car took a total of three months to complete, with accuracy being a paramount concern – one mistakenly placed layer or misalignment could ruin the entire project.
"In effect we created our own vehicle production line," said Ruben. "There was a lot of repetition in the process and we had to work with military precision, just like the teams that make the real Lexus cars."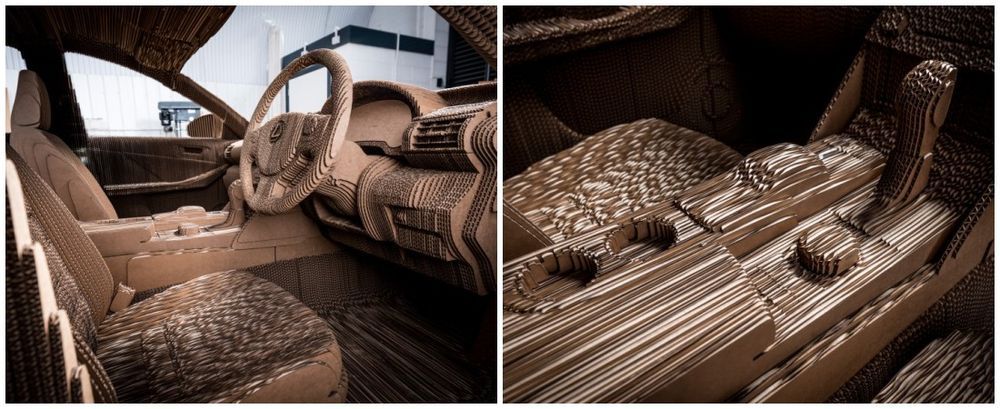 ---
---
---
---
Comments