Honda Civic Tourer Circles Europe In 13,500km Drive, Sets New Fuel Efficiency World Record
Auto News Honda has done something pretty darn remarkable, setting a new Guinness World Record title for fuel efficiency in a diesel-powered Civic Tourer 1.6 i-DTEC. The car consumed an average of 2.82 litres of diesel per 100km and covered 13,498km during its 25-day drive across all 24 EU contiguous countries.
Far from a superlight hatchback – it's the kind of car families use. That makes the achievement all the more impressive as well as making the prospect of a Honda CR-V diesel even more enticing.
The full title bestowed upon by Guinness World Records is 'Lowest fuel consumption – all 24 contiguous EU countries (all cars)'. Sitting behind the wheel were duo members of Honda's R&D team, Fergal McGrath and Julian Warren.
The pair undertook a journey that is equivalent of driving the distance between their homes in the UK all the way to Australia. Quite a feat, but they took it on anyway to demonstrate the real world fuel-economy of the Civic Tourer, which travelled an average of 1500km on each tank of diesel. All in all, they filled up nine times during their drive, with a total fuel cost of 645 Euros or RM2700.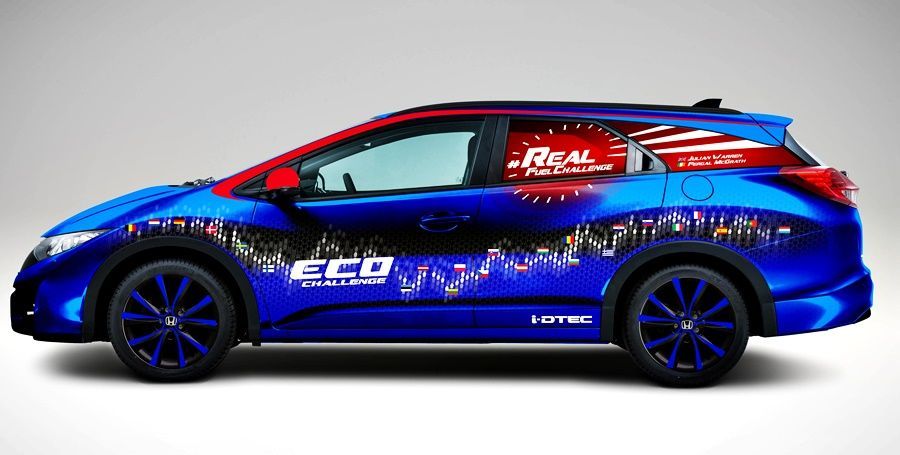 On the morning of June 1st 2015, the road trip commenced with a planned route stretching in a clockwise direction to finally reach their finishing point at the same location in Aalst, Belgium after passing through the two dozen EU countries. The record measurements themselves were calculated both in litres per 100km and miles per gallon, equated over the entire duration.
Fergal McGrath commented after journey's end: "It was tough, but we really enjoyed it, and setting this new GUINNESS WORLD RECORDS title has made all of the hard work worthwhile. This was a huge team effort so I'd like to thank everyone involved for all of their commitment and support. After spending so much time behind the wheel Julian and I are just happy to be back behind our desks for a while!"
The stipulations and regulations set by Guinness World Records team were thorough and exhaustive. The car is required to enter each of the 24 countries, collecting a range of evidence including a fuel/mileage logbook, GPS readings, video and photographs and independent witness signatures to prove that it has done so.
To ensure accurate monitoring of the route, journey time and distance driven, the record car was fitted with a tracking device, provided by fleet telematics and stolen vehicle recovery expert, TRACKER (part of the Tantalum Corporation).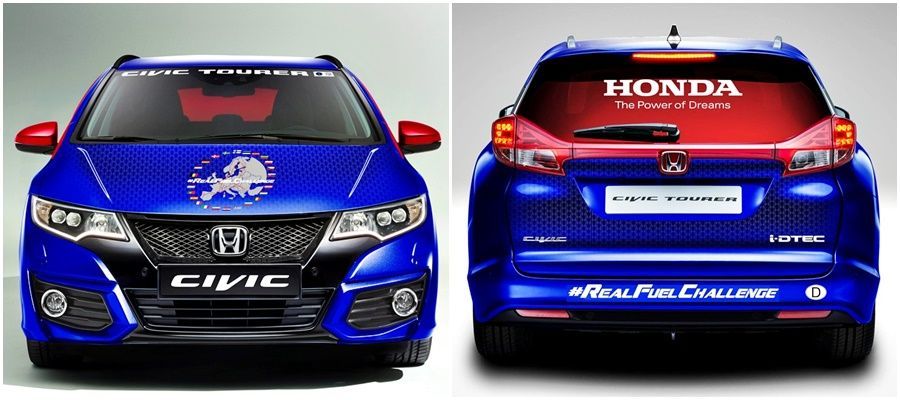 The car itself must be a standard model in every specification, with zero modifications or alterations of any kind allowed to corrupt the replication of 'real world' conditions that an owner would face. As stated before, independent witnesses were used during the course of the entire journey, fuelling was carried out at normal filling stations, tanks filled to the maximum to ensure no weight advantage, tyres remained inflated at the recommended pressures and wheel alignment was set at factory specifications. Driving speed had to always be within the law and in keeping up with varying traffic conditions.
The two-man team piloting the Civic Tourer were both non-professional drivers, having the sensibilities and knowledge levels of an ordinary would-be owner of the car. They merely employed simple but effective driving techniques, the sort anyone could use to eke out the most fuel economy from their cars. These include careful and sensible route planning, driving smoothly and consistently without harsh acceleration or braking, anticipating road conditions ahead, carrying no unnecessary weight, and keeping the car properly maintained.
"This is an incredible achievement and the team should all be very proud of the efforts that they have put in to set this new GUINNESS WORLD RECORD. Driving the equivalent distance from their home in the UK to Australia in just 25 days is a huge challenge very few would take on. The fuel economy figures are remarkable – particularly when you consider that this is not a small car, but a tourer with class-leading load space and vast practicality," said Kate Saxon, PR Communications Manager at Honda Motor Europe Ltd.
Although happy, both McGrath and Warren were pretty wiped after the epic journey.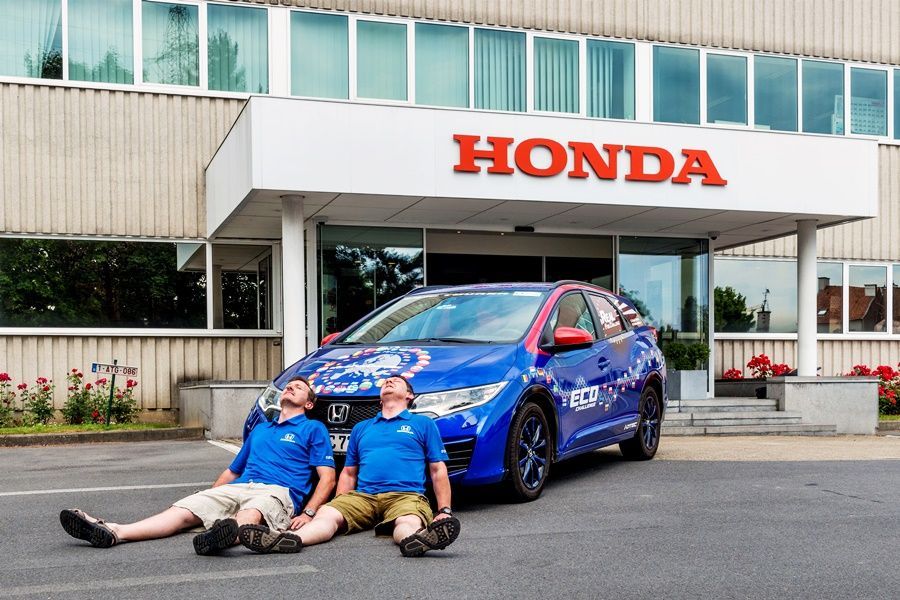 ---
---
---
---
Comments