Honda Civic Type R (FK8R) Delivered To First Malaysian Customer
Auto News One Mr. Adrian Salleh Bin Hashim has just became the first Malaysian to own the latest FK8 generation Honda Civic Type R. The vehicle was delivered to him at Honda dealer Botanic Auto Mall Sdn. Bhd. in Klang.
Speaking at the delivery ceremony, Honda Malaysia Group Vice President Mr. Akkbar Danial said, "We remain committed to providing joy to our customers by offering products that are of high value and advanced in technology. The All-New Civic Type R stands out above the rest, delivering race track-worthy powerful performance yet adaptable to our daily driving demands on Malaysian roads. We strive to ensure all of Honda's line up provides the Joy of Driving to our customers with its unique advanced features.
This is what makes Honda unique. We want to take this opportunity to thank Malaysians for their unwavering support towards the latest technologies that we introduce."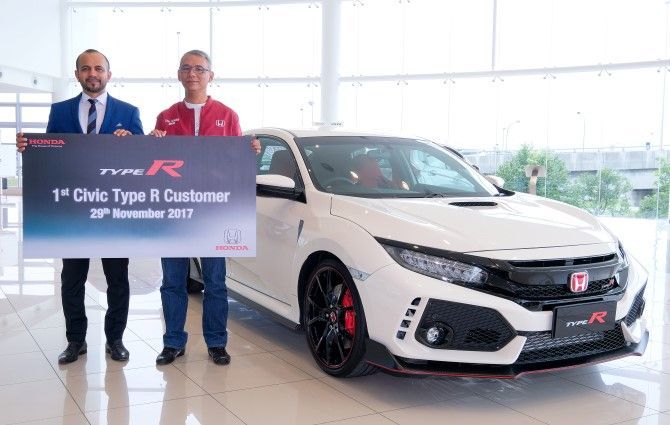 Mr. Akkbar also added, "A customer survey was conducted prior to the launch of the 2007 year model Civic Type R or better known as FD2R in 2007 and we are pleased to note that Mr. Adrian Salleh was one of the first customers interviewed for feedback on the Type R, which helped contributed market insights especially on the identification of the demand and needs of a new customer segment. His passion for the Type R is evident as we deliver the very first All-New Civic Type R to him today. In 2007, Malaysia became the only country outside of Japan to officially launch the FD2R. Honda Malaysia sold 420 units of the FD2R between 2007 to 2011. This achievement was possibly due to the popularity and demand of sporty and race-worthy cars that can be driven on the roads. Malaysia has seen an increasing number of Honda fans and car enthusiasts taking an interest in models like the Type R."
Since it was open for bookings on 1st October 2017, Honda Malaysia has received more than 70 booking for the all-new Civic Type R.
Botanic Auto Mall dealer owner Dato' Mahfoz Bin Haji Hamid said, "We are proud to be one of the 20 Honda Sport Dealers to share this excitement. We received many enquiries regarding the All-New Civic Type R and positive feedback after customers viewed the car at our dealership. We are very honoured to be part of this significant celebration to handover the first All-New Civic Type R in Malaysia today. As a Honda dealer, we look forward to providing Mr. Adrian Salleh and all our customers with excellent after sales services to ensure they experience the joy of owning a Honda."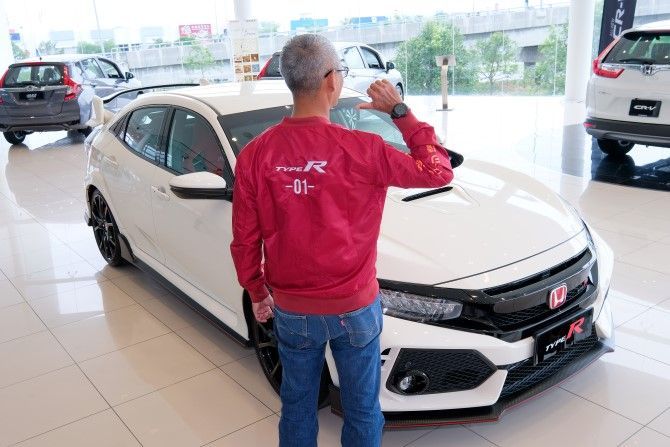 Mr. Adrian Salleh who is a regular Honda customer at Botanic Auto Mall said, "The launch of the All-New Civic Type R made me eager to test and feel this beast. I was impressed with its sporty and bold exterior, delivering powerful performance yet suitable for me to drive daily. The feature I find most unique is the 3-Way Driving modes; which are COMFORT, SPORT and +R Mode that allowed me to set the preferred driving mode to experience different dynamic performance in different driving environment. I can't wait to get behind the wheel to feel the power while on my daily commute."
Besides being the first Malaysian to drive home the All-New Civic Type R, Mr. Adrian Salleh will be gifted with specially customized Honda merchandise, a GoPro HERO 5 and authorized Honda Ultra Glass Body Coating with Ultra Window Coating valued at RM5,300 as tokens of appreciation from Honda Malaysia in celebrating this milestone.
The Civic Type R is priced at RM320,000 excluding insurance, and can only be purchased (and maintained) at one of the 20 selected Honda Sport dealers.
---
---
---
Comments