How Much Does It Cost To Maintain A Mitsubishi Triton?
Buying Guides Launched earlier this year, the new Mitsubishi Triton is the latest entrant in a segment that is overwhelmingly dominated by the Toyota Hilux, which sells more than all of its competitors combined.
The fact that they Hilux is not as well equipped as its rivals but continues to lead the segment by a huge margin suggests that truck buyers are a very pragmatic lot. While having more features is a plus point, the majority buyers favour the Hilux's proven durability and ease of maintenance.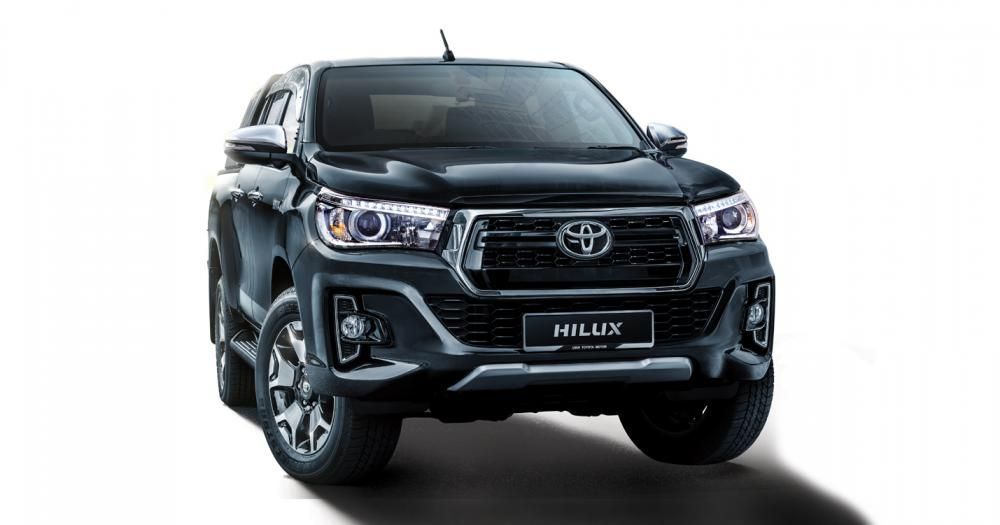 So how does the new Triton fare in terms of maintenance? The Hilux is supported by 85 authorized service centres nationwide, including 48 body and paint centres for collision repairs. Mitsubishi Motors has a lower but still good enough coverage, with 59 authorized service centres nationwide including 26 body and paint repair outlets.
UMW Toyota is quite transparent about the maintenance cost for Toyota vehicles, with prices of mandatory maintenance packages listed here. Mitsubishi Motors doesn't publish the maintenance cost for its cars but the company has shared with us the servicing costs for the new Triton.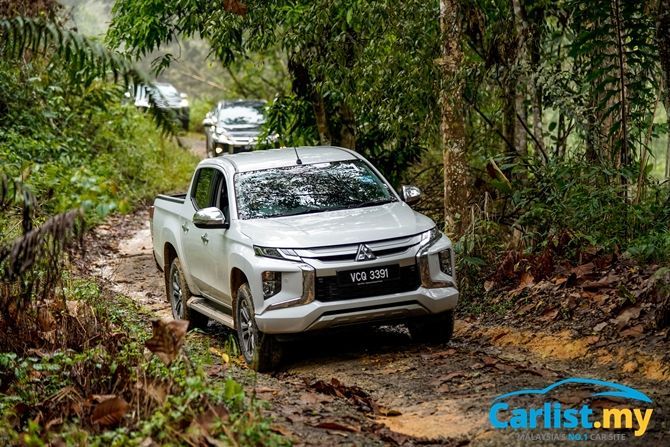 To recap, the new Triton's uses a lightweight, quiet running aluminum block 4N15 common-rail MIVEC turbodiesel engine. It has a relatively small 2.4-litre capacity but delivers a level of performance that's comparable to a larger 2.8-litre Toyota Hilux. In terms of price, performance, and features, the Triton 2.4-litre should be compared against the Hilux 2.8-litre, despite the difference in engine capacity.
With a smaller capacity, the Triton also benefits from a lower road tax - RM793 versus RM1,248 for the similar power output 2.8-litre Hilux (rates for Peninsular Malaysia).
While an equivalent Hilux will cost you nearly RM500 more annually to keep on the road, it counters by offering a wider, more usable torque spread than the Triton, producing 450 Nm of torque that is sustained from 1,600 – 2,400 rpm. The Triton's peak 430 Nm peak torque spikes only at 2,500 rpm. On the move, the Triton doesn't feel as responsive as the Hilux.
The Hilux also has a larger deck and its shorter rear overhang also gives it a better departure angle for off-road driving.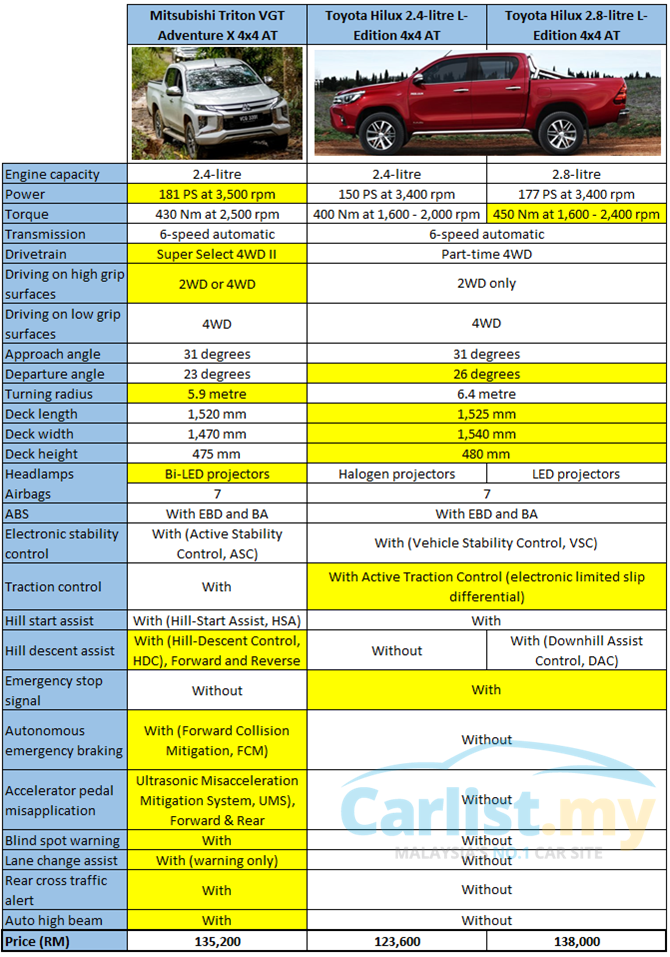 The Triton has a slightly smaller rear deck but it offers better ride comfort with more supportive seats at the front and back. Even with rear seatbacks are angled for better comfort - not common for a truck. It also has a best in-class turning radius, perfect for tight off-road trails or even urban roads. The list of safety features are also more extensive in the Triton.
The Triton's Super Select 4WD II is also the only one of its kind that is capable of 4WD driving on dry tarmac roads. All other pick-up trucks in this class run on regular Part-time 4WD, with 4WD mode that can only be engaged when driving on low grip, untarred surfaces. Engaging 4WD mode when driving on normal roads puts unncessary stress on the driveline.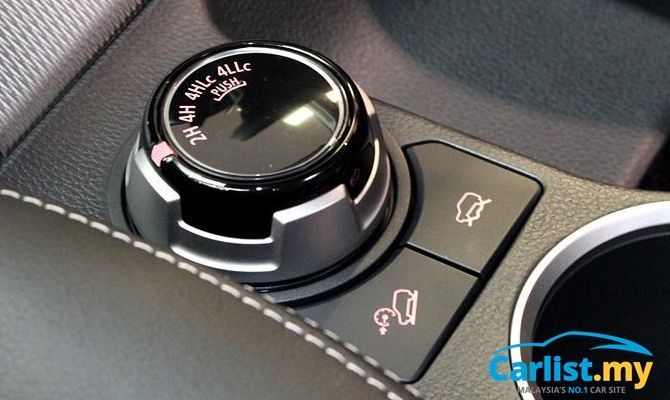 Based on information obtained from Mitsubishi Motors Malaysia, the total maintenance cost over a 5-year/100,000 km period is RM5,903. Meanwhile, the recommended service package for the Toyota Hilux is published on UMW Toyota's website.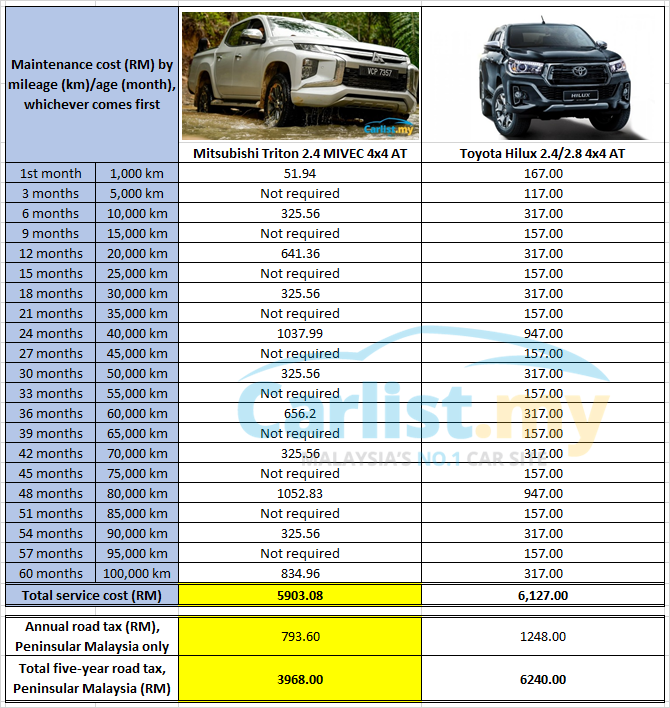 The Triton's service internal is also longer, at every 6-month/10,000 km versus the Hilux's more conservative 3-month/5,000 km. The longer service interval offer greater convenience to customers but it requires more expensive fully synthetic engine oil (RM207.70) versus the Hilux's cheaper mineral oil (RM 120.30 to RM138.50, depending on whether the engine oil filter – which lasts for 10,000 km, is changed).
A longer service interval also means less visits to the service centre, which also means less labour cost so the Triton's servicing cost is slightly cheaper, at RM224 less over a five-year/100,000 km period.
The actual difference in servicing cost might actually be higher as the Triton's service plan also includes replacement of the air-conditioning system's cabin filter (RM79.20 excluding labour), a job that's not included in the Toyota Hilux's service plan (but it is a recommended addition job).
The bigger difference however, is the road tax. With a smaller capacity engine, the Triton's annual road tax is RM454.40 cheaper than the Hilux. Over a five-year period, the Triton saves you RM2,272 in road tax.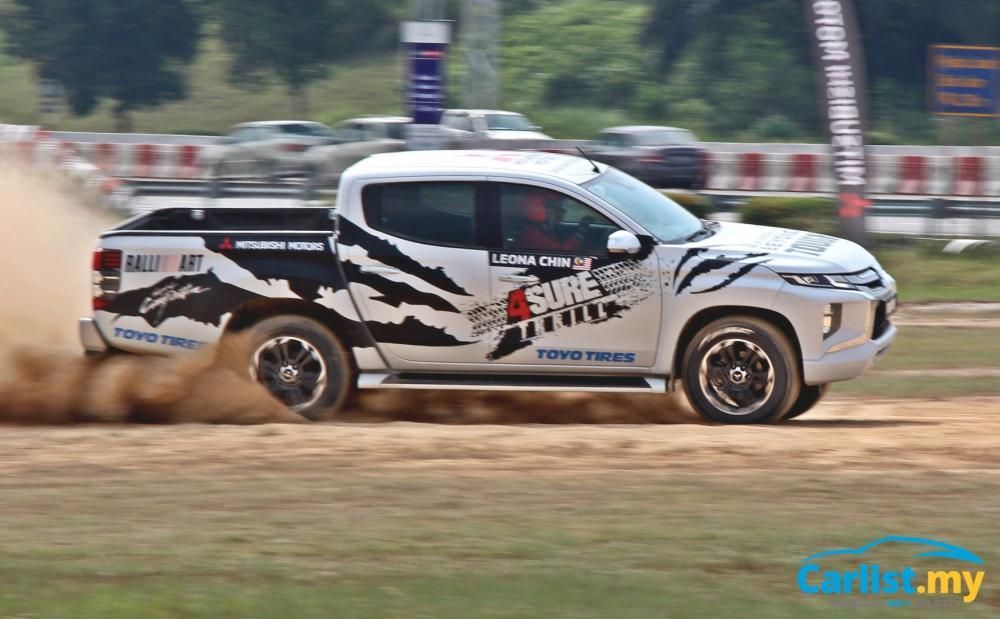 All Mitsubishi Triton models except for the Triton Quest come with a five-year/200,000 km warranty – the best in its class. In comparison, the Hilux's warranty is 50,000 km shorter, at five years/150,000 km.
As for reliability, very little separates the two. Mitsubishi is a 4x4 specialist and is one of Japan's oldest maker of 4x4 vehicles while Toyota is still the byword for reliability.
Read our review of the new Mitsubishi Triton and Toyota Hilux here and here.
To get the best deals for the new Mitsubishi Triton, click here.
---
---
---
---
Comments