Is The 2022 Mercedes-AMG SL Too Butch Or A Beautiful Return To Form?
Auto News The 'SL' has always been a Mercedes-Benz icon, but for 2022, this newest generation of the brand's flagship grand touring roadster will fly under the AMG banner - developed, fine tuned, and rolled out of Affalterbach instead of being fiddled with afterward.
---
The R232, so goes its codename, is an SL-Class like none that came before. In some ways, it returns to its roots with characteristics such a soft-top roof and 2+2 seating arrangement, but in some others it marks a departure from the so-called pinnacle of GT cars its predecessors were sometimes referred to.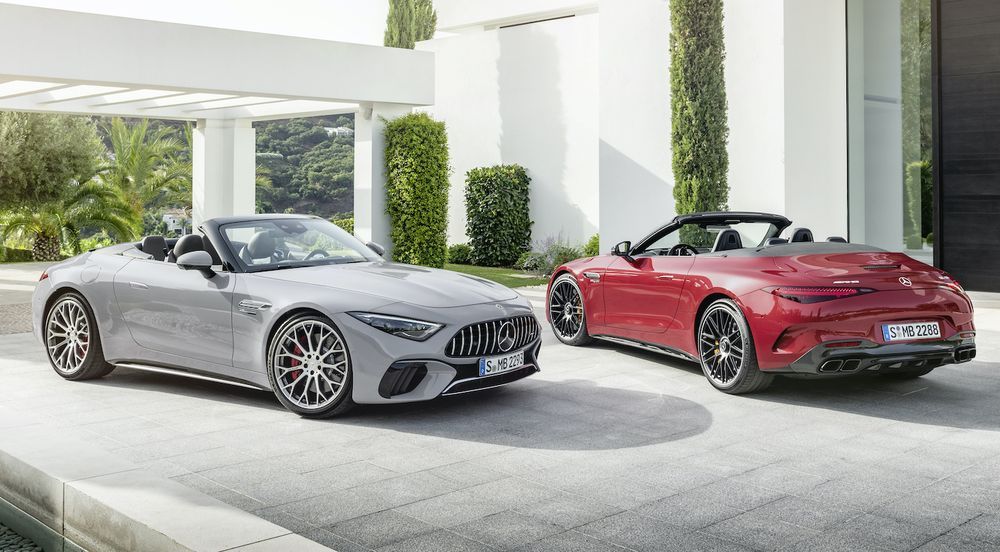 Where previously you could have an SL in a purely Mercedes-Benz flavour, this car's link to the performance sub-brand is unavoidable to the point that they themselves have confirmed it has common DNA with the upcoming second-generation AMG GT. This invites comparisons with the BMW M8 Convertible, Aston Martin DBS Volante, and the Ferrari Portofino. However, should that be the SL's battleground at all?
Mercedes-AMG, realising the burden of building upon such a storied nameplate, started from scratch, eschewing shared underpinnings and instead building the R232 on a bespoke platform that, yes, will be used by their next GT as well. They'll even look alike, we reckon.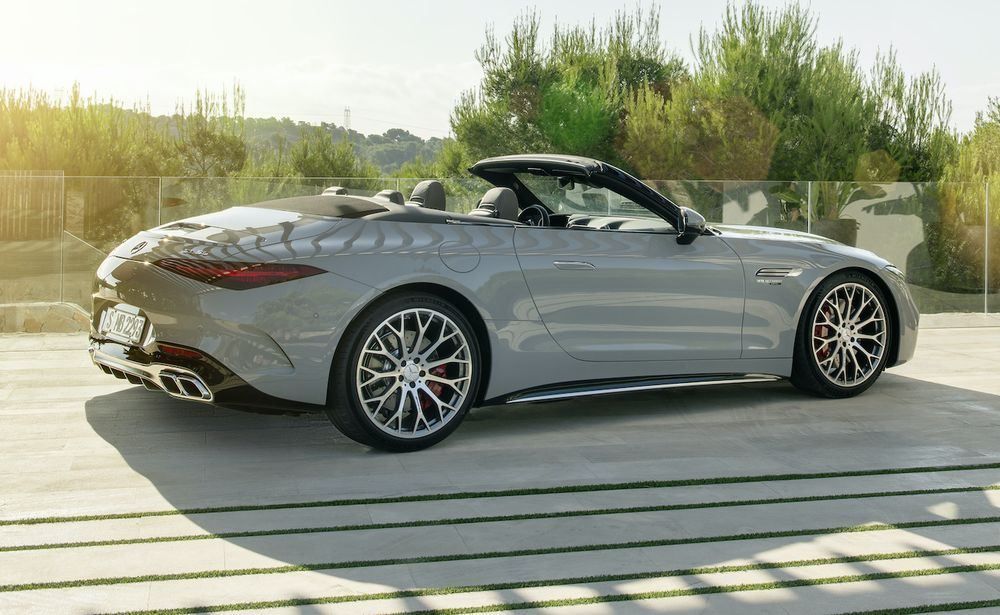 This is no knock, as even at first glance there's something entrancing about how proportionally correct the R232 SL looks despite its sheer size. As bold and imposing as the older version was, one might have struggled to describe it as particularly beautiful; a problem that does not afflict this incarnation.
According to them, and over the current AMG GT Roadster, the all-new SL boasts 50% higher transverse rigidity and 40% higher longitudinal rigidity, owing to that new aluminium intensive architecture. This also allowed the engineers to mount the engine and axles lower than was previously possible, explaining why the shoulder line appears so closely pressed to those (extended) front wheel arches.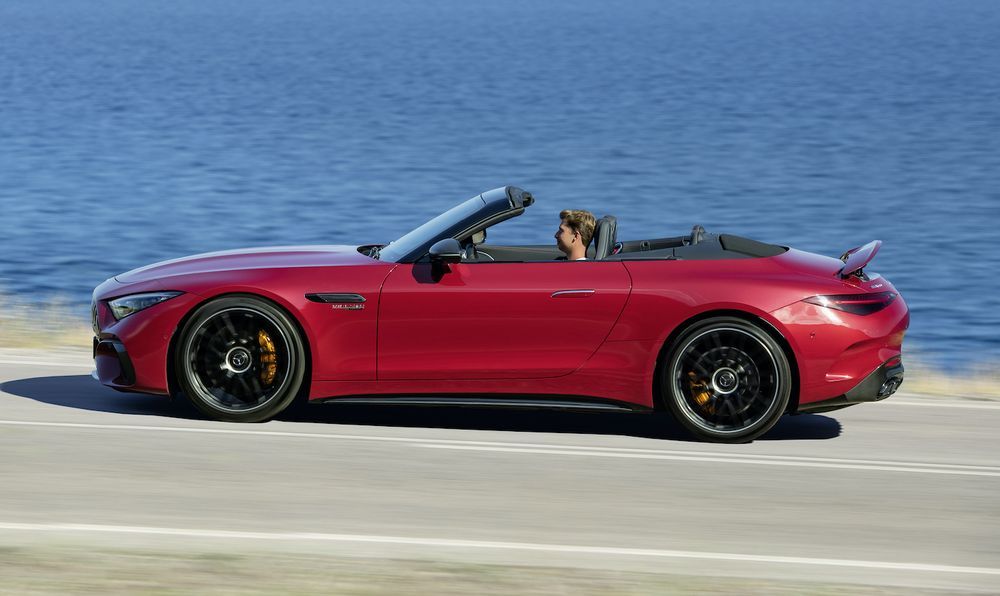 Though it might look tauter and slimmed down, the SL has actually grown a fair bit over the R231. At 4,705mm in length, the open-top GT is extended by 88mm from nose to tail, but is also 38mm wider and 44mm taller with a wheelbase of 2,700mm (or 117mm longer) to accommodate larger rear seats.
Despite lightweight underpinnings, the SL's ballooning volume means that kerb weight has also increased to 1,970kg in its heaviest variation, or some 120kg heftier than the outgoing model. Yes, these all sound like bad things, but AMG are confident numbers alone will condemn their SL as a package.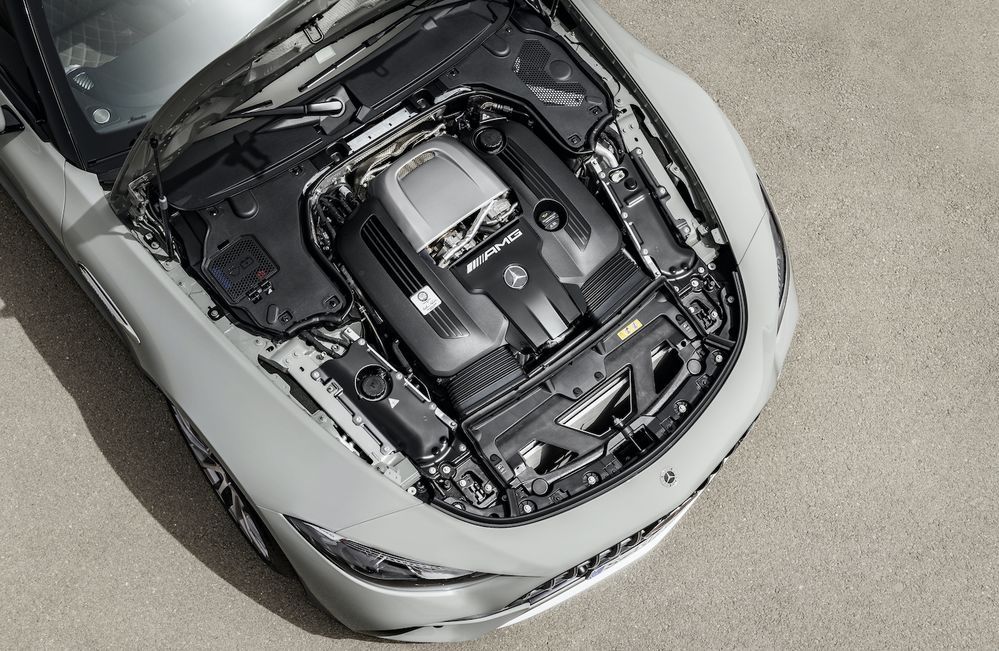 The range starts with a welcome return to the '55' moniker that's been absent in the AMG lineup for almost 10 years with the retirement of the 5.5-litre M157, here ostensibly sitting in the SL500's role. This 'entry' variant is joined by the full-fat SL 63, though both share the prevalent 4.0-litre bi-turbo V8 (M176) under their expansive bonnets.
In the SL 55, the engine delivers 470hp and 700Nm. Paired to the 9-speed AMG Speedshift MCT automatic transmission, drive reaches all four wheels through a fully variable AMG Performance 4Matic+ system to grant it a ferocious 3.9-second sprint to 100km/h from rest and a 295km/h top speed.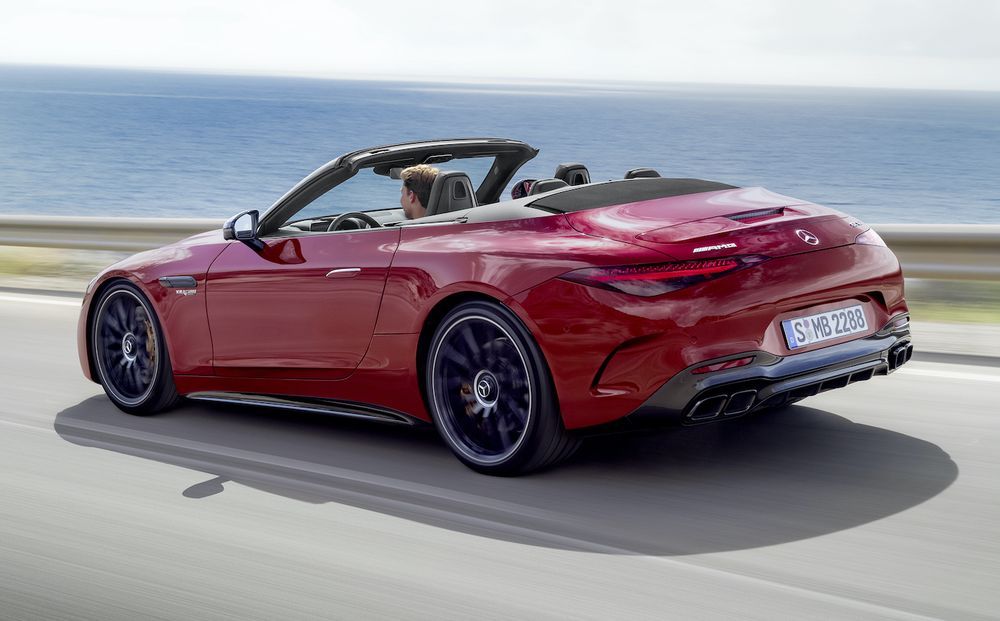 Step up to the SL 63 and, naturally, power and torque rises to 577hp and a thumping 800Nm thanks to modified internals, increased turbocharger boost pressure, and a larger intake manifold. This shaves the century sprint to just 3.6 seconds for the nearly 2-tonne roadster while taking top speed a hair higher to 300km/h. That's a lot of wind on your scalp.
Mercedes-Benz's pioneering Airscarf function has its work cut out for it here, tasked with both directing warm air toward the front occupants while also adaptively combating the buffeting from errant gusts with the roof down.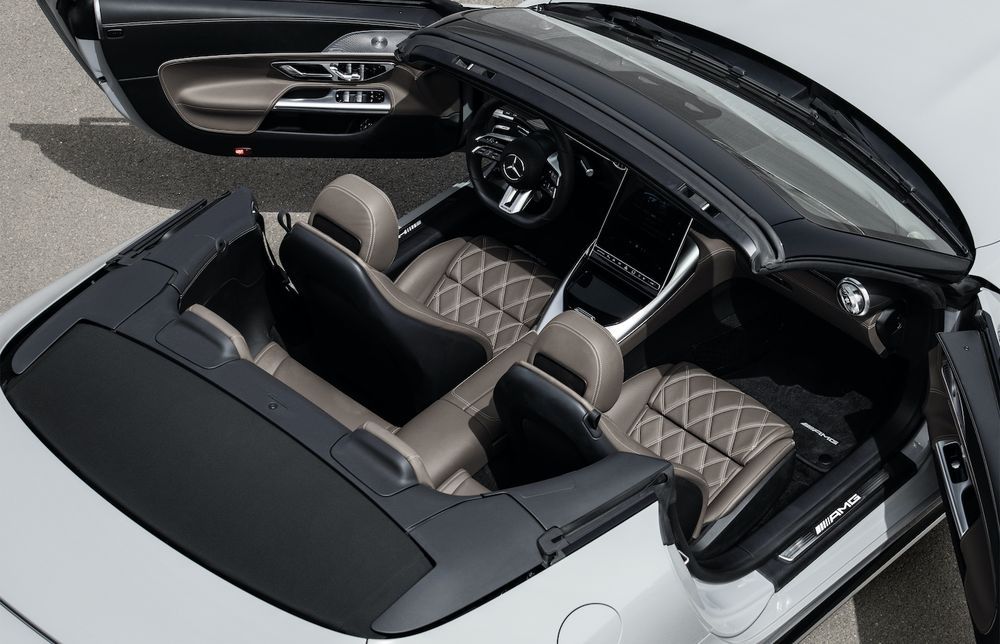 To match the SL's tailored platform, AMG have developed a new five-link, double-wishbone suspension upfront while the rear receives a multi-link setup similar to that seen in the current GT. An electronically limited-slip rear differential and hydraulic anti-roll bars are given to the SL 63 while the SL 55 gets passive sway bars and an open diff instead. Adaptive suspension, thankfully, is standard.
Inside, the R232 seeks to be both classically inviting and technically impressive. Clearly, Mercedes-AMG were given clear briefs to echo the screen-heavy layout and ergonomics of the EQS and S-Class with MBUX's digital interface dominating the cabin's forward view. There's plenty of LCD real estate, true, but it doesn't seem overbearing.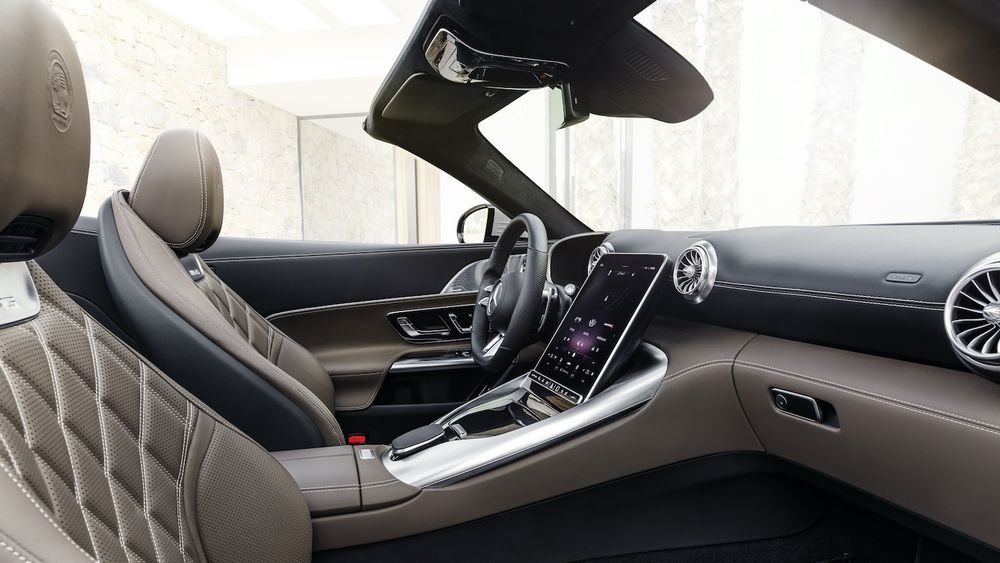 An 11.9-inch vertical (and adjustable) touchscreen serves as the main media, navigation, and operational hub but, as is the trend these days, it's joined by a slightly larger 12.3-inch driver's display in lieu of a traditional instrument cluster. They'll even programme in an optional AMG Track Pace function in case you want to set and compare hot laps in your SL.
The upholstery, materials, and build all have a sense of plushness and quality that even comes through in these supplied photos, which is no surprise seeing as how this is meant to be the pinnacle of performance-oriented luxury for both Mercedes-Benz and AMG, especially now that the short-lived but equally stellar S-Class Coupe/Cabriolet has been axed.
---
---
---
---
Comments