Local Assembly Of AMG 43 Models - A Joint Effort Between Thailand And Malaysia
Insights The biggest local news this week has to be the launch of not one but two locally-assembled AMG models in Malaysia. It's a major milestone not just for Mercedes-Benz's performance sub-brand AMG, but also for Mercedes-Benz's local offices in Thailand and Malaysia.
Local assembly creates room for substantial savings on import duties, which are punitively high in many markets in this region.
In Malaysia, local assembly has brought down prices of the Mercedes-AMG C43 4Matic Sedan and GLC 43 4Matic by RM 90,000 and RM 70,000 respectively. Up north, the Thailand-assembled C43 Coupe saw a corresponding drop of 1.05 million Baht (about RM 130,000).
The Malaysia-assembled C43 Sedan 4Matic now sells for 408,888 while the GLC 43 4Matic sells for 468,888, with no reduction in features and specifications.
At the sidelines of the twin AMGs' launch at Sepang International Circuit yesterday, we caught up with Mark Raine, Vice-President Sales and Marketing Passenger Cars, Mercedes-Benz Malaysia, to learn more about the work leading up to the successful CKD (completely knocked down) programme of AMG cars in Malaysia.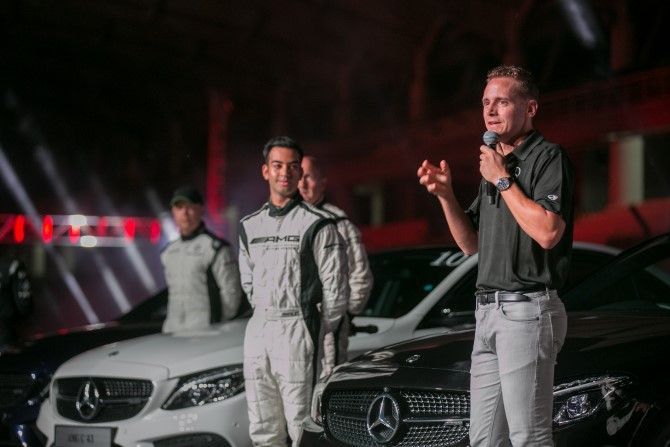 Mark revealed that part of the reason for the success is the joint effort with Mercedes-Benz Thailand. Together, the two companies pooled together their resources in committing to the CKD project before presenting a business case to their counterparts in Germany.
While the final objective was the same, both companies have slightly different ideas on what works best for their respective markets.
Thailand elected to pursue the emotional buyers crowd and decided on a coupe, the C43 4Matic Coupe. Malaysia on the other hand, went for the pragmatic path and chose to build upon their existing CKD programme for the more practical C-Class sedan and GLC-Class SUV, widening the offering to include the C43 4Matic Sedan and GLC 43 4Matic.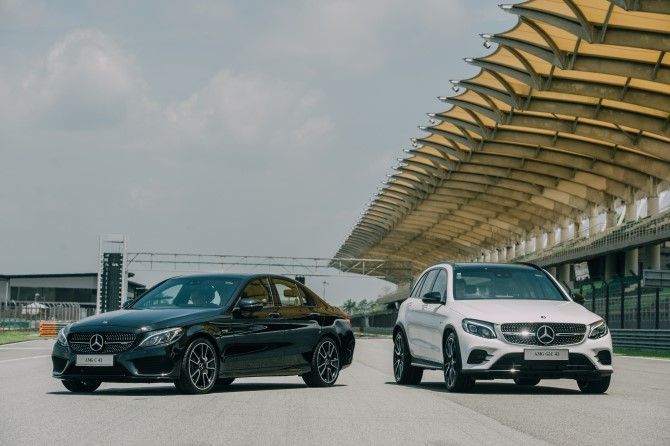 Mark explained that based on their experience with the fully-imported C63 and C63S, it was the sedan that has a wider appeal.
"We've been extremely successful with the C-Class (sedan) in general. The C43 and C63 have also found their fan base. Yes we've also been successful with the coupe but I feel the C-Class (sedan) has the best of both worlds, and to a certain degree a bit more practicality than the coupe and it obviously broadens the base of customers that can go into the product," said Mark.
The decision to expand the offering to a GLC 43 was also an easy one for Mark, given the popularity of performance luxury SUVs in Malaysia.
"I see there is a general trend in the market towards SUV, especially towards performance SUVs, and I want to capture a portion of that market. If you look at Porsche Macan, that has also been very successful. There's a general market for performance SUVs and we believe with these two products localized, we're perfectly setup," said Mark.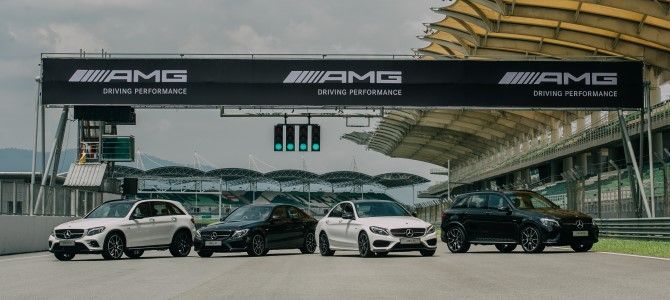 While many car makers tend to shy away from high performance variants due to their limited market potential, Mark disagrees and believes sees the need to promote both its EQ Power range plug-in hybrids alongside high performance AMGs.
"I think that is what is required, you need a different approach. If you do business as usual, then yes maybe you can protect the status quo but our aim is always to be the No.1 and to be best of the best. We are the inventor of the automobile. We always want to drive or push boundaries in every way. If you look at the progression of our brand - how our brand is perceived in the market, our market share development, it has been a huge success story.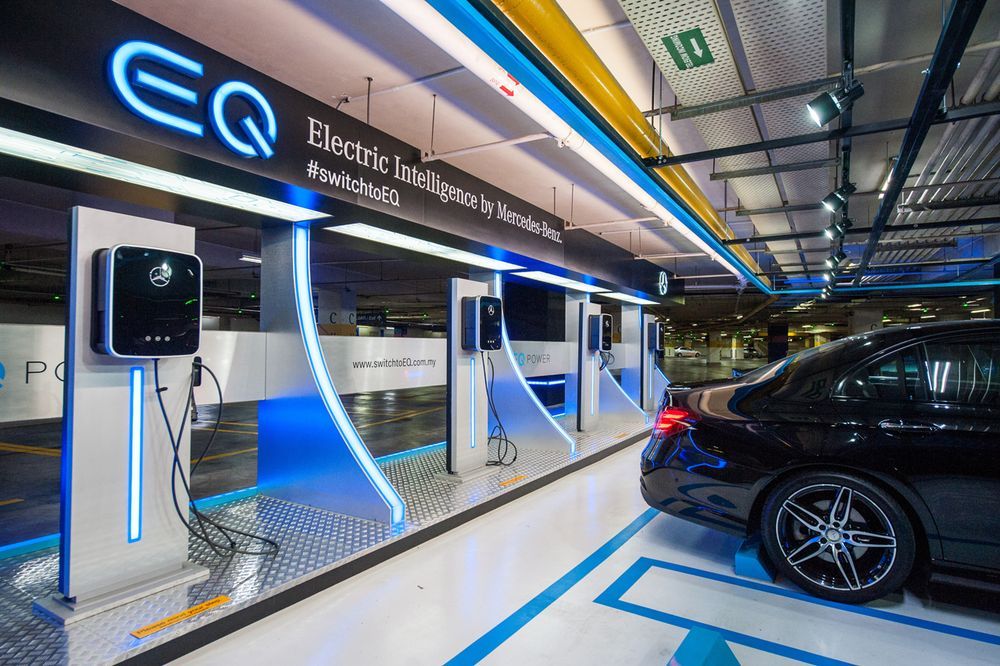 "But It is not only the product, it's not only being successful. For me, it's important that we put the customer at the centre of our activities so we look at what are the requirements of the market. For me when I came here, it was very imminent that there are many performance cars enthusiasts, many sports cars enthusiasts here," said Mark
Mark also mentioned the popularity of tuned cars in Malaysia, popularity of motorsports series like MotoGP and the proliferation of car clubs centering around performance cars.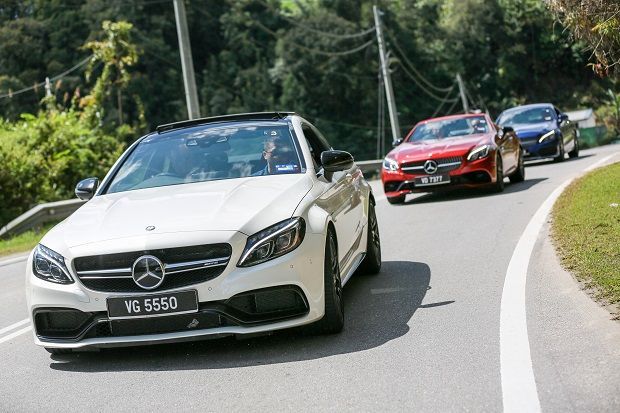 "They group, they spend a lot of time and money to pursue that favourite past time of theirs. That's why I said one of our strategies in order to provide the best products to our customers, hopefully new customers and fans, was to go on the Dream Cars offensive. The Dream Car offensive kind of started with the launch of the AMG GT S, roughly three years ago. Then in the second half of 2015 we did that huge Dream Car offensive – we brought down the S63, we brought down not only AMGs, but also coupes and cabriolets. So it was a holistic approach to Dream Cars," he added.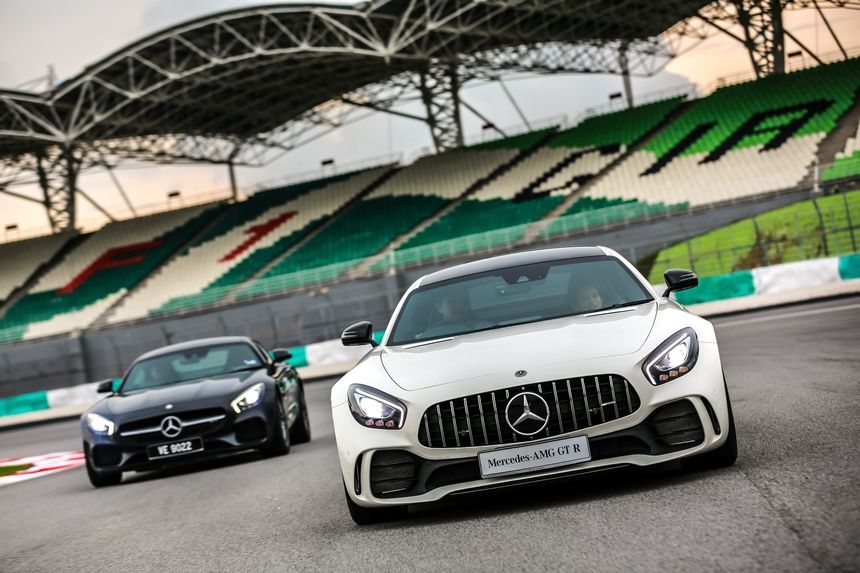 He went to say that while Dream Cars don't sell in great volume, they are very important in shaping the brand.
"One of the key aspects of Mercedes-Benz is that we have a huge portfolio of exciting cars, and the brand shapers in that portfolio for me are the Dream Cars – the coupes, the cabriolets, the super sports cars, the performance driving machines from AMGs. Having that portfolio of Dream Cars that are uniquely catered to a niche market is for me one of our successes," he said.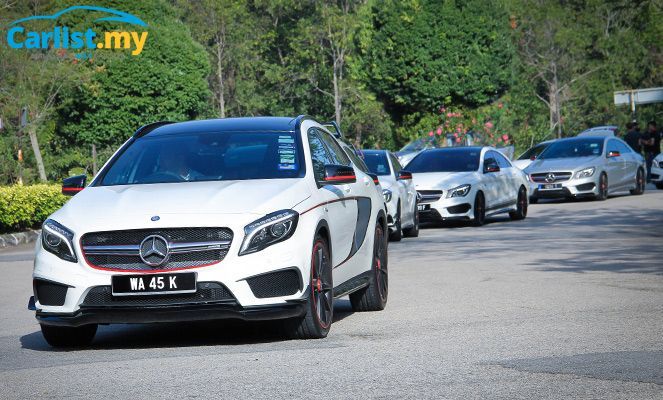 Mark also mentioned that Malaysia's earlier success with the AMG 45 series cars were also instrumental in allowing the brand to progress to this stage. Contrary to what many suspected, it wasn't very hard for Mercedes-Benz Malaysia to convince the decision makers at Suttgart and Affalterbach to support the CKD programme. Yes, there was a lot of homework and studies that needed to be done, but that applies to all projects and this is no different.
In fact, Mark chuckled when we asked what his team had to prove to the decision makers halfway around the world that Mercedes-Benz Malaysia is able to sustain a business case for CKD AMG cars. In most other car companies, pushing through such a request for a market like Malaysia is almost impossible, as evident by the lack of locally-assembled performance cars here.
"Prove?," he laughed before running through a quick recap on why Mercedes-Benz Malaysia is stronger today than ever before - leading in all key measurable metrics of sales, market share, growth.
"We've also been highly successful with the AMGs (45 series cars) in the past. The success journey kind of kick started with the launch of the AMG 45s and we get great support from our headquarters and Affalterbach, the home base of AMG. They are very supportive in terms of providing all the cars available to us. That's also one of the reason we were able to have the AMG GT R here. The first customer cars will be delivered in the second half of this year," he added.
In short, it's a text book case of success begets success. A company that doesn't capitalize on its strong success today to push the boundaries for tomorrow will only squander away potential opportunities and fall into a lull, and that's why Mark believes strongly in doing what other car companies say cannot be done - to assemble high performance cars in Malaysia.
Moving forward, Mark said he is keen to get more AMG products for Malaysia. Models like the upcoming four-door AMG GT, currently previewed by the AMG GT Concept, is high on his wish list and he is hopeful that the concept car will go into production.
Next week, Mercedes-Benz will be presenting the EQ Concept car at Desa ParkCity in Kuala Lumpur, a first for the region.
"That's not something that you get on an everyday basis. I am actually extremely excited that it is coming and it is a special occasion for Malaysia, and for us a brand and for me personally as well," said Mark.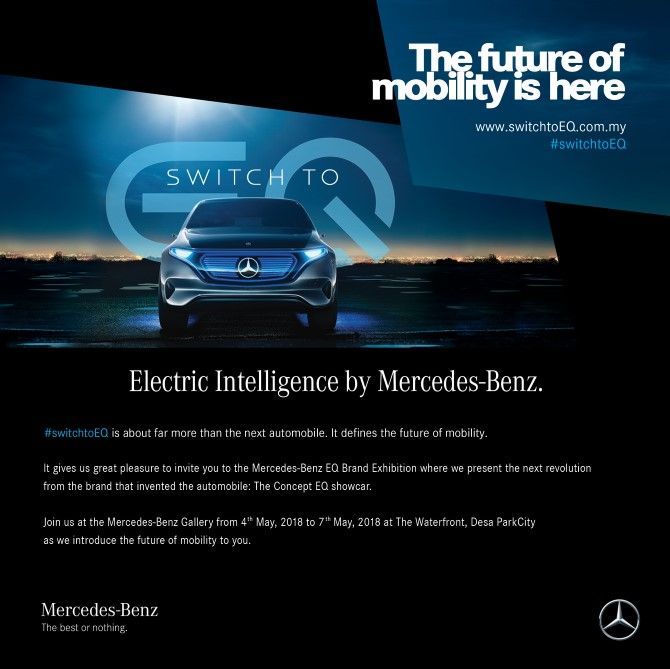 The Generation EQ Concept points toward an upcoming all-electric SUV from Mercedes-Benz. The vehicle is currently under development and is expected to go into series production sometime in 2019.
The concept will be the highlight of Mercedes-Benz Malaysia's EQ Brand Exhibition at Desa ParkCity, happening from 4-May to 7-May 2018.
---
---
---
---
Comments