Looks Like the New Toyota Supra is Going to be Automatic Only, BMW Powered
Auto News There's been a lot of hype surrounding the up-and-coming Toyota Supra/BMW Z4 (J29/G29 model codes respectively), but we've got a little bit of bad news for enthusiasts out there. A leaked internal BMW document sourced by the SupraMkV forums has detailed the transmission and engine options, and it seems like there are no manual Supra variants for purchase (as of now they only list 'AUT'). That being said, it's possible that the BMW models will have a manual on offer, by the 'MECH' designation.

The document is a couple of months old but it does show both Toyota and BMW variants. It seems like the Toyota Supra will have the 20i and 30i engine variants (both 4 cylinder 2.0-litre TwinPowerTurbo units if we follow current BMW nomenclature) as well as a 40i variant (a 6-cylinder, 3.0-litre TwinPowerTurbo engine), while the BMW Z4 will be limited to just 30i and M40i powertrain options. While not confirmed, it's likely the Supra/Z4 will run entirely on BMW running gear.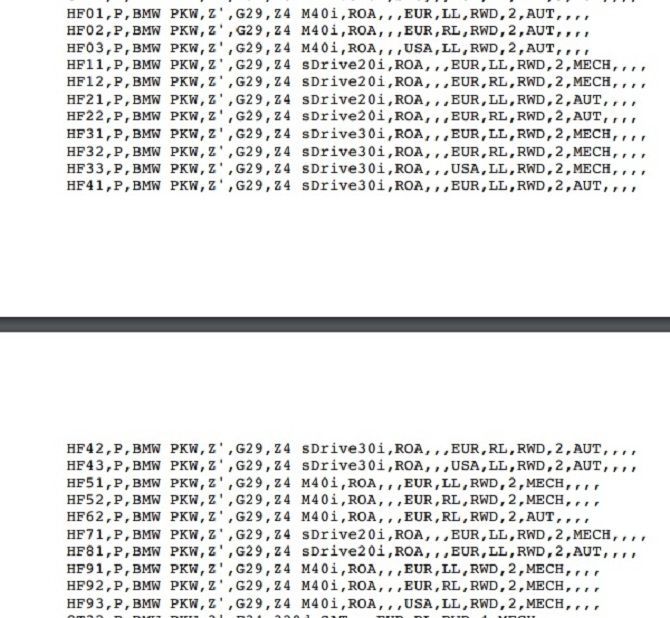 Either way, if the GT86 and LFA are anything to go by, then this new model should be quite the stunner- regardless of powertrain and engine options. The sole transmission choice for Toyota to be the automatic and in RWD form, but this shouldn't be too large of a disappointment as BMW ZF transmission are pretty seamless and quick to respond to inputs when you call on them. Hopefully there will eventually be a manual option offered in the future for the 'purists' among us- and if you're really hard up on a manual, maybe the BMW version will be a better choice.
---
---
---
---
Comments