Malaysia Is World's Second Biggest Importer Of Reconditioned Japanese Cars
Auto News In 2015, Malaysia imported nearly 55 billion Yen (about 1.93 billion Ringgit) worth of reconditioned cars from Japan – the second highest in the world. This was based on information extracted by Carlist.my from trade statistics provided by Japan's Ministry of Finance.
Last year, Malaysia imported 21,192 reconditioned cars from Japan, 89 percent of them were powered by petrol engines below 3,000cc.
While Malaysia's numbers for 2015 were high, they were 15 percent lower than the preceding year, another sign of Malaysia's slowing car market. Import of reconditioned Japanese-market cars into Malaysia peaked in 2014, when 24,544 units were brought in, with a total value of 63.5 billion Yen (about 2.25 billion Ringgit).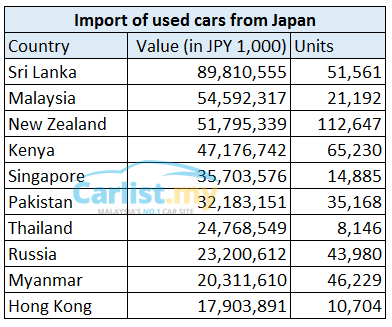 Reconditioned cars are refurbished used cars imported from overseas (typically from other right hand drive markets like UK, Japan, and South Africa), and sold via parallel importers. In Malaysia, regulations limit them to a maximum age of five years old.
As these are essentially used cars that the vehicle manufacturer had not intended to sell here, they are not covered by any manufacturer's warranty, and users will not enjoy the benefits of having any potential defects corrected in a recall.
The unusually low mileage recorded on the odometer is also very likely to have been tampered with.
There could also be concerns about their long-term durability when subjected to our local driving conditions, as these cars were not designed to handle our local fuel quality, road conditions and tropical climate.
A Lexus model sold by Lexus Malaysia for example, is fitted with a higher capacity engine cooling system than those fitted in an equivalent Japanese-market Lexus models sold by parallel importers. Reconditioned Japanese cars also have their controls' labels and infotainment system written in Japanese text.
Still, many buyers are willing to overlook these shortcomings as parallel imported models are significantly cheaper, and in some cases, might not even be offered by the authorised distributor/importer. For example, if you are looking for a Nissan GT-R, the only way to get one is to go to a parallel importer. Similarly if you are looking for a Hummer H3 or even a Toyota Harrier, or a higher specifications Toyota Alphard or Estima (the ones imported by UMW Toyota have less features).
Now, there are also companies like Opal that offers after-market warranty services to reconditioned cars. While it cannot be compared to a manufacturer's warranty, the risks associated with buying a reconditioned, parallel imported car is now less than before.
Interestingly, the world's biggest market for reconditioned Japanese cars is Sri Lanka, totalling nearly 90 billion Yen.
From 2014 to 2015, import of reconditioned Japanese cars by Sri Lanka jumped from 31,804 units to 51,561 units, with the total trade value growing from 58.5 billion Yen to 89.8 billion Yen.
In Sri Lanka, the majority of vehicle registrations are contributed by reconditioned Japanese cars. Data by the International Organization of Motor Vehicle Manufacturers (OICA) showed that Sri Lanka's new car sales numbered at just 15,500 vehicles in 2014.
In terms of value, higher-end luxury models tend to get shipped to South East Asia, where many high-end Toyota models like the Alphard, Vellfire, Estima, Harrier, FJ Cruiser, and Land Cruiser are in strong demand. A large number of reconditioned European makes like Audi, BMW, MINI, Mercedes-Benz and Porsche models sold in this region are also shipped in from Japan, apart from the UK.
By dividing the total value of cars traded with the total units shipped, we can see that the cars sent to Indonesia, while fewer in quantity (just 2,803 units) are more expensive (totalling 11.5 billion Yen) than those bought by buyers in Thailand (8,146 units, 24.8 billion Yen) and Malaysia (21,192 units, 55 billion Yen).
On average, the models imported into Indonesia are about 50 percent higher in value than those imported into Malaysia.
The average value of a reconditioned Japanese car in Malaysia is about RM108,000, versus RM140,700 in Indonesia, and RM107,600 in Thailand. Note that this value is determined by the Japanese Customs, and will of course be lower than their actual selling price at dealerships.
New Zealand is another hot spot for Japanese reconditioned cars, importing 112,647 cars last year – the highest in world, but many of these models are of the more regular variety – 40 percent of them were less 1,500cc.
Kenya is fourth, followed by Singapore. Pakistan, Russia, Myanmar and Hong Kong rounded up the top-ten countries. All are right-hand drive countries except for Russia and Myanmar.
Curiously, the hassle of driving these right-hand drive Japanese-market cars in left-hand drive Russia and Myanmar has not deterred buyers. Russia is a big country and many of these right-hand drive cars get shipped to the interiors of Russia, or the port city of Vladivostok. In any case, the Russian government has since begun cracking down on parallel imported right-hand drive cars.
At its peak in 2013, Russia imported 95.7 billion Yen worth of reconditioned Japanese cars, and was the world's biggest importer from 2010 until 2014.
Myanmar however is particularly dangerous because regulations are lax and many right-hand drive used Japanese vehicles - including taxis, trucks and buses – jostle to get ahead in congested left-hand drive roads of Yangon and Naypyidaw.
---
---
---
---
Comments