Mazda Preparing BMW X4-Like CX-4 Model
Auto News As you may have read from our earlier reports, the Mazda Koeru Concept, presented at the 2015 Frankfurt Motor Show, is not only longer and wider than the CX-5, but is also lower. This leads us to speculate that the Koeru points to a future 'CX-5 Coupe' model.
Mazda rarely do concept cars for the sake of wowing the public. Every one of their recent Kodo Design-era concept cars eventually became a production car, so we have strong reasons to believe that a coupe-SUV version of a CX-5 is in the works. Think of it as Mazda's interpretation of a BMW X4.
At 4,600mm in length and 1,900mm in width, the Koeru is 45mm longer and 60mm wider than the CX-5. Its wheelbase of 2,700mm is identical to that of the CX-5, whereas its height of just 1,500mm is a whole 170mm lower than the CX-5.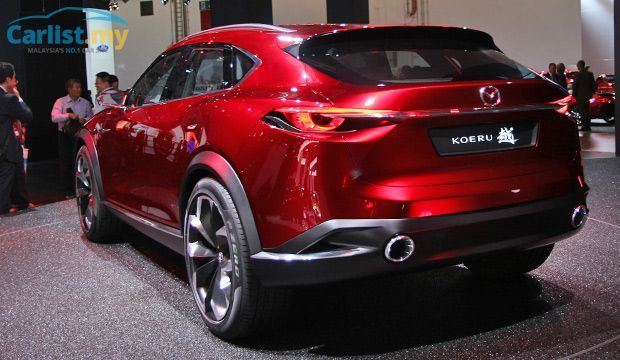 In the same way the sportier BMX X4 sits between the more conventional X3 and X5 models, so too will the CX-4 sit between the upcoming CX-3, and the CX-5.
According to a report by Australia's GoAuto, sources at Mazda Europe revealed that the CX-4 nameplate has already been reserved for a production version of the Koeru Concept.
At the same time, Mazda Australia remains non-committal about the CX-4, saying that the company would need to make sure that the CX-4, assuming it makes it into the production stage, will not cannibalise sales from the CX-5.
It is safe to assume that Mazda Australia's position on the CX-4 is shared by Mazda distributors around the region, including Mazda Malaysia.
For now, preliminary reports are suggesting that the CX-4 is aimed mainly at European markets, which is a mature and a large, unified single market where incremental gains in sales cannot be achieved without introducing newer variants or models.
In smaller volume markets like ours, manufacturers cannot risk spreading its buyers too thin across too many variants, which would only lead to cannibalisation of sales amongst their models with no nett gain in overall sales.
When will the CX-4 enter production?
Past experience with Mazda shows that it takes about 18 months before a Mazda concept car becomes a production model.
Take the Minagi Concept for example, which previewed the CX-5 – the Minagi made its debut at the March 2011 Geneva Motor Show, but only went into production in October 2012.
A similar lead time was observed in the Takeri Concept (Mazda 6) and Hazumi Concept (Mazda 3).
More details should be announced in late-2016.
---
---
---
Comments