Mazda SkyActiv Challenge 2015 Facebook Contest: Predict And Win Cash Prizes
Buying Guides Tomorrow, Mazda Malaysia will host its Mazda SkyActiv Challenge where several Malaysian motoring journalists will pilot a convoy of cars which consists of the Mazda 2, Mazda 3, and Mazda CX-5 down south to Johor Bahru while pursuing the best fuel economy figures possible.
Now, while we're busy slogging it out to ensure our driving is as smooth and fuel efficient as possible, you too can be a part of this challenge by joining the Mazda SkyActiv Challenge 2015 Facebook Contest with attractive prizes awaiting the winners. How's RM1,000 cash along with Starbucks vouches and Mazda merchandise sound to you?
Good? Well, here's how you can take part in the contest:
"Like" the Mazda Malaysia Facebook page.
Share this post publicly on your own Facebook profile.
Predict the final fuel economy reading for each of the vehicles in the convoy: Mazda 2, Mazda 3, Mazda CX-5 in the comments section of the post following this format (l/100km) (up to two (2) decimal places):
Mazda 2 – 4.93L
Mazda 3 – 5.42L
Mazda CX-5 – 7.37L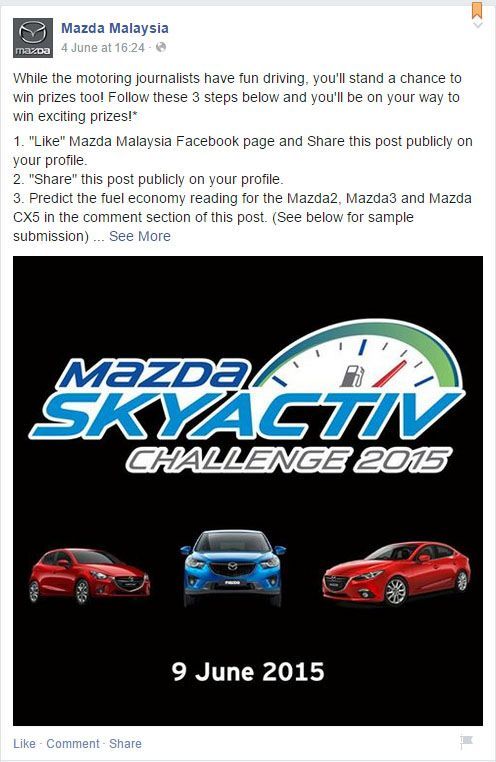 It's as simple as that. Submissions end at 4pm on 9 June 2015 so hurry and get those predictions in ASAP.
For the terms and conditions along with the prizes offered, check out Mazda Malaysia's official contest T&C page here.
---
---
---
---
Comments