Mercedes-AMG GLC 63 Debuts In Both SUV And Coupe Format
Auto News Mercedes-AMG extends its magical performance touch to the GLC family, debuting the new GLC 63 in both SUV and Coupe format. Fitted with 4Matic+ all-wheel drive as standard, both body styles of the GLC can be had with its 4.0-litre twin turbocharged V8 in two states of tune.
The model's full nomenclature is a slightly unwieldy-sounding Mercedes-AMG GLC 63 4Matic+. Opting for the more aggressive setup adds an 'S' designation behind the two digit model nomenclature whilst the Coupe model gets its body style explicitly spelled out in its name.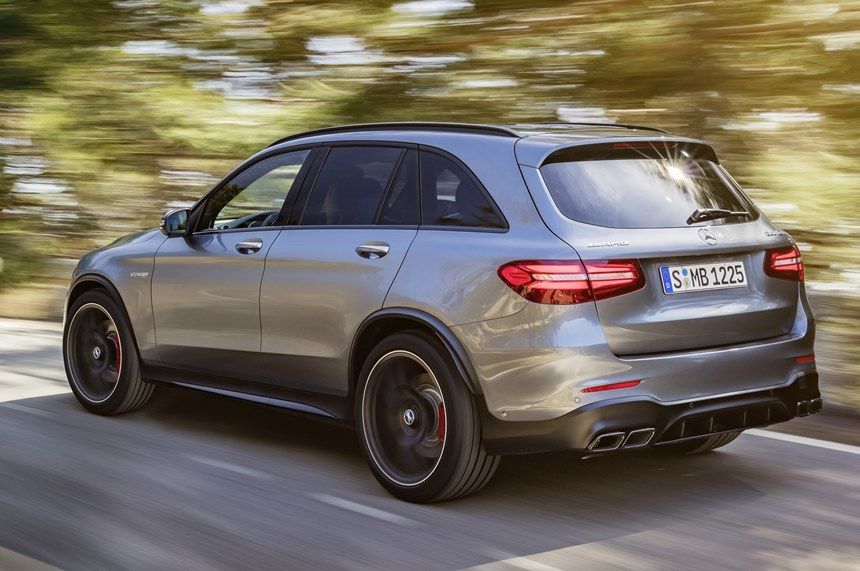 Like the C63 which it is most closely related to, the GLC 63 gets the M177 4.0-litre twin turbo V8 tuned to produce 476hp and 650Nm in its standard tune. The more powerful GLC 63 S models ramp it up to 510hp and 700Nm, identical to the C63S Coupe we reviewed recently.
Unlike the rather manic rear-wheel driven C63 however, the GLC 63 sends its power to all corners of the car, following instead on the footsteps of the E63 by mating a 9-speed multi-clutch automatic transmission with a high-performance all-wheel drive system developed by AMG.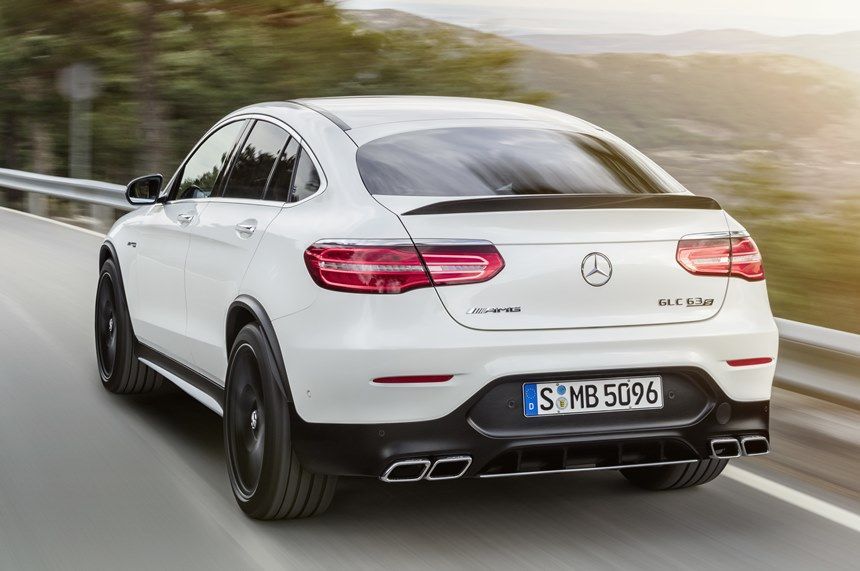 The 4Matic+ AWD system is rear-biased, with an electromechanically-controlled clutch that enables fully variable distribution of torque between front and rear axles. Besides improving all-weather traction, the AWD system is also meant to allow the engine to deploy its power more effectively to facilitate better straight line acceleration. In short, this vehicle gets the C63's engine mated to the E63's drivetrain.
Rear-axle LSD is standard in all variants; the regular GLC 63 gets a mechanical system, whilst the GLC 63 S gets an electronic setup.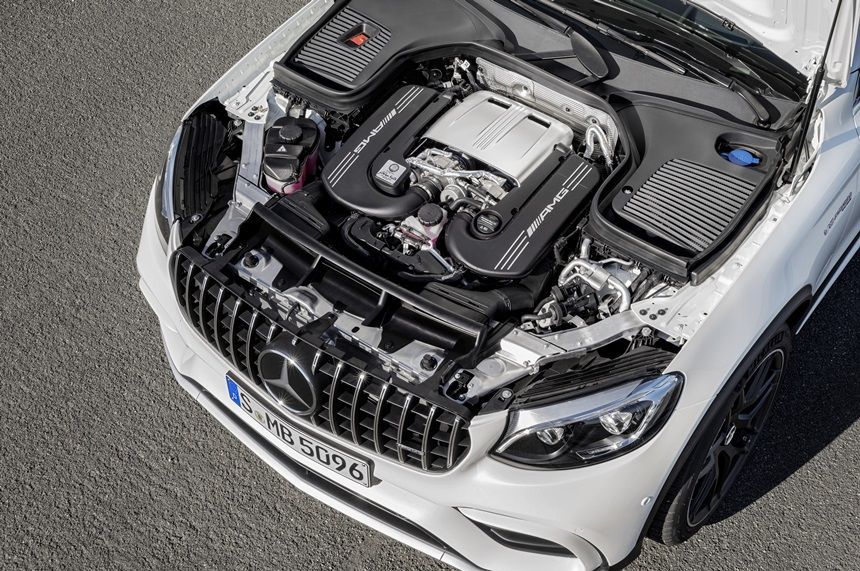 The 9-speed transmission is a further development of conventional auto used in regular Mercedes-Benz models but with its torque converter swapped out for a start-off wet clutch to give faster shift times and more rapid kick down response. It helps reduce weight too.
Interestingly, the choice between SUV and Coupe has no bearing on the vehicle's performance. For both the GLC 63 and GLC 63 S, the Coupe version weighs in 10kg heavier than the SUV model. All variants max out at an electronically-governed top speed of 250 km/h; the base GLC 63 completes the century sprint in 4.0 seconds flat, whilst the GLC 63 S models are two-tenths faster.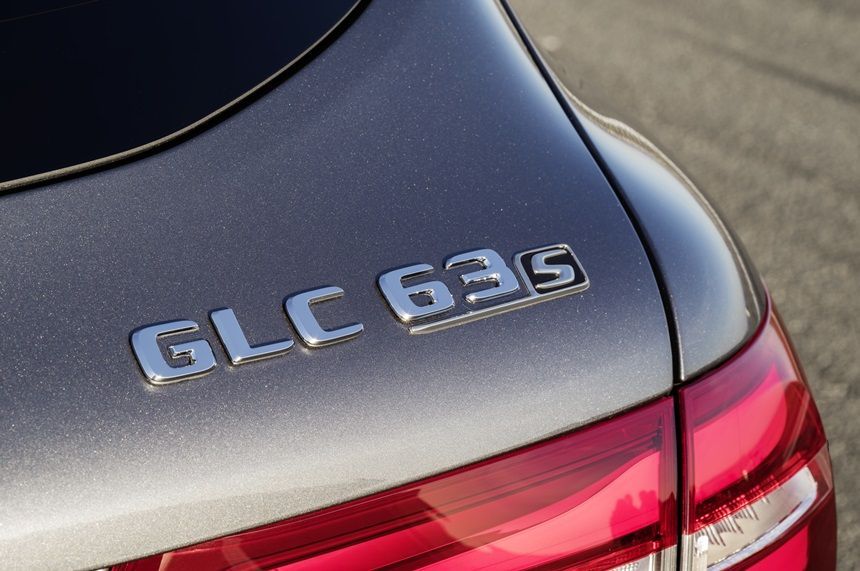 Fuel consumption and carbon dioxide emission are unaffected by body styles either; the GLC 63 sips 10.3 to 10.7 litres/100km whilst emitting 234 to 244 g/km of carbon dioxide. The GLC 63 S, meanwhile, is rated at 10.7 litres/100km and 244 g/km.
Styling of the GLC 63 follows the familiar AMG template of flared wheel arches and enlarged front air intakes as a show of its added muscle. A striking characteristic is the Panamericana grille making its first appearance outside the AMG GT family.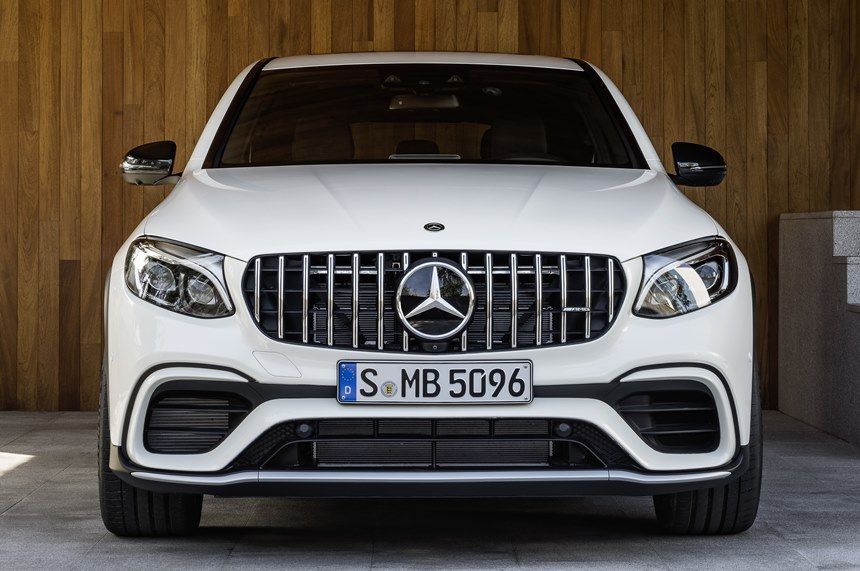 There are currently no direct competitors to the GLC 63. All of the regular GLC's rivals – Audi Q5, BMW X3/X4, Porsche Macan, and Jaguar F-Pace – go no further than 3.0-litre six-cylinder engines in their most potent guises currently available. The most powerful of them, the Porsche Macan Turbo Performance Package, manages to put out 440hp, still 36hp down from even the regular GLC 63.
The GLC 63 SUV and Coupe are slated to make its first public appearance at the New York Auto Show next week. It may take some time for the model to come to our shores, but with Mercedes-Benz Malaysia now more pro-active than ever with its offering of models, there is every reason to expect its arrival here in due course.
---
---
---
Comments