Review: 2017 Mercedes-Benz GLC 200 – The 2WD SUV Done Right
Reviews Once upon a time, SUVs were four-wheel drive by default; but as more and more of these vehicles trade rough duties at construction sites and rubber estates for the school run and urban commute, the need to send traction to all fours, along with the associated cost and complexity, has accordingly diminished.
Today, it is not uncommon for a new SUV model to arrive in the market offering two-wheel drive as standard. The argument is that if you're not straying off the tarmac, there is little need to power all four wheels. Deleting all-wheel drive means reduced cost, reduced weight, and reduced maintenance; and because the traditional SUV body shape is maintained, you continue to enjoy the same level of practicality as before.
Most 2WD SUVs current on offer in the market are front-wheel driven, however, and this is where Mercedes-Benz's new GLC 200 differs. Being based on the C-Class platform, remember, the base GLC sends its power astern; on paper, it promises to offer the cost benefits of 2WD whilst also being better dynamically balanced than most FWD alternatives.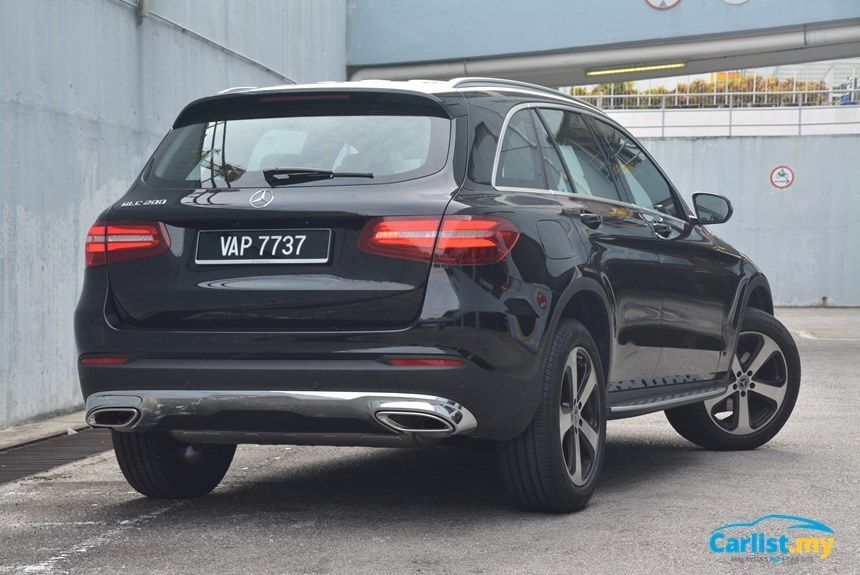 Specifications:
Price: RM288,888 (OTR without insurance)
Engine: 2.0-litre, Inline-4 Longitudinal, Turbocharged Petrol
Power: 184 hp @ 5,500 rpm
Torque: 300 Nm @ 1,200 – 4,000 rpm
Transmission: 9-speed torque converter automatic, RWD
Safety: Active Brake Assist, Pre-Safe, 7 airbags, ABS, EBD, electronic stability control, ISOFIX
Origin: Locally-assembled in Pekan, Pahang
Overview
At RM289k on-the-road, the GLC 200 offers the most attractive pricing among luxury SUVs. Fully-imported alternatives from Audi and Lexus are too expensive to merit serious consideration, though it's worth remembering that the BMW X3 Drive20i gives you all-wheel drive for a premium of less than RM8k. The F25 X3 is, however, at the end of its model life cycle, so generous discounts are definitely on the table for the keen negotiator.
Against its own sibling, however, the GLC 200 costs a full RM37k less than the GLC 250 4Matic, in the process sacrificing AMG Line trim, autonomous braking, panoramic sunroof, and Burmester surround sound in the process. Additionally, alloy rims are downsized from 20 to 19 inches and whilst the headlamps are still illuminated by LED and look barely different from what's used in the GLC 250, they lose the adaptive high beam assist function.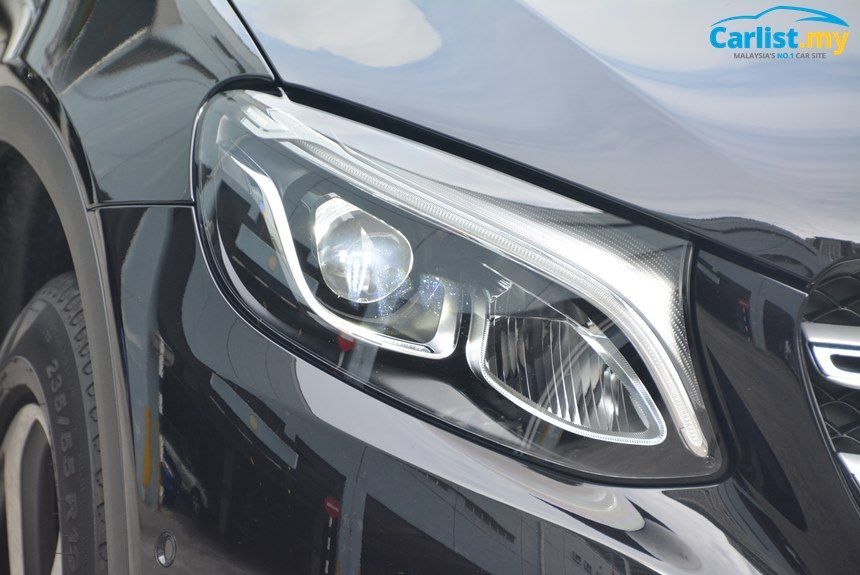 Powering the GLC 200 is Mercedes-Benz's ubiquitous 2.0-litre M274 four-cylinder petrol engine, in this guise tuned to 184 hp and 300 Nm – same setup as you would find in other 200-badged Mercs that power their hind wheels. The engine couples with Daimler's in-house 9G-Tronic 9-speed auto to send drive astern.
Compared to the more powerful all-wheel drive 211 hp GLC 250, the GLC 200 is 1.4 seconds slower from 0 to 100 km/h, requiring 8.7 seconds to complete the benchmark sprint; its 210 km/h top speed is also 12 km/h lower than the 250's v-max.
Interestingly, despite being the two-wheel drive model, the GLC 200 receives off-road suspension package with raised ride height, whilst the all-wheel drive GLC 250 AMG Line gets a lower- and firmer-riding sports suspension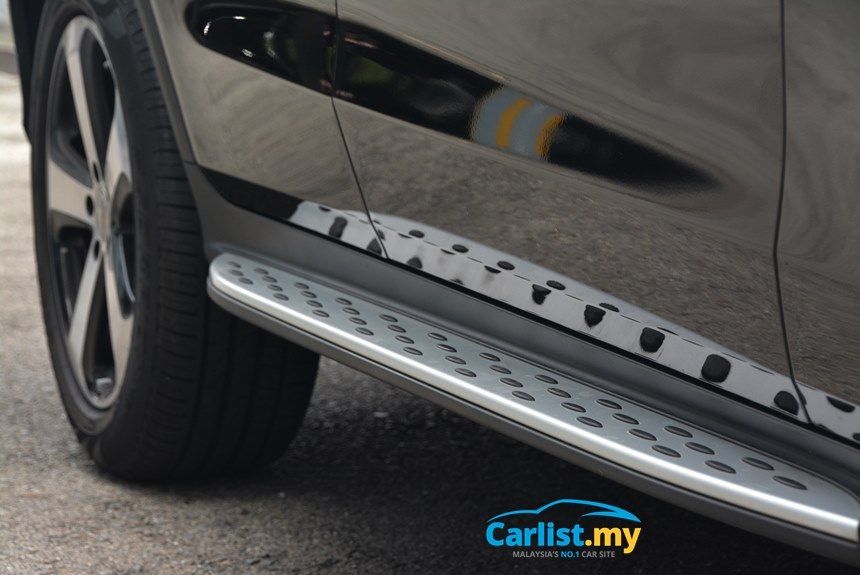 Exterior
In appearance too, it is the rear-wheel driven GLC 200 that exudes a greater sense of ruggedness in its styling than the AMG-trimmed GLC 250 4Matic. The taller ride height of the 200's off-road suspension, the more rounded edges of its body kit, and smaller rims all contribute to the base model less resembling a hatch-on-stilts like the 250 and more akin to a traditional go-anywhere SUV.
The GLC 200's headlights are what Mercedes-Benz calls LED High Performance headlamps. In comparison with the GLC 250's LED Intelligent Light System, it loses adaptive high beam assist and active bending, but maintains a similar level of sophistication in appearance whilst also providing powerful night time illumination.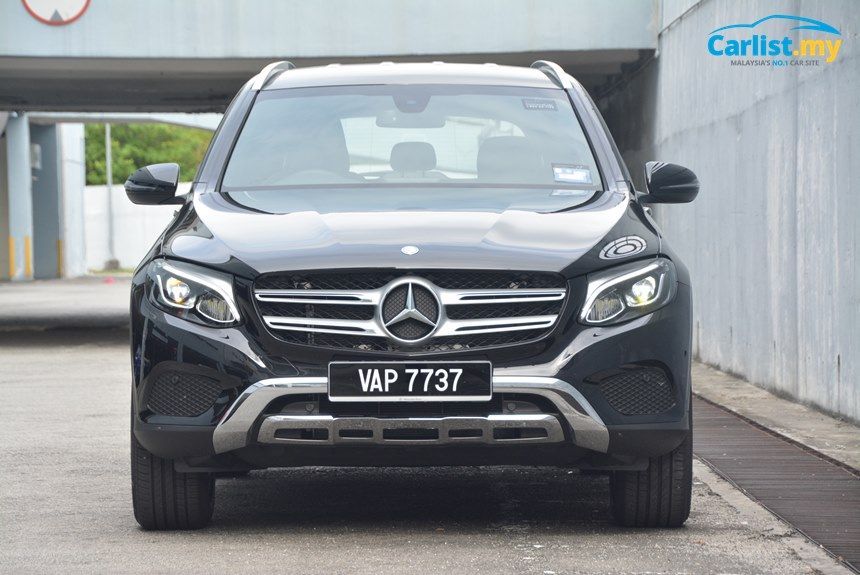 Interior
Owing to common underpinnings between vehicles, those jumping over from the C-Class to the GLC will immediately find themselves in familiar surroundings. Dashboard layout and materials are, for all intents and purposes, identical to the saloon which it is derived from, and that's not a bad thing.
Being the entry-level variant of the range, there is obviously some reduction of equipment from the GLC 250, but as noted in our review of the C180, Mercedes has ensured that its superlative selection of materials and switchgear are democratized across all variants.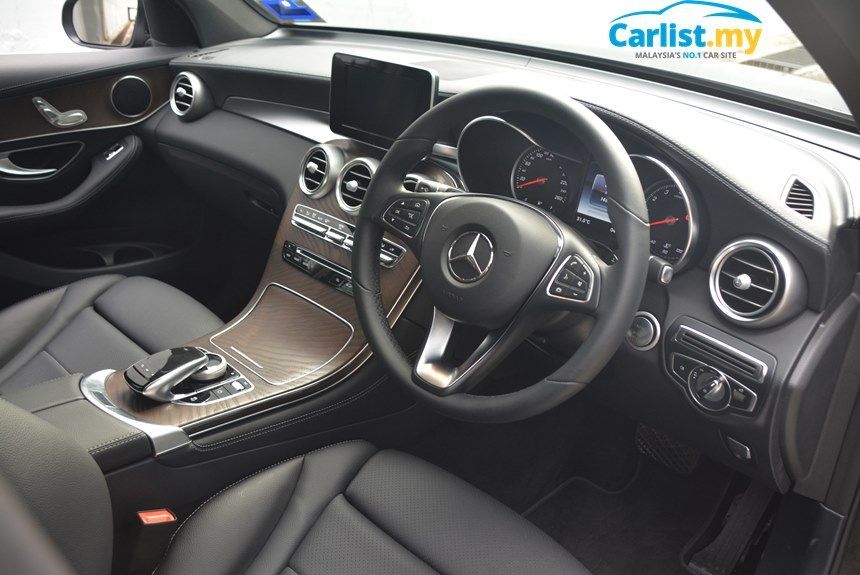 Cabin may not have the same teutonic build quality that you would find in an Audi or BMW, but Mercedes has cleverly invested its resources to supremely polish all touch points to deliver a convincingly premium ambiance.
On the utility front, the GLC makes thorough use of its SUV body to offer superb cargo volume. The powered tailgate is a useful convenience, as are the one-touch split-folding rear seats that topple down at the touch of a switch. What's more, each side of the folding seat are provided with two switches – one operated from the rear and another at the edge of the rear seat accessed whilst inside the cabin.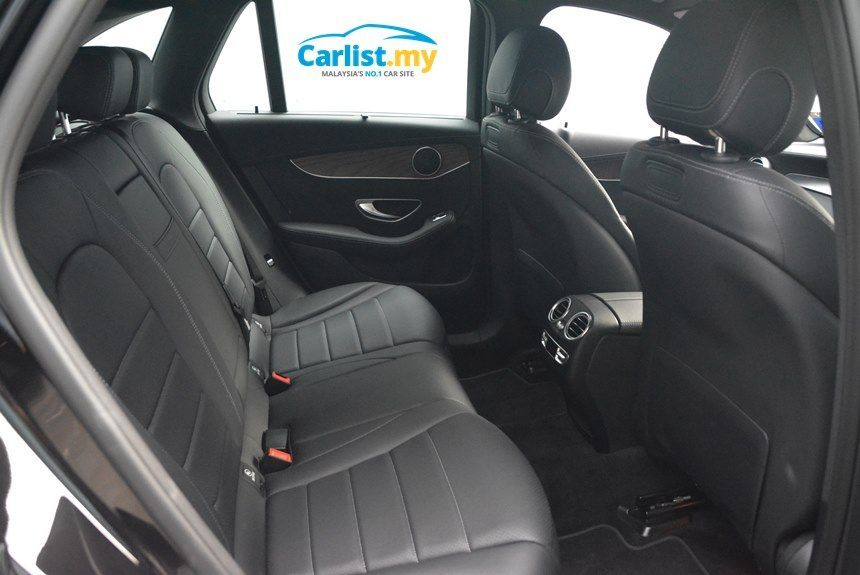 Driving Experience
Despite being in its lowest available state of tune, the 184hp 2.0-litre turbo pulls the GLC 200 with enough gusto that underpowered is not an accusation that can be levelled against this base model. It may not set new standards of performance, but there is enough on tap that the car builds up progress in respectable fashion.
Merc's in-house 9-speed auto does not have the snappiness of the ZF 8-speed 'box favoured by BMW, but it shifts with sufficiently pleasing smoothness. Its wide spread of ratios, coupled with the engine's rich low-end torque, gives the car excellent cruising legs at highway speeds too.
Being rear-wheel driven, the GLC 200 handles more confidently than most front-wheel driven SUVs. Though it may lack the all-weather traction of the 4Matic model, the GLC 200 makes use of the natural balance inherent to a front-engine rear-wheel drive layout to engender a greater sense of stability around corners. Perhaps due to its higher centre of gravity, the dynamic superiority of RWD over FWD feels noticeably more acute with an SUV body compared to a passenger car.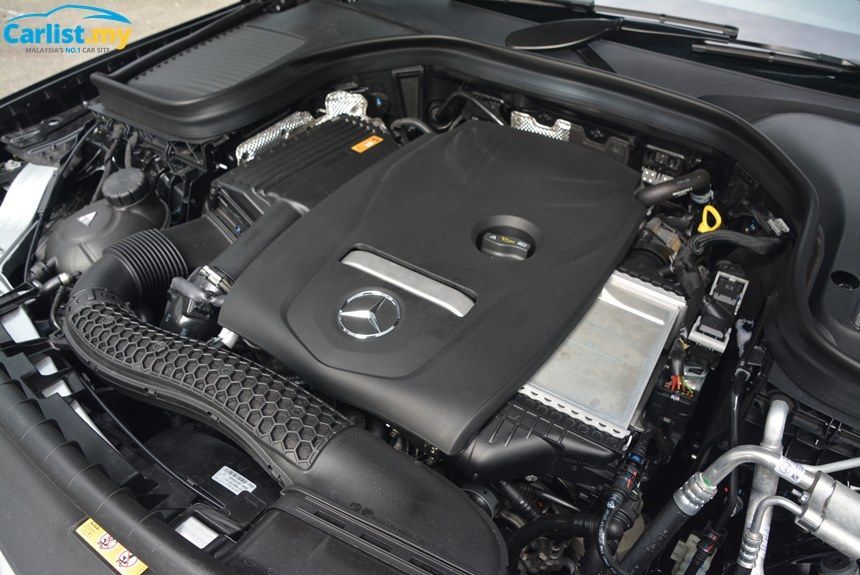 Comfort & Refinement
Whilst Mercedes-Benz vehicles are traditionally known for their superior comfort, a number of recent models were caught abandoning that virtue with unfeasibly stiff suspension setups in an attempt to offer greater dynamic sharpness.
The GLC 200, thankfully, is nothing of that sort. It rides with the level plushness that we expect of a Mercedes-Benz, and the even better news is that it accomplishes this without the need for any trick adaptive or air suspension. This car, to recap, is sprung on passive suspension.
Mercedes officially calls this an 'off-road' suspension and the authority with which it irons out bumps and potholes certainly communicates sense of robustness of the chassis. Over poorly-surfaced roads, the GLC 200 carries itself with assuring composure, in turn benefiting handling.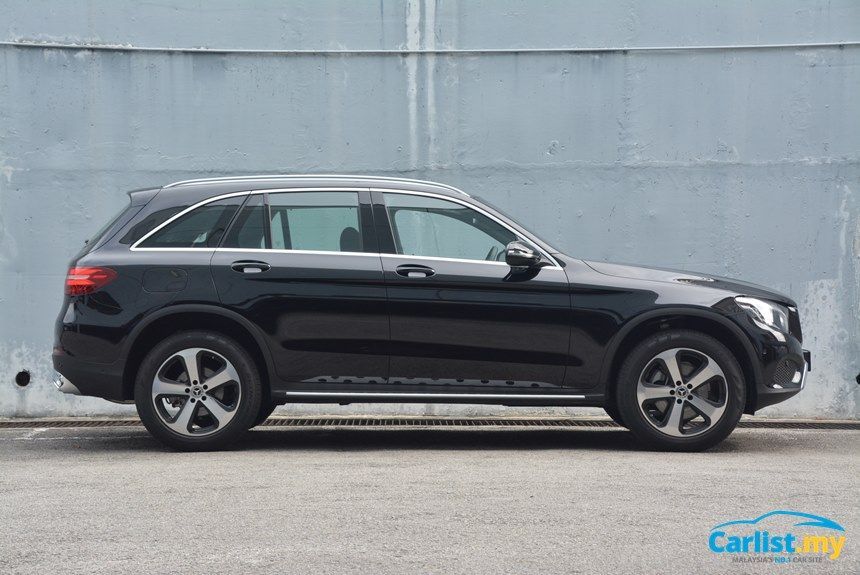 Economy & Maintenance
The oft-touted justification of sacrificing AWD with SUVs boils down to cost – be it cost of purchasing, cost of maintaining, and also fuel consumption.
The GLC 200 is cheaper to buy and will inevitably be cheaper maintain compared to the GLC 250, but average fuel consumption of 12.1 litres/100km recorded over 270km, of mostly town driving admittedly, on our test car hardly suggests parsimonious economy. A more lightfooted driver may bring the figure closer to 10.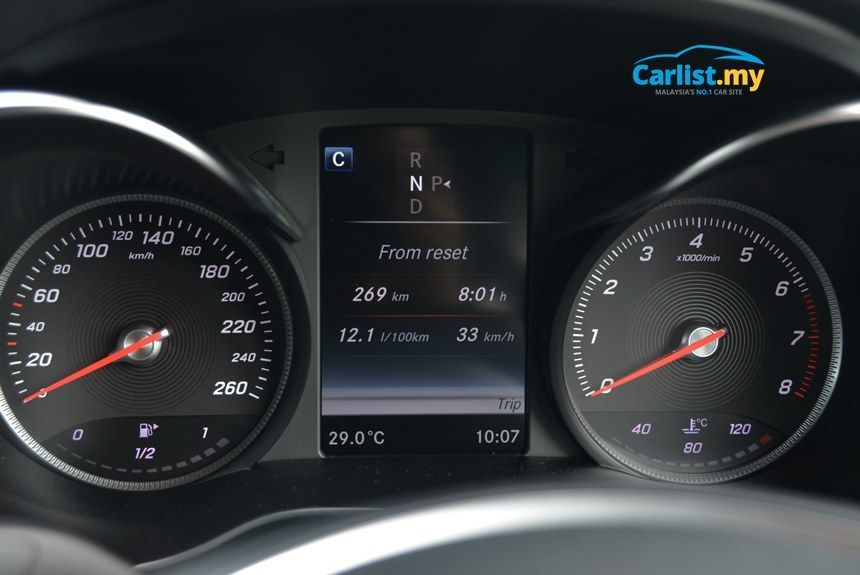 Conclusion
No keyless entry – that is the one and only complaint that we have of the otherwise faultless Mercedes-Benz GLC 200. All other shortcomings of the car are either insignificant or inconsequential in the context of its price and product proposition. Doesn't drive as well as the BMW X3? Doesn't matter.
As the base variant of the range, the GLC 200 inevitably loses a fair share of equipment from the GLC 250, but the Mercedes-Benz Malaysia product team were largely spot with their choices of things to omit for not inconsequential savings of RM37k.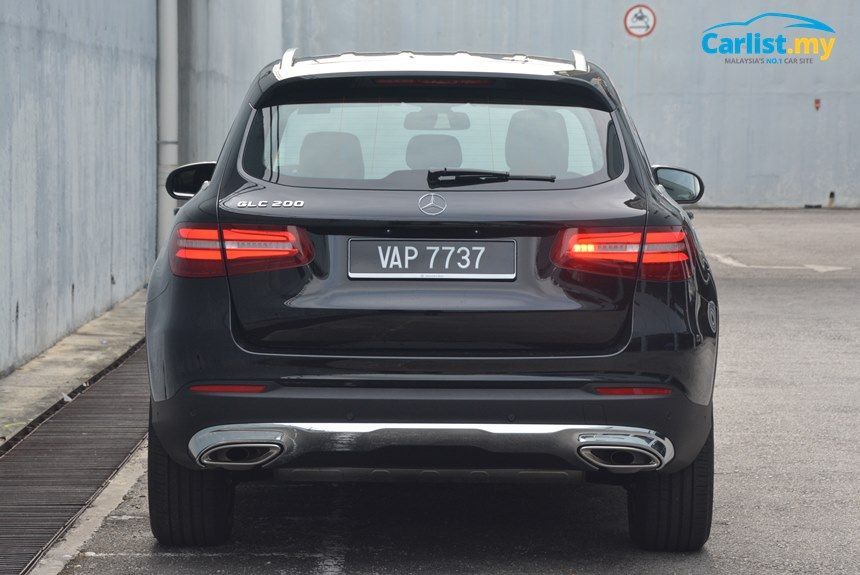 Utilization of a detuned engine did not severely penalize the GLC 200's performance either, although our test car's recorded average consumption turned out to be higher than our initial expectations. Thanks to its RWD architecture, handling balance feels noticeably superior to other FWD SUVs. We are also particularly impressed at the GLC 200's superlative ride comfort despite not having adaptive or air suspension to count on.
Attractively-priced whilst still decently equipped and superbly finished, the GLC 200 is an excellent value premium SUV that anybody shopping in the RM300k price bracket absolutely must consider.
---
---
---
---
Comments