Mercedes-Benz Malaysia And Hap Seng Star Reaffirm Partnership In East Malaysia
Auto News With a 46-year history of representing the Mercedes-Benz brand in East Malaysia, dating back to 1969, Hap Seng Star is deepening its ties with the three-pointed star by opening a RM 2 million Hap Seng Star (HSS) Kota Kinabalu Autohaus, the seventh Mercedes-Benz autohaus in the country.
The expenditure is part of Hap Seng Star's RM30 million long-term investment plan to enhance its reach in East Malaysia, starting with the HSS Miri Autohaus launched in May 2015.
Like the recently launched HSS Balakong Autohaus in Selangor, HSS Kota Kinabalu complies with the latest Mercedes-Benz Presentation System II (MPS II) corporate identity.
Housed at the Ground Floor of Plaza Shell (built by Hap Seng's property development arm) at 29 Jalan Tunku Abdul Rahman, HSS Kota Kinabalu is spread across 7,346 sq ft.
The 7,346 square feet showroom is supported by a 24,000 square feet area service centre located in Inaman, which has also been refurbished and has a work bay capacity to support 14 passenger cars and two commercial vehicles.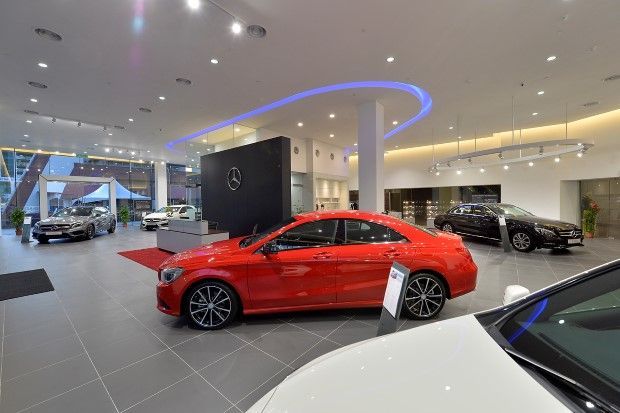 "The history we have with Hap Seng Star is a testament to the importance of a valued partnership," said Dr. Claus Weidner President and CEO of Mercedes-Benz Malaysia, during the opening ceremony on Wednesday.
"From Kota Kinabalu to Miri and Kuala Lumpur, Hap Seng Star has fully embraced an 'enduring passion' for the Mercedes-Benz brand and business. To us, automotive excellence goes beyond the vehicle; it includes an entire customer experience. And Hap Seng Star has consistently met the needs of our customers, with passion.
"As we celebrate the opening of HSS Kota Kinabalu, we hope to further strengthen the bond we have with Hap Seng Star," added Dr. Weidner.
Harald Behrend, CEO of Hap Seng Star Sdn Bhd said:
"At present, we have seven Mercedes--Benz Autohauses nationwide, and, our sales volume has tripled over the past 5 years to more than 3,600 units in 2015. Although the total investment of Hap Seng Star is more than RM160 million to date, I can assure you we will not stop here.
"Our continued investment signifies our readiness and confidence in Mercedes-Benz as the premium automotive brand."
Hap Seng Star's other Mercedes-Benz outlets are located in Kuching and Miri Sarawak, Kinrara (Puchong), Balakong, Jalan Sultan Ismail, and Jalan Ipoh in the Klang Valley. Hap Seng Star is also the distributor of Mitsubishi Fuso (a brand under Daimler) commercial vehicles in East Malaysia.
---
---
---
---
Comments