Mercedes-Benz Malaysia Sets New Record To Become No.1 Premium Brand In Malaysia, Again
Auto News Mercedes-Benz Malaysia's record breaking streaking has been unrelenting. The company closed 2016 by delivering of 11,779 passenger cars, nine percent more than 2015, marking a new record for the Mercedes-Benz brand in Malaysia. The numbers do not include Mercedes-Benz commercial vehicles.
"Our strategy is simple, we deliver the best vehicles and the best customer service," said Mercedes-Benz President and CEO, Dr. Claus Weidner.
The company's record breaking year is in parallel with parent company Daimler AG's achievement to reclaim the No.1 title from BMW.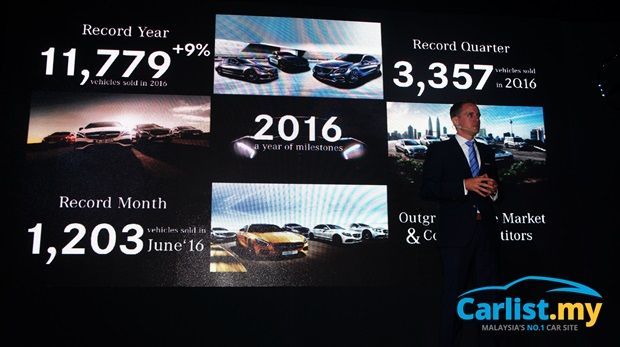 Most of the growth were contributed by the brand's expanded SUV range, which totaled 1,671 unit, up from a negligible sum last year.
GLC-Class – 1,421 units
GLE-Class – 250 units
The growth in Mercedes-Benz's SUV range compensated for the shortfall in its compact cars and sedan cars range (which in Mercedes-Benz's German terminology, is referred to as limousines).
Compact car models like the A-Class, CLA-Class and GLA-Class were entering the mid-point of their lifecycle in 2016, and sales had dropped by 18 percent in 2016 to 2,316 cars (495 cars less).
A-Class – 1,034 units
B-Class – 73 units
CLA-Class – 638 units
GLA-Class – 571 units
As for the sedans, which Mercedes-Benz prefers to refer to as Limousines, there was a 3 percent drop in the number of locally-produced sedans, totaling 7,750 units, partly due to the phasing out of the previous generation W212 E-Class.
C-Class – 4,762 units
E-Class – 2,034 units
S-Class – 954 units
Total production of locally-assembled cars at the company's independently managed assembly line at the DRB-Hicom plant in Pekan have reached a new record high of 7,882 units. That's 2.2 percent higher than before.
The models assembled in Pekan are:
C180 Avantgarde
C200 Exclusive
C250 Avantgarde
C250 AMG
C350e
E-Class (to be launched soon)
S400h
GLC 250 4Matic AMG
In addition to that, the company also sold 301 units of highly emotional products which the company refers to as the 'Dream Cars' – cars like the CLS, SLC, AMG GT, C63 S, E250 Coupe, and S63 Coupe.
For those of you who have a sharp eye for numbers and are wondering why the breakdown don't add up, that's because the numbers are intentionally presented this way by Mercedes-Benz, and some models like C63 S and S63 are already included with the C-Class and S-Class' count.
Mr. Mark Raine, Vice-President of Sales and Marketing added, "We achieved an impressive sales growth of 9 percent versus 2015, clearly bucking the trend. This has enabled us to claim leadership position with 2.4 percent market share. Mercedes-Benz Malaysia continues to be the undisputed leader in the premium car segment."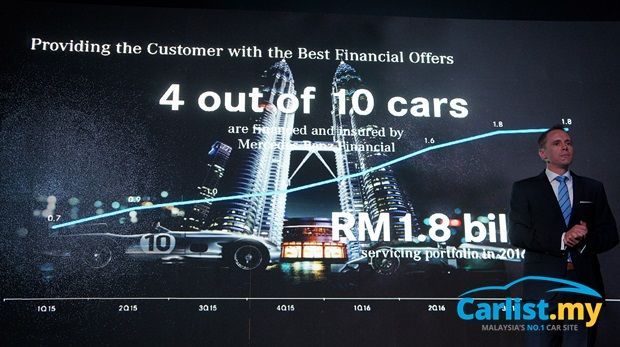 Raine also revealed that 4 out of every 10 vehicles sold by Mercedes-Benz Malaysia is now financed and insured by Mercedes-Benz Services Malaysia (MBSM), whose portfolio is now valued at RM1.8 billion.
With increase in sales volume comes greater pressure on the company's after-sales network. To that end, Mr. Heinrich Schromm, Vice President of After-Sales pointed that Mercedes-Benz's network of 29 dedicated dealerships nationwide is the largest in the premium car segment.
The company has also rolled out various tailor-made services for its customers, like the setting up of Mercedes-Benz City Store, City Service, Proven Exclusivity, Service Differentiation and AMG Centres. Some outlets are already offering pick-up/delivery services as well after-hours drop-off at the service centre.
Last year, 25 apprentices graduated from the Mercedes-Benz Training Academy while another 30 more started their apprenticeship at the centre.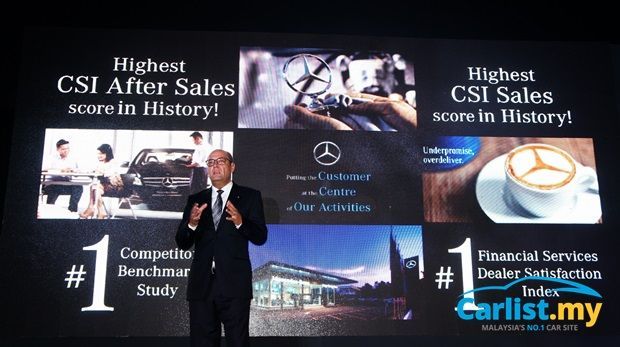 It also achieved the highest customer satisfaction index score in its own internal Competitive Benchmark Study, which evaluates its front-line staff performance in sales, after-sales and financial services.
---
---
---
---
Comments