Mitsubishi's All-New Triton Soldiers Through The 2015 Borneo Safari
Auto News The Borneo Safari is a true test of a vehicles toughness, endurance, and versatility in the face of challenging terrain. It has carved that reputation over the past 25 years as one of the most arduous 4X4 expeditions.
Taking on this year's event is the all-new Triton from Mitsubishi Motors Malaysia, following predecessors like the Pajero and even old Mitsubishi Jeeps that had been in thick of the Borneo Safari of years past.
"MMM is glad to participate in the Borneo Safari event this year with the all-new Triton Adventure. Borneo Safari is one of Asia's most grueling off-road events and MMM is proud to say that the all-new Triton is set to conquer all terrain obstacles with its off-road driving capabilities," said Chief Executive Officer of MMM, Mr. Yang Won-Chul.
The Triton enters the fray as a corporate vehicle with Borneo Safari veterans Paul Si from Sarawak and Lionel Yew from Selangor.
"We are proud to be entrusted by Mitsubishi with this mission, to take on the Borneo Safari in the all-new Triton, which will go in with the absolute minimum of modifications," said Si, who took part in the 1992 and 2008 events, and has not missed a Safari since 2012.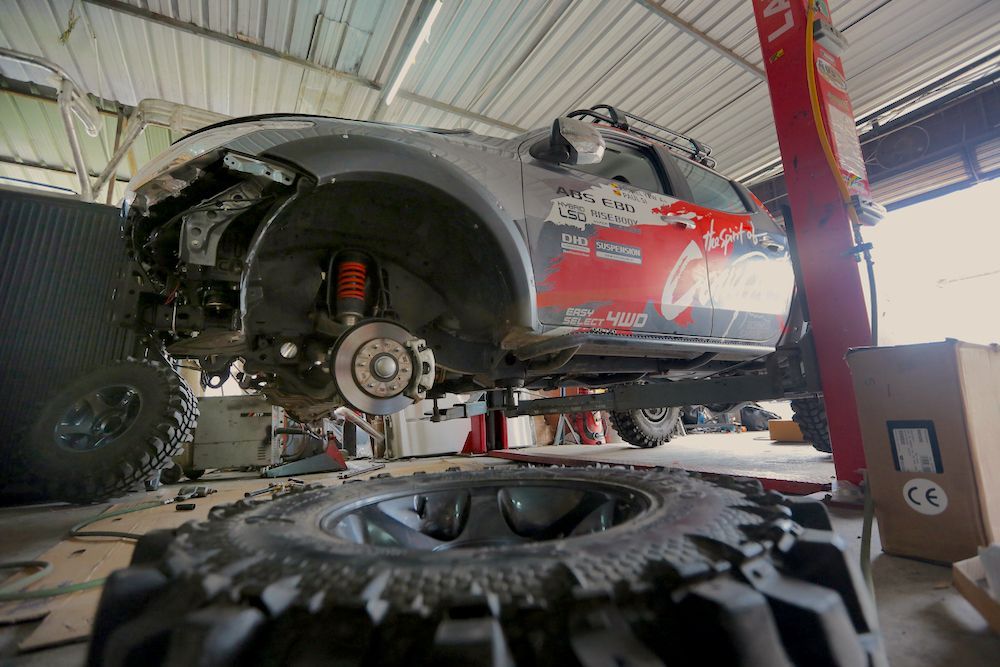 He added: "Many participants will have done extensive modifications to their vehicles, some because they have encountered problems in previous events and have learned what are the weaknesses that need to be rectified,"
"We will try to do it while keeping the Triton as standard as possible ... we have to have a winch, and a bullbar for protection and recovery points, and the organisers tell us that tyres with extreme tread patterns are compulsory so that we will need to make some mods to the wheel arch and suspension just to fit these big tyres.
The Triton is now being outfitted with the compulsory equipment, including a strong bullbar in front, reinforced rear bumpers, a Warn winch with 9,000-pound pulling capacity and GT Radial Komodo 35" tyres.
"Other than that, we want to show that the standard Triton, as it left the showroom floor, is capable of handling tough terrain. If it looks kind of ordinary compared to the other monsters at the flag-off ... well, looking ordinary is actually the whole point."
The 2015 Borneo Safari will flag off at 9.30am on October 25th from the Sabah Tourism Board building in Kota Kinabalu and will end on 1st November. In between, the vehicles and participants will tackle hardcore stretches of terrain in the Rundum and Lagud Seberang area in the southwest region of Sabah.
---
---
---
---
Comments