What does a Japanese portable audio cassette player and an American brand that specialises in off-road vehicles, have in common? "None, and that's a ludicrous question to ask" you may reply.
It is a chalk and cheese comparison, they are two different kinds of products from two different ends of the world. But both share one notable distinction that has rarely been repeated, and that is to be found in its name. In the 1970s Japanese electronics giant Sony was developing a portable audio cassette player that was small enough to fit into a pocket. It seems hopelessly quaint but back in those days it was a revolutionary idea, considering that such devices were the size of suitcases. The device became such a global success that its very name has come to epitomise the entire genre. Its name was the Walkman, and ever since then people have often associated any portable cassette player, regardless of its manufacturer, as a "Walkman".
Few iconic names and brands have ever achieved such a level of name recognition before. And one such name to have achieved such stature is Jeep. Back in the early 1990s, before the rise of the Sports Utility Vehicle (SUV) genre, people would often coin the name "Jeep" whenever they are referring to a close bodied, off-road vehicle with an elevated ride; even though the correct term to refer to the genre back then are "four-by-fours". Even until now, the use of the snappy "Jeep" name to describe an SUV or 4x4, is still prevalent amongst older audiences.It is like people calling your car and every car in the world a 'Daimler'. And if you were to go out and buy a brand new SUV, any SUV for that matter, no matter its size or who made it, you will find it written in the documentation from our Road Transport Department that it is officially classifed as a "Jip", "J-I-P", the Malay transliteration of its name "Jeep".
Like the Walkman, long before Jeep became the brand that it is today, the gestation of the first vehicle that would set the template of future Jeeps to come was borne from the strife of World War 2. With the United States military being steadily drawn into the conflict plaguing Europe and Japan, the US Army recognised the need for a small, quick, and simple reconnaissance vehicle that could navigate the worst war-torn battlefields. In 1940 the US Army solicited bids from 135 automakers to build them such a vehicle.
Whilst most auto manufacturer would take years to engineer a vehicle, Willys-Overland was reported to have developed the first prototype of what would eventually become the Jeep in a remarkable 75 days. With minor engineering alterations, Willys-Overland was awarded the contract to put their finalised creation, internally known as the MB, into production and an icon was born.
Nicknamed the "Jeep", a slurred pronunciation of its official description in the US Army as a "General Purpose" vehicle or "GP", the MB was amazingly versatile. On top of being used as a reconnaissance transport as it was originally built for, it was used to perform all sorts of jobs for servicemen. From battlefield transportation, to long range desert patrol, snow ploughing, telephone cable laying, fire fighting, field ambulances, and even tractors, the Jeep could do it all.
General George C. Marshall, US Army Chief of Staff during World War 2, described the Jeep as "America's greatest contribution to modern warfare". For its proven reliability, robustness, and dependability on the theatre of war, it is of little surprise that the Jeep became the vehicle that defined the genre of small off-road vehicles. In 1950s the trademark was granted to Willys-Overland for the use of the cheeky "Jeep" nickname, which signified the beginning of the Jeep name we know today.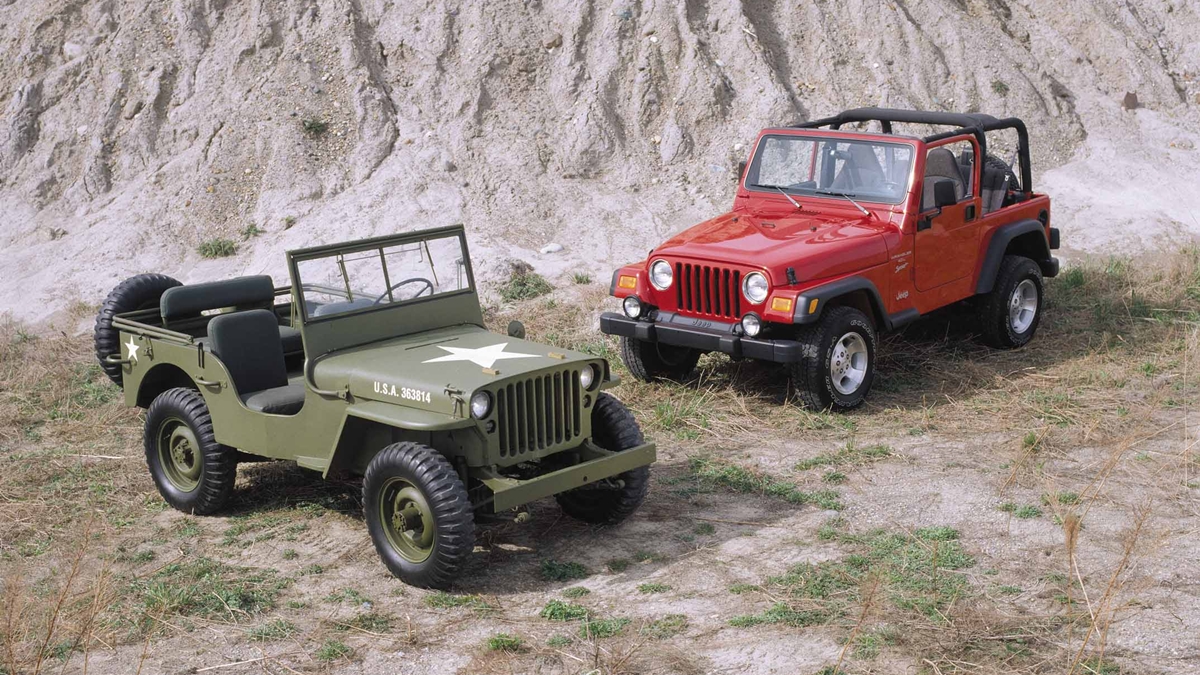 At the end of World War 2, Willys-Overland quickly produced civilian versions of the MB that were suited for agricultural usage as well as recreational use, with little modifications done. Today the instantly recognisable flared fenders, round-headlights, and seven-slot grille of the original MB can still be seen worn on the all-new Wrangler®. Available in three distinct variants in Malaysia, the five-door RM288,889 Unlimited Sport and RM328,889 Unlimited Sahara, which is complemented by the three-door RM338,889 Rubicon®, the Wrangler® is the purest expression of the Jeep go-anywhere-versatility ethos.
For the Unlimited range, Jeep has fitted it with a Command-Trac® 4WD system with a Dana 44® heavy-duty front and rear axle, giving it Jeep's legendary off-road capabilities that allows it to traverse mud, sand, and rocks easily. On the other hand for those seeking a more focused off-road machine for the dedicated adventurer, the Rubicon comes with a Rock-Trac® 4WD system, Tru-Lock® front and rear locking differentials, heavy-duty suspension setup, and toughen body panels all around. All Wranglers come with a 3.6-litre Pentastar® V6 producing 284PS and 347Nm of torque to conquer any terrain, and mated to a robust five-speed automatic transmission. All variants are fitted with a removable "Freedom Top" hardtop so that you can always have the option of enjoying the "one with nature" experience wherever you go. Though for all its ready-to-rumble outdoors appearance, Wrangler® drivers will never be too far away from creature comforts as it comes with a full-ensemble of safety systems as well as a well-equipped multimedia system.
Though never really appearing in the theatre of war, the Wrangler® got it chance in the spotlight as the vehicle of choice for the lead character of the 1980s hit television show MacGyver. Best remembered for the show's protagonist's display of ingenuity, resourcefulness, and adaptability in adverse situations, MacGyver was the perfect fit for such an off-road icon like the Wrangler®.
That being said, the MB and its direct descendant, the Wrangler® isn't entirely responsible for the Jeep's widespread recognition in popular conscience. While the Wrangler® continued to carry Jeep's iconic face and established its name and connection to its role in history, it is only a part of the story. For the other part we have to fast forward to 1962, where Jeep introduced the Wagoneer®, a large four-wheel drive vehicle that came fitted with all the trappings and luxuries that one would find in passenger car of those days.
The Wagoneer® appeared onto the market during a time when off-road vehicles were still rugged and often crude machines used for agricultural usage or utilitarian purposes. They were built more for your tools rather than for your family. But the Wagoneer® marked the change that turned the evolution of the four-wheel drive genre around. Today the Wagoneer® is widely regarded as the father of all luxury 4x4 SUVs we see today, and it is the progenitor of the Grand Cherokee® SUV of today.
To many Malaysians, the Grand Cherokee® might be the most familiar name from the Jeep brand. Our infatuation with the luxury SUV genre in Malaysia can be traced back to the 1985 Grand Cherokee®, which became one of our country's first encounters with what we deem today as a luxury off-road vehicle. Its slab-sided straight and clean design extruded authority and robustness that won the hearts of many. The Grand Cherokee® needed no further introductions. Everyone immediately recognised its image of luxury, style, and comfort, it was an icon of off-road luxury, and it is a Jeep.
That timeless shape has been carried forward to the latest interpretation of the Grand Cherokee® marque, which is available today from Jeep Malaysia at RM468,889 in the posh-Overland specification. The Grand Cherokee®'s authoritative shape is further enhanced with its broad and muscular body, chrome appointments, and eye-catching LED daytime running lights that adhere to the Grand Cherokee®'s iconic looks. With the Grand Cherokee® however, Jeep spared no expense in outfitting its cabin with the best of the range, detailed leather trim with contrasting stitching, lashings of open-pore wood trim, and a nine-speaker premium audio sound system from Alpine makes it a suitably sumptuous interior for passengers.
Like the Wrangler® the Grand Cherokee® uses the same 3.6-litre Pentastar® V6 that has been tuned to produce more power at 286PS and 347Nm of torque, only this time around it comes paired with a more sophisticated new 8-speed automatic transmission for improved fuel efficiency. Furthermore being the flagship of the Jeep brand, the Grand Cherokee® is fitted with a Quadra-Drive® II 4WD system to give it peerless mud-plugging capabilities and Jeep's Quadra-Lift® air suspension with five ride height settings to achieve the optimum ride and comfort.

Being a brand that was built on ingenuity and adaptability, Jeep is a brand that is constantly evolving with the times, and the brand-new Cherokee® and Compass® both represent the brand's next move into the future. For its size the entry-level RM248,889 Compass is the embodiment of Jeep's qualities and rugged design in a diminutive size. However with SUVs steadily adopting a smaller footprint, the Compass® is an ideal choice for those who want an SUV that is capable off-road and manageable on the road as well. The Compass® sports a 170PS 2.4-litre 4-cylinder engine that produces 220Nm and is fitted to a Freedom Drive™ active full-time 4WD with Selectable Lock to ensure that it lives up to the expectations of the Jeep name.
As bold as its sharp front fascia is, the new RM378,889 Cherokee Trailhawk® sports a 21st century reinterpretation of Jeep's iconic seven-slat grille, which can trace its identity from today right through history to the first post-World War 2 Jeeps. With its horizontal slender headlights and angular slats, the new Cherokee® is as unorthodox of a Jeep as they come. Beneath its sleek and aggressive lines lies a brand-new downsized 2.4-litre 4-cylinder Multi-Air 'Tigershark®' petrol engine that cranks out 174PS and 229Nm of torque and couple to an all-new 9-speed automatic transmission. To further enhance fuel efficiency, the Cherokee Trailhawk®'s Jeep Active Drive I 4x4 comes with a feature that allows the rear axle to be disconnected from the powertrain, thus reducing friction losses. The all-wheel drive system will automatically re-couple the rear axle should situations demand so, or at the request of the driver through the Cherokee's Selec-Terrain® traction-control system, with up to five customised settings (Auto, Snow, Sport, Sand/Mud, and Rock modes) to deliver the ideal on- or off-road performance for any given situation.
Diverse in its roles, appeal, and individualistic identities it may be. From the Wrangler® to the Grand Cherokee®, Cherokee®, and Compass®, each Jeep bears with it the identity that has made its name synonymous with the genre, supreme off-road capability, dependability, and robustness. More than a name, it is a mark of distinction.