Mr. Minister, Sorry But You Are Greatly Misinformed About Volvo
Insights Earlier today, a report by The Star quoted Datuk Seri Ong Ka Chuan, Second Minister of International Trade and Industry as saying that locally-assembled Volvo cars will arrive in Malaysia by 2022, to be produced at Proton's Tanjung Malim plant. He also added that Zhejiang Geely Holding Group Co (which owns Volvo Car as well as half of Proton Holdings) plans to make Malaysia as the Swedish car maker's export hub for the ASEAN region.
Ong was quoted saying "Geely is definitely bringing Volvo to Tanjung Malim. While Volvos are sold in Malaysia, it does not have a sophisticated plant in the country to produce them and Geely plans to do it in a big way,"
Another report by the same English daily also said that Volvo plans to use Malaysia as its base to penetrate the 620 million population ASEAN region in a big way.
Well here's the problem: Volvo does have a sophisticated, export-capable plant in Malaysia, and Malaysia-assembled Volvos have been here since 1968. No need to wait until 2022 because Malaysia has been operating as Volvo's regional hub for ASEAN since 2012.
Earlier this year, prior to Geely's deal with Proton, Volvo Car Malaysia had already announced that its Malaysian plant will be expanding its export destinations to include Indonesia, Philippines, Vietnam and even Taiwan. This is on top of the company's existing export operations to Thailand.
The oversight is quite embarrassing because the Swedes have long history of supporting Malaysia's automotive industry.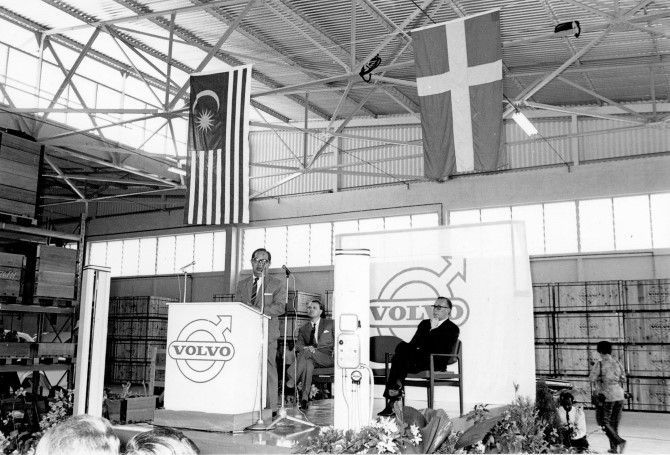 Volvo was the first car company to establish a vehicle assembly plant in Malaysia and is one of the few brands that export finished vehicles from Malaysia.
Not only that, the plant in Malaysia was Volvo's first outside of Sweden and until today, Malaysia is the only country outside of Sweden to assemble that XC90. Not just any XC90, but the most sophisticated plug-in hybrid variant that produces 407 PS of power - the Inscription trimmed XC90 T8 model! Not even Volvo plants in Belgium or China gets the honour!
Here's a brief overview of the relationship between Volvo and Malaysia.
In the early '60s, Malaysia embarked on an ambitious plant to diversify its economic base to reduce the country's reliance on agricultural produce, by establishing heavy industries. An important substitution policy was implemented and taxes were imposed on imported products.

At that time, our little country in South East Asia was only known for rubber trees, tin mining and little else. When we announced to the world that we want to establish a car industry, not many took us seriously but the egalitarian Swedes at Volvo were the first to raise their hands, and said that they will help us and teach us.
Volvo was the first car company to setup a vehicle assembly plant in Malaysia. Located in Shah Alam, construction started in early 1967. The plant was then known as Swedish Motor Assemblies and the first Malaysia-assembled Volvo rolled off the plant in November 1967, a Volvo 144S sedan. However the plant was only officiated in February 1968.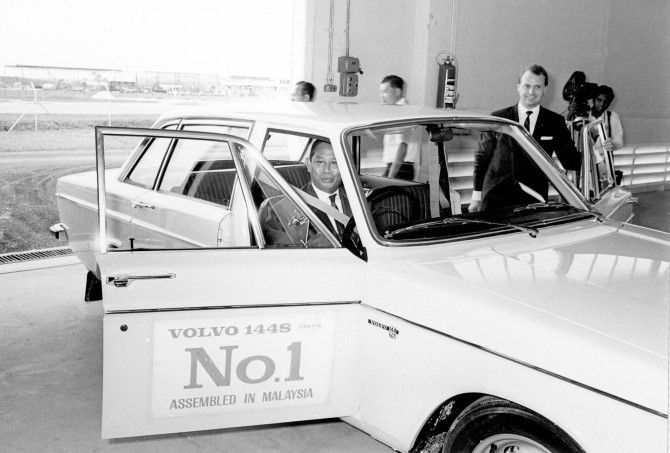 The British, Germans and Japanese came slightly later – Inchcape Motor's Assembly Services plant opposite Volvo's facility was setup in 1968. It assembled for several European brands before switching to produce Toyota vehicles exclusively.
The same year also saw Oriental Assemblers' in Johor Bahru assembling Honda vehicles, before it was transferred to Honda Malaysia's plant in Pegoh, Melaka in 2003.
By 1976, Nissan vehicles were being put together at the Tan Chong Motor Assemblies plant in Segambut. For a short period of time before Segambut plant was ready, Nissan vehicles were actually assembled in Swedish Motor Assemblies alongside Volvos.
Back in 2012, Volvo Car was not in the best of health. The new generation of SPA platform 90-series and 60-series cars developed with Geely's money have yet to reach the market. Volvo had a plant in both Thailand and Malaysia and as their sales volume were very low, they had to choose to keep only one plant. In a very surprising move, the Swedes chose Malaysia over Thailand.
Today, the manufacturing facility is now known as Volvo Car Manufacturing (formerly known as Swedish Motor Assemblies). It's a wholly owned subsidiary of the Sweden's Volvo Car Group.
The plant might be very old but Volvo has invested RM20 million to upgrade the plant to accommodate Volvo's latest SPA platform and plug-in hybrid technology. This does not include the investments made earlier. In 2013, it became the first car plant in Malaysia to introduce laser welding, for the V40.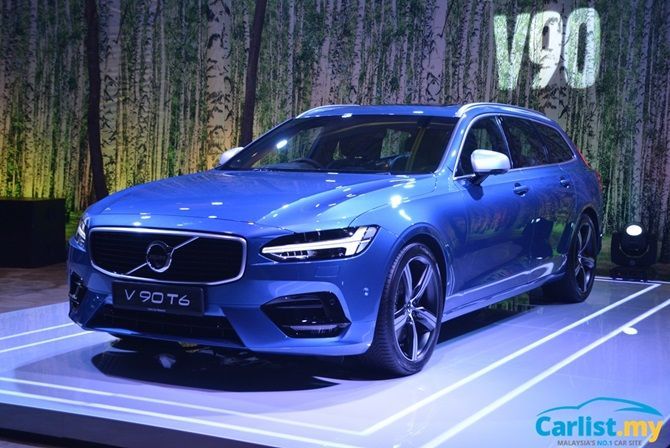 Currently, the plant produces the V40, S60, XC60 (outgoing generation), XC90. The S90 and V90 are currently imported but plans are underway to locally-assemble them later.
We hope the oversight, by a MITI minister nonetheless, will be overlooked by Volvo's decision makers at Gothenburg and Hangzhou, because the rest of us Malaysians are truly grateful for Volvo's contribution to Malaysia.
We should also point out that neither the Volvo Car Group nor its owner Zhejiang Geely has said anything about assembling Volvo vehicles at Proton's Tanjung Malim plant. These comments came only from the Malaysian government.
Our friends at Astro's Behind The Wheel (formerly known as Car Malaysia) were was granted a rare visit to Volvo Car Manufacturing last year. Here's their video.
Here's another from another one of our friend Bobby Ang from EvoMalaysia.com, explaining how sophisticated the Volvo XC90 T8 is. While you watch it, remember that this car is assembled and exported out of Malaysia.
And while we are listing down Volvo videos, we have to also include the best car ad of 2017 by far. In this ad, Volvo compressed the life story of a young girl, intertwining it with the story a sleep deprived young woman struggling to get through her work day, and how everything could be tragically lost in a split second - be warned, you will tear up.
---
---
---
---
Comments