MRT Malaysia Responds To Concerns At TTDI: "It's Not A Crack"
Auto News A new image of what appears to be a large crack on an MRT line development has been circulating on social media today, with Malaysians sharing the post in some worry.
In case you missed it, MRT Malaysia had responded to the news late last night, clarifying that it isn't a crack at all: merely a seam in the netting used as a precautionary measure for the on-going work there.
Drivers in the area may have noticed it themselves as well: if you're on the LDP near 1 Utama, headed towards Kelana Jaya away from Kepong, look up at the MRT line. You can't miss the green netting.
We happen to be there ourselves, and snapped a few pictures of it. Clearly, anyone in the area ought to find it easy to spot that it's just a seam: a sewn section of the two nets that were joined together.
In MRT Malaysia's statement, MRT Corp Director for Strategic Communications and Public Relations, Encik Mahmood Abdul Razak, said, "The thick jagged line is actually the joining of two pieces of netting which were sewn together. It is not a crack on the concrete of the guideway which is being alleged in discussions in social media. I urge the public not to believe unsubstantiated claims being spread via social media on this matter."
Here's our own snapped image, to possibly give you a better view of the netting: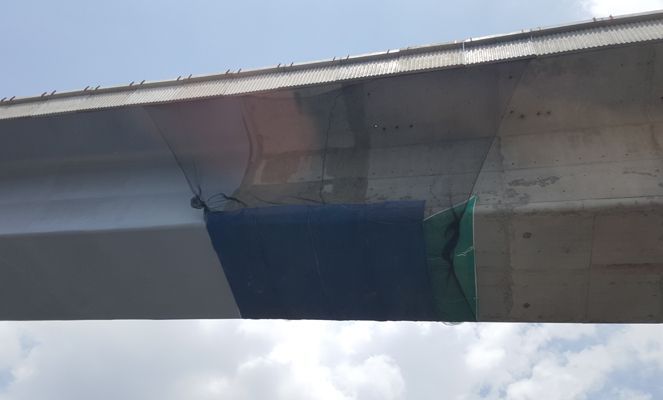 ---
---
---
---
Comments