New 2017 ASEAN NCAP Rating System Explained – Side Impact, Assist Tech Gain Importance
Insights The New Car Assessment Programme for Southeast Asian Countries (ASEAN NCAP) has announced a new single rating system for the purpose of clearer communication to consumers.
The new single rating system replaces the existing dual rating system in use since 2012 that produced separate scores for adult and child occupant protection. The new assessment system consolidates three aspects of a car's safety into a single rating:
Adult occupant protection: 50%
Child occupant protection: 25%
Safety assist technologies: 25%
ASEAN NCAP will be evaluating cars under this new rating system from 2017 to 2020.
Adult Occupant Protection (AOP)
The familiar 64 km/h offset deformable barrier frontal crash test continues as is, but with a new set of Q dummies to replace the outgoing P dummies.
Side impact testing receives increased emphasis. The 2012 – 2016 evaluation protocol requires only compliance to the UN R95 legislation test. Now comes a more comprehensive side impact test protocol that even rates the performance of head protection technology in a side impact – i.e. curtain airbags.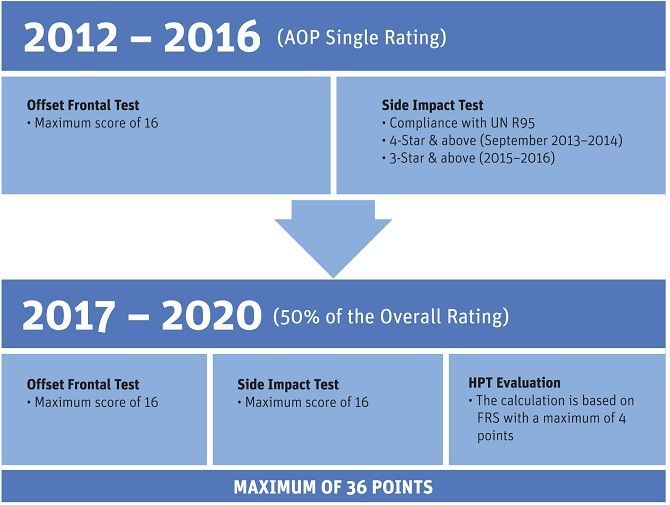 Child Occupant Protection (COP)
As with AOP assessment, evaluation for child occupant protection also moves on from P to Q Series test dummies. For frontal impact evaluation, injuries to head, chest, and neck continue to be examined. Head protection performance in the event of a side impact is added to the score sheet.
Vehicles are also evaluated on the provision of rear three-point seat-belts, usability of its ISOFIX mounts, front passenger airbag warning and disabling, as well as the room for simultaneous installation of two child seats.
Additionally, vehicles are also assessed on their ability to securely install a series of reference ISOFIX and non-ISOFIX child seats of various sizes. Each manufacturer is also allowed to nominate one Q3-sized ISOFIX seat and a Q1.5 Baby Safe Plus ISOFIX base to be added. The list of child seats selected for installation assessment is as follows: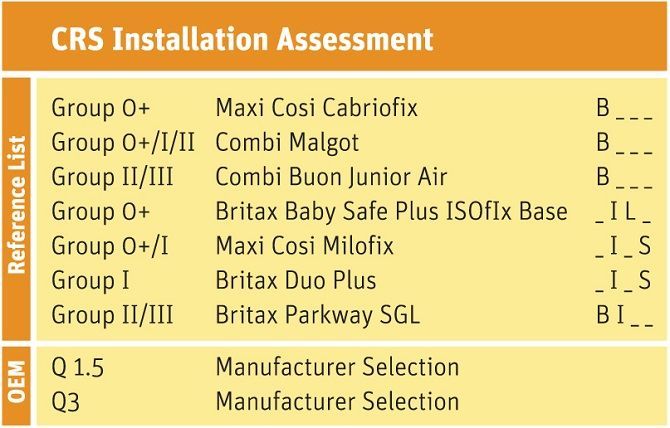 Safety Assist Technology (SAT)
Perhaps the biggest addition to the ASEAN NCAP test protocol is a more comprehensive evaluation of safety technology. Previously, electronic stability control and seat belt reminders were just pre-requisites for a 5-star AOP rating.
Under the new system, points are awarded for the fitment of the following technology:
Anti-lock braking system (ABS)
Electronic stability control (ESC)
Seat belt reminders
Blind spot warning
Autonomous emergency braking
Pedestrian detection
Lane departure warning
Forward collision warning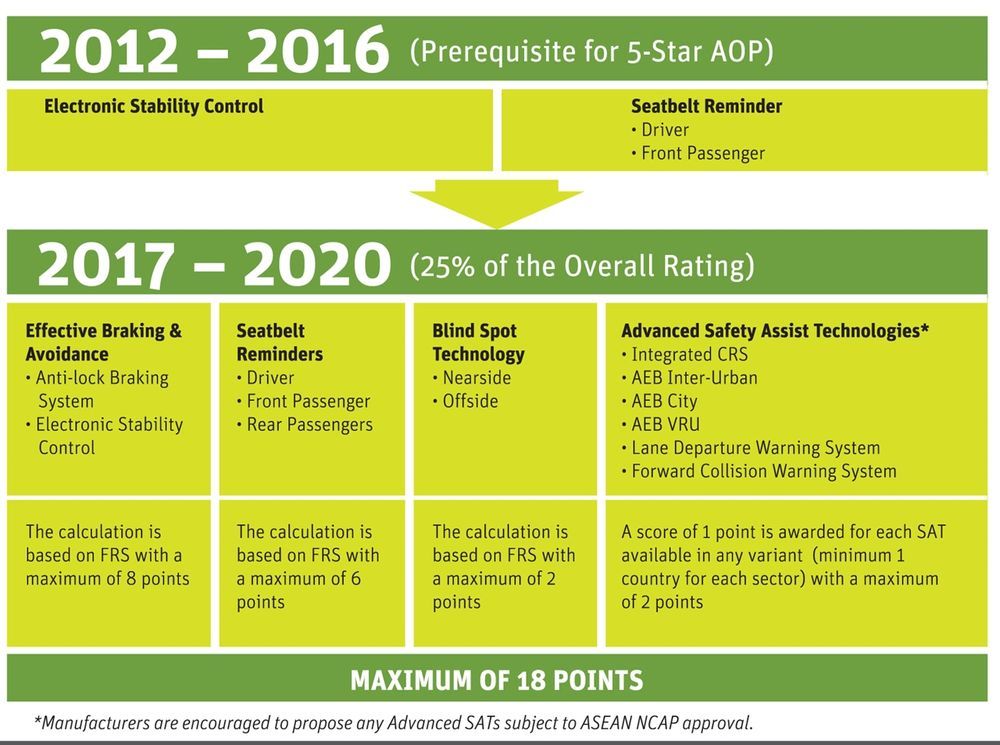 Final Tally
For each vehicle, the scores attained for each of the three aspects – AOP, COP, and SAT – are converted into a percentage and summed up to form an overall rating, which then translates into a star rating with a maximum of five.
To ensure all aspects of safety are given equal emphasis, a car must meet the minimum required score in each individual aspect in order to attain its highest possible rating. So, for example, a car rated five stars for AOP and COP but good for only three stars in the aspect of SAT will have to settle for an overall rating of just three stars.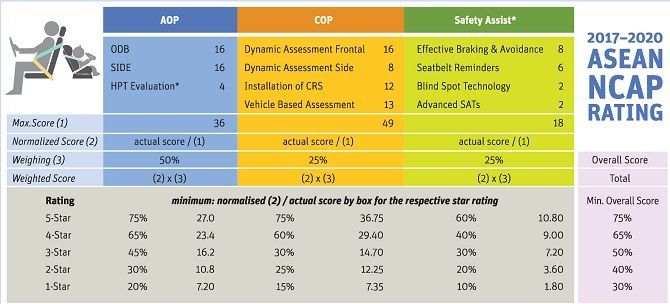 According to ASEAN NCAP, the new rating system is conceptualized to emphasize on current needs whilst attempting to stay relevant for future requirements. The heavier weightage allocated to AOP was done with the purpose to spur immediate development in strengthening the crashworthiness of cars, whilst the COP and SAT scores are meant to motivate the fitment of better safety specifications for the region in the near future.
Honda became the first manufacturer in the region to have its vehicle tested by ASEAN NCAP under the new rating system; the recently-launched all-new 2017 CR-V attained a five-star rating with an overall score of 88.80 points.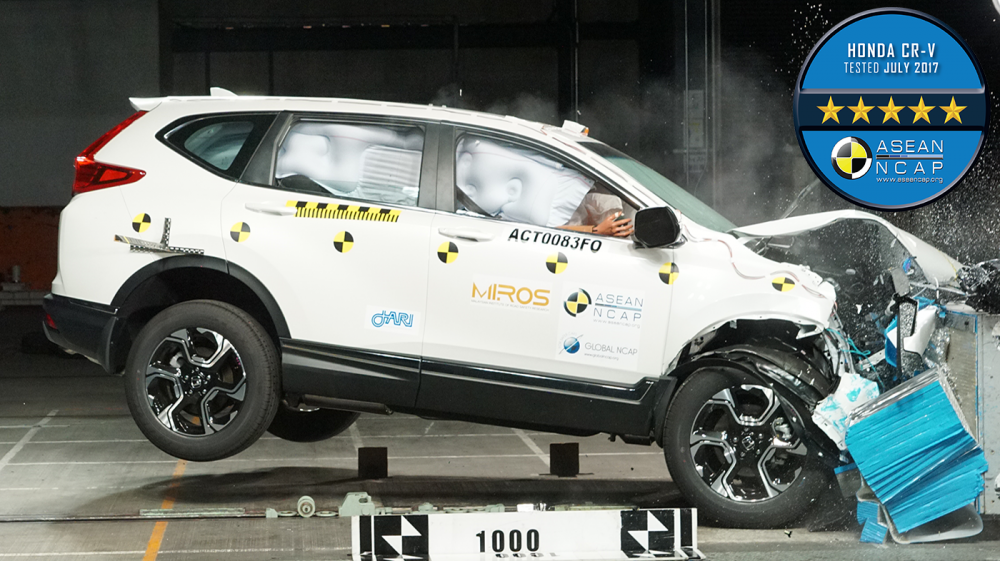 ---
---
---
---
Comments