Perodua Denies Any Move To Raise Prices Due To Falling Ringgit Value
Buying Guides Yesterday, Pandan MP and PKR's Vice-President Rafizi Ramli posted on his Facebook claiming that Perodua will be raising the prices of its cars due to the devaluation of our Ringgit.
"Now, car companies like Perodua are forced to raise prices for its cars due to the fall in the Ringgit's value," said Rafizi Ramli in a Facebook post yesterday.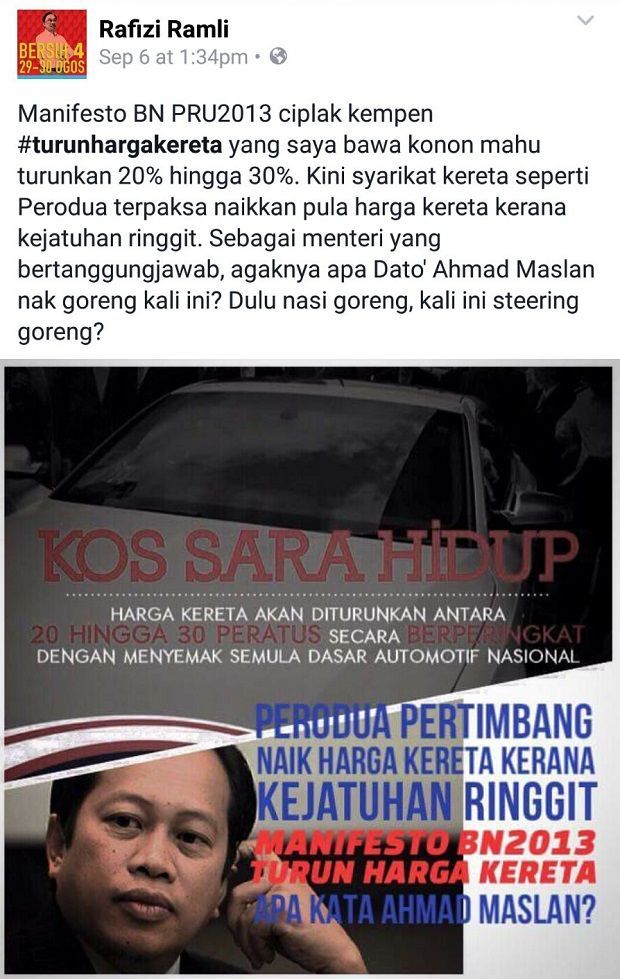 When contacted, Perodua's spokesperson denied this and added that there are no plans to raise the prices of its cars.
He added that while the fall in the Ringgit's value has impacted Perodua's profit before tax slightly, about 5 percent, he confirmed that Perodua will maintain its prices for now and will continue to monitor the foreign exchange.
On Friday, Perodua President and CEO, Datuk Aminar Rashid was asked by the press on the impact of the falling Ringgit on Perodua.
"It's too early to say anything. At Perodua, our degree of localisation is much higher than others, up to 90%, but it varies from model to model – some models even more than this.
"We still import some components from Indonesia and for some of these components, we trade in USD."
He further added:
"We are trying very hard to hold on to our prices, and hopefully not have to adjust thing. We will continue to monitor (the situation), and there will be more engagement from us on this in the future. We are already engaging with our own vendors. Some of whom are already importing some raw materials in the USD as well, so that impacts us too.
"We have to take all of this into consideration, and will be presenting this to the ministry, with the hope of being able to avoid this (raising prices) at all costs.
"We have to wait and see how long the issue with the falling Ringgit will go on for."
Related:
Ringgit Hits RM4.33 To The Dollar, Lowest In 17 Years - Hike In Car Prices Imminent?
Will Car Prices Increase Following The Sharp Devaluation Of Our Ringgit?
---
---
---
---
Comments