Perodua Sells 204,900 Units In 2017, Aims For 209,000 For 2018
Auto News Despite the market being a little glum through 2017 for a variety of reasons, Perodua managed to pull through with an impressive 204,900 vehicles registered through 2017. This exceeded their earlier target of 202,000 units – but that was a target that was set lower than the 2016 figure of 207,100 units in order to account for the market slowdown.
Their market share dropped by 0.1% from 2016, with a figure of 35.6% based on their estimates – official figures from MAA have yet to be released. That's still an impressive number and makes it their 12th year in the number 1 position within this industry. Reasons for the drop in sales are attributed to the more intense competition and stricter hire-purchase guidelines.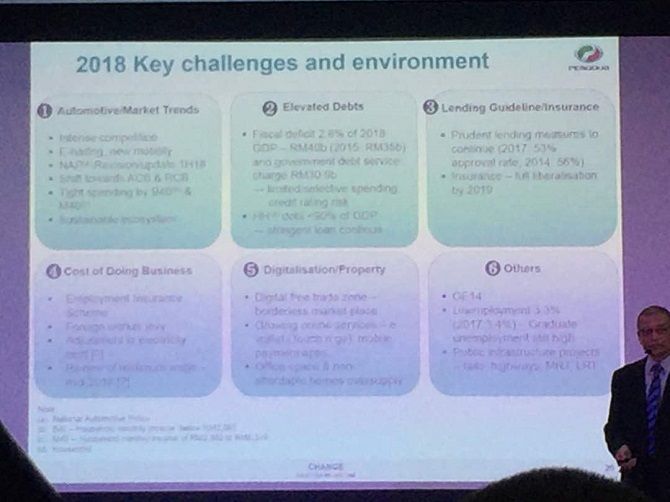 In terms of exports, Perodua took a pretty large hit – especially in Indonesia. This was partially due to new regulations and new competition emerging in their various export markets, but perhaps the largest reason for the 36% drop was the introduction of the new Myvi. As the old Myvi was being phased out and the new Myvi had not yet been launched in Indonesia, it was naturally understandable that there would be a fairly severe drop in export sales. The Myvi is currently the only Perodua model sold in Indonesia, but as the Daihatsu Sirion.
The new Myvi has been a huge bump for the company, but the number of units moved did not contribute significantly to the 2017 total as it was only launched in November. While there have been over 36,000 bookings since the launch of the Myvi, only 11,000 units have officially been registered. On the plus side, at least 25,000 units can be added to this year's total figure when they are delivered, and Perodua can benefit from a full year's worth of sales from the new Myvi leading to a big increase for 2018 figures.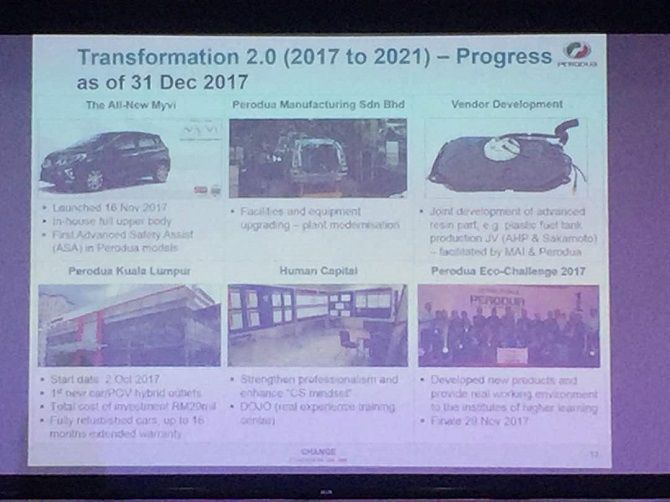 Perhaps the single largest reason for the slow delivery of the new Myvi is the fact that roughly 85% of the bookings for the Myvi are for the 1.5-litre models. This is a huge difference from the 55% that they planned for prior to the launch, and as a result Perodua has been working overtime at their factories and with their vendors to meet this unprecedented demand.
What's interesting to note is the growing number of customers who are buying the cars as either a spare car, or a car for their children. When asked about the particular percentages of first-time-customers compared to existing Perodua owners, Datuk (Dr) Aminar said that they were still compiling the figures but would have a solid answer by the middle of 2018.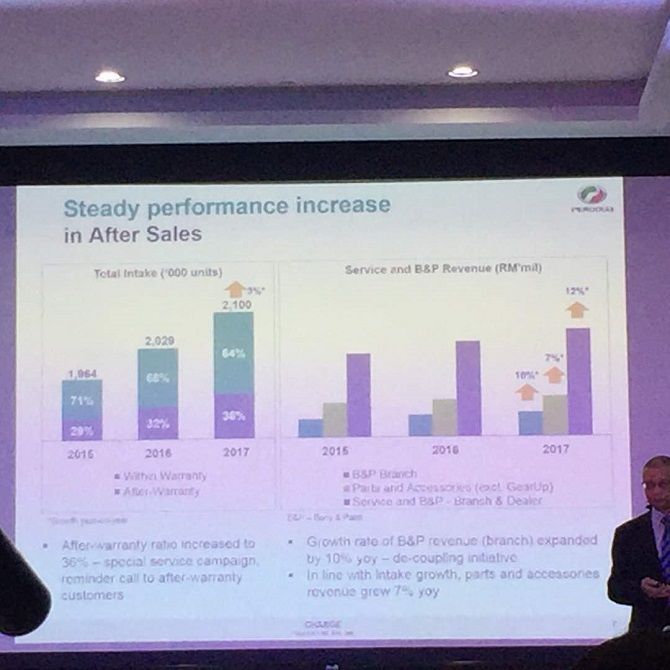 This could also be the reason that the 1.5-litre model is selling in such high numbers; customers from higher segments could be starting to see the appeal in the more generously specified top-tier 1.5-litre model. This more than makes up for the slight cannibalization of Myvi sales when the Bezza was launched, as it is drawing entirely new customers to the brand. Of course, this is all speculation – but Datuk (Dr) Aminar did say it was a surprising trend.
In terms of service and after-sales, the business has been increasing positively with the after-warranty ratio increasing to 36%. This is good for the brand as it allows them to keep track of their vehicles and keeps spare parts sales going, and these vehicles may eventually feed back into their trade-in system. For 2018, Perodua hopes to increase service revenue by 3%, parts and accessories revenue by 2%, and service intake by 2%.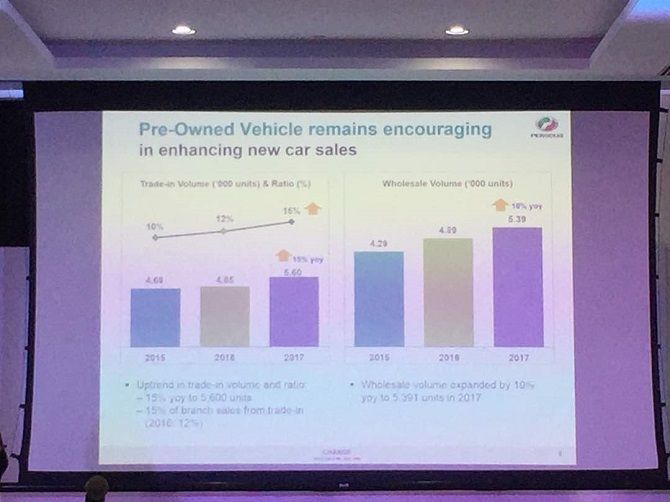 On the note of trade-ins, 2017 saw 15% of Perodua branch sales come from trade-ins, as opposed to 12% in 2016. This comes as a figure of roughly 5,600 cars, with 5,390 of these cars being sold off wholesale. If you do a little bit of maths, the number of cars sold by Perodua branches works out to be around 37,000 units; even though branches are the best equipped for Perodua sales, they are far outnumbered by dealers, which are an entirely separate sales figure and provide the majority of Perodua sales. The high number of trade-ins with younger Perodua models allowed Perodua to open their first pre-owned car sales outlet in 2017, Perodua KL.
For 2018, Perodua is aiming for a sales figure of 209,000 units, and they estimate a combined total of 215,334 units produced at both Perodua Manufacturing Sdn Bhd (which manufactures the Myvi and Alza) and Perodua Global Manufacturing Sdn Bhd (which manufactures the Axia and Bezza). This comes with the expectation that the total industry volume will increase to 590,000 units, and will allow them to maintain their market share at slightly above 35%.
---
---
---
---
Comments