Porsche, Mazda, Nissan Wins Inaugural ASEAN Car of the Year Award
Auto News The Porsche Macan has been declared overall winner at the inaugural 2015 ASEAN Car of the Year (ACOTY) award in Kuala Lumpur yesterday evening. The non-profit event is a joint initiative by motoring journalists from Thailand, Indonesia and Malaysia – a first of its kind in the region.
The Mazda 2 tooked home the second place honours while the Nissan X-Trail rounded up the top-3 winners.
Nine motoring journalists from Malaysia, six from Thailand, and seven from Indonesia evaluated each vehicle's product appeal while Opal Auto Mart, an after-market warranty service provider with a huge database of reliability data for various makes, evaluted each finalist brand's reliability. Liberty Insurance gave scores on depreciation values. Votes from the public on their ownership experience, satisfaction with sales and after-sales were taken into consideration.
Speaking at the awards presentation ceremony at in Kuala Lumpur yesterday, 2015 ACOTY Secretary Mr. Bobby Ang said, "With ASEAN's growing importance in the global automotive industry landscape, it is important to create a bridge of acknowledgement for this region in the form of an automotive awards program to translate market needs towards the effort of car makers operating in this region."
The organisersr of ACOTY have also made additional effort to make the judging process transparent, something which is rare even among international level COTY events. A detailed breakdown of the scores for finalists of each award category can be viewed by the public at caroftheyear.asia next week.
Winners of 2015 ASEAN Car of the Year Awards (Overall)
First place: Porsche Macan
Second place: Mazda 2
Third place: Nissan X-Trail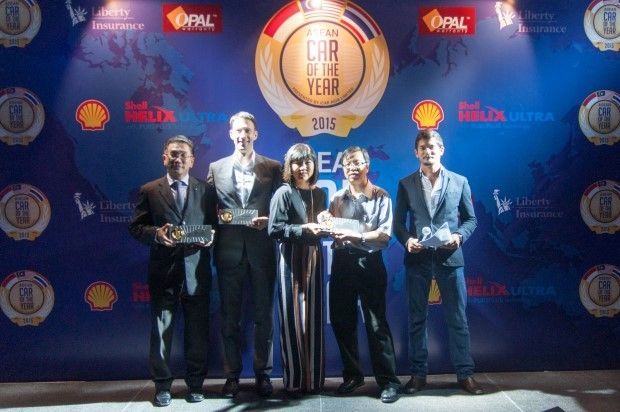 Overall winners of the 2015 ACOTY award, presented by Motortrader.com.my's Chips Yap. From left: Tan Keng Meng, Director of Marketing and Product Planning, Edaran Tan Chong Motor, Arnt Bayer, CEO, Porsche Malaysia, and Lee Ai Hoon, Head of Marketing, Bermaz Motor.
2015 Audi R8 LMS Cup champion, Alex Yoong (right) was the emcee for yesterday's event.
Chips Yap, a veteran motoring journalist with over 30 years of experience in the business, was also presented with an industry appreciation award for his contribution to the local motoring industry.
Winners of 2015 ASEAN Car of the Year Awards (Malaysia Category)
Budget Car of the Year – Kia Picanto
Compact Car of the Year – Mazda2
Family Car of the Year – Mazda3
Executive Car of the Year – Honda Accord
Family MPV of the Year – Mazda Biante
Premium MPV of the Year – Honda Odyssey
Crossover of the Year – Honda HR-V
Compact SUV of the Year – Mazda CX-5
Family SUV of the Year – Nissan X-Trail
Pick-up Truck of the Year – Ford Ranger
Coupe of the Year – BMW 2-Series
Premium Compact of the Year – Volvo V40
Premium Family Car of the Year – Mercedes-Benz C-Class
Premium Executive Car of the Year – BMW 5-Series
Premium Flagship of the Year– Mercedes-Benz S-Class
Premium Compact SUV of the Year – Land Rover Range Rover Evoque
Premium Mid-size SUV of the Year – Porsche Macan
Premium SUV of the Year – Porsche Cayenne
Premium Coupe of the Year – Audi TT
Performance Car of the Year – Mercedes-Benz AMG GT
Grand Tourer of the Year – Porsche Panamera
Driver's Car of the Year – Volkswagen Golf R
---
---
---
Comments