Proton C.E.V.: All-Electric Two-Seater Concept With An Advanced Steering System
Auto News At the 2015 E-Mobilia World event held in the Kuala Lumpur Convention Centre, Proton held a brief presentation to show us the national carmaker's Mobility Concept Compact Electric Vehicle (C.E.V.), a collaboration project done with University Teknologi Malaysia.
Three objectives were laid out for this project:
Design and develop a flatbed modular electric vehicle platform two-seater vehicle
Improve knowledge on drive by wire technology in relation to traction control and steering systems
Serve as a technology demonstrator for personal urban mobility with direct drive technology
The Proton C.E.V. is the result from the yearlong project which involved UTM staff and its students working alongside Proton. As you can see, the team behind it referred to several other electric vehicle designs and it shows with the design drawing inspiration from the Renault Twizy.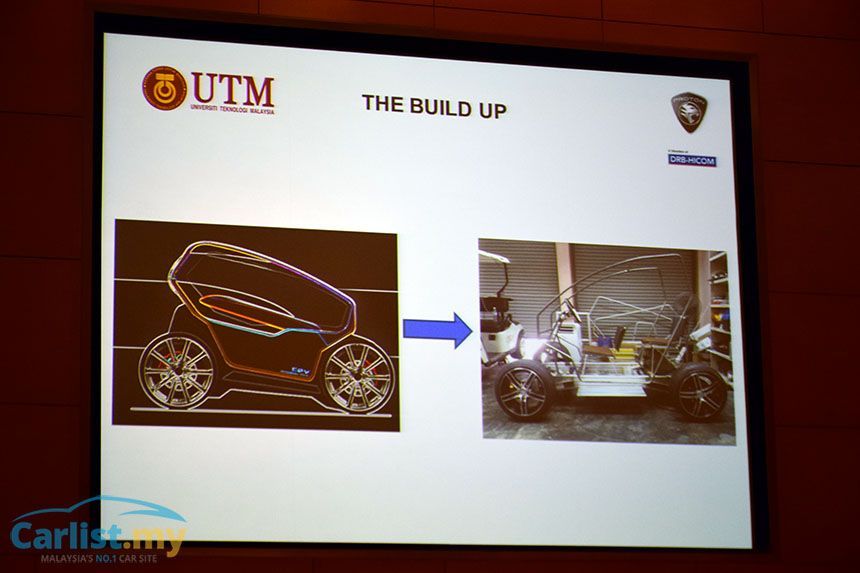 Weighing at just 350kg, the C.E.V. features a flatbed aluminium chassis with carbon fibre body panels. The 72V DC, 40Ah, air-cooled battery pack which powers it is located below the two passenger seats and provides the juice to its drive system.
That drive system is comprised of two in-wheel motors mounted on the rear tyres, effectively making it a rear-wheel drive vehicle. The motors provide 7kW or 9hp per wheel which doesn't sound like much but it is the steering system which sounds impressive – an independent steer-by-wire with a linear actuated steering system.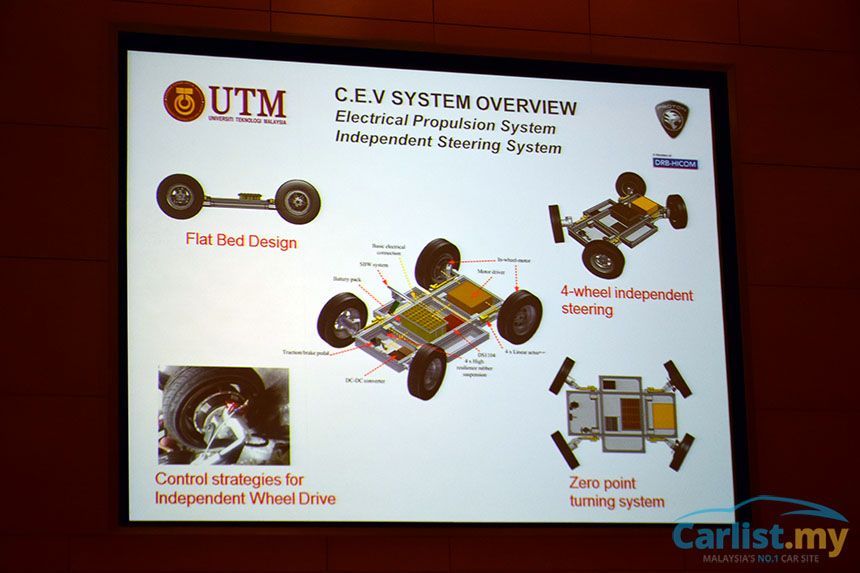 This allows each wheel's direction on the C.E.V. to be manipulated independently opening up a wider range of motion. The system can act as a conventional front-wheel steering or all-wheel steering where the latter allows for parallel and zero point turning modes of motion, although the lateral mode of motion is still being developed.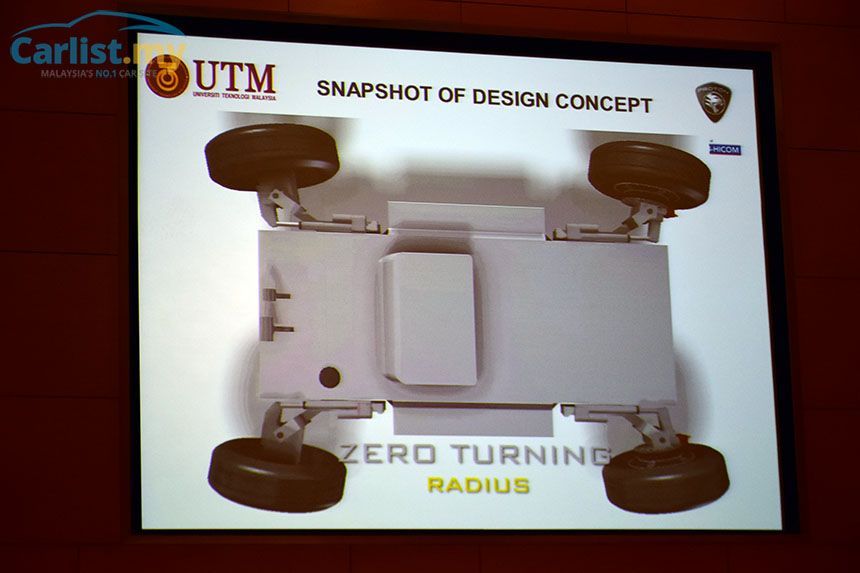 To manage the steering system, a dSPACE controller is installed as part of the steer-by-wire control system architecture to ensure that each linear actuator (wheels) matches up to the desired mode of motion. Due to the fact that a steer-by-wire system lacks a direct mechanical linkage, an electric actuator is also placed to create reactive torque and provide the necessary driving feel.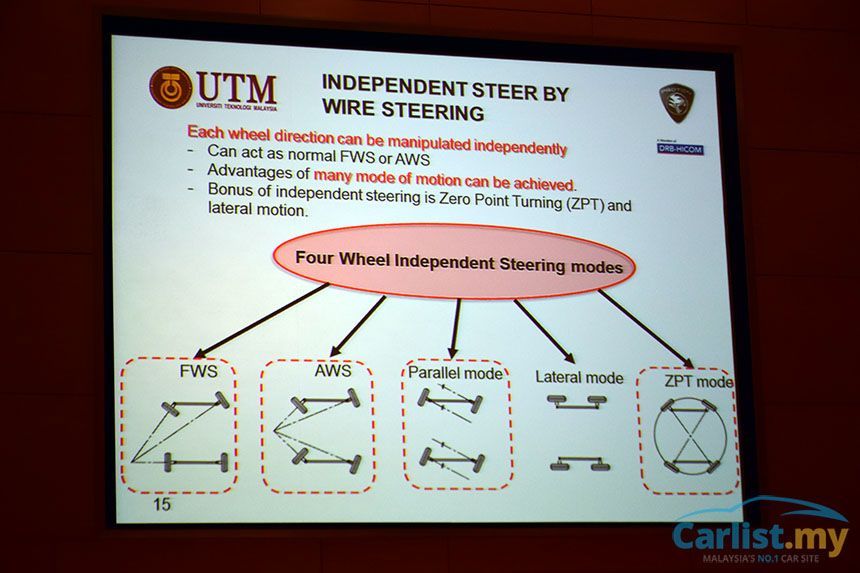 Unfortunately, there wasn't a physical demonstrator for us to experience the system first hand. We were told that one should be ready by the end of the year.
The C.E.V. project however provides Proton and UTM with important knowledge and technology acquisition in software development and engineering (brought on by the steering system) and in-wheel motor technology, which is beneficial for future Proton products that may feature advanced driver assistance system (auto park, etc), and vehicle controllers for autonomous vehicles.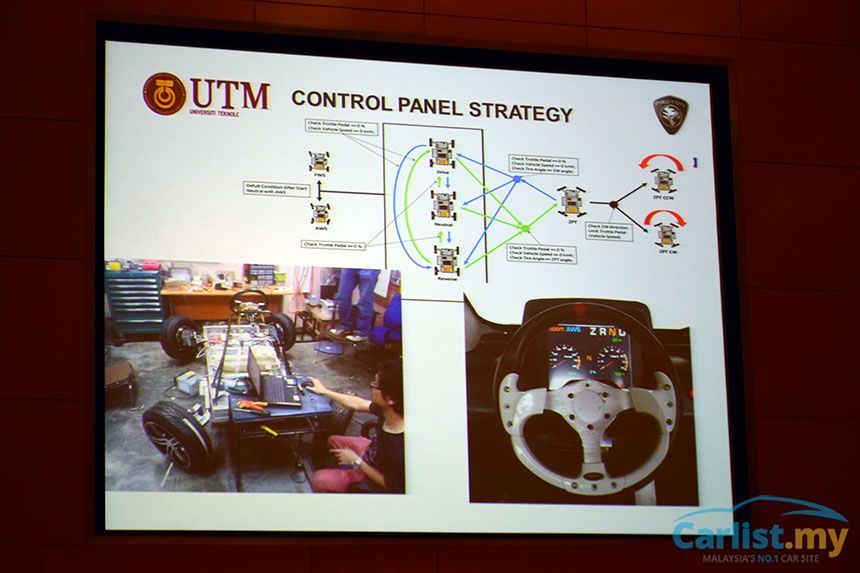 Research and development of the flatbed platform also opens up the possibility of future electric or hybrid vehicles with in-wheel motors. Fuel cell vehicles could also be a result of this research. In fact, Md Ridzuan Md Yusof, Head of Electric Vehicle Project at Proton, said that the collaboration is looking to develop graphene batteries and super capacitors as future components for electric vehicles.
The E-Mobilia World is a partner event to the International Greentech & Eco Products Exhibition and Conference Malaysia (IGEM) where Proton also placed an Iriz EV prototype on display.
---
---
---
---
Comments