Review: 2015 All-New Mitsubishi Triton – 178 PS Of Tax-Free Goodness To Replace Your Sedan
Reviews In a country where automobiles are slapped with up to 105 percent in excise duties, on top of any applicable import duties, pick-up trucks stand out as the only type of vehicle where their prices are comparable to their open-market values.
Thanks to its classification as a commercial vehicle, pick-up trucks are exempted from punitive excise duties that other passenger cars, including SUVs, are subjected to. Since most pick-up trucks sold here are made in Thailand, using more than 40 percent ASEAN-sourced content, they qualify for import duty exemptions under the ASEAN Free Trade Agreement (AFTA).
In short, if you have strong feelings against contributing your hard-earned money to the Treasury, then you should consider a pick-up truck. The all-new Mitsubishi Triton seen here is one such car – yes it's good enough to simply refer to it as a car, even though it's technically a pick-up truck.
For an overview of the all-new Triton's range, prices, and specifications, go here:
All-New 2015 Mitsubishi Triton Launched In Malaysia: From RM70k to RM112k
How does it drive?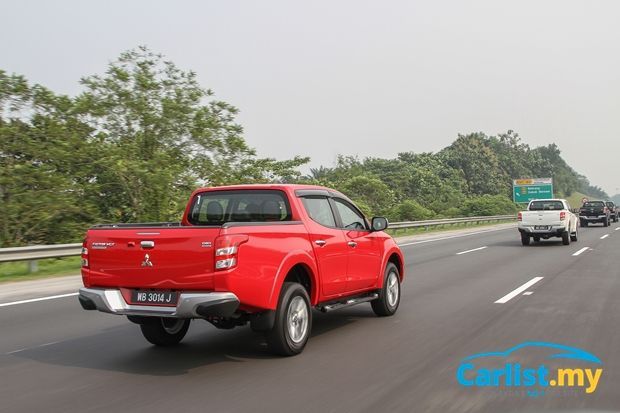 With go-anywhere four-wheel drive capabilities, 205 mm high ground clearance giving it a maximum water wading depth of 600 mm, combined with a cabin that's spacious and comfortable enough to rival a Lancer-class sedan, it's a family car with a twist.
A 2.0-litre Lancer sedan makes 150 PS and 197 Nm of torque. For less than RM100k (RM95,000 for Triton VGT 4x4 MT), the Triton buys you ample reserve of power and torque – 178 PS of mountain dominating power, and 400 Nm of boulder climbing torque.
The 190 PS all-new Nissan Navara might be dominating your Facebook newsfeeds at the moment but remember that this engine is only available on the circa-RM125k VL-grade model - only RM8k less than a Teana.
All other Navara variants are using a detuned engine (163 PS) that produces 11 PS less than the previous D40-generation Navara. Mitsubishi on the other hand, offers its 178 PS engine from less than RM100,000!
The Triton's 4D56 engine is carried over from the previous generation Triton, but updated to produce 50 Nm more torque (compared to the previous Triton VGT 4x4 Automatic), thanks to a new 5-speed automatic transmissions that is now capable of withstanding a higher torque limit. The ratio count is still the same as before, but its torque converter has been toughened to deal with the extra 50 Nm.
High torque from low engine speeds are nothing unusual for today's generation of variable geometry turbine (VGT) common rail turbo diesel engine. While it is addictive to ride on a huge wave of torque when accelerating away on an open road, off-road (and even city traffic) driving conditions require engines to have a bit more finesse in their torque delivery.
An engine that delivers a more measured, progressive torque curve, delivered over a wider range of engine speeds, is preferred over one that simply dumps huge load of torque at the slightest prod of the throttle.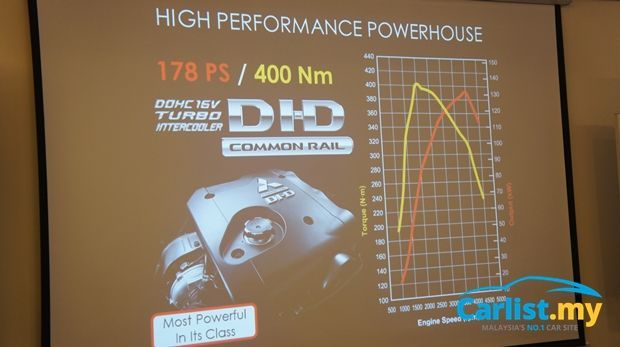 We are pleased to note that despite the headline grabbing 400 Nm of torque, its delivery is progressive.
The top-of-the Triton line Adventure 4x4 Automatic variant also gets paddle-shifters, but throughout my half-day drive, there was little need to use them as the transmission was responsive and intelligent enough to know when to upshift, and when the hold the gear – which it will when you are going downhill, or taking a bend along a twisty road.
How comfortable is it?
Driving along the NSE from Kuala Lumpur to Ulu Slim in Perak, the Triton simply cruised along comfortably, with the cabin remaining reasonably quiet even at speeds of up to 140 km/h. It compares very well with many small family sedans, if not better.
The previous Triton VGT had a very pronounced 'blow-off valve whistle' noise every time you lift off the throttle. That familiar trait is still there in this all-new Triton, but it's less intrusive than before.
Keeping up with highway traffic, there's a familiar gentle 'springing' motion that's typical with vehicles of such ride-heights, but not those that can cause motion sickness. Maintain a reasonable speed and the chassis flows well with the road's changing surface.
The rear suspension is still leaf springs, but Mitsubishi says it's been extended by 120 mm for better pliancy without sacrificing its abilities to haul cargo in the 1,520 mm long and 1,470 mm wide deck.
The well-padded seats (leather on Adventure, fabric on other variants) provide good support in all areas.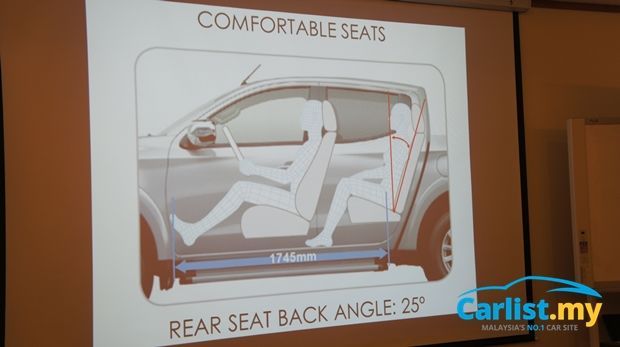 Behind, the Triton's rear seats are still one of the best in the segment. Those 'J-lines' on either sides of the car's body - that characteristic lines on the rear-half of the Triton's cabin - they are not just for aesthetics as they allow the rear's seatbacks to be tilted by 25 degrees for a more car-like ride.
The only downside to its interior is the dashboard. The perceived quality of Mitsubishi's interior trimming materials is quite poor, and the Triton is no different. The Triton Adventure gets leather trimmed steering wheel, but the material doesn't feel as good as the one used in the ASX.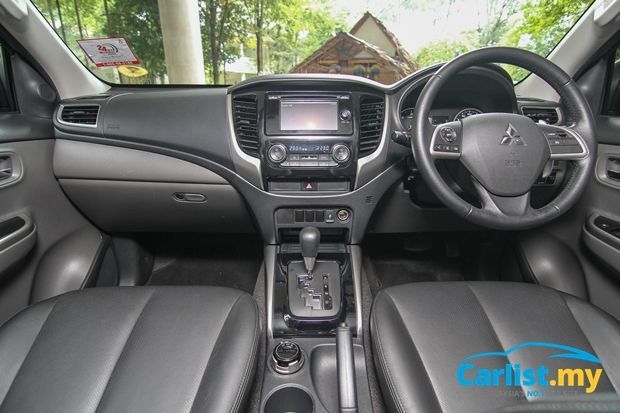 The tactile feeling of the interior plastics and switchgears leave much to be desired. It's definitely not comparable to the Ford Ranger, which still has the most refined cabin in this segment.
On the upside, if you intend to go for some adventure with your Triton Adventure, then you need not worry about permanently staining or damaging the Triton's interior. The materials chosen might not be plush, but they do appear to be hard-wearing.
Off-roading in the Triton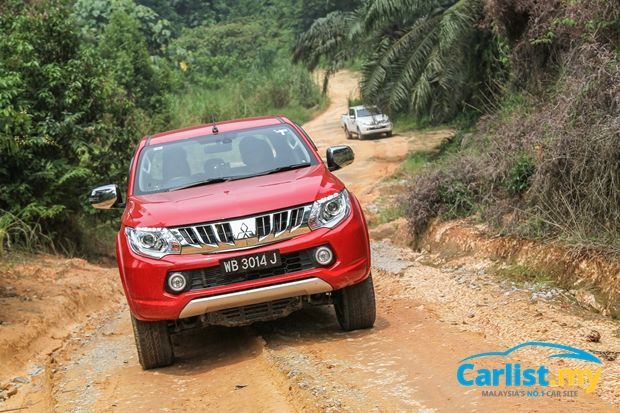 I am not an experienced off-roader so I will leave out the hardcore off-roading bits out. But if you are a typical city dweller looking to do a little bit of leisure activities away from the tarmac, you might be pleased to know that an almost standard Mitsubishi Triton – except for mandatory off-road suspension, winches and other safety equipment - with no modifications made to the engine and transmission, had successfully completed the recent Borneo Safari expedition in East Malaysia – one of the toughest 4x4 events in the world.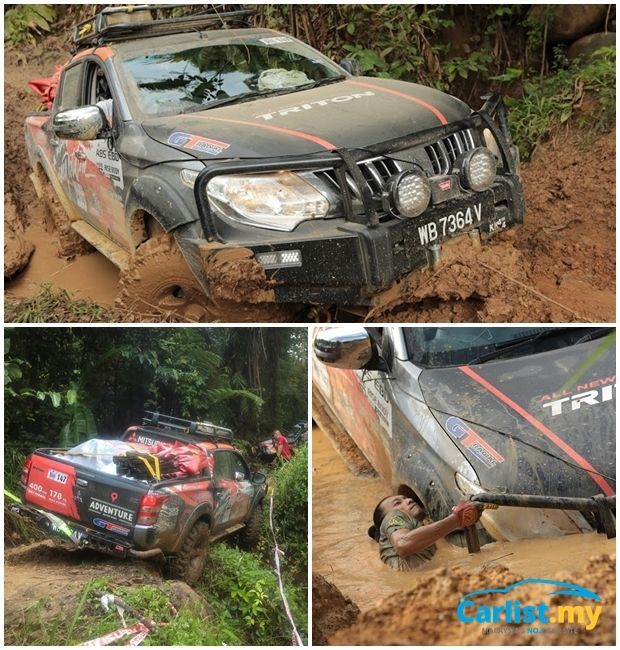 If you intend to drive off-road, do remember that all of the truck's capabilities are useless if you don't have a set of suitable tyres. Also remember to switch the centre differential to 4H upon leaving tarmac surfaces. Conversely, avoid using 4H or 4L when driving on tarmac.
Keep your thumbs facing outside of the steering wheel, as the kickback from the steering wheel when it hits a deep hole can injure your thumbs.
Under the guidance of veteran off-roader Paul Si, we drove along a light off-road trail in Ulu Slim, nothing that will overwhelm the Dunlop Grandtrek AT20 all-terrain tyres.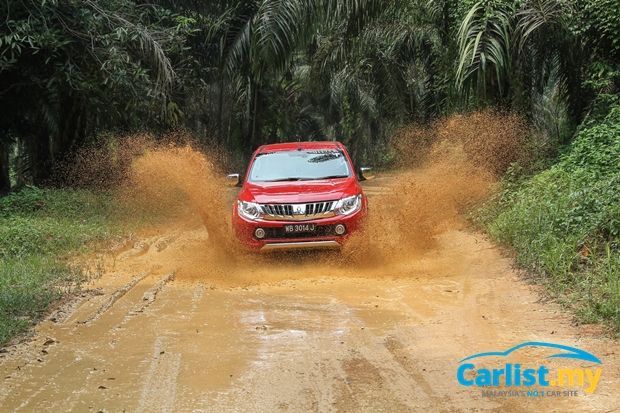 After turning to centre differential's rotary control knob to 4L, we slowly made our way up a steep hill, utilising the ample reserve of torque to climb out of deep ruts, and drive over muddy and rock strewn surfaces.
Ascending downhill was a bit counter-intuitive. "Do not step on the brakes," instructed Paul, as doing so might cause the car to lose its balance. The trick is to let the car creep forward slowly, and trust in the engine braking to hold its speed – it's in 4L, so it can't go any faster than walking pace anyway.
There's no fancy electronic hill descend control in the Triton but it doesn't bother veterans like Paul, who don't like to rely on these electronic aids anyway, as hill descend control tend to heat up the brakes and you have to be careful not to drive through water immediately after descending. Splashing cold water on the hot brake rotors might cause it to warp.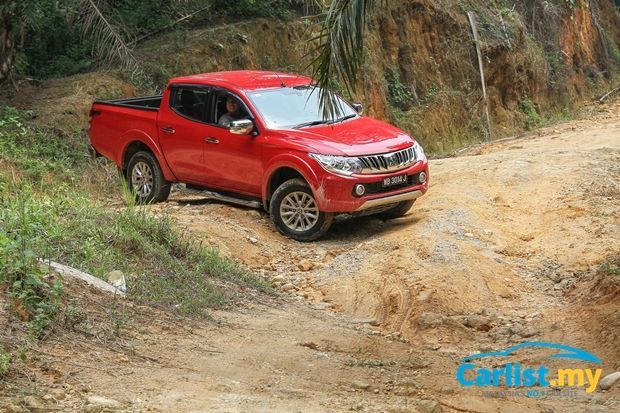 Just before a gentle river crossing exercise (it's more like a stream), we had a make a tight three-point turn. Here, the reverse camera, and the Triton's best-in-class 5.9-metre turning radius (5.7-metre for 4x2 models) became handy. In comparison, a Mitsubishi Lancer has a turning radius of 5-meter.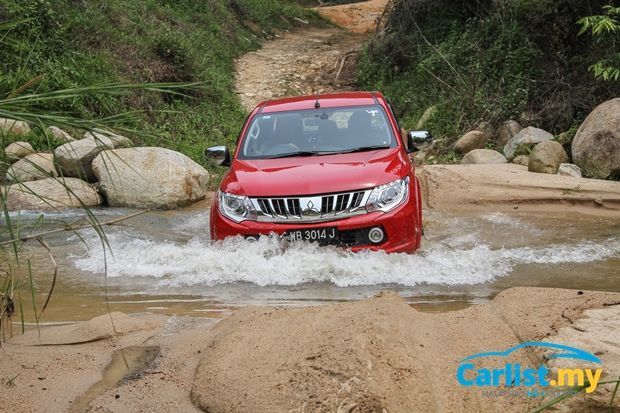 Truck vs Car
As pick-up trucks evolve to become more car-like, more people are considering to buy their first pick-up truck.
Here are some things to consider:
Pick-up trucks may have abilities to haul large cargo, but without a covered boot, the rear deck is almost useless in your daily driving. Just where are you going to put your bags if there's no space in the cabin? So do consider getting to deck lid cover or a canopy.
4x4 trucks have a high ride height, making it difficult to load/unload cargo from the deck. If you don't need 4x4, a lower ride height 4x2 model might be a better option.
The new generation of pick-up trucks have ample power, but remember that with an unladen rear deck, trucks are prone to fish-tailing under heavy braking. ESC, ABS, load sensing proportioning valve brakes and other driving aids cannot change the laws of physics. Without traction in the rear, no amount of advanced driving aids can stop you from losing control of a speeding truck. So be extra mindful of your speed.
Verdict: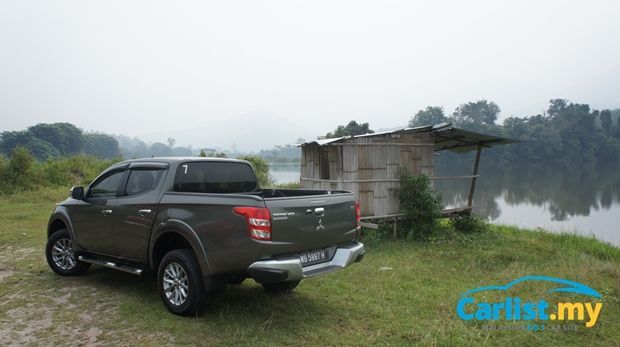 Overall, the Mitsubishi Triton is a compelling proposition, but ultimately still plays second fiddle to the Ford Ranger. While the Triton might have a more powerful engine (178 PS and 400 Nm versus the Ford's 160 PS and 385 Nm), we still prefer the Ford Ranger's superior cabin refinement, electronic stability control (ESC) and five-star ASEAN NCAP rating.
However, if you prefer to have the assurance of proven Japanese reliability, easy to source simple mechanical parts instead of expensive electronics (Ranger is a far more sophisticated truck with a lot more electronics), then the Triton should be on your consideration list.
It does 75 to 80 percent of what the Ranger is capable of, but using simpler, proven old-school mechanical solutions.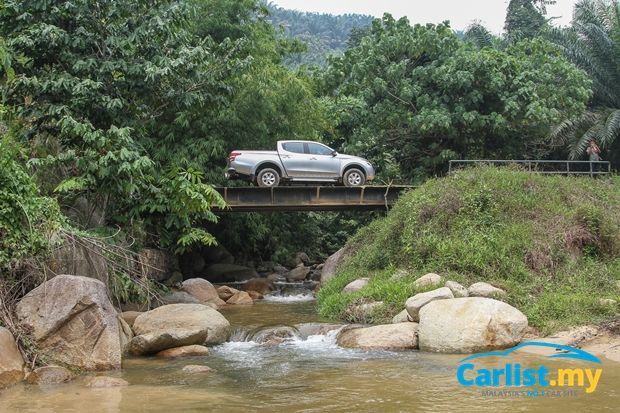 We also like the entry price for an automatic transmission Triton VGT - RM10k less than the Ford, RM98,549.28 versus RM108,788, give and take between engine performance and safety features as main differences between the two.
Alternatively, there's also the more off-road-oriented Isuzu D-Max. Its 136 PS engine puts it at the bottom of the power race, but it is equipped with ESC. In terms of appeal, the D-Max is very similar to the Triton, but you do have to deal with a dealer network that's more skewed towards commercial buyers of Isuzu lorries rather than passenger cars.
There's also the Toyota Hilux, but if you are interested in the Toyota, we suggest that you wait for the all-new Hilux coming next year.
Specifications for Mitsubishi Triton VGT Adventure 4x4 Automatic
Price: RM113,600, on-the-road with insurance
Engine: 4D56 2.5-litre inline four cylinder, DOHC 16V DI-D Common Rail VGT Intercooler
Power: 178 PS at 4,000 rpm
Torque: 400 Nm at 2,000 rpm
Transmission: 5-speed automatic with Sport mode and paddle shifters, Part-time 4WD
Safety: Dual front airbags, ISOFIX (rear x2), ABS with EBD
Prices mentioned here are only applicable until 31-December 2015. By the first quarter of 2016, there is a possibility that prices might increase between two to seven percent, no thanks to our falling Ringgit.
---
---
---
---
Comments