Review: 2015 Mazda CX-3 – Not Quite What It Seems
Reviews The CX-3 sits in a rather odd position within importer Bermaz Motor's model hierarchy. It's smaller than the CX-5 but is more expensive. As an imported model, the CX-3 misses out on tax rebates enjoyed by the locally-assembled CX-5.
Still, Bermaz has no problems selling whatever little allocation it has. Rumour has it that a cheaper, locally-assembled CX-3 will arrive sometime around November this year.
Specifications for Mazda CX-3 2.0-litre
Price: RM135,082 excluding insurance
Engine: SkyActiv-G 2.0-litre, 4-cylinders transverse, DOHC
Power: 154 hp @ 6,000 rpm
Torque: 204 Nm @ 2,800 rpm
Transmission: SkyActiv-Drive 6-speed automatic
Safety: 6 airbags, electronic stability control (DSC), traction control (TCS), anti-lock brakes (ABS), brake assist (EBA), Electronic Brake Force distribution (EBD), hill start assist (HLA), ISOFIX (rear)
Origin: Fully imported from Japan
Overview
On first impression, we were blown away by the quality of the CX-3's interior. We are talking Mercedes-Benz C-Class-style brushed metal inserts on the door panels, Audi A3-style dashboard layout and padding materials throughout the cabin.
Cover the Mazda logo and this could easily pass off as a model from any of the German premium brands. Viewed in that context, the CX-3's high price might actually be a bargain, depending on your frame of reference.
It competes in the so-called crossover segment, which is populated by models like the Honda HR-V, Mitsubishi ASX and Subaru XV.
There is only one variant available. Standard features include:
Automatic air-conditioning
Half-leather upholstery
7-inch touch screen full colour MZD Connect infotainment system with 6 speakers, Bluetooth and USB and reverse camera
Paddle shifters
LED headlamps with integrated LED daytime running lights
LED tail lights
Power-operated tilt and retractable sunroof
Keyless entry system with engine push-start button
Heads-up display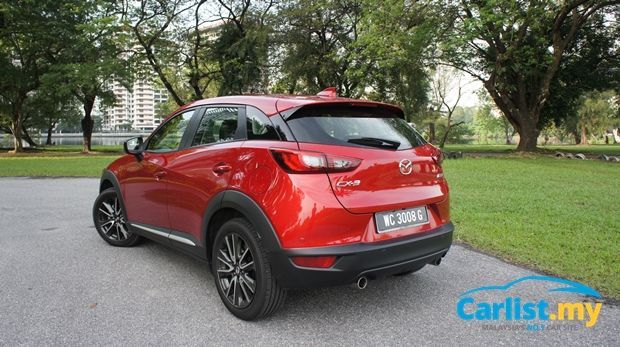 Exterior
In terms size, the 2.0-litre CX-3 has the smallest body in its class (putting aside the 1.5-litre Ford EcoSport and 1.6-litre Peugeot 2008). It's about 20 mm shorter than the HR-V and ASX, about 5 mm narrower and significantly lower than either models. Its 2,570 mm long wheelbase is a 100 mm and 40 mm shorter than the ASX and HR-V respectively.
It however, looks more athletic than any of its peers – It is power and beauty condensed into a small package.
Interior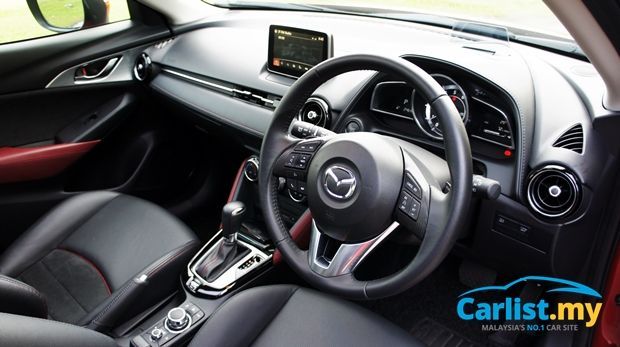 The interior evokes a mixed bag of reaction. On one hand, the cabin feels genuinely premium, and feels good enough to have Audi's four rings on the steering wheel.
The brushed metallic material on the door panels are made from genuine metal and feels like metal, not plastics dressed up as aluminium. In fact, its interior is better than an entry-level Mercedes-Benz A-Class. It is that good.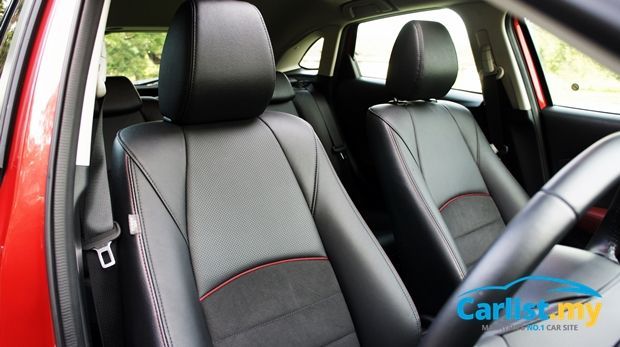 The seats are half-leather, just like the HR-V but the CX-3 uses higher grade fabrics, almost suede-like material.
The instruments cluster is decorated with similarly high grade metallic materials. At night, it is illuminated by a very expensive looking white glow that radiates out from the centre.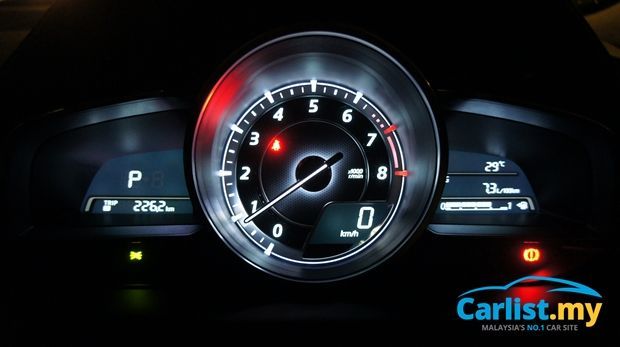 Live with the car a little longer however, and you begin to realize that while the cabin feels very premium, it is not very functional. By my second day with the car, I was ready to trade the high grade leather trimmings in return for more utility space.
There is no centre armrest, no console box to keep your belongings. In fact the only way to keep your valuables away from prying eyes is to keep them inside the tiny glove box, which isn't even illuminated so good luck in rummaging through it at night.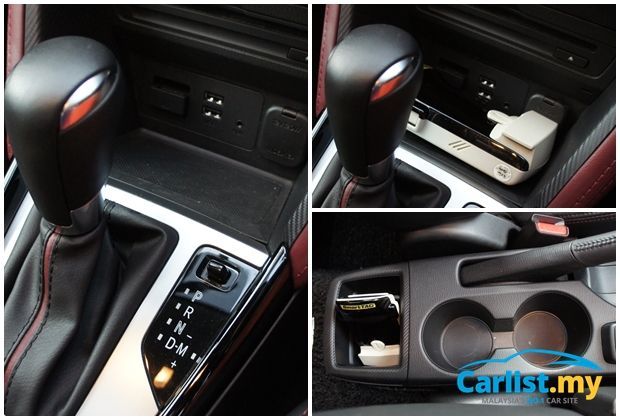 Whatever little you space have in front of the gear shifter is rendered useless if you plug in a USB drive or need to charge your phone, or use the 12V power socket for your dash cam.
Similar to many other Mazda models, there is no master door lock switch on the driver's side. Neither does it unlock automatically even after pulling the inside door handle twice, a common feature that is taken for granted these days.
The MZD Connect infotainment system can be operated either by touching the screen or operating the rotary knob on the centre console. It's quite intuitive to use too.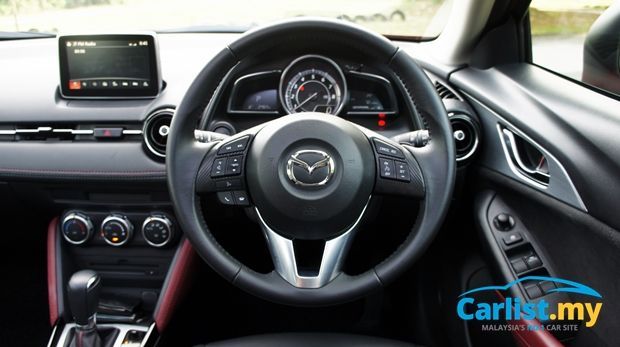 The 7-inch touch screen doesn't fold away but unlike similar setup in small/compact Audi and Mercedes-Benz models, the screen doesn't get in the way of your view. The dashboard is designed in such a way that the height of the free-standing screen is the same as the instrument panel's cowl.
However it's also a case of two steps forward, one step backward. The radio for example, can't display your pre-set channels and current station on the same screen, so you will have to remember the sequence of your pre-sets. Pressing the 'Next station' button on the steering wheel doesn't scroll the pre-set channels screen either. To do that, you have to use the rotary control knob.
Typical of Mazdas, legroom isn't a lot either.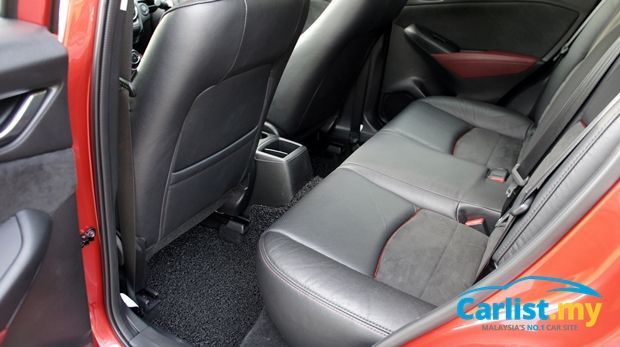 Far from being a rival to the capacious HR-V, or even the moderately spacious ASX, the CX-3 is just a slightly larger version of the tiny Mazda 2.
The rear seats fold flat 60:40. Boot space is decent enough but doesn't even nearly match the HR-V's, doesn't matter if the rear seats were upright or not.
Driving Experience
So it looks great, feels even greater inside, but is not very practical. Thankfully, the 'Zoom-Zoom' spirit shines very strongly from the heart of this CX-3.
This is not a car that for you sit inside and be pleased with how many litres of cargo it hauls or how many cup holders it has or show off its ability to haul that 50-inch flat screen TV. You don't move your house every day, and when you do, there is such a thing called professional movers or even delivery services.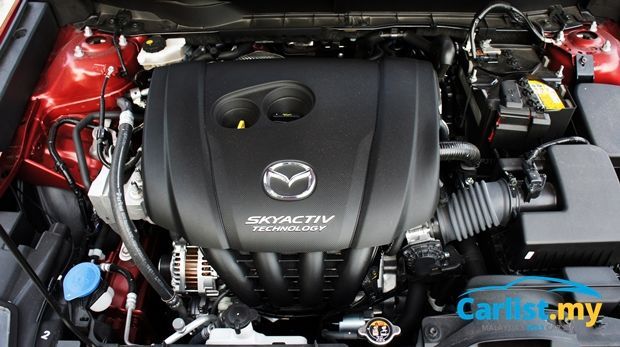 The 1.5-litre Mazda 2, from which the CX-3 borrows its underpinnings from, is already blessed with a very talented chassis but it could use a bit more power. That's where the 2.0-litre CX-3 comes in. Rather than comparing it against the HR-V, the CX-3 is best seen as a better, more fun to drive, more powerful Mazda 2.
The drivetrain is certainly the best in the segment. A sharp, linear throttle that's finely adjustable thanks to its floor-hinged accelerator pedal, and it pulls with a lot of eagerness.
The 2.0-litre is more powerful than the similar capacity ASX, never mind about the 1.8-litre HR-V, and it only has to pull 1,211 kg, much less than either competitors.
Mazda's so-called 'Jinba-Ittai' – harmony of horse and rider working as one - ethos for ride and handling is not just some Japanese sounding blabber. The immediacy of CX-3's response, the way you feel the car dancing around its light feet, and the feeling being one with the car as opposed merely sitting inside one, is something that needs to be experienced by all. Only then will you realise what you've been missing from your car.
Just when you thought that we are going to conclude that this is a perfect driving companion, hold on.
Despite the agility, the CX-3 doesn't feel that well resolved at high speeds. The cabin is quieter than either the HR-V, ASX or XV but there is a higher than normal level of vibration coming through the steering wheel, especially at high engine speeds. Move your right leg over to the brake pedal to gently feather it, you will feel the same vibration coming through it. It's not the same type of vibration caused by unbalanced tyres (it goes away when you lift off the throttle). Instead it felt like a characteristic of the car, and it's apparent in the Mazda 2 as well.
Like all Mazdas, the CX-3's steering doesn't disappoint. It has a nice level of consistent feedback as you wind up the steering angle, and is sharp. On highways however, that same responsive steering can also mean that it is more sensitive to changes on the road's surface, requiring a bit more frequent steering correction than others.
Comfort
The CX-3's ride is a tad on the firm side but it is still more comfortable than the HR-V, which despite being softly sprung, lacks sufficient travel in its suspension and hits the bump stops too easily.
Driving over bumps, ruts, manhole covers, gaps on the tarmac's surface – only a fairly small amount of judder gets transferred into the cabin, all while maintaining excellent body control.
How economical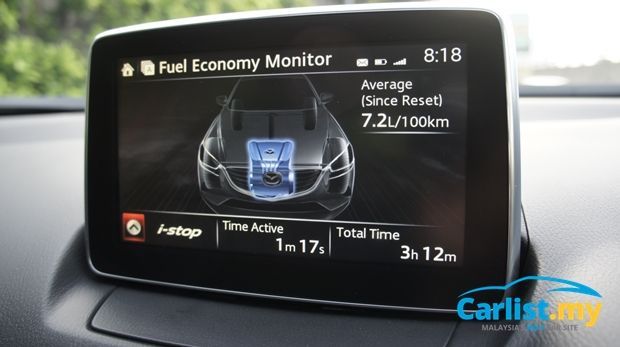 We observed an average fuel consumption of 7.2-litre/100 km (13.7 km/litre) after driving for nearly 300 km, majority of it intra- and inter-urban traffic, with a short highway drive in between. That's very good for a 2.0-litre engine.
Like all Mazda vehicles distributed by Bermaz Motor, the CX-3 is covered by a 3-year free maintenance package that includes parts and labour. You basically pay almost nothing for maintenance apart from fuel and tyres for the first three years.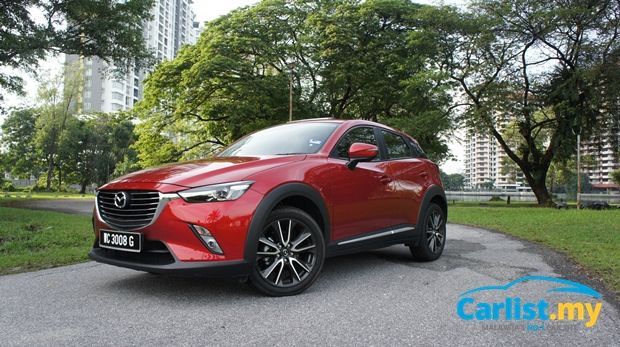 Conclusion
We love the CX-3's looks and its very premium interior but not the lack of consideration for practical requirements – the missing centre arm rest and the lack of utility/storage space might be a deal breaker for many young families. As a car for the driving enthusiasts however, it is almost perfect.
Don't bother comparing the CX-3 against the HR-V or even the ASX, because the CX-3 is a very different car. Far from being an alternative to the leading crossovers in the market, the CX-3 should be seen as the Mazda that Mazda 2 owners should buy if they can afford one – because it has everything we liked (and didn't like) about the 2, but with better looks and more power. People who buy Mazda 2 don't really care about interior space or utility functions, but the rest of the car buying public do.
In short, the CX-3 is not for everybody, but in the eyes of Mazda's intended audience – the Zoom-Zoom drivers crowd - the little CX-3 stands tall with pride.
Alternatively, you can look to the CX-5. As a locally assembled model, is not only cheaper than the imported CX-3, but is also more spacious and more practical - at least it comes with a centre arm rest and centre console box.
Find more Mazda CX-5 and CX-3 at Carlist.my.
---
---
---
Comments