Review: 2016 Audi Q7 3.0 TFSI – A Fearless Companion
Reviews Priced at RM589,900 excluding insurance, the fully imported from Slovakia 2016 Audi Q7 recently found itself forced into a tight position when Mercedes-Benz and BMW engaged in a price war of sorts with their S400 Hybrid and 730Li respectively.
Both the German limos are now priced just below RM600,000. In the past, they were priced north of RM700,000, and were supposed to compete with the imported from Neckarsulm, Germany, RM656,900 Audi A8L.
The locally-assembled RM598,888 Mercedes-Benz S400 Hybrid is skewing the market to its favour thanks to generous exemptions on excise duties under Malaysia's 'customised incentives' for locally-assembled energy efficient vehicles.
The semi-carbon fibre body RM598,800 BMW 730iL is currently imported from Germany, but its low price suggests that some form of exemptions has already been granted by the government, possibly with assurances from BMW that local assembly will begin soon (a similar arrangement was made for the Volvo XC90 T8 plug-in hybrid).
Within this context, is there still a case for the Audi Q7?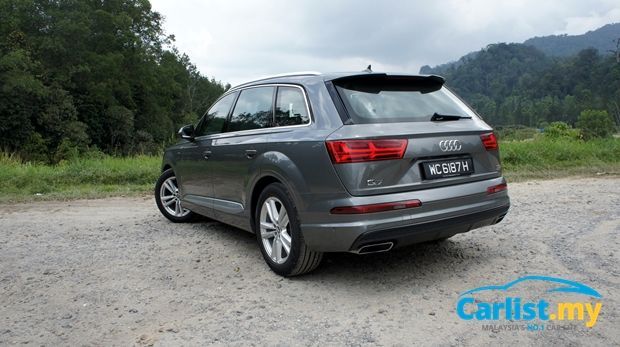 Specifications for 2016 Audi Q7 3.0 TFSI with S-Line Package
Price: RM589,900 excluding insurance (excluding optional RM13,000 for S-Line Package)
Engine: 3.0-litre supercharged V6, longitudinal
Power: 333 hp from 5,500 – 6,500 rpm
Torque: 440 Nm from 2,900 – 5,300 rpm
Transmission: 8-speed tiptronic automatic with paddle shifters, quattro all-wheel drive with electronic differential lock
Safety: 8 airbags, anti-lock brakes with electronic brake force distribution (ABS with EBD), electronic stability control (ESC), traction control (TC), hill start assist, hill descent control, 360 degree parking camera
Our test car is fitted with the optional RM13,000 S-Line accessories package, which includes a set of sportier 20-inch wheels, perforated leather trimmed gear knob and steering wheel, half leather half Alcantara seats, illuminated scuff plates and black roof lining.
Overview
Despite having been around just one generation before, and promoted mostly by grey importers, the Q7 is a fairly well known model among the locals.
Yes, the same amount of money can now buy you an S-Class or a 7 Series, but have you considered how plebeian you might look if you have to drive your limo yourself, for a family trip? Both these cars are meant to be chauffeur driven and the driver's seat is not a place where many buyers from this income category want to be seen in, at least not in this side of the world.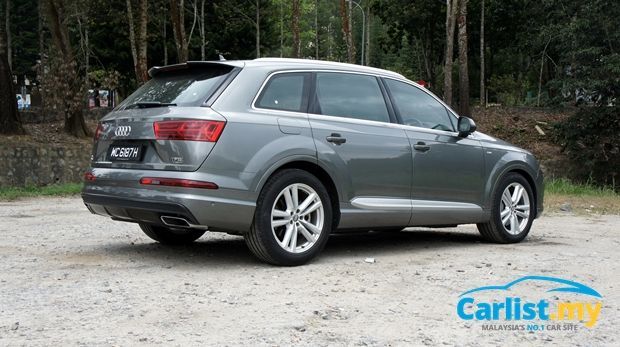 The Q7 on the other hand, offers similar levels of prestige as the S-Class and 7 Series, but minus the 'chauffeur' tag should you decide to drive it yourself.
Of course, you do have to trade-off some of the features available in these limousines – business class airplane-style seats with extendable footrests, foldable table trays and infotainment screens and controls for rear passengers for example.
But the seven-seater Q7 offers a different level of uncompromising performance and go-anywhere capability that a regular limousine can't. Flash floods and rough roads are now just minor annoyances rather than road blocks on your journey.
The closest alternative to the Q7 is the RM923,960 Lexus LX570, which also comes with a third row seat. Viewed within that context, the Q7 is quite a steal.
There's also the RM573,800 BMW X5 xDrive35i but the X5 is more like a 5+2 seater, plus its second row seats only tilts and can't tumble, making access into the third row difficult. Don't forget the exceptionally good value RM453,888 Volvo XC90 too – fully-imported from Sweden at the moment, but locally-assembled models will follow later this year.
The headlights are regular LEDs, not the individually controlled Matrix LED units available in the A8 or the TT.
Exterior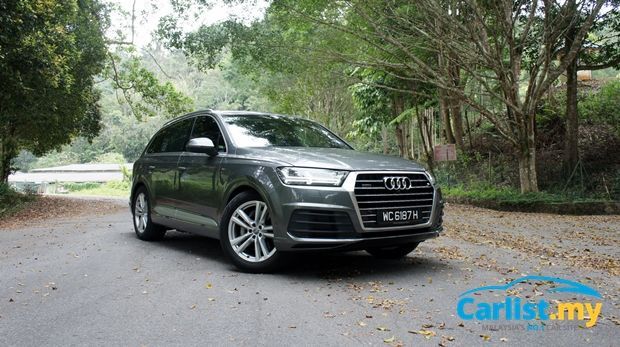 Like many recent Audis, the Q7 suffers from the Russian doll syndrome – all Audi models now looks the same, only the sizes are different. It's a case of "if you've seen one, you've seen them all."
But design is a rather subjective matter so we leave it to you to judge. In our opinion, the second generation Q7 has lost some of the unique design identity that its predecessor had.
On the upside, we prefer its slightly smaller body now. The previous Q7 was simply too big to be practical, and was built mainly for plus-sized Americans rather than the rest of the world. Thankfully, the latest Q7 has been scaled down to a more manageable size. It's 35 mm shorter and 15 mm narrower than its predecessor, but is marginally taller by 3 mm. Wheelbase is also shorter by 8 mm.
Interior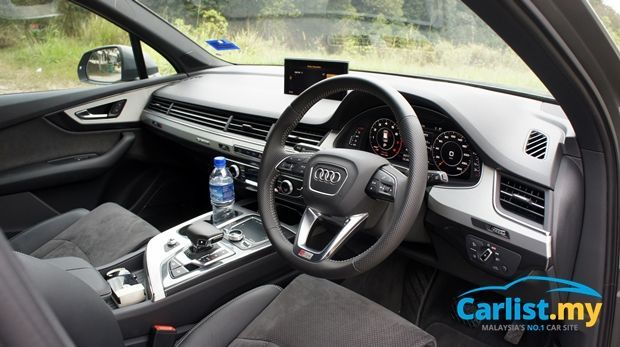 While it's smaller on the outside, it's actually bigger on the inside. The new MLB platform allows for better packaging efficiency and shoulder room is now significantly wider, increased by 81 mm, while 41 mm of headroom is liberated.
From the outside, the all-new Q7's looks might induce yawns, but step inside, it retains all the familiar Audi traits – which means it has the best interior in its class, made with the best selection of materials.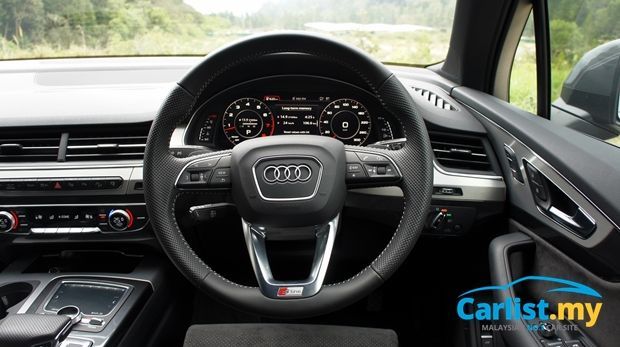 The brushed aluminium engine starter button is a nice touch, as are the beautifully trimmed dashboard.
The air-conditioning's control knobs doubles as a small display for the temperature settings, another one of Audi's signature details.
The 8.3-inch MMI infotainment screen is retractable at the push of a button, but given the size of the Q7's cabin, there is no need to hide the screen away.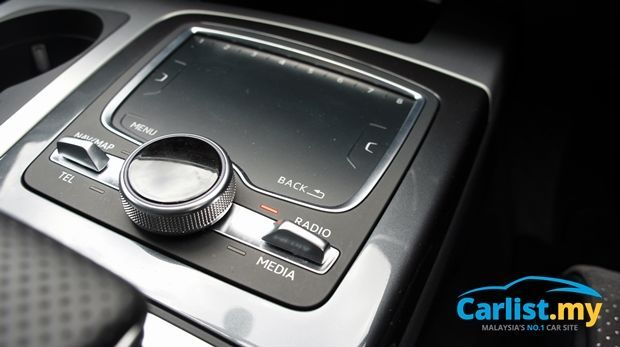 Like many newer high-end Audis, it has an MMI Touch handwriting recognition system for you to enter inputs for the Bluetooth handsfree telephone controls and the navigation system. In theory it's supposed to be more intuitive than twirling and pushing the rotary knob to enter individual alphabets, but frankly it's much easier and way faster to just pull over by the side of the road and type it directly into your smartphone.
Alternatively, you could spend some time to train the voice recognition system to listen to your commands.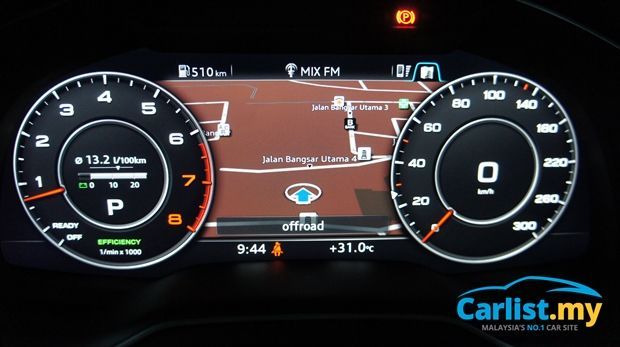 The full-colour LCD Virtual Cockpit instrument panel allows you to toggle between multiple display modes, including a Navigation mode that shows a map. It's a neat feature that will impress your friends but we found it to be not very practical. BMW's full colour Heads-up Display system is much more intuitive to follow, as the image is projected onto the windscreen, within your line of sight. On the Audi, you have to take your eyes off the road to look at the map – not very progressive. Even following Waze on a smartphone mounted on the car's windscreen is a more eye-friendly alternative.
Occupants in the first two rows will have no complains but those in the third row will feel more comfortable in the Volvo XC90, which has air-conditioning vents integrated into the inner C-pillars, as well a more compact seat frames that liberates more legroom.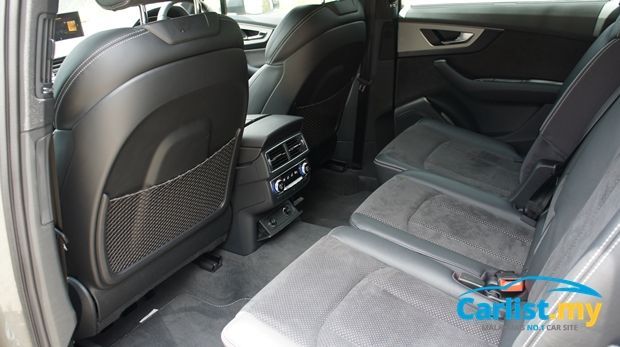 The second row seats slide fore and aft but if one needs to access the third row, a lot of strength is required to fold and tumble the second row seats. It's definitely not something that you can operate using just one hand and it's not so user-friendly to mothers. Still, it's a lot better than the X5, which for reasons only BMW themselves know, has second-row seats that can only tilt forward but can't fold or tumble.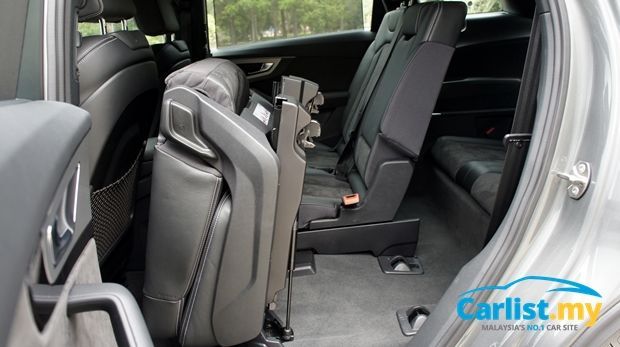 On the upside, the Q7's third row seats can be folded electrically, which is a plus point over the XC90 and X5. However, the motorised action can be quite slow to fold compared to the Lexus RX 200t F Sport that we've sampled recently.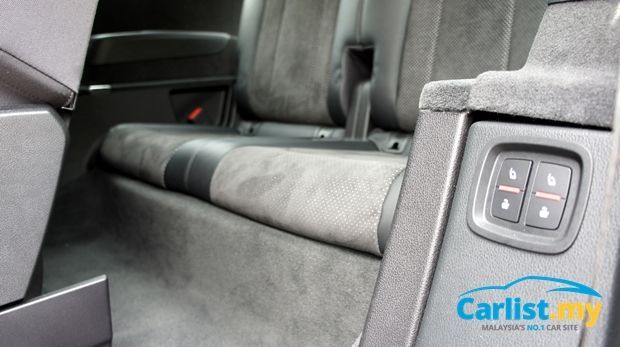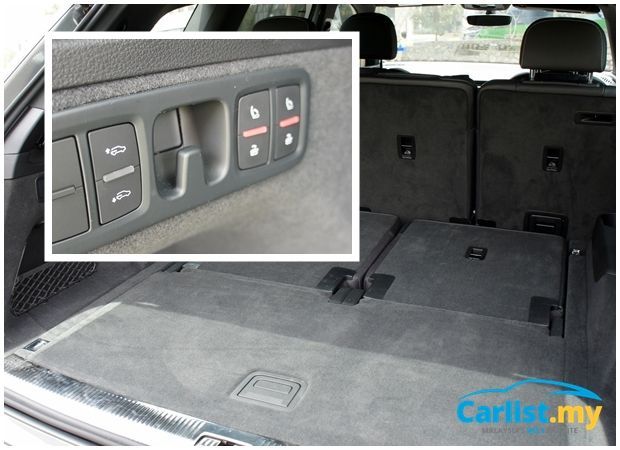 The boot is big enough, but quite a lot of room underneath the floor board has been sacrificed to accommodate a sub-woofer.
Driving Experience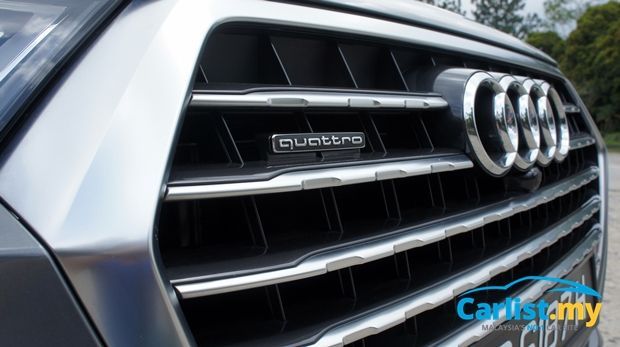 The Q7 drives like what you would expect from a big Audi SUV – an ego-boosting combination of power and stupendous amount of grip. It gives you an illusion that there is nothing to fear, but at the same time it's not an experience that you will find engaging, and that's perfectly acceptable considering the Q7's target customers.
Flex your right foot to summon all 333 hp and 440 Nm if you must, and the Q7 launches forward, readily committing itself to whichever direction you point it to. It follows your orders with very little drama but if fun if what you are looking for, look to the TT instead.
Like the Q5 (as well as A4, A5, A6, A7 and A8), the Q7 uses a self-locking centre differential version of Audi's signature quattro all-wheel drive system. It's a rear axle-biased system that under normal driving conditions, sends 60 percent of available torque to the rear, and if necessary, up to 85 percent.
Pushing this two-plus ton SUV on tight and twisty stretches, you are more likely to run out of talent before the Q7 runs out of grip. It's surprisingly agile, but it's not a driving challenge that you want to subject the Q7 to. It's willing to dance but it's like asking a trained elephant to do tricks – possible but can be a tad silly to watch.
Heaving the beautiful perforated leather S-line steering left and right, the breath of talent in the Q7's chassis is impressive but you are also constantly aware of the weight that's being hustled around, even though this Q7 is the lightest SUV in its class thanks to intelligent use of aluminium materials.
How Comfortable Is It?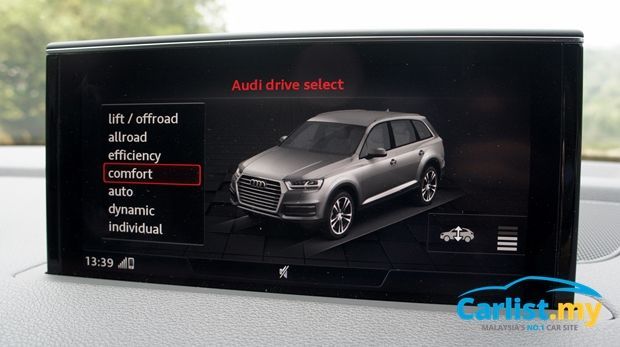 On the straights, the Q7 chomps kilometres after kilometres of tarmac in comfort as if you are sitting in a very fast moving library.
Like all cars from the Volkswagen Group, damping is spot-on. The adaptive suspension combines both air suspension and electromagnetic dampers.
Most of the time, I left the Audi Drive Select in Auto but if necessary, ride height and be increased by up to 35 mm (off-road conditions, limited to 80 km/h), or lowered by 55 mm for easy loading of cargo.
The 8-speed automatic transmission has a very eager lock-up converter in the pursuit of lower emissions and fuel consumption, but that also means that it can be a tad jerky in urban traffic.
How economical is it?
Over 200-plus km, a lot of it done in weekday urban traffic, the Q7 recorded an average fuel consumption of around 13 litre/100 km, pretty good for a 333 hp all-wheel drive seven-seater SUV, especially considering the kind of driving it was subjected to in a typical test drive routine.
Conclusion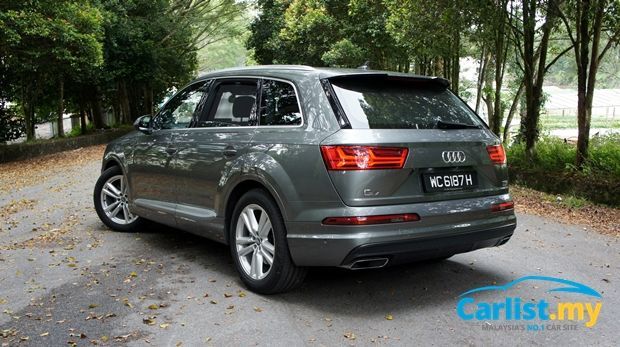 With prices of the Mercedes-Bez S400 Hybrid and BMW 730iL now lower than before, buyers shopping in this price range now have more choices than ever before, and that's not playing into the Q7's favour.
However, the Q7 still strikes out as an excellent choice for those who appreciate the added security of a tall-riding, tough all-wheel drive SUV.
We love the 'nothing to fear' feeling that driving a Q7 evokes. Its combination of performance, all-weather traction, comfort and the secure feeling of sitting in a tall, commanding position, cocooned in a well-insulated, tough looking body is hard to argue.
On the downside, the heavy and difficult to fold and tumble second row seats needs to be improved, and we wished it had the Volvo XC90'S air-conditioning vents in the third row.
---
---
---
Comments