Review: 2016 Isuzu D-Max Z-Prestige 3.0L – Form Over Function
Reviews While most who opt for a pickup truck do so purely for the vehicle's functionality, there is also a small group of buyers who simply want one for its looks and sheer road presence.
These are usually buyers who prioritise the aesthetic appeal of a 4x4 and don't mind spending a bit more for cosmetic goodies, as opposed to those who simply want a workhorse, and refuse to pay extra for visual appeal.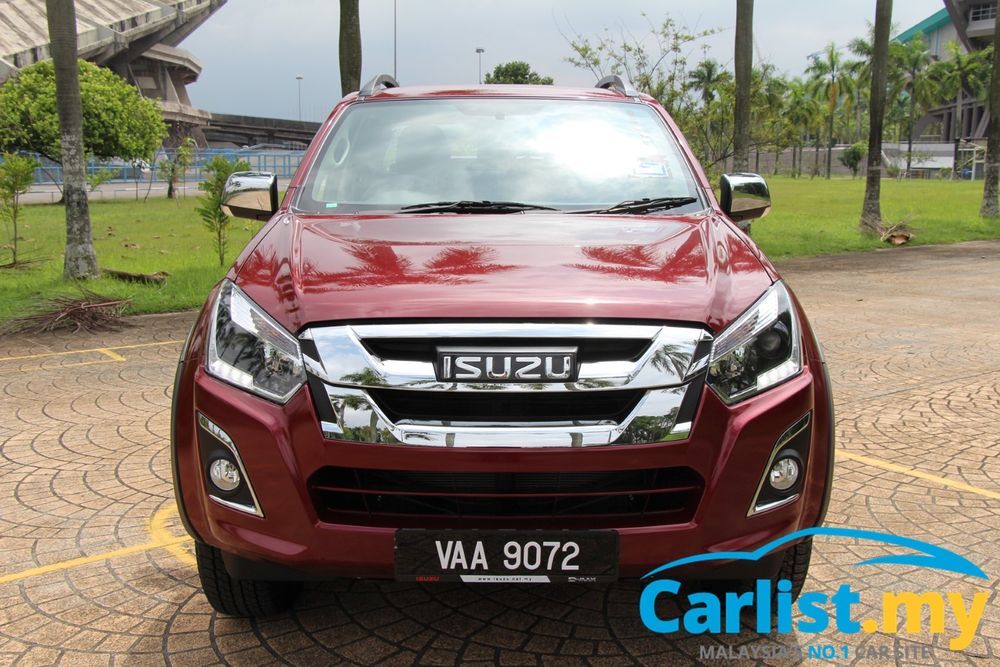 And what we have here is something that would appeal to the former group of buyers - arguably the 'loudest' new pickup truck in the market in terms of aesthetics – the Isuzu D-Max Z-Prestige 3.0L 4x4.
Specifications of the Isuzu D-Max Z-Prestige 3.0L 4x4
Price: RM124,312
Engine: 3.0-litre, Variable Geometry Turbo System, direct injection, commonrail turbo diesel, water-cooled inline 4-cylinder
Max Power: 177PS @ 3,800rpm
Max Torque: 380Nm from 1,800-2,800rpm
Transmission: Five-speed automatic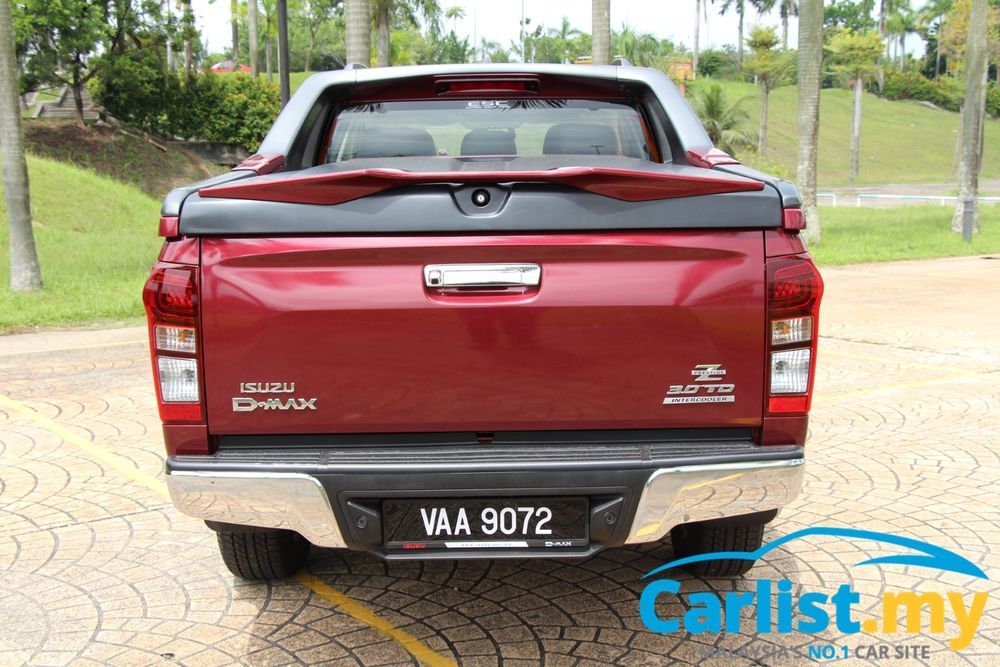 Overview
Launched in October last year, the Z-Prestige is the range topping variant in the D-Max lineup, offered in three different colour themes - Urban Premium (Silky White Pearl), Adventure Rugged (Velvet Red Mica), and Street Rugged (Stallion Black Metallic).
Priced at RM124,312 OTR without insurance, the D-Max Z-Prestige, which is offered with 5-years or 150,000km warranty, goes against the likes of other high spec models like the Ford Ranger Wildtrak 3.2 (RM139,888), Toyota Hilux 2.8G (RM129,994), Nissan Navara VL 2.5 (RM120,800), Chevrolet Colorado 2.8 High Country (RM129,189), as well as the Mitsubishi Triton Adventure X (RM130,900).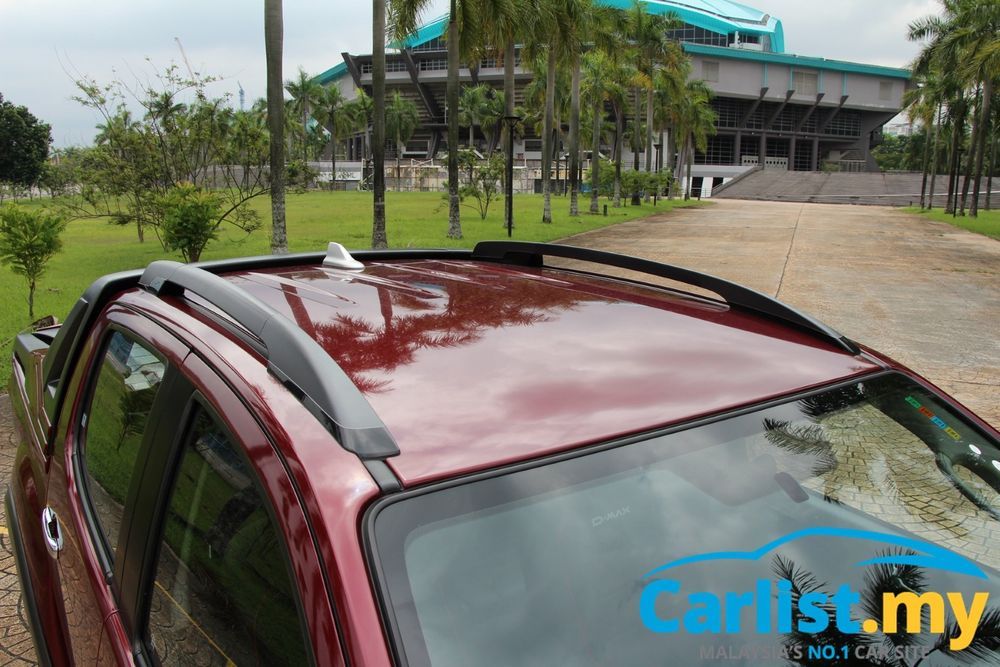 Noteworthy features include a new front fascia which comprises new headlamps with integrated LED daytime running lights, restyled fog lamp enclosures, as well as a tweaked front bumper and grille design. At the back, there's a new tailgate design with reverse sensor and camera offered as standard.
Inside, the D-Max Z-Prestige comes with a seven-inch touchscreen display with DVD, USB, AUX and Bluetooth connectivity, complemented by a new eight-speaker audio system. The list doesn't just end there as the high-spec model also gets a new e-Lumax Multi Info Display meter cluster.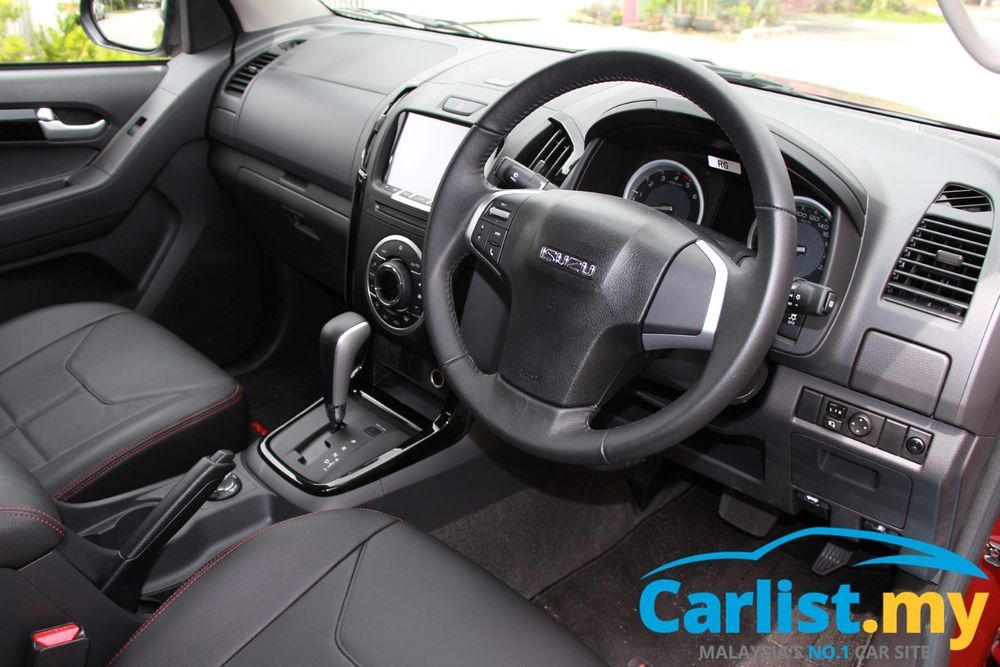 Standard safety equipment levels have also been upgraded, whereby all variants come with the full complement of driving safety aids such as Anti-lock Brake System (ABS), Traction Control System (TCS), Electronic Stability Control (ESC), Electronic Brakeforce Distribution (EBD), Brake Assist (BA) and Hill Start Assist (HSA).
Exterior
Visually, the D-Max Z-Prestige is definitely one of the more radical looking pickup trucks in the market, thanks to the unique colour, the 18-inch wheels, the funky looking sports bar, and the coolest of them all; the rear spoiler.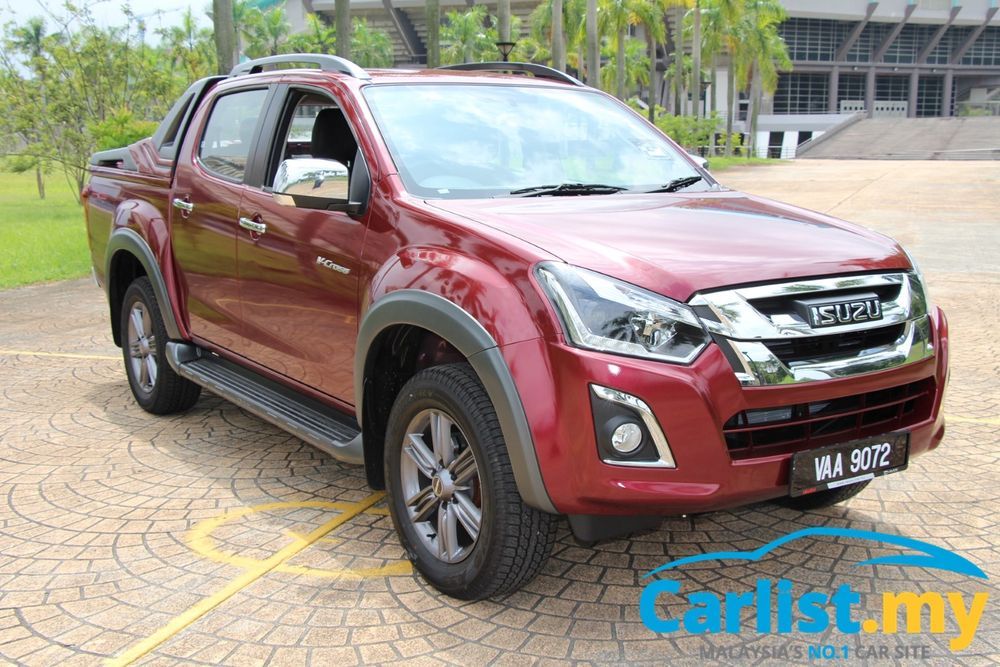 Overall, the D-Max Z-Prestige is a handsome 4x4, and thanks to the striking colour, the spoiler, the roof bar, sidesteps, and the wheel design, it needs little modification. In fact, you can drive it straight to to any 4x4 jamboree and fit right in.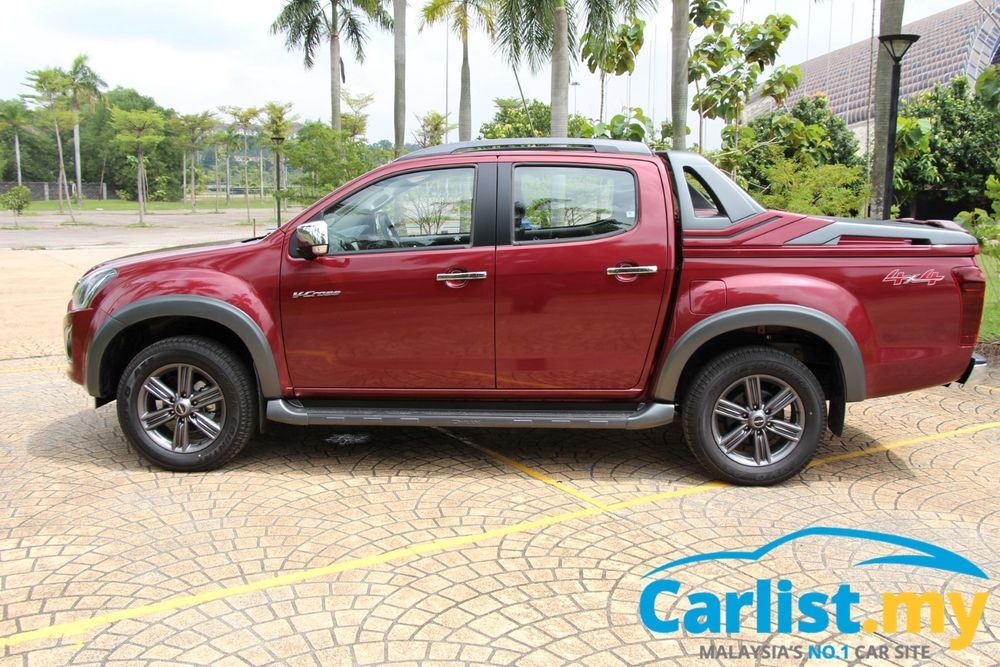 Interior
Upon opening the doors, greeting us inside the vehicle were plush black leather seats with red stitching, as well as the huge touch-screen on the dashboard.
On top of the features mentioned above in the overview, the range-topping D-Max Z-Prestige also gets automatic air-conditioning, steering wheel controls, as well as keyless entry and push start ignition.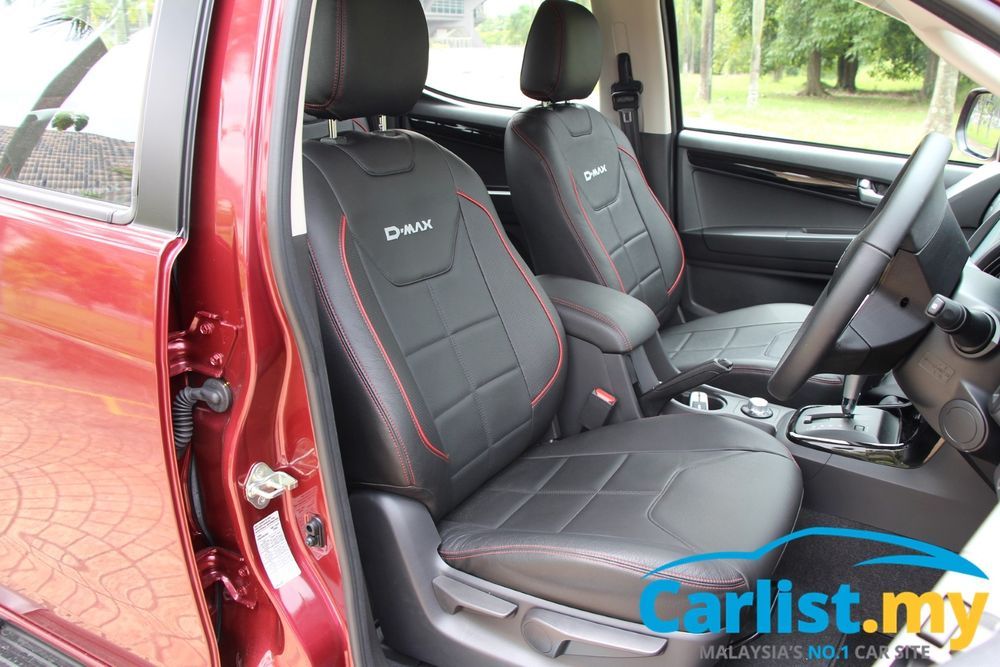 On top of the gadgets, there is plenty of space to store things, a USB slot, an auxiliary port, HDMI connectivity, and also a 12V power outlet.
In case you're wondering how roomy it is, five individuals could sit comfortably without feeling claustrophobic even on journeys that lasted a few hours.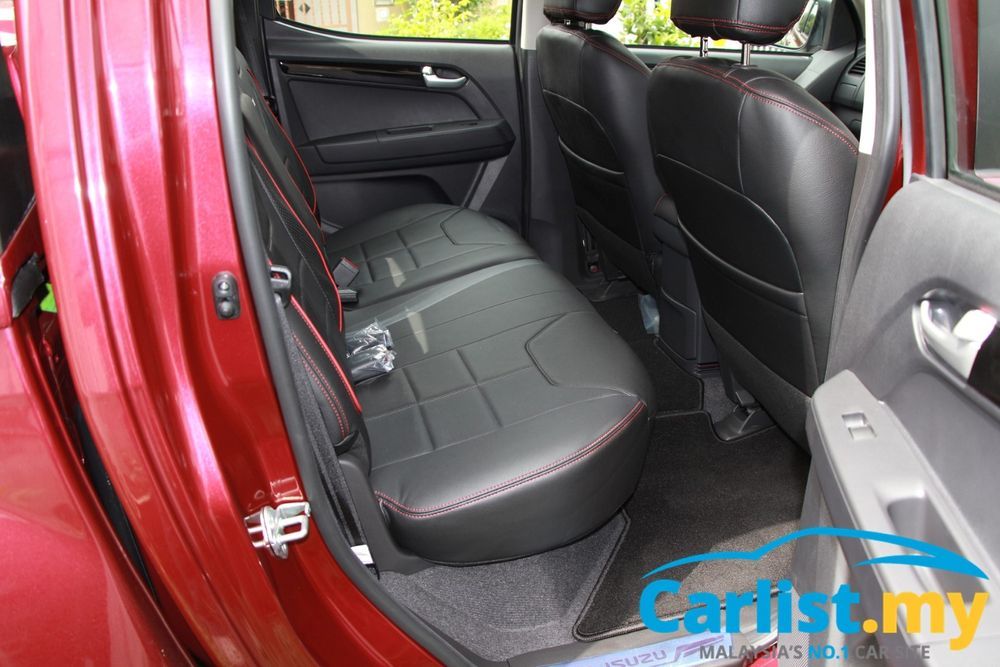 Although Isuzu's intentions in wanting to make the D-Max Z-Prestige look as premium as possible became apparent the moment we opened the doors and set our eyes on the cabin, we noticed that there is still a generous dose of hard plastic in the cabin the moment we started fiddling around.
On top of that, we could hear the engine loud and clear while idling, and the road while driving, putting it behind some of its newer rivals in terms of cabin refinement.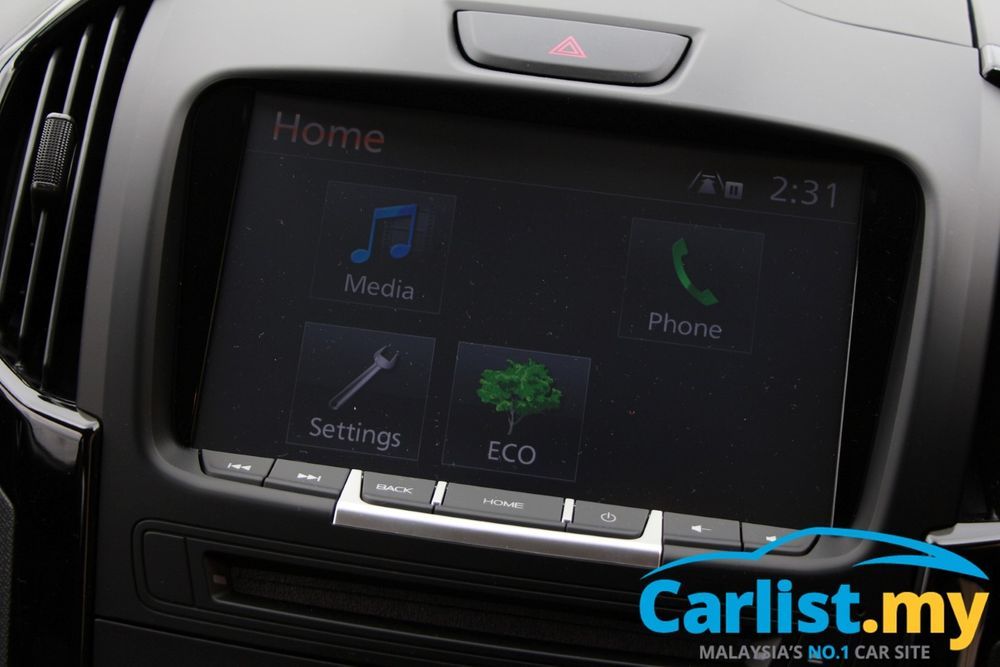 Driving it
Driving the D-Max Z-Prestige felt like a journey back into the past. While newer trucks like the Triton, Ranger and Colorado have managed to achieve almost car-like level of refinement, comfort, and performance, the D-Max still has some catching up to do.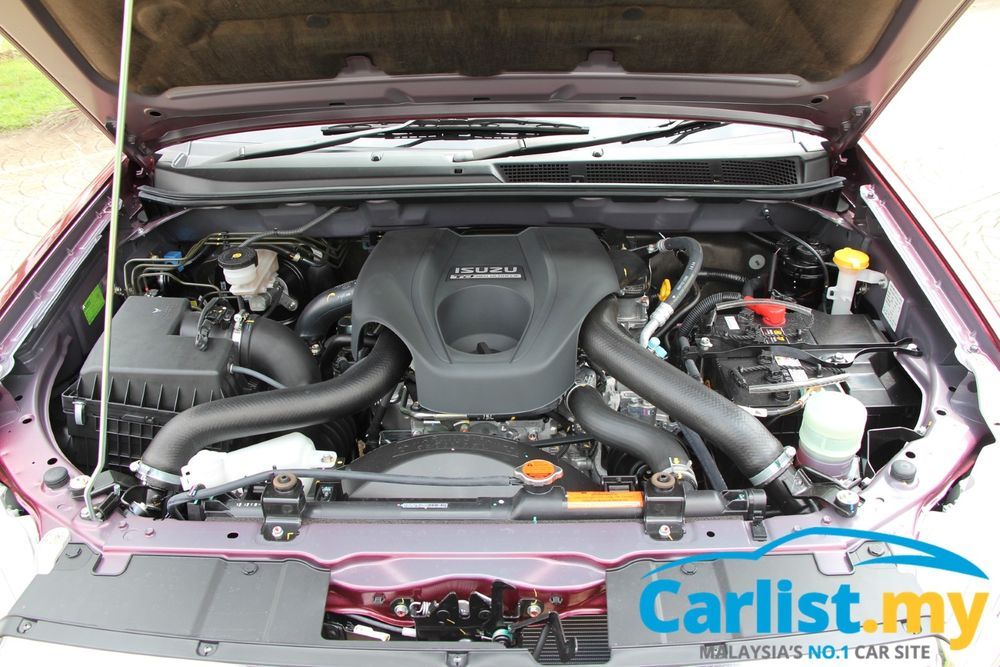 However, it is in no way inferior to any truck out there in terms of power and abilities, and remains one of the sturdiest, most capable workhorses in the segment.
Thanks to the 3.0-litre turbo diesel engine which kicks out 177 PS of output and 380 Nm of torque from as early as 1,800 rpm, there was more than enough power throughout our stint with the truck, even when it was fully loaded with four occupants and two mattresses on the load bed.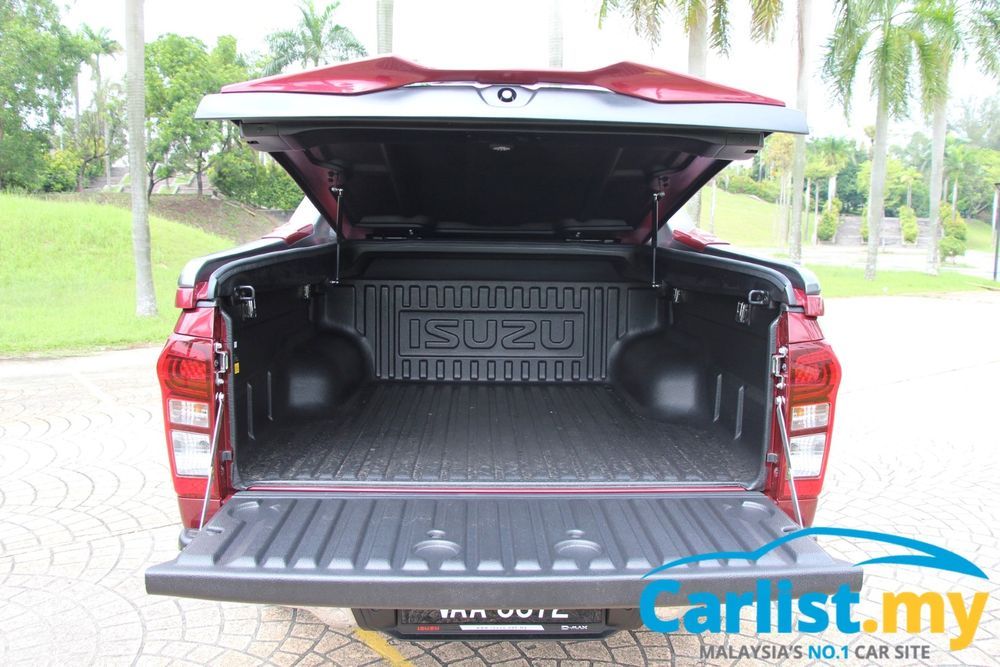 We did not test the D-Max off-road in this stint, but experience from last year's Borneo Safari challenge confirms its go-everywhere abilities to tackle mud, gravel, and everything in between.
Economy
After driving the D-Max Z-Prestige around for a total of three days in urban surroundings mostly, we observed a fuel consumption of 7.9-l/100km, which is a pretty decent figure for a pickup truck.
In fact, it is capable of travelling from Singapore to Bangkok with a full tank of fuel, as demonstrated in the last Isuzu Dura-Miles Challenge.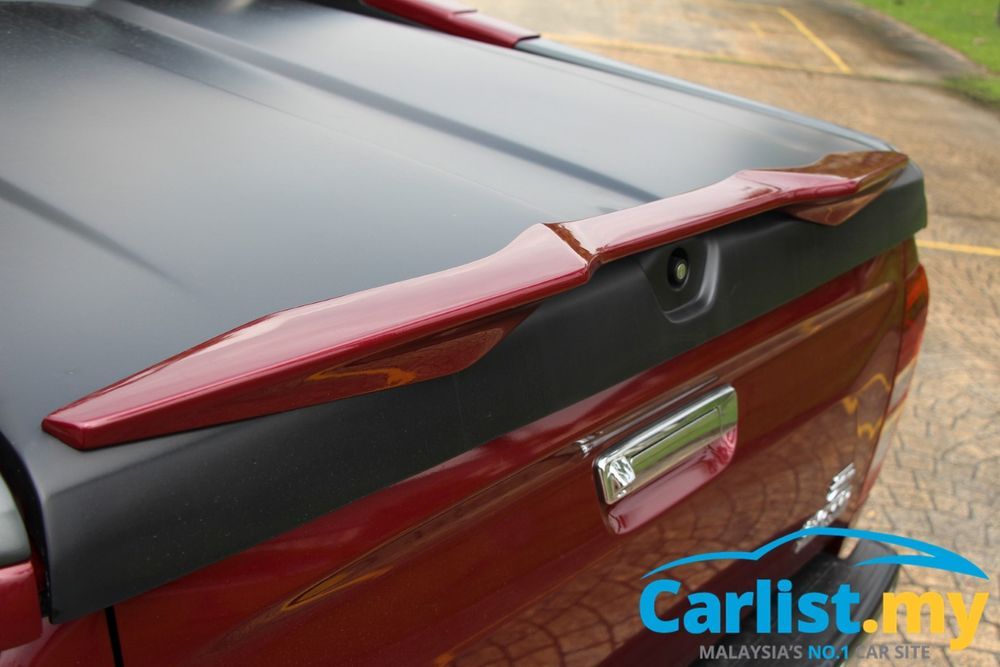 As economical as it is, a 3.0-litre engine translates to higher road tax (about RM1,600 in Peninsular Malaysia and RM900 in East Malaysia) compared to its rivals that are powered by 2.5-litre or 2.8-litre engines (less than RM1,300).
But it is not that bad as Isuzu has made it up by offering a 5-years/150,000km warranty for the D-Max. So, that is saving quite a bit of cash, isn't it?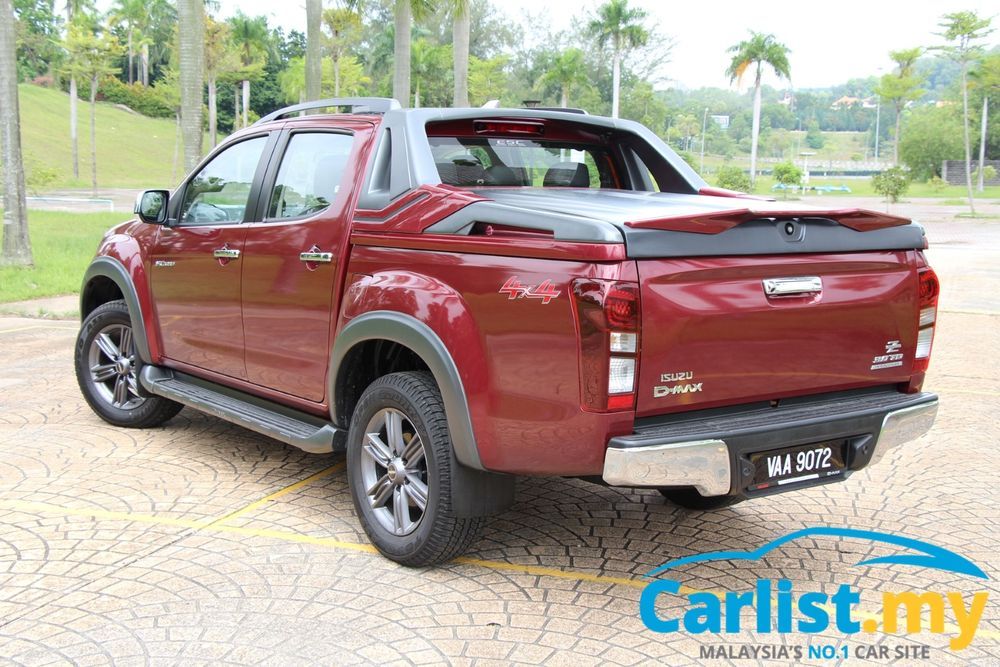 Conclusion
In all, what we have here is an attractive, capable, powerful and economical pickup truck with a generous dose of features.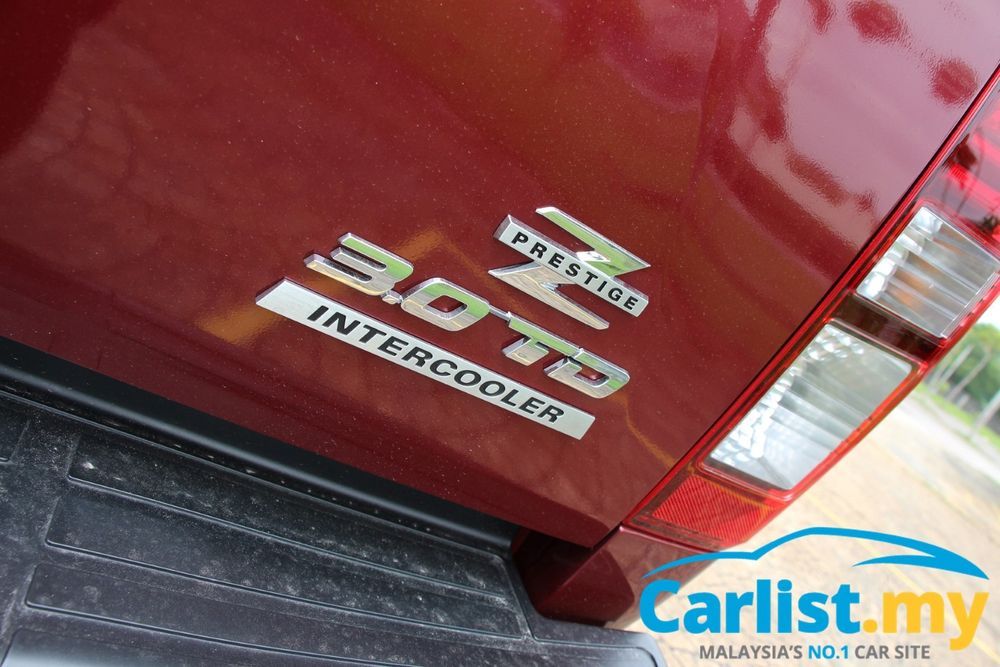 However, you can't run away from the fact that the D-Max feels dated compared to a few of its competitors.
So, if comfort and refinement are what you are looking for, the D-Max Z-Prestige might not appeal to you but if you are all about looks and power, it might be what you would want.
---
---
---
---
Comments