Review: 2016 Mitsubishi Outlander – Jack of All Trades
Reviews Many of us still refer to Sports Utility Vehicles as 'Pajeros'. That is how well the SUV from Mitsubishi has been accepted here. Known worldwide for being super reliable and sturdy, the Pajero played a pivotal role in instilling a sense of trust in customers on the brand as much as SUVs are concerned.
However, things have changed over time and the SUV market is no longer about reliability and durability. People who buy SUVs nowadays demand much more – Power, driving dynamics, tonnes of features, gadgets, good fuel economy, and of course, good looks.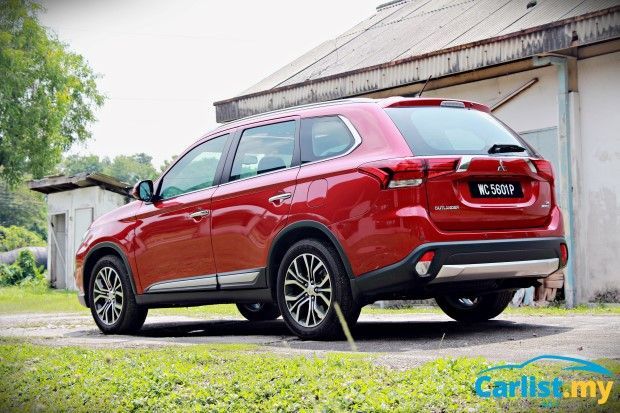 Simply put, in order to be successful, an SUV has to offer the best of all worlds – the combination of a sedan's performance, the practicality of an MPV, and the ruggedness of a pickup truck. And that is exactly what Mitsubishi promises to offer in the vehicle you're looking at now; the third-generation Outlander.
Specifications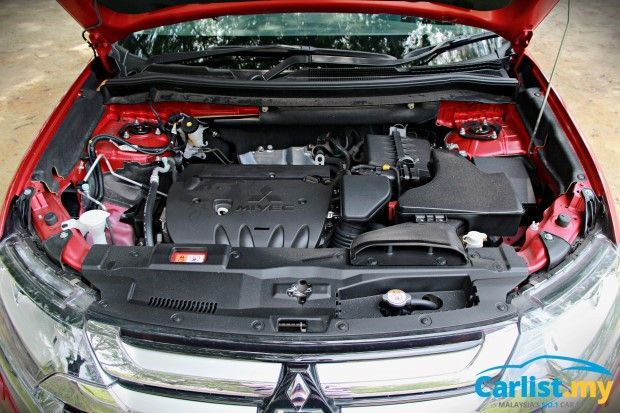 Engine: 2.4-litre, transverse inline-4, MIVEC petrol
Power: 167PS @ 6,000rpm
Torque: 222Nm @ 4,100rpm
Transmission: CVT with 6 virtual ratios and paddle shifters, electronic AWD
Safety: 7 airbags, ABS, EBD, electronic stability control (ASC), traction control (ETACS), reverse camera
Price: RM171,644.80 on-the-road with insurance and GST
Fuel consumption (observed): 10 litres/100km
Origin: Fully imported from Okazaki, Japan
Overview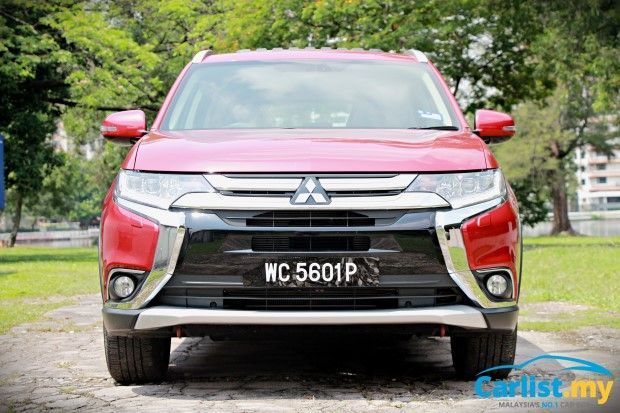 Here to fill the gap between the ASX compact SUV and the Pajero Sport, the Outlander is a 7-seater urban SUV that is here to take on the Honda CR-V 2.4, Nissan X-Trail 2.5, Mazda CX-5 2.5, Kia Sorento 2.4, as well as the Hyundai Santa Fe 2.4. However, looking at its configuration and price, the closest rivals would be the Nissan X-Trail as it is a 5+2.
While most of the models mentioned above are assembled locally, the Outlander (imported from Japan) and the Kia Sorento (imported from Korea) are among the very few CBU models in this segment.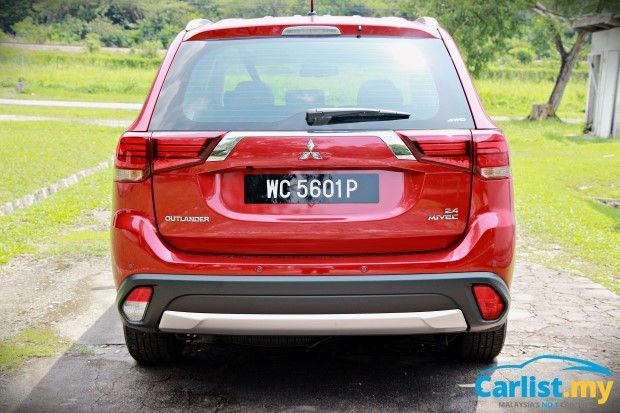 Descended from the Airtrek, only one variant of the third-generation Mitsubishi Outlander is available in our market – the 2.4-litre petrol, powered by the same MIVEC engine that is found under the hood of the Lancer Sportback.
Despite being a seven-seater and similarly-priced as the Pajero Sport, the Outlander is a vehicle that serves completely different needs. Unlike the Triton-based body-on-frame Pajero Sport, the Outlander is engineered with an urban bias and is underpinned by a monocoque chassis.
Exterior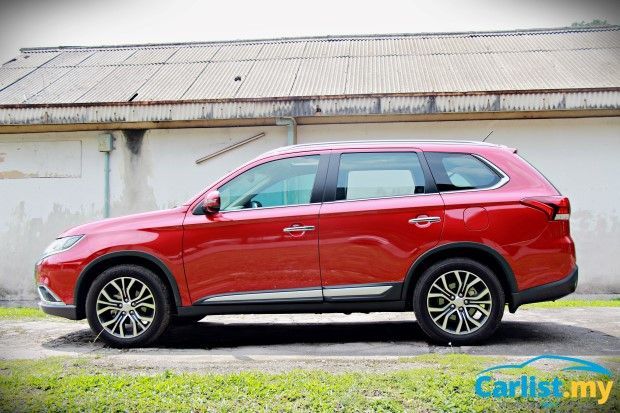 "Fresh" is the word that best describes the way the Outlander looks. In fact, it would not be an exaggeration to say that it is arguably the best looking Mitsubishi in the stable at the moment, compared to the rest of the lot that are looking rather dated.
Not only does it look better than some of its siblings, but also most of its rivals. While many SUVs are designed to look rather conservative, appealing mostly to soccer moms, Mitsubishi's designers have done a great job in making the vehicle look sporty enough to appeal to a wider audience.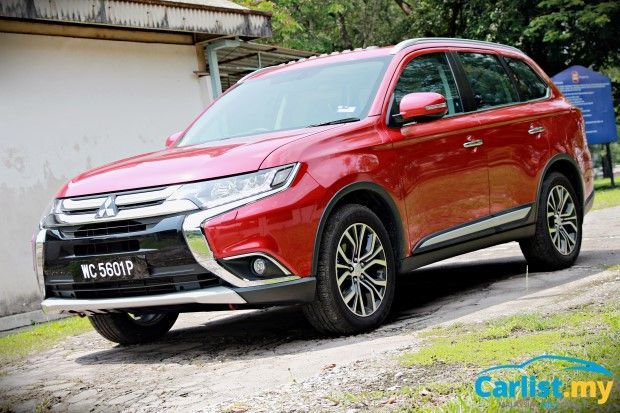 In terms of dimensions, this is how the Outlander fares against its rivals:
| | | | | | | |
| --- | --- | --- | --- | --- | --- | --- |
| Model | Outlander | CX-5 | Sorento | Santa Fe | X Trail | CR-V |
| Length(mm) | 4,695 | 4,555 | 4,780 | 4,690 | 4,643 | 4,570 |
| Height(mm) | 1,680 | 1,670 | 1,685 | 1,690 | 1,695 | 1,655 |
| Width(mm) | 1,810 | 1,840 | 1,890 | 1,880 | 1,820 | 1,820 |
| W/base(mm) | 2,670 | 2,700 | 2,780 | 2,700 | 2,705 | 2,620 |
The Outlander's biggest strength in our opinion is definitely the long list of features it offers as standard. If we look at the exterior, the SUV comes with:
LED headlamps with daytime running lights
LED taillights
18-inch alloy wheels
Electric-operated tailgate with anti-trap function
Sunroof
Auto headlamps
Auto wipers
Roof rack
Interior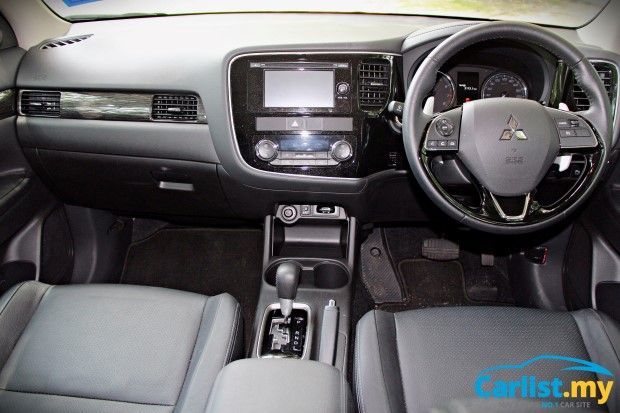 Unlike the flashy exterior, the Outlander's cabin is designed with simplicity in mind. Simple, yes… but well put together. All major controls, buttons and levers are within easy reach thanks to the dashboard that is positioned high up.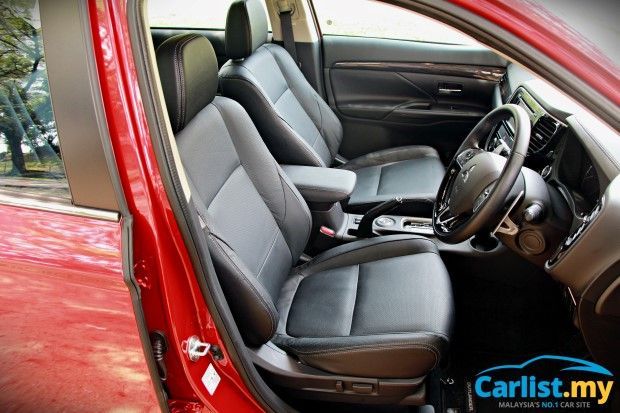 Build quality and refinement on the other hand, is among the best in class. There is a generous dosage of leather, gloss finish, and soft touch material. In terms of practicality, the SUV doesn't disappoint, as there is ample storage space for seven occupants. Even the third row seat has its own cubby holes. With the third row folded flat, boot space stands at 591 litres.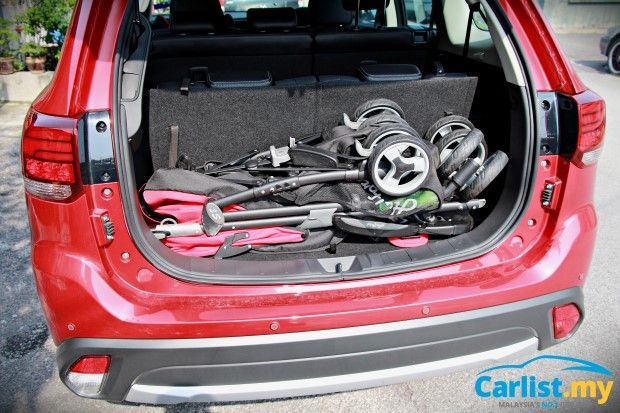 While the first two rows of seats can fit five adults without an issue, the third row is a little tricky. It was only suitable for children, but it's wide and comes with individually adjustable backrests.
Now that we're done with the usual stuff, let's get to the interesting part... What does RM170,000-plus get you?
Keyless entry with engine start/stop button
Dual zone climate control
Touchscreen multimedia system - Bluetooth, iPod, USB, Voice Command
Reverse Camera
Security & Solar Window Film
ABS, EBD, BA, HSA
Sunroof
Traction Control, Electronic Stability Control
7 airbags
Leather seats
Paddle shifters
Isofix mounts
6-speakers
Comfort wise, we have absolutely no complains. The seats provided good level of support for all occupants both in the city and on highways. To see if it passes off as an ideal vehicle for the whole family, we got passengers ranging from a 2-year old toddler to a 63 year old senior citizen and embarked on a 300km journey from Kuala Lumpur to Ipoh.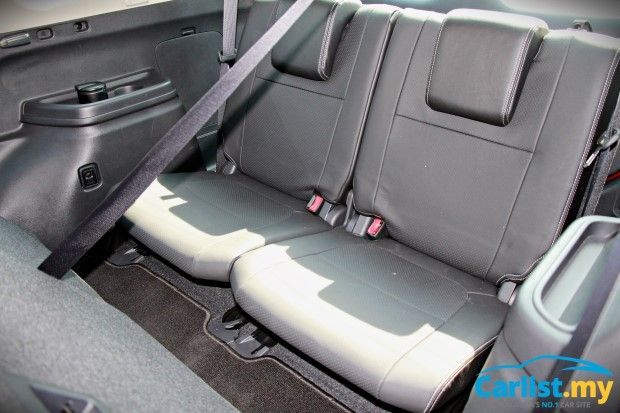 Fortunately, everyone returned with smiley faces, but the lack of rear air cond vents did become an issue.
Yes, the cabin did cool down eventually but for a vehicle with three rows of seats, rear air cond vents are a must. Truth be told, we would've been happier if there were rear air cond vents instead of the sunroof.
How does it drive?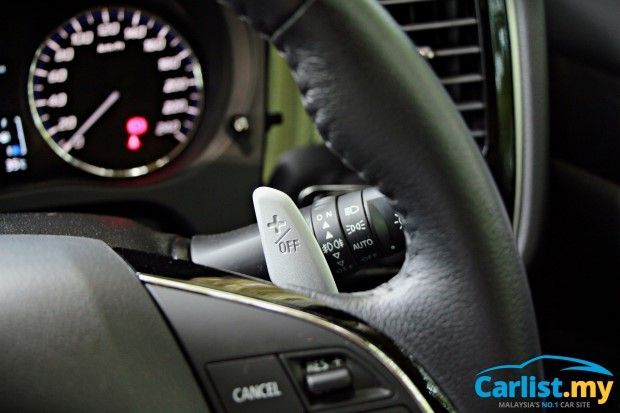 Powering the Mitsubishi Outlander is the same 2.4-litre MIVEC engine that is found under the hood of the Lancer Sportback, paired to the brand's good-old INVECS-III CVT gearbox. Together, the powertrain package churns out a total of 167PS and 222Nm of peak torque.
As mentioned earlier, the Outlander is an SUV that is more of a city-dweller than an off-roader. In town and on highways, the vehicle offered decent level of comfort and refinement that is very car-like. Due to the high centre of gravity, there is still noticeable body-roll but it was not that bad to be honest.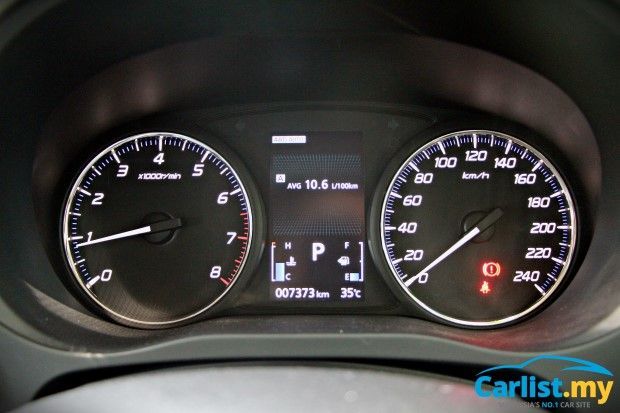 There was adequate power at all times, regardless of whether there was only one occupant or the vehicle was fully loaded. Due to the nature of the transmission, the engine did require us to push it a little a few times but once it got going, the Outlander went pass the speed limit effortlessly on highways.
And then, there was the electronically controlled all-wheel drive system with three operating modes – front-biased on-demand all-wheel drive (4WD Eco), variable intelligent all-wheel drive (4WD Auto), and fixed 50:50 front-rear (4WD Lock). While 4WD Eco is the recommended driving mode, 4WD Auto did all the work by itself, coming in handy over really treacherous terrain. However, be mindful that this hardware is not designed for hard core off-roading. The Pajero Sport is what you should be looking at if you are looking at serious trekking.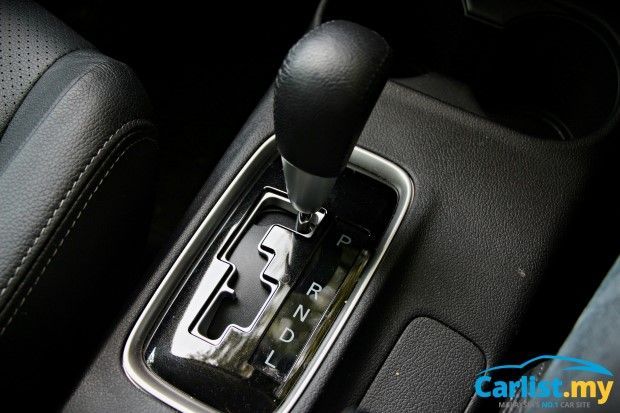 Overall, where the Outlander really shined was on the highway, where power was delivered in a very seamless manner. Complemented by the refined cabin and composed ride, it was quite enjoyable to be in.
How economical is it?
While Mitsubishi claims that the Outlander's fuel consumption can go as low as 7.8 litre/100km, our stint with the SUV over a weekend, which comprised mostly of city driving and a bit of highway cruising saw the vehicle consuming 10 litre/100km, which is pretty decent for a vehicle in its class.
Conclusion
The Outlander is a handsome proposition that is well worth what it asks for. Featuring a well-designed exterior that would remain fresh for the next few years at least, the SUV also impresses in terms of driving dynamics and practicality.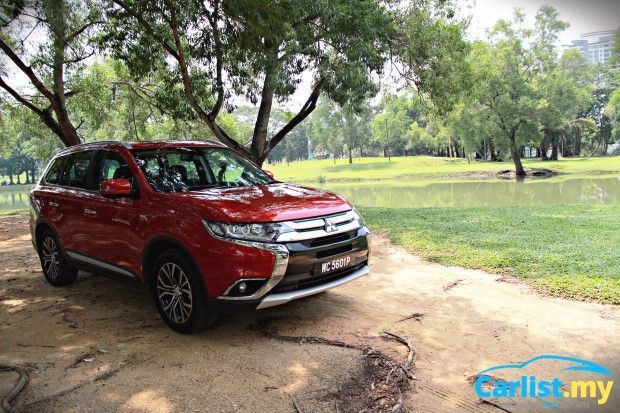 Of course, it doesn't stick to the road like a Porsche Macan but compared to most of it rivals, the Outlander is among the better driving ones. Besides that, it is also among the most generous Japanese SUVs with a long list of standard equipment.
Overall, it is safe to say that Mitsubishi has somewhat managed to offer the characteristics of many worlds (car-like comfort and power, MPV-like practicality, and an intelligent 4WD system that enables it to even take on the beaten track) in the form of the Outlander.
Looking for a Mitsubishi? Find one now at Carlist.my
---
---
---
---
Comments