Review: 2017 BMW 740Le xDrive Plug-in Hybrid – The MENSA IQ Limousine GTI
Reviews Why would someone who can afford a three-quarters of a million Ringgit limousine be bothered with fuel-saving plug-in hybrid feature? Tax relieves and other incentives aside, the idea of incorporating expensive but fuel-saving plug-in hybrid technology into a limousine might at a glance appear to be at odds with the expectations of its target clientele. However this is precisely where the critics don't fully understand the appeal/potential of hybrid powertrains.
30 years ago, the ideal limousine was one with a V12 engine under the bonnet. Why a V12? All else being equal, the smoothest engines come from either one of these three configurations – an inline six-cylinder, a 90-degree V8, or a V12 of any angle.
Without going into a lengthy details and straying off topic, an inline-6 is the cheapest and simplest of the smooth revving trio, with an even number of pistons at either ends cancelling out vibrations.
A V8 is smooth too but only if the pistons on both banks are facing each other at 90 degrees.
A V12 on the other hand, is simply two inline-6 engines joint to the same crankshaft. As it is already based on a pair of inherently balanced inline 6 cylinders, an engineer can vary the bank angle of a V12 in any degree he/she desires without affecting the engine's smoothness.
Exactly 30 years ago, BMW taunted Mercedes-Benz by introducing Germany's first post-war V12 engine in the E32 generation 750i and 750iL, setting a new benchmark for limousines. Since then, both the blue-white roundel and tri-pointed star badge have been locked in a fierce duel of producing the world's most exclusive V12-powered limousines.
Of course we live in a different world today. The public relations of 2017 is very different from 1987. While there is still a place for a 6.6-litre V12, all-wheel drive M-badged BMW M760Li or even an Mercedes-AMG S65 for that matter, image conscious elites in many countries are gravitating towards green cars.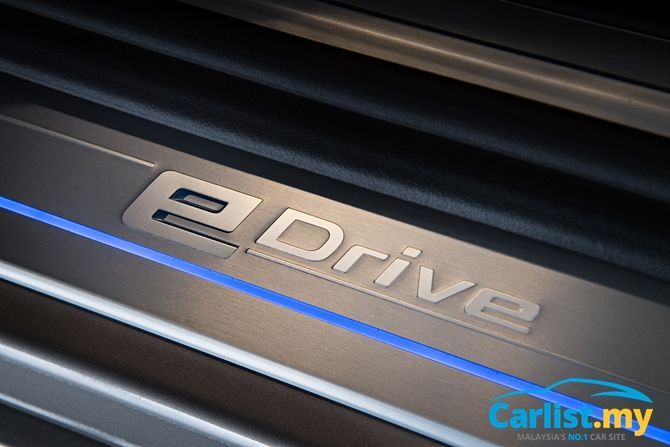 Unless you are a Saudi oil sheikh, turning up at a red carpet event in a Tesla Model S is preferred over a V12-powered limousine. Just look at how many of Hollywood's A-lists are now driving Teslas.
Bridging this chasm between green appeal and luxuriously smooth high capacity 8 or 12 cylinders engines is where plug-in hybrid technology comes in.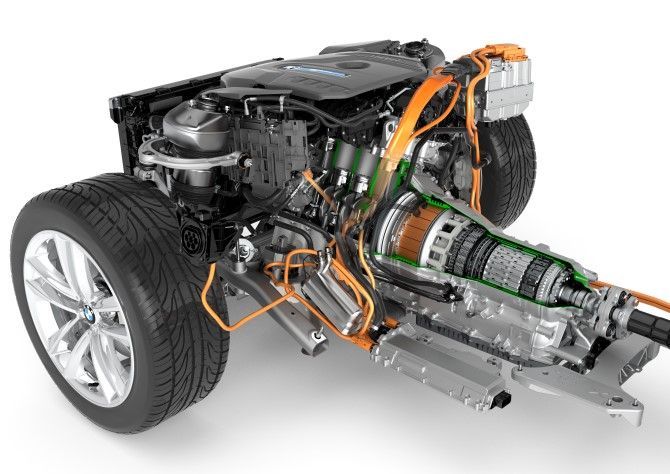 With a powerful 113 hp/250 Nm eDrive motor filling the 'torque gap' between a turbocharged four-cylinder and high capacity V12 (more like a V8 actually), it is the action of rapidly shuffling electrons rather than more spark ignitions that is showing the way forward to re-create a relaxed, luxurious drive that high capacity engines are renowned for, without hurting your company's standings on the Dow Jones Sustainability Index – which by the way, is led by BMW.
Couple the torque on-demand character of electric motors with their unmatched silence, it makes perfect sense to incorporate plug-in hybrid technology into a limousine. Why work so hard to insulate out noise and vibrations from an engine when you can eliminate the source by using electric motors?
In the coming days, you will be hearing more about the BMW 7 Series Plug-in Hybrid as we get closer to its local launch in Malaysia.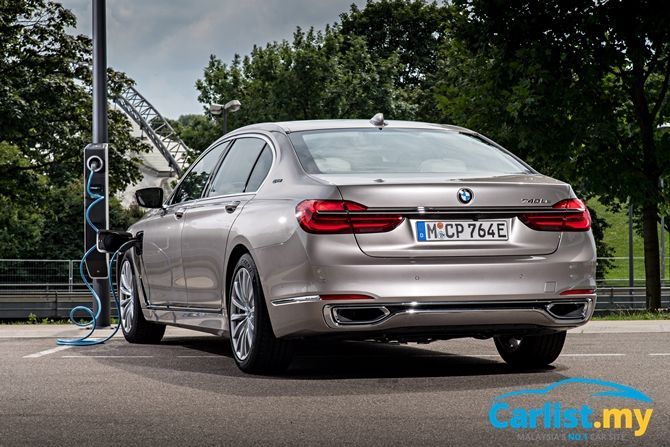 The new 740Le will soon join BMW Group Malaysia's growing range of plug-in hybrid iPerformance models, which now includes the i8, X5 xDrive40e, 330e, and this 740Le. No other brand in Malaysia boasts of a wider range of electrified drivetrain models.
Prior the 740Le's local launch, we had an opportunity to sample the car in Munich last year. As the drive was made on the sidelines of another event, the BMW Innovation Days 2016, our time spent with in the 740Le was brief but we managed to drive it on a variety of road conditions. While not conclusive, it did allow us to form a first impression on what to expect from the upcoming Malaysian-market specifications 740Le.
Before that, a quick lecture on the dual play of electrons and sparks under the bonnet and how they drive the 740Le. Despite using a 40e engine series designation, the 740Le uses a different engine from the X5 xDrive40e.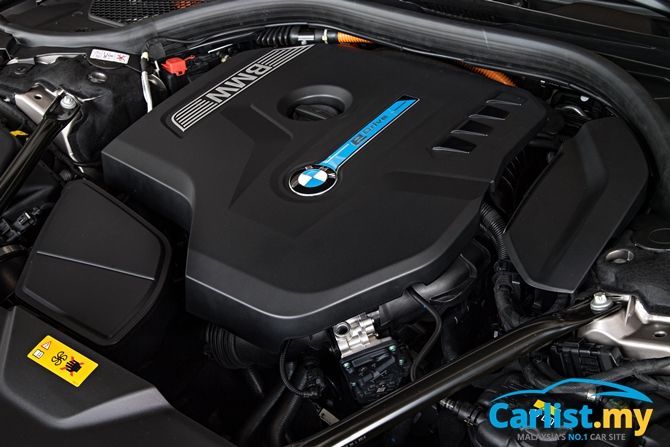 While they are both a 2.0-litre turbocharged (single twin-scroll turbine) engine, the one fitted in the 740Le is the newer B48 engine that's also found in the 730Li (as well as 330e). The X5 xDrive40 on the other hand, uses a previous generation N20 engine.
The B48 engine produces 258 hp from 5,000 to 6,500 rpm, plus 400 Nm of torque from 1,550 to 4,400 rpm. This is then further boosted by a 113 hp/250 Nm eDrive motor nestled within the 8-speed Steptronic transmission.
The eDrive motor also allows the automatic transmission to do away with a regular torque converter, thus contributing to the 740Le's lean mass.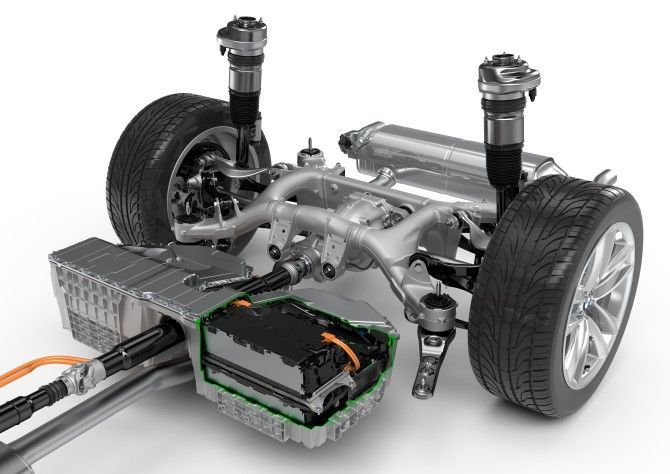 Every time you coast or brake, the eDrive reverses its function to work as a generator, recovering energy that would otherwise be wasted as heat, storing them in a 9.2 kWh lithium-ion traction battery (7.4 kWh net, the remaining capacity is used as a buffer, to reduce repeated cycles on the same cells for better reliability). Of course, with this being a plug-in hybrid, it also stores energy when you plug the car into a charging point.
Unlike the 330e, the 740Le's larger dimensions allow the traction battery to be located under the rear seats, so there is minimal compromises in boot space.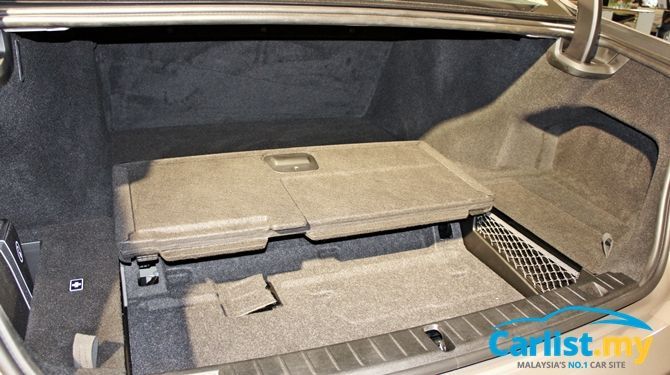 By working the B48 engine and eDrive motor in tandem, the system produces a maximum output 326 hp and 500 Nm. The figure is less than the arithmetic sum of the engine and motor's outputs because the two peak at different points within the rev range.
All these equates to a 0-100 km/h time of 5.3 seconds. To put it in perspective, the superior 'ask and you shall receive' torque on-demand character of the 740Le's eDrive motor puts it on top of the petrol power-only 740Li's B58 3.0-litre six-cylinder turbocharged engine (326 hp, 450 Nm, 0-100 km/h in 5.6 seconds).
Still think fuel-saving plug-in hybrid tech don't make sense in a limousine?
Curiously, despite having an additional 60 kg of xDrive hardware, it is the 740Le xDrive that accelerates faster to the century mark, beating the rear-wheel drive 740Le by 0.1 seconds.
Cars like the 7 Series are typically all about comfort in the rear seats, but if you have to drive it yourself, you will be pleased to know that the 740Le is a lot less intimidating than its visual girth suggests, so long as you spend some time to familiarize yourself with the many advanced driving aids designed to help you along.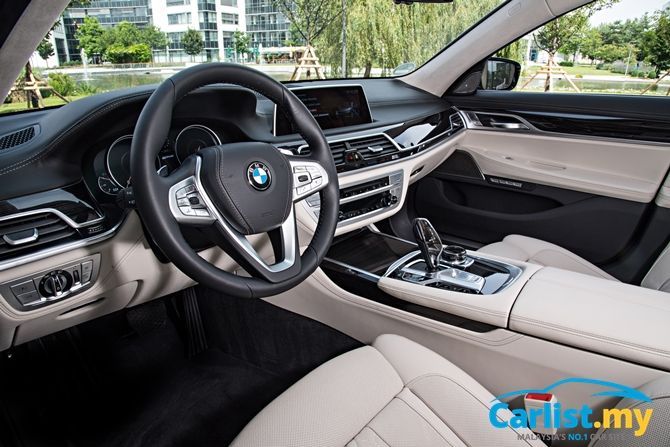 Ordinarily, driving a car with such a long bonnet out of a busy intersection is a task best left for the chauffeur. As with the previous 7 Series, the 740Le has a pair of video cameras located on the sides of the front bumper to help you along. The cameras deliver live video feed to the iDrive display screen, and is able to see what your eyes can't. It makes driving this limousine out of a busy junction much easier than your regular D-segment sedan.
Out on the open road, the 740Le feels smaller than it actually is. Thanks to its lightweight Carbon Core chassis, which uses a mix of carbon-fibre reinforced plastic, aluminum and high strength steel, you don't really feel hampered by the car's weight, which is what you would normally expect for a car of this class.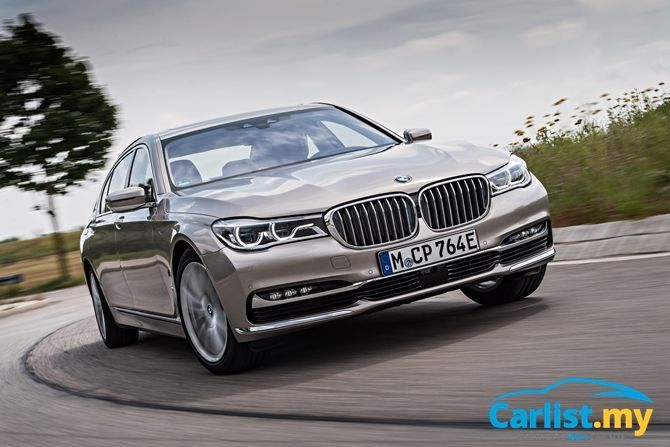 Weighing just 2,075 kg for the xDrive model and 2,015 kg for the non-xDrive model, the 740Le is at least 200 kg lighter than an equivalent rear-wheel drive Mercedes-Benz S500e long wheelbase (not sold here, as we only get the less powerful, regular hybrid S400h), which despite packing a more powerful 3.5-litre naturally aspirated V6 engine, has a negligible performance advantage over the 2.0-litre turbocharged four-cylinder 740Le – accelerating from 0-100 km/h just 0.1 seconds faster.
Keeping a relatively swift pace on tight countryside roads on the outskirts of Munich, 740Le feels agile enough. The optional Integral Active Steering function that's fitted on our car adjusts the rear wheels' angle slightly depending on our speed and steering input, is clearly working its magic.
It wouldn't be too far-fetched to call the 740Le a limousine GTI.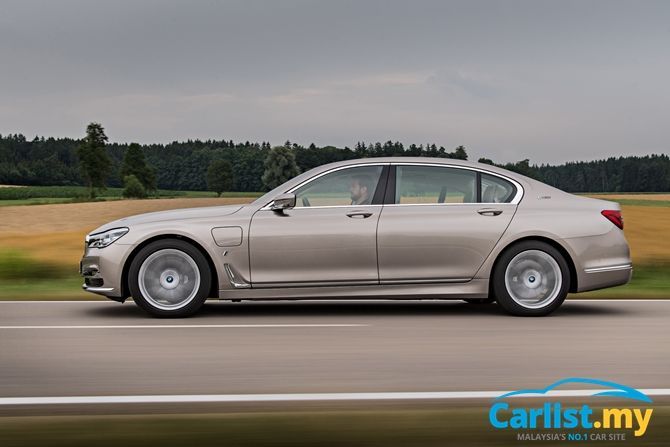 Out on the autobahn, the 740Le behaves exactly like how you would expect a 7 Series to be, and then more.
Like all other BMW iPerformance models, the 740Le comes with an additional 3 more driving modes. On top of the standard car's EcoPro, Comfort and Sport modes, there are three more eDrive modes to choose from – the default Auto eDrive, Max eDrive for all-electric driving, and Battery Control which saves the battery charge for later use.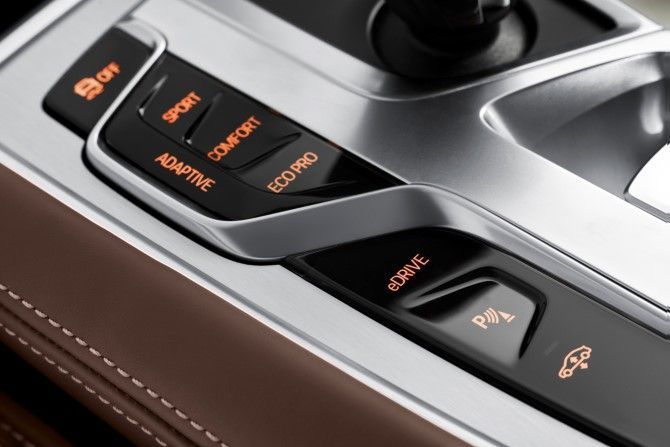 With sufficient charge (about three hours to a full charge when using a European 16A/230V fast charging point), the 740Le is able to cruise at speeds of up 140 km/h (or up to 48 km, depending on speed), achieved in all-electric silence.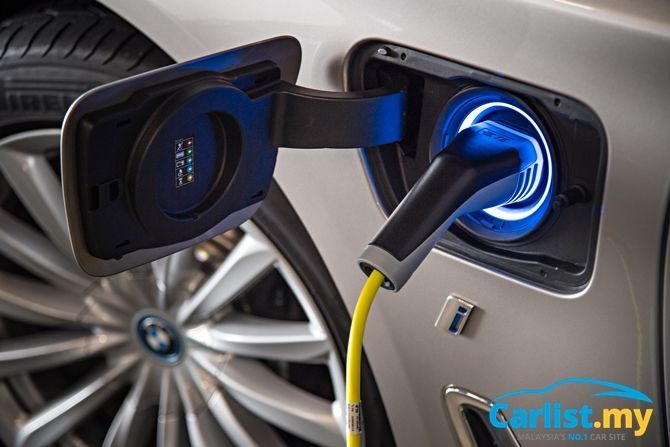 Even without running the car on all-electric mode, the 740Le is able to maintain autobahn speeds at a much more relaxed engine speed because it's assisted by the powerful eDrive motor, thereby contributing to a quieter, more comfortable drive.
The sheer quietness of the ride is something to be marveled at, matched by no other car bar the 7 Series' own sister car the Rolls-Royce Ghost.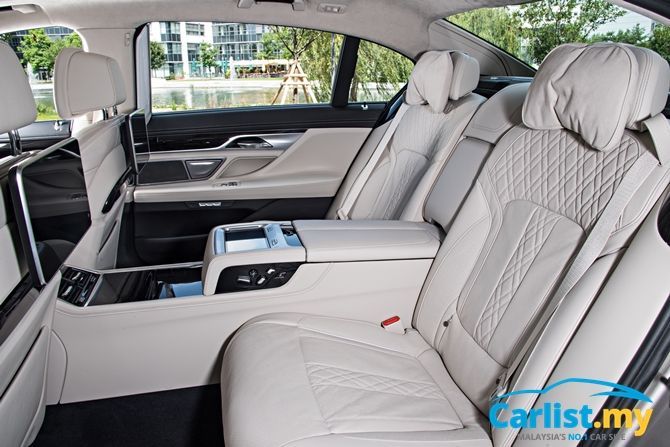 Like the other 7 Series variants, the 740Le has all the luxurious trappings to fulfill your hedonistic desires – a variety of soft LED ambient lighting, the 7 Series' signature Panoramic Sky Lounge LED Roof that simulates a starlit night sky, Bowers & Wilkins Diamond surround sound system with partially illuminated speakers, executive lounge seats with electric reclining and massager functions, removable 7-inch touch screen Command Tablet that lets you control all amenities functions in the car, and rear-seat entertainment system.
Of course, the availability of these features on our Malaysian-market 740Le can only be confirmed during the car's launch later this week.
When a destination is selected on the ConnectedDrive's GPS navigation function (which also pulls traffic data from Google Maps), map data is used to further optimize the driving experience – from making mild adjustments to the battery charge management to optimizing the car's suspension, throttle and transmission shifts.
So it's not just a limousine GTI, but also a limousine GTI with the brains of a MENSA member.
When Mercedes-Benz Malaysia took out its wild card to capitalize on tax incentives for locally-assembled hybrid cars to produce the S400h, the move struck deep into the heart of BMW Group Malaysia, which despite recording its best-ever sales record, could not keep up with Mercedes-Benz Malaysia's pace of product offensive.
Now, the pride of Munich is armed and ready for a counter-attack. The enormous interest triggered by the G30 5 Series is only a warning shot and this flagship 740Le will be leading BMW's push-back to regain its lost ground.
The BMW 740Le will be launched in Malaysia later this week.
One of our readers spotted the new BMW 740Le in Malaysia. The video can be viewed here.
---
---
---
---
Comments